This website uses cookies to ensure you get the best experience while browsing it. By clicking 'Got It' you're accepting these terms.
Dirty Money, Dirty Fuels: Why Money in Politics Matters to the Environment
Apr. 30, 2014 09:09AM EST
Politics
What if fighting dirty money in our elections was the key to fighting dirty fuels in our economy?
That's the question asked in a recent report released by the Sierra Club and Oil Change International. From the perspective of the fossil fuel industry, political contributions are just another form of investment. The only difference is that, for the millions polluters spend on elections, they see billions in bonus profits.
As the report says, "The return these polluters are getting on these political investments—in the form of billions in corporate tax handouts—exceed 5,000 percent, demonstrating that Congress remains the best 'investment' possible for the coal, oil, and gas industries."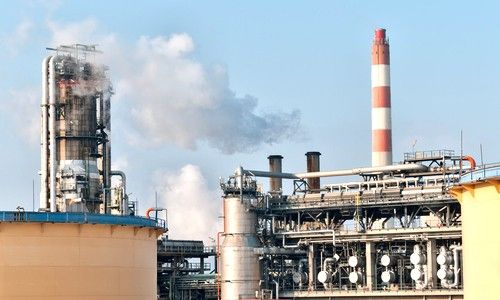 Photo courtesy of Shutterstock
The oil and gas industries are among the worst offenders. Between 2009 and 2010, the report estimates that they spent $347 million on lobbying and campaign contributions, and in return netted a handsome $20 billion in federal subsidies. Most of these came in the form of accounting gimmicks that help hide corporate profits and obscure tax breaks that help cover drilling and refining costs. Because of loopholes like these, the actual taxes paid by most big energy companies fall well below the top corporate rate of 35 percent.
You would think that at a time when both Democrats and Republicans are preoccupied with deficits and debt, cutting subsidies for polluters should be an easy move. After all, these are some of the most profitable companies in world history; surely they need government support like Bill Gates needs food stamps. The fact that many of these giveaways are nearly a century old, dating from a time when fossil fuel extraction was a much riskier game, only adds to their irrelevance. At a time of significant fiscal strain, decades-old free money for rich polluters should be the first thing on the chopping block.
Unfortunately, in the new world of campaign finance born after Citizens United and supercharged earlier this month by McCutcheon vs. FEC, money speaks much louder than fiscal and environmental sanity. The report points out that solid majorities of Americans support action on climate change, investment in renewable energy, and a repeal of fossil fuel subsidies. And yet, Congress is arguably in its most rabidly anti-environment phase in U.S. history, voting repeatedly to block action on climate change, cut support for renewable energy, and hobble enforcement of clean air and water provisions.
The only way to solve this disconnect is through a new system of public financing. As such, the Sierra Club and Oil Change International are throwing their weight behind the recently sponsored Government By The People Act, which would allow federal candidates to receive money from small donors matched on a six-to-one basis. This would not end money in politics, or even strip polluters of their ability to purchase influence.
Winning those fights has to be part of a much longer campaign against corporate personhood and the idea of money as free speech. But in the meantime, it would give candidates who share the increasingly pro-environment sentiments of the American people a chance to be heard. Friends of the Earth supports the Government By The People Act and its vision for a more healthy and just world.
——–
YOU ALSO MIGHT LIKE
Supreme Court Chooses Dark Money Billionaires Over Environment
Activist Tom Steyer Challenges Koch Brothers to Climate Debate
Climate Leaders Tell Bill Moyers About The Need For Global Fossil Fuel Divestment
——–
EcoWatch Daily Newsletter
Colombia rainforest. Marcel Oosterwijk / CC BY-SA 2.0
Many of us think of the Amazon as an untouched wilderness, but people have been thriving in these diverse environments for millennia. Due to this long history, the knowledge that Indigenous and forest communities pass between generations about plants, animals and forest ecology is incredibly rich and detailed and easily dwarfs that of any expert.
picture-alliance / Newscom / R. Ben Ari
By Wesley Rahn
Plastic byproducts were found in 97 percent of blood and urine samples from 2,500 children tested between 2014 and 2017, according to a study by the German Environment Ministry and the Robert Koch Institute.

Pexels
Medically reviewed by Daniel Bubnis, MS, NASM-CPT, NASE Level II-CSS
Hot yoga has become a popular exercise in recent years. It offers many of the same benefits as traditional yoga, such as stress reduction, improved strength, and flexibility.
Lara Hata / iStock / Getty Images
By SaVanna Shoemaker, MS, RDN, LD
Rice is a staple in many people's diets. It's filling, inexpensive, and a great mild-tasting addition to flavorful dishes.
An image of the trans-alaskan oil pipeline that carries oil from the northern part of Alaska all the way to valdez. This shot is right near the arctic national wildlife refuge. kyletperry / iStock / Getty Images Plus
The Trump administration has initialized the final steps to open up nearly 1.6 million acres of the protected Alaskan National Wildlife Refuge to allow oil and gas drilling.
Kaboompics / Pexels
Tensions between lawmakers and several large manufacturing companies came to a head on Capitol Hill this week during a hearing on toxic fluorochemicals in U.S. drinking water.