This website uses cookies to ensure you get the best experience while browsing it. By clicking 'Got It' you're accepting these terms.
From Dirty Coal to Solar Farm, One of New England's Worst Polluters Makes the Switch
Nov. 01, 2016 09:43AM EST
Energy
One of the worst polluters in New England, the Mount Tom Power Station in Holyoke, Massachusetts, is making the switch from coal to solar. The plant's owner, Paris-based Engie, shuttered the coal-powered generating plant in 2014 and broke ground this month on a 5.76-megawatt solar array—enough to power 1,000 homes.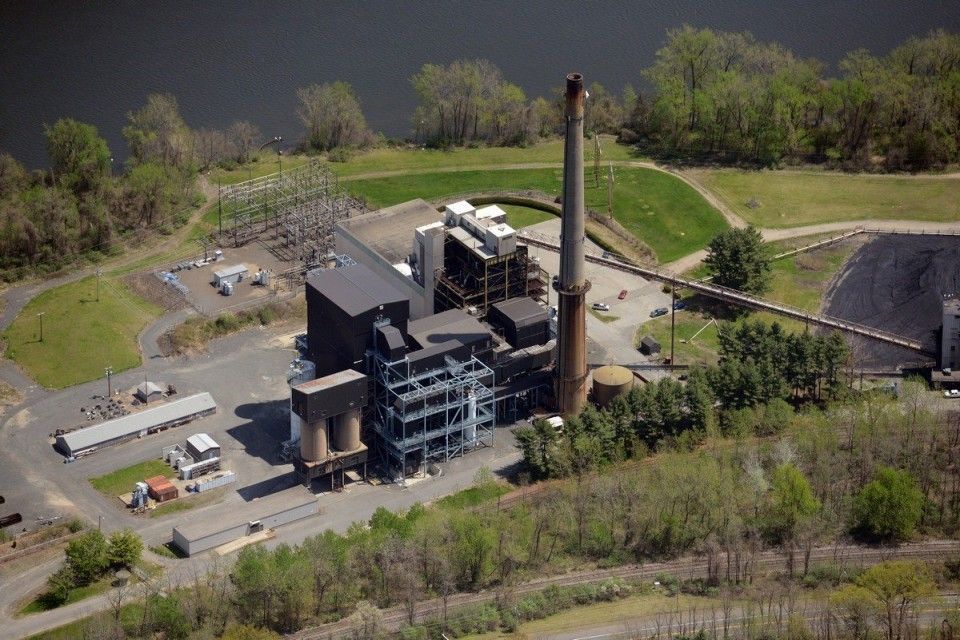 Aerial view of Mount Tom coal-fired power station. MassLive
The Mount Tom coal station, which went online in 1960, was associated with perennially poor air quality in the Holyoke area north of Springfield. The grassroots New England group, Toxics Action Center, had been organizing to shutter the aging plant and working with local residents to plan for redevelopment of the site.

"This victory came after more than five decades spent inhaling soot and struggling to breathe, and more than five years of organizing to retire and repurpose the Mount Tom coal plant," Claire B.W. Miller, lead community organizer for the Toxics Action Center, told Rhode Island-based EcoRI News.
Engie is a $76 billion global energy company with 155,000 employees, headed by Isabelle Kocher. In an interview with Le Parisien, she said, "Renewables are revolutionizing the energy industry. I believe that solar power particularly will transform our world. Not only is it available in unlimited quantities, but it is increasingly becoming economically—and therefore financially—profitable to generate and use."
The solar installation in Massachusetts will cover 22 acres with 17,000 solar panels. It will sell energy to Holyoke Gas & Electric, which serves 18,000 customers.
"Massachusetts continues to be a national leader in solar installations as we build a clean energy future that reduces costs to ratepayers," Department of Energy Resources Commissioner Judith Judson said.
The state recently set an ambitious energy storage target amounting to 600 megawatts or five percent of peak load. Energy storage creates system-wide cost savings and better integrates renewable energy generation sources. Massachusetts, California and Oregon are the only states developing energy storage plans.
The Mount Tom Power Station isn't the first coal-fired power plant to be converted to a solar farm. A joint venture of Sun Edison Canadian Construction and the Six Nations of the Grand River Development Corporation are constructing a 44-megawatt solar farm on the shores of Lake Erie in Ontario, Canada, inside the former home of one of the largest coal-fired power plants in North American.
EcoWatch Daily Newsletter
Hedges, 2019 © Hugh Hayden. All photos courtesy of Lisson Gallery
By Patrick Rogers
"I'm really into trees," said the sculptor Hugh Hayden. "I'm drawn to plants."
BruceBlock / iStock / Getty Images
Thanks to their high concentration of powerful plant compounds, foods with a natural purple hue offer a wide array of health benefits.
Environmental Investigation Agency
Last week, the Peruvian Palm Oil Producers' Association (JUNPALMA) promised to enter into an agreement for sustainable and deforestation-free palm oil production. The promise was secured by the U.S. based National Wildlife Federation (NWF) in collaboration with the local government, growers and the independent conservation organization Sociedad Peruana de Ecodesarrollo.
Pixabay
Leaked documents show that Jair Bolsonaro's government intends to use the Brazilian president's hate speech to isolate minorities living in the Amazon region. The PowerPoint slides, which democraciaAbierta has seen, also reveal plans to implement predatory projects that could have a devastating environmental impact.
XL CATLIN SEAVIEW SURVEY / THE OCEAN AGENCY
Hope may be on the horizon for the world's depleted coral reefs thanks to scientists who successfully reproduced endangered corals in a laboratory setting for the first time, according to Reuters.
Last week we received positive news on the border wall's imminent construction in an Arizona wildlife refuge. The Trump administration delayed construction of the wall through about 60 miles of federal wildlife preserves.
PhotoAlto / Frederic Cirou / Getty Images
Drinking water treated with fluoride during pregnancy may lead to lower IQs in children, a controversial new study has found.