This website uses cookies to ensure you get the best experience while browsing it. By clicking 'Got It' you're accepting these terms.
Digesting OWS—Why Food Lovers Need to Come to the Table
Oct. 31, 2011 08:37AM EST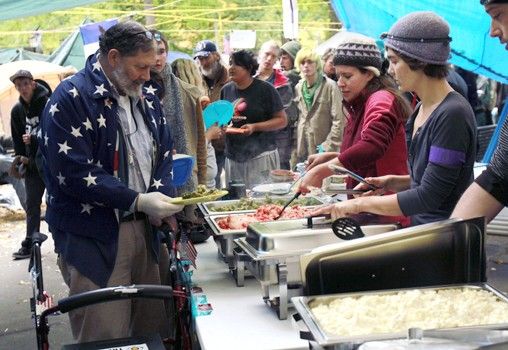 Grassroots. Hungry for change. Growing a new vision every day. We're talking about the hundreds of gardens, farmers markets and community potlucks that Slow Food members have helped to seed over the past 10 years—and we're talking about Occupy Wall Street. Even beyond the shared connection of good, clean and fair food values, there's a whole crop of reasons for why people in the food movement should be paying attention to and learning from OWS—a people's movement against big banks. big corporations. And yes, big ag—or what we call industrial agribusiness. Here are our top three reasons (so far):
1. Changing food and farming is political. Oh no they didn't! Oh yes, we did. Changing food and farming is political (not to be confused with partisan)—and by that we mean it has to do with issues of power and inequality. It raises questions about who controls our infrastructure and who has limited choices because of it, who defines the dominant culture (fast food vs. slow food, diverse or not?), who stays well-nourished and who is hungry or suffering from a diet-related disease. We support local farmers, build school gardens, start farmers markets and organize community potlucks not only because it's immensely gratifying to reconnect to the earth, to our cultures and to each other, but also because it's necessary. In fact, it's political. The reality is that industrial agribusiness and government policies have more control over what farmers grow and what we eat than we do. Over the past decade, we've started to take back the power one meal, one non-GMO crop, one Community Supported Agriculture (CSA) program at a time. But we're fighting a continuous uphill battle—and it isn't right. This is our moment to level the field, to change the food system from our plates to our policies.
2. Food is part of a larger movement for social transformation. The food movement has often been criticized for being elitist, inaccessible and entirely too foodie—and in many cases, that's real. What's also real is that, for many of us, our desire to transform food and farming is rooted in values of community, sustainability and fairness—especially for the farmers and workers who make good food possible and for the communities whose health, culture and access to good food have been threatened by industrial agribusiness. These values—for how we relate to each other, to our environment and to our cultures—aren't limited to the dining table, the kitchen, the food factory or the farm. They extend into a vision for a better world. Food is just the starting point—a lens through which we can start to look at other societal issues. Yes, we care about food, but that doesn't mean we have to lose sight of all the other things that matter—unemployment, unfair tax policies, or race, class and gender inequality. It's all connected. In the words of the late Tupac, "Let's change the way we live. Let's change the way we eat. Let's change the way we treat each other."
3. Another world is possible—and everyone's getting in on it. One of the most amazing and controversial aspects of OWS is that it doesn't pretend to have the answers. The movement is less about rallying support behind a list of demands, and more about everyone being engaged and actively shaping the solutions that make the most sense for their community. Sound familiar? Like OWS, food activists have frequently been criticized for their lack of clear demands—for trying to do too much, to address everything and anything from public health to food workers rights. But that's exactly the kind of thinking and doing that we need going forward. There's no silver bullet to fix food and farming. No magic formula for building a better one. Folks have explored some great models that allow us to change the way we grow, access, share and prepare food—such as CSAs, worker-owned food co-ops, mobile farmers markets—but there's a whole host of solutions yet to be explored. To build a better world, we all have to be committed. We need to slow down, come together and create an entire recipe book for change.
These are important times and well deserving of an important response. Social change movements are gaining ground. The food movement is growing. It's up to each of us to know what's up and to help carry the positive momentum forward.
For more information, click here.
EcoWatch Daily Newsletter
Tuna auctions are a tourist spectacle in Tokyo. Outside the city's most famous fish market, long queues of visitors hoping for a glimpse of the action begin to form at 5 a.m. The attraction is so popular that last October the Tsukiji fish market, in operation since 1935, moved out from the city center to the district of Toyosu to cope with the crowds.

gmnicholas / E+ / Getty Images
Kristan Porter grew up in a fishing family in the fishing community of Cutler, Maine, where he says all roads lead to one career path: fishing. (Porter's father was the family's lone exception. He suffered from terrible seasickness, and so became a carpenter.) The 49-year-old, who has been working on boats since he was a kid and fishing on his own since 1991, says that the recent warming of Maine's cool coastal waters has yielded unprecedented lobster landings.
Aerial view of lava flows from the eruption of volcano Kilauea on Hawaii, May 2018. Frizi / iStock / Getty Images
Hawaii's Kilauea volcano could be gearing up for an eruption after a pond of water was discovered inside its summit crater for the first time in recorded history, according to the AP.
The Eqip Sermia Glacier is seen behind a moraine left exposed by the glacier's retreat during unseasonably warm weather on Aug. 1 at Eqip Sermia, Greenland. Sean Gallup / Getty Images
hadynyah / E+ / Getty Images
By Johnny Wood
The Ganges is a lifeline for the people of India, spiritually and economically. On its journey from the Himalayas to the Bay of Bengal, it supports fishermen, farmers and an abundance of wildlife.
The river and its tributaries touch the lives of roughly 500 million people. But having flowed for millennia, today it is reaching its capacity for human and industrial waste, while simultaneously being drained for agriculture and municipal use.
Here are some of the challenges the river faces.
By Jake Johnson
As a growing number of states move to pass laws that would criminalize pipeline protests and hit demonstrators with years in prison, an audio recording obtained by The Intercept showed a representative of a powerful oil and gas lobbying group bragging about the industry's success in crafting anti-protest legislation behind closed doors.
Reposted with permission from our media associate Common Dreams.

DESIREE MARTIN / AFP / Getty Images
Wildfires raging on Gran Canaria, the second most populous of Spain's Canary Islands, have forced around 9,000 people to evacuate.