This website uses cookies to ensure you get the best experience while browsing it. By clicking 'Got It' you're accepting these terms.
Diane Rehm Examines the Dangers of Monsanto's Roundup and Dow's Enlist Duo Herbicides
Feb. 04, 2015 01:50PM EST
Food
Yesterday on NPR's The Diane Rehm Show, Diane Rehm and her guests discussed the race against pests and weeds, and the recent approval by the U.S. Environmental Protection Agency (EPA) on Dow AgroSciences' herbicide Enlist Duo, a new combination of 2,4-D and glyphosate meant to fight chemical-resistant "superweeds."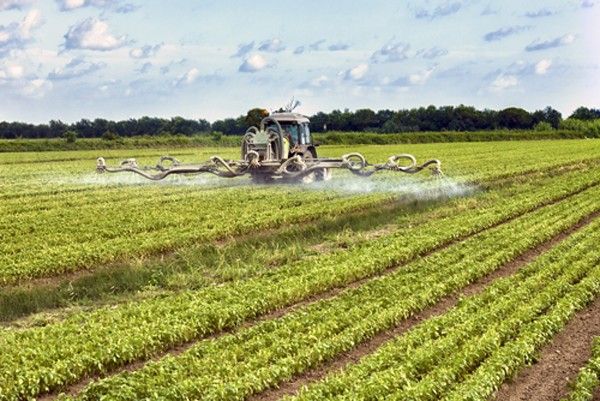 Photo credit: Shutterstock
This new herbicide has many in the environmental and health communities concerned because of the dangerous impacts to human health and the environment. The Natural Resources Defense Council (NRDC) and other groups sued to block the EPA's approval because they don't think the EPA considered all of the environmental and health impacts of the new herbicide. Many have joined the NRDC in calling for a new approach to pest and weed control that doesn't wreak havoc on human health and the environment.
Rehm starts the discussion by talking about the most common herbicide, Monsanto's Roundup, which she says, "is steadily becoming less effective." Erik Olson, director of the health program for the NRDC explains why that is:
What we have is a chemical arms race between the pesticide companies, who are developing ever more powerful pesticides to kill bugs and to kill weeds, and the bugs and weeds that keep evolving and become more resistant to those pesticides. So another new generation of pesticides have to be invented. So we're on this treadmill.
During the process of deploying more and more pesticides to deal with pests and weeds that are resistant, we are killing non-target organisms, according to Olson. These non-target organisms are often beneficial insects—bees in particular—that help keep pest populations in check and pollinate crops.
How do these pests and weeds become resistant? "It's basic evolution," says Olson. A pesticide can wipe out 99.9 percent of pests or weeds but that 0.1 percent that survives is resistant and they produce offspring that are even more resistant, according to Olson.
That's why experts like Andy Dyer, professor of biology at the University of South Carolina, author of Chasing the Red Queen: The Evolutionary Race Between Agricultural Pests and Poisons and a guest on yesterday's show, say gigantic monocultures—one single crop in a field—are a huge problem. We've taken highly diversified ecosystems and reduced them to a single species, providing pests with an all-you-can-eat buffet, according to Dyer.
Dyer says he wrote his book because "the connection between pesticide resistance and the underlying principles of evolutionary biology—while they're understood—have not really been closely linked." Dyer says, we have to realize "each chemical pesticide has a lifespan and it will lose its effectiveness over time."
Les Glasgow of Syngenta said on yesterday's show that because herbicides like Roundup are so effective in the short term, they get overused to the point where they lose their effectiveness. "The future really is about diversity" for weed management, says Glasgow. "If we can introduce more diversity in the tactics that we use for weed control, then we can certainly avoid the resistance." Glasgow says products like Roundup and now Enlist Duo are not intended to be used on their own.
That's not common practice, though. Farmers of commodity crops like soy and corn, which tend to be genetically modified, use herbicides like Roundup "more or less indiscriminately" because "it's their one tool" in pest and weed control, says Dyer.
Aaron Hobbs, president of Responsible Industry for a Sound Environment, says pesticides are merely a part of the solution. He calls for integrated pest management, which is an approach to controlling pests that relies on a combination of best practices. Hobbs agrees with the other guests that we've completely overused Roundup, "dousing fields with it" and as a result we've killed off a lot of the milkweed, a plant that Monarch butterflies feed on. With milkweed wiped out, the Monarch butterfly population has collapsed as well. The increased reliance on chemical pesticides is effecting the entire food web.
Not only are these chemical pesticides destroying human health and the environment, but, according to Olson, it can cost millions of dollars to develop a new pesticide, and yet they can become obsolete within a few years. So we need to work with nature using "these more innovative tools of sustainable agriculture," Olson says.
Allen, a listener who called into the show is a former EPA employee, says 2,4-D should have been phased out years ago. "It was half of agent orange and it's just being brought back and it's a really bad idea." Olson and Dyer agree we're on a backwards trend: we're using dangerous chemicals on fewer and fewer crops with less and less genetic diversity. We need a wide variety of crops with high genetic diversity in order to move away from this chemical dependency. Olson says, "I think we can all agree in this room that taking an integrated approach to solve a pest problem is the way to go."
Listen to the full discussion on The Diane Rhem Show.
YOU MIGHT ALSO LIKE
The Solution Under Our Feet: How Regenerative Organic Agriculture Can Save the Planet
Award-Winning Sundance Film Offers 'Innovative Solutions to Mend our Broken Food System'
World's Largest 'Vegetable Factory' Revolutionizes Indoor Farming
EcoWatch Daily Newsletter
Wesley Martinez Da Costa / EyeEm / Getty Images
By David R. Montgomery
Would it sound too good to be true if I was to say that there was a simple, profitable and underused agricultural method to help feed everybody, cool the planet, and revitalize rural America? I used to think so, until I started visiting farmers who are restoring fertility to their land, stashing a lot of carbon in their soil, and returning healthy profitability to family farms. Now I've come to see how restoring soil health would prove as good for farmers and rural economies as it would for the environment.
skaman306 / Moment / Getty Images
Radish (Raphanus sativus) is a cruciferous vegetable that originated in Asia and Europe (1Trusted Source).
The Centers for Disease Control (CDC) released new numbers that show vaping-related lung illnesses are continuing to grow across the country, as the number of fatalities has climbed to 33 and hospitalizations have reached 1,479 cases, according to a CDC update.
During the summer, the Arctic tundra is usually a thriving habitat for mammals such as the Arctic fox. Education Images / Universal Images Group via Getty Images
Reports of extreme snowfall in the Arctic might seem encouraging, given that the region is rapidly warming due to human-driven climate change. According to a new study, however, the snow could actually pose a major threat to the normal reproductive cycles of Arctic wildlife.
Vegan rice and garbanzo beans meals.
Ella Olsson /
Pexels
One common concern about vegan diets is whether they provide your body with all the vitamins and minerals it needs.
Many claim that a whole-food, plant-based diet easily meets all the daily nutrient requirements.
A fracking well looms over a residential area of Liberty, Colorado on Aug. 19.
WildEarth Guardians / Flickr