Dentist Pays $50,000 to Kill Cecil the African Lion, Sparks Internet Outrage
Jul. 28, 2015 04:16PM EST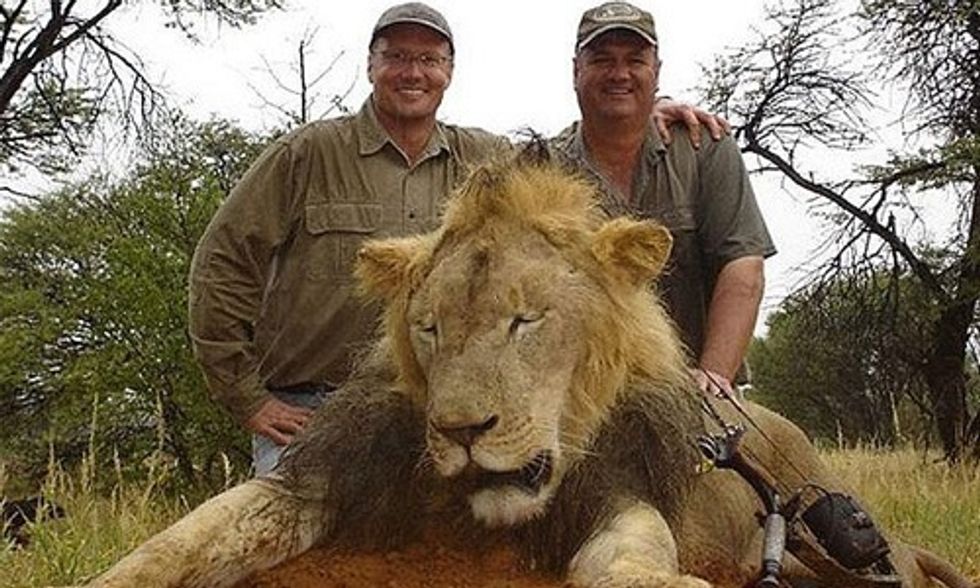 More sad news on the wildlife front. Yesterday, a Northern White Rhino in a Czech zoo died, bringing the grand total of Northern White Rhinos on Earth to four (and they are all in captivity). Now, it has come to light that Walter Palmer, a man from a small town near Minneapolis killed Cecil the Lion, one of Africa's most famous lions and the star attraction at the Hwange national park in Zimbabwe, according to The Guardian. 
Where am I get my licence to shoot, skin and decapitate Minnesotan dentists? http://t.co/cPH4LccD75 #CecilTheLion pic.twitter.com/1qeYpV7Ouc

— Stephen Mangan (@StephenMangan) July 28, 2015
The Zimbabwe Conservation Task Force said Palmer is the culprit and he was abetted by two Zimbabwean men, professional hunter Theo Bronkhorst and farm owner Honest Ndlovu,who will appear in court for allegedly helping lure the lion outside of its protected area to kill it, reports the AP. They are charged with poaching offenses for not having the required permits and could face up to 15 years in prison if found guilty, reports the BBC. Palmer could also face poaching charges.
The lion was wearing a GPS collar as part of an ongoing research project, so authorities were able to track his last movements and his final location. "The hunters tried to destroy the collar, but failed," authorities told The Guardian. The lion was found skinned and headless on the outskirts of the park.
Palmer, an avid hunter, and the two Zimbabweans claim they didn't know the lion they killed was protected. "I had no idea that the lion I took was a known, local favorite, was collared and part of a study until the end of the hunt," Palmer told the AP, maintaining that to his knowledge, everything about the hunt had been legal. "I deeply regret that my pursuit of an activity I love and practice responsibly and legally resulted in the taking of this lion," Palmer told CNN, saying he would cooperate with authorities' inquiries.
Palmer closed his dental practice as its Facebook page and website were flooded with angry comments and threats. Some users then turned to Yelp with one calling him an "American psycho incarnate." Palmer had a similar incident in 2006 when he shot a black bear "outside an authorized zone" and then lied about where he shot and killed the animal, according to CNN. He was given a one-year probation and fined $3,000.
The death of Cecil the Lion comes as countries in Africa are working to crack down on illegal poaching, which is second only to the drug trade in its scope. The World Wildlife Fund has enlisted Jared Leto in its efforts and solutions run the gamut from 3D printed rhino horns to drones. Read page 1
For now, the wildlife trade is alive and well, as proven by the recent report from International Fund for Animal Welfare (IFAW) and Wildlife Conservation Society on the ivory and wildlife trade on Craigslist.
In response to Cecil the Lion's death, Jeff Flocken, North American regional director for IFAW, issued the following statement:
"We are extremely saddened by the news of Cecil the Lion being illegally killed for sport—not only from an animal welfare perspective, but also for conservation reasons.  African lion populations have declined sharply, dropping nearly 60 percent in the last three decades. With as few as 32,000 African lions remaining in the wild, individuals matter for conserving the species.
Even worse, the killing of a dominant male in a pride, like Cecil, can have a ripple effect and result in the deaths of other males, young cubs and females in that pride. And as troubling as it is, the rarer these trophy hunted animals become, the more hunters are willing to pay to kill them—like the American hunter, who recently paid $350,000 to kill a critically endangered black rhino in Namibia.  
Actions, like these, are quickly pushing imperiled species toward extinction. So long as a value continues to be placed on these animals, where they are worth more dead than alive, the future of majestic creatures like elephants, lions, tigers and rhinos will remain in grave jeopardy."
It's not just conservation groups that are up in arms, though. The lion's death has sparked widespread outrage around the world. By early this morning, more than 210,000 people had signed an online petition demanding "justice" for Cecil. "The petition called on Zimbabwean President Robert Mugabe to stop issuing hunting permits to kill endangered animals," reports CNN. Several celebrities including Sharon Osbourne, Debra Messing, Ricky Martin, Olivia Wilde and Ricky Gervais took to twitter to express their complete outrage:  
#WalterPalmer is Satan. I don't know how anyone could go to this man for dental services after this. He is a killer. Beware! — Sharon Osbourne (@MrsSOsbourne) July 28, 2015
Ohh the dentist "had no idea" the lion was famous. Because had he known, he would never have murdered it without asking for a selfie first.

— olivia wilde (@oliviawilde) July 28, 2015
This asshole. Why would anyone want to kill a lion for fun? What is wrong with people?

— Alyssa Milano (@Alyssa_Milano) July 28, 2015
#JusticeForCecilTheLion NOW. — Ricky Martin (@ricky_martin) July 28, 2015
This is heartbreaking in every possible way. What a loss. Trophy hunting is SHAMEFUL and disgusting. #CecilTheLion https://t.co/hnzcFJnCK0 — Mandy Moore (@TheMandyMoore) July 29, 2015
Used to hate my dentist for yelling at me about my night guard but at least she didn't kill #CecilTheLion

— Jerry O'Connell (@MrJerryOC) July 28, 2015
RIP #CecilTheLion I'm struggling to imagine anything more beautiful than this pic.twitter.com/lile3Kb2dk

— Ricky Gervais (@rickygervais) July 28, 2015
SHAME ON HIM! I want them to take his citizenship away. I'm ashamed and horrified by what he did. #CecilTheLion https://t.co/SGRwiOi0UK

— Debra Messing (@DebraMessing) July 28, 2015
Hunting is not a sport. In a sport, both sides know they're in the game. #CecilTheLion

— Nicky Rothschild (@NickyHilton) July 29, 2015
There needs to be an international law banning trophy hunting once and for all. #CecilTheLion #bantrophyhunting

— Chad Lowe (@ichadlowe) July 29, 2015
Dentist shot #CecilTheLion w/ crossbow… tracked it for 40hrs before severing the head as a trophy- @McKenzieCNN pic.twitter.com/nYYfBFB0K6

— Anderson Cooper 360° (@AC360) July 29, 2015
Jimmy Kimmel even dedicated a segment of his show last night to talk about how upset he was about the trophy hunt. Watch here:
Watch this video of the magnificent Cecil with his pride of lions:
YOU MIGHT ALSO LIKE
Can 3D-Printing Save Rhinos From Going Extinct?
If All the Bees in the World Die, What Would Happen to Humans?
EcoWatch Daily Newsletter