Denmark Just Set Yet Another World Record for Wind Power
Denmark produced 42 percent of its electricity from wind power in 2015, even though two major wind farms were offline, according to official data from Energinet, Denmark's transmissions systems operator. That's the highest figure recorded to date worldwide and 3 percent higher than the record Denmark set for wind production in 2014.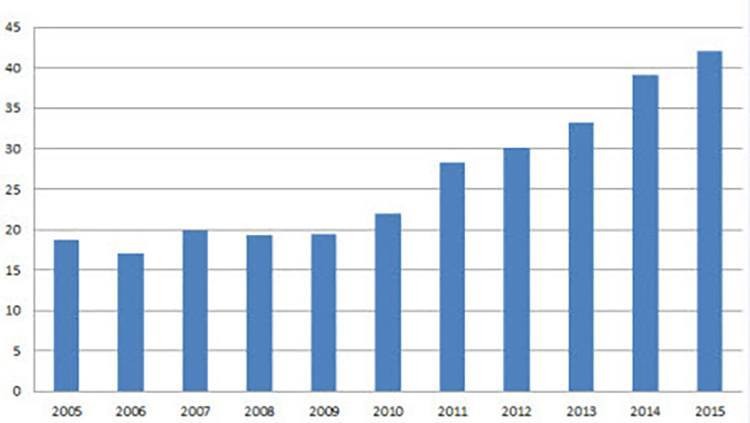 In fact, two western regions—Jutland and Funen—supplied more electricity from wind than they consumed for the equivalent of 60 days last year. Wind supplied 55 percent of electricity in the western part of the country and 23 percent in the eastern region.
"Hopefully, Denmark can serve as an example to other countries that it is possible to have both ambitious green policies with a high proportion of wind energy and other renewables in the energy supply, and still have a high security of supply and competitive prices on electricity," the country's Minister for Energy, Utilities and Climate Lars Christian Lilleholt told The Guardian.
According to Energinet, 2015 was a particularly windy year, which helped Denmark set the new record. But Denmark has been rapidly increasing its overall percentage of wind energy for more than a decade.
"The fact that we are now generating surplus power 16 percent of the time in the Western Danish power grid illustrates that ... we can benefit from imports and exports across borders to an even greater extent," Carsten Vittrup, an adviser to Energinet, said. Denmark sells excess energy mainly to Norway, Sweden and Germany.
The European Wind Energy Association hailed the news. "These figures show that we are now at a level where wind integration can be the backbone of electricity systems in advanced economies," Kristian Ruby, the European Wind Energy Association's chief policy officer, told The Guardian.
The Scandinavian country appears to be on track to reach its goal of producing half of all electricity from wind by 2050. Globally, renewable energy saw more money invested ($329.3 billion) and more capacity added in 2015 than ever before, according to data released last week from Bloomberg New Energy Finance. Renewables, especially wind and solar, have soared in recent months even amid plummeting fossil fuel prices.
YOU MIGHT ALSO LIKE
Costa Rica Powers 285 Days of 2015 With 100% Renewable Energy
Renewable Energy Soars Amid Plummeting Fossil Fuel Prices
Nicaragua Joins Clean Energy Revolution, Vows 90% Renewables by 2020
Revolutionizing Battery Storage Key to Fast Tracking Renewables
A coalition of conservation groups and others announced Thursday that a historic number of comments and petitions of support have been submitted to the U.S. Department of the Interior in support of Bears Ears National Monument. Despite the entirely inadequate 15-day comment period ending on May 26, more than 685,000 comments in support of Bears Ears National Monument have been collected.
Keep reading...
Show less
Rink Glacier in western Greenland, with a meltwater lake visible center. NASA/OIB
Scientists have had their eyes on Greenland as its iconic glaciers have begun disappearing due to a warming climate. But, what they didn't expect to see was a whole new type of melting.
Keep reading...
Show less
Mountain View Fire
By Lena Moffitt
An oil tanker in Mead, Colorado exploded, killing one and injuring three on Thursday. Authorities are continuing to investigate the cause of the explosion.
Keep reading...
Show less
Banner created by Alliance for Climate Education
Keep reading...
Show less
Twenty-two GOP senators sent a letter Thursday urging Donald Trump to pull out of the Paris agreement. They argued remaining in the deal could "upend" the administration's ability "to fulfill its goal of rescinding the Clean Power Plan."
Keep reading...
Show less
By Cheryl Johncox
The Federal Energy Regulatory Commission (FERC) rejected on Thursday Energy Transfer Partners' request to resume horizontal directional drilling at two sites for its Rover fracked gas pipeline. This rejection comes after numerous leaks into Ohio's wetlands, and Clean Air and Clean Water act violations. FERC has halted the process at only eight locations of the 32 where drilling is taking place under Ohio's wetlands and streams.
Keep reading...
Show less
By Nadia Prupis
A majority of people in eight countries say they are ready to change their lifestyles if it would prevent climate catastrophe, a survey on global threats released Wednesday found.
Keep reading...
Show less
May. 25, 2017 01:55PM EST
Bill Maher is sick of billionaires' obsession with Mars, more like "Mars-a-Lago," he said.
In a new animation produced by ATTN:, the popular talk show host of Real Time, discusses the perils of our planet, including how "climate change is killing us."
Keep reading...
Show less