Democrats Compete Over Strong Stance on Climate Action at #DemDebate
Oct. 14, 2015 10:18AM EST
Climate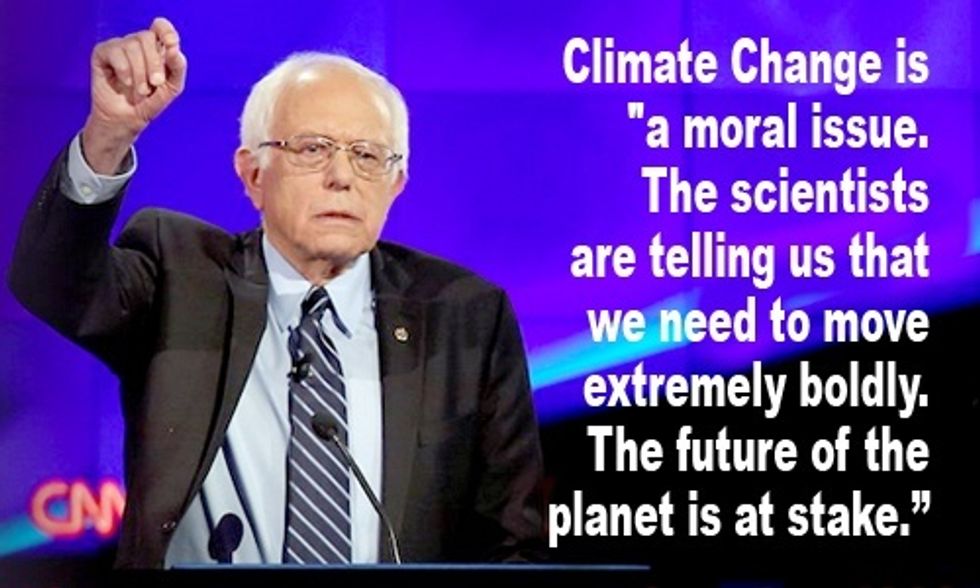 Unlike the first two GOP debates, where climate change and other pressing environmental issues were barely mentioned, the first Democratic debate last night in Las Vegas, Nevada, mentioned climate change many times.
Last night's #DemDebate showed just how far we've come in talking about #climatechange http://t.co/CiwzltblWS via @newrepublic

— Greenpeace USA (@Greenpeace USA)1444829465.0
"Climate change received significant attention throughout tonight's debate," said Brant Olson, campaign director of ClimateTruth.org. "Unlike at the last Republican debate, four out of five of the Democratic candidates addressed the issue right off the bat in their opening statements, clearly prioritizing the need for climate action."
Eric Holthaus of Slate notes what a change it is from the past two presidential campaigns. The candidates were "practically begging to talk about climate change." Sanders even called it "a moral issue. The scientists are telling us that we need to move extremely boldly. The future of the planet is at stake."
It did not go unnoticed by those on Twitter how much earlier climate change was brought up at the Democratic debate than the first two Republican ones. Unlike most of the Republican candidates, all of the Democratic candidates accept climate science.
#ClimateChange in the first few minutes. There's one difference between the debates #DemDebate

— Arianna Huffington (@Arianna Huffington)1444784307.0
When asked by moderator Anderson Cooper what the biggest threat facing the nation is, both Gov. Martin O'Malley and Sen. Sanders listed climate change. O'Malley said it causes "a cascade of threats."
"Senator Sanders rightly identified climate change as a pressing national security threat and also spoke to the funding received by Republican climate deniers from fossil fuel interests—a key obstacle to federal action," said Olson.
#BernieSanders just identified #climatechange as the greatest LT national security threat. Funny, so does #science #DemDebate #FeelTheBern

— Adam Greenberg (@Adam Greenberg)1444787034.0
RT @cleanh2oaction:

[email protected]

also mentioned #climatechange as one of the top national security threats. #DemDebate #ActOnClimate

— Clean Water Action (@Clean Water Action)1444787830.0
O'Malley mentioned multiple times that we need to move to 100 percent renewable energy by 2050, pledging that his first day in office he would issue an executive order to make the transition. He knocked the so-called "all of the above strategy" embraced by President Obama and others. "We did not land a man on the moon with an all-of-the-above strategy," O'Malley said. "We can get there as a nation, but it's going to require presidential leadership." Earlier this summer, he rolled out a plan to show how we can make the transition to entirely clean energy in the coming decades.
O'Malley wants 100% clean energy by 2050 to help fight #climatechange #DemDebate

— ClimateTruth (@ClimateTruth)1444787827.0
O'Malley accused Clinton of taking a long time to come out against the Keystone XL pipeline, but Clinton said, "I never took a position on Keystone until I took a position on Keystone." She maintained she was "on the forefront of climate change starting in 2009 when President Obama and I crashed a meeting with the Chinese and got them to sign up to the first international agreement to combat climate change that they'd ever joined." Many on Twitter mocked Clinton for the comment, quipping that acting on climate change in 2009 does not put her on the forefront.
@HillaryClinton I'm sorry but 2009 is very late to be taking action about #climatechange #DemDebate

— Nicky Roberts (@Nicky Roberts)1444788329.0
Further, Holthaus at Slate points out she is bragging about what was actually a diplomatic failure:
Clinton staked her climate record on what's widely perceived to have been one of the biggest diplomatic failures in recent history—the Copenhagen climate summit in 2009. After years of anticipation, the meeting of world leaders ended in disarray, with Obama and his aides famously wandering around the convention center, looking for the leaders of China, India, Brazil and other key nations. The toothless deal struck at the last minute was called a "grudging accord" by The New York Times the next day. Yes, Obama—and Clinton, then his secretary of state—were instrumental to that deal, but it's hardly something Hillary should be proud of.
I can't believe @HillaryClinton brought up Copenhagen as a foreign policy victory. Just shocking disconnect from reality.

— Duncan Meisel (@Duncan Meisel)1444788407.0
Sen. Jim Webb of Virginia was the only candidate who had a more measured climate stance. He supports an all-of-the-above energy strategy. He's pro-coal, pro-offshore drilling and pro-Keystone XL pipeline. Another of the lesser known candidates, former Governor of Rhode Island Lincoln Chafee didn't have much of a chance to talk about climate issues (or much of a chance to talk, period), though he briefly mentioned his support for climate action. But he did have one chance towards the end of the debate to tout his climate credentials. Anderson Cooper pointed out that the candidates have all made enemies over the course of their political careers. So, he wanted to know which enemy they were most proud of. Chafee said he was most proud of making an enemy out of the coal lobby.
After tonight, who else thinks we need a debate focused solely on climate? http://t.co/TA6rTlr4Xy #DemDebate #50by30 http://t.co/B0a2OZLb9U

— NextGen America (@NextGen America)1444791738.0
There are still five more debates scheduled for the Democrats and climate change is sure to be brought up more in depth. Some though, such as Tom Steyer of NextGen Climate, believe we still need to devote an entire debate to climate change and renewable energy.
"Tonight's Democratic presidential debate demonstrated the need for another debate dedicated entirely to climate change and clean energy," said Steyer. "The Democratic presidential candidates recognized the threat of climate change and the benefits of building a clean energy economy. But one question simply isn't enough time to discuss our greatest challenge—we must add a debate exclusively focused on climate change solutions and clean energy."
In contrast to these candidates, Republican presidential candidate Mike Huckabee tweeted this during the debate:
They believe climate change is a greater threat than Islamic extremism, that a sunburn is worse than a beheading. It's nonsense! #DemDebate

— Gov. Mike Huckabee (@Gov. Mike Huckabee)1444784456.0
Actually, climate change has, in fact, been shown to kill more people than terrorism. With the exception of Lindsey Graham and George Pataki, the Republican candidates "have either remained silent, provided false economic arguments for inaction or denied the existence of human-induced climate change entirely," said Olson of ClimateTruth.org.
"When it comes to tackling the climate crisis, the contrast between the candidates in this debate and the Republican field is stunningly clear," said Sierra Club Political Director Khalid Pitts. "We saw candidates who were not afraid to stand up to the fossil fuel industry by embracing American leadership to secure a significant climate agreement in Paris and move toward a 100 percent clean energy economy. Meanwhile, we've only heard the same tired excuses and denial from Republican candidates who have spent more time addressing the agenda of the Koch Brothers than the demands of the American people."
YOU MIGHT ALSO LIKE
At Least One GOP Presidential Candidate Believes in Climate Change
12 Funniest Tweets in Response to Trump Blasting Obama
Disturbing Images Expose the Horrific Impact of Plastic Trash on Marine Animals
Ben Carson Says He Doesn't Believe in Climate Change or Evolution
EcoWatch Daily Newsletter