Democratic Governors Received $3.5 Million in Dirty Energy Money in Last Five Years
May. 22, 2013 12:51PM EST
Energy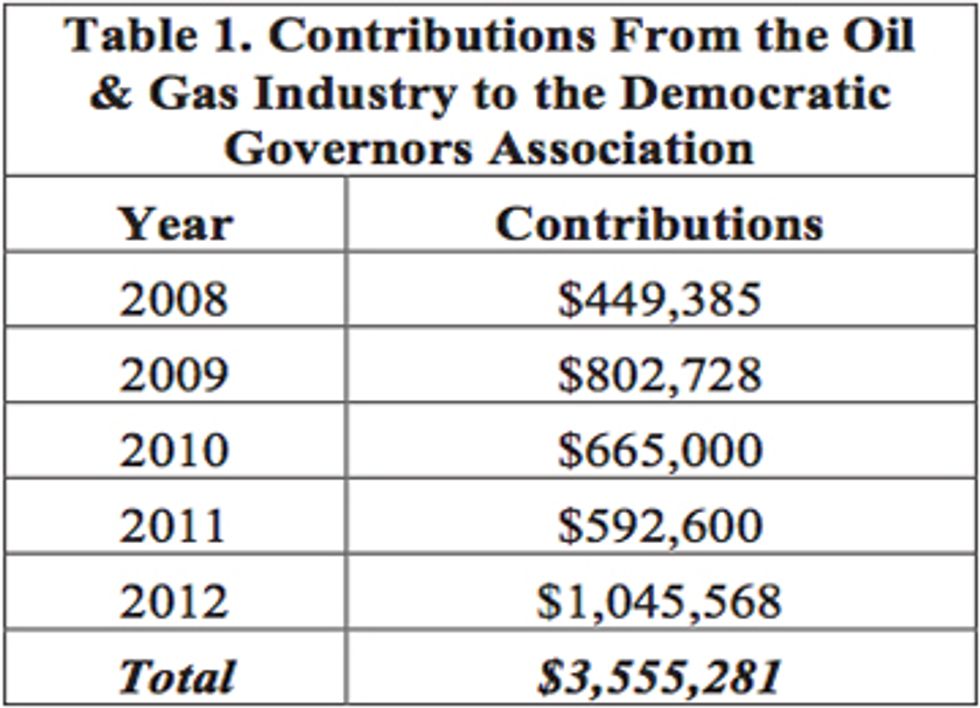 By Rich Bindell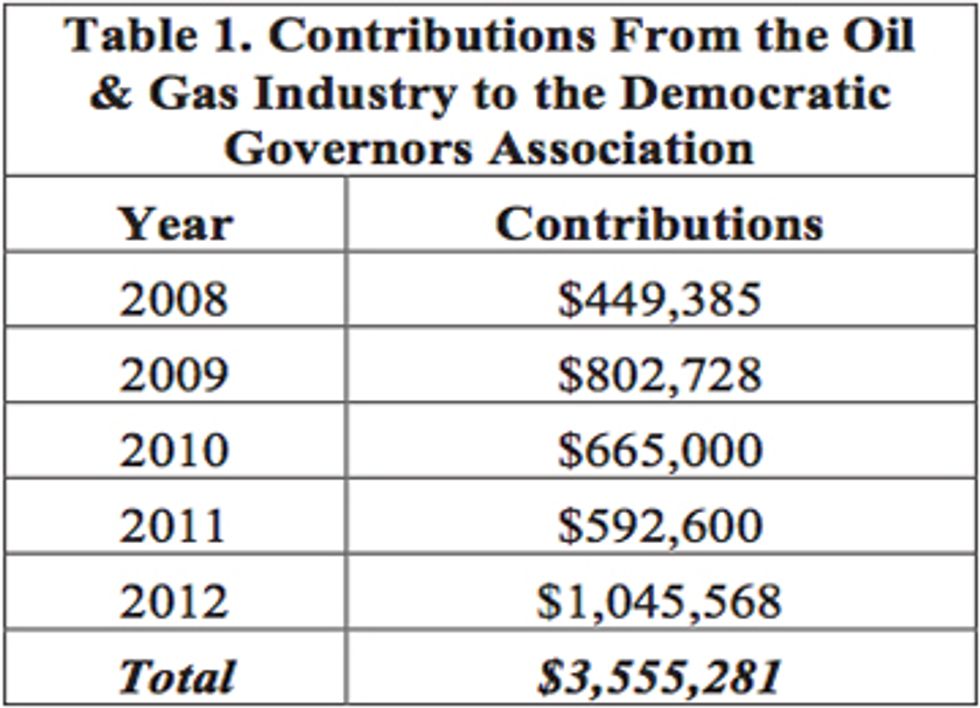 As fracking has made its way through several states, those concerned with its inherent dangers have vehemently voiced their opposition to the practice, but their concerns have fallen on deaf ears. While communities across the country have pleaded for bans and long-term moratoriums on the practice, many state leaders have pushed forward with weak regulations, most of which have been created through consultation with industry. It's obvious that industry, with its misleading promises relating to new jobs and improved local economies, has serious influence when it comes to state-level politics. But just how much influence do they have?
While it's pretty evident that the oil and gas industry has long had strong support from within the Republican Party, what might not be obvious is how much financial support the industry has given to the Democrats, specifically to Democratic governors. As revealed in our new report, The Democratic Governors Association's Dirty Energy Money, some of America's biggest oil and gas companies have donated approximately $3,555,281 to the Democratic Governor's Association (DGA) since 2008.
If you've been following fracking news closely over the past few years, you'll be rather familiar with most of the key donors, which include the American Petroleum Institute, ExxonMobil, Dominion Resources, America's Natural Gas Alliance, Shell Oil, CONSOL Energy, Encana Oil & Gas, Chevron, Koch Industries, ConocoPhillips, Chesapeake and the American Gas Association. Most of these companies have much to gain from Maryland and New York if their governors help to approve fracking. And now it's clear that the DGA has already gained quite a bit from the strong influence of the oil and gas industry.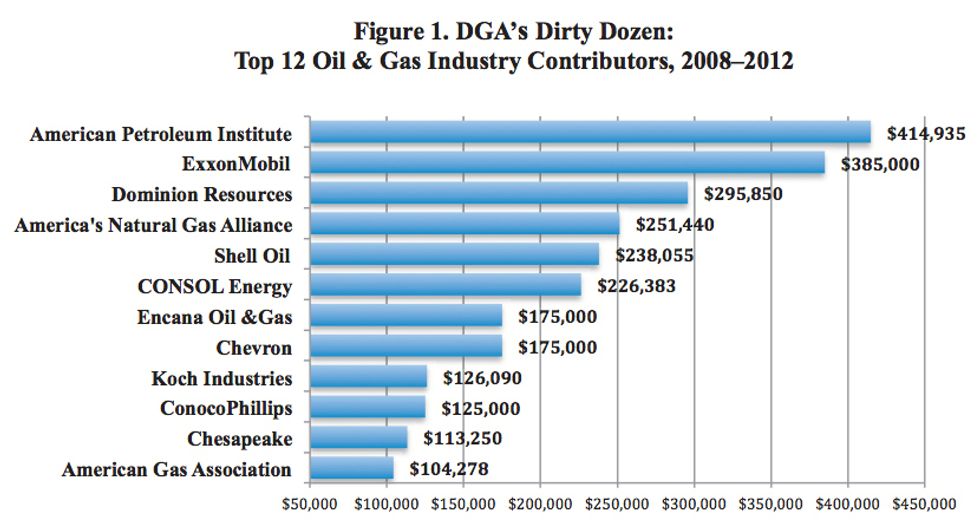 With its campaign to keep America addicted to fossil fuels, the industry has recently turned to Maryland, where it has been infiltrating the political process in the Old Line State. Its goal is simple: to get Maryland's leaders to approve fracking and begin granting drilling permits. Despite public opposition to fracking and concerns that more comprehensive study is needed before lifting the current moratorium, things have been moving rather quickly in Maryland.
Last April, the Marcellus Shale Advisory Commission, appointed by Gov. O'Malley, issued a draft report warning that fracking could have significant negative impacts in Maryland, echoing the concerns of many fracking opponents. Still, as has been happening in other states, Gov. O'Malley and other Maryland leaders are pushing forward with drilling as if it is inevitable, despite warnings contained in the Commission's report.
In response, Americans Against Fracking, along with 24 national, state and local organizations, sent a letter to Gov. O'Malley expressing concerns about pushing forward with fracking despite the inherent dangers. In fact, O'Malley seems to be recommending that Maryland consult the oil and gas industry itself when crafting regulations, and he's invited the Center for Sustainable Shale Development (CSSD)—a pro-industry group led by representatives from CONSOL Energy, Shell, Chevron, EQT Corporation and the Environmental Defense Fund—to the table.
We expect our leaders to look out for the safety and health of the communities they serve. Regulating fracking will not protect us against its harmful effects, and the path to the White House is not lined with oil and gas rigs. We need to ban fracking now.

Today, a strong alliance of advocates for clean water, public health and the environment will speak loudly in order to bring a halt to the rush to frack. Americans Against Fracking and Food & Water Watch will lead a coalition of environmental, public health and advocacy organizations to march outside of the DGA policy conference hosted by Gov. O'Malley. The march is the first of a few rallies planned for DGA conferences being held around the country, designed to get the attention of key Democratic governors, including Gov. O'Malley (MD), Gov. Quinn (IL), Gov. Hickenlooper (CO), Gov. Cuomo (NY) and Gov. Brown (CA).
Visit EcoWatch's FRACKING page for more related news on this topic.
——–
Sign the petition today, telling President Obama to enact an immediate fracking moratorium:

EcoWatch Daily Newsletter