Democracy in Action as Fracking is Voted Down in Colorado Springs
Mar. 29, 2013 11:22AM EST
Energy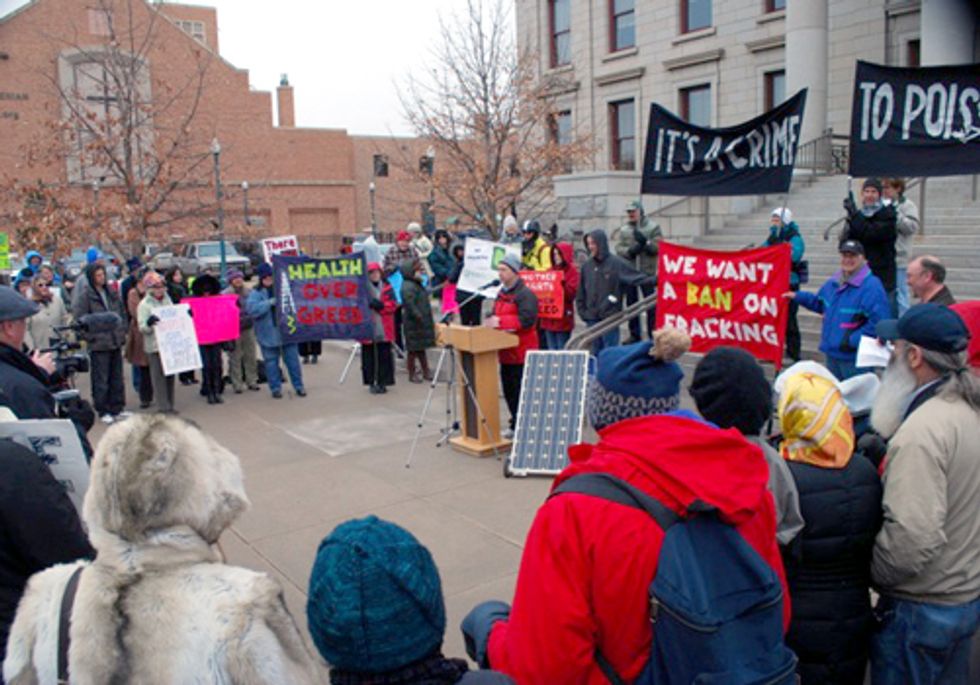 By Phillip Doe
If the public are bound to yield obedience to laws to which they cannot give their approbation, they are slaves to those who make such laws and enforce them. —Candidus in the Boston Gazette, 1772
Colorado Springs is Colorado's second largest city. Perhaps unfairly, it is also known nationally as a bastion of conservative politics. Yet, a little over a week ago, on March 12, conservative and liberal—indeed people from every shade in the political spectrum—found common cause. They stood united in fighting the prospect of the oil and gas industry taking over their city, one open space at a time. They stood together at a rally on a chill-wind morning in front of the Colorado Springs City Hall, and then in a packed council chamber to testify against fracking rules and regulations that would have given the industry the keys to the city.
Fortunately, the concerned citizens of Colorado Springs prevailed in convincing the majority of city council members that fracking is not safe. Now the city must start from scratch with new rules and no drilling can take place in the meantime.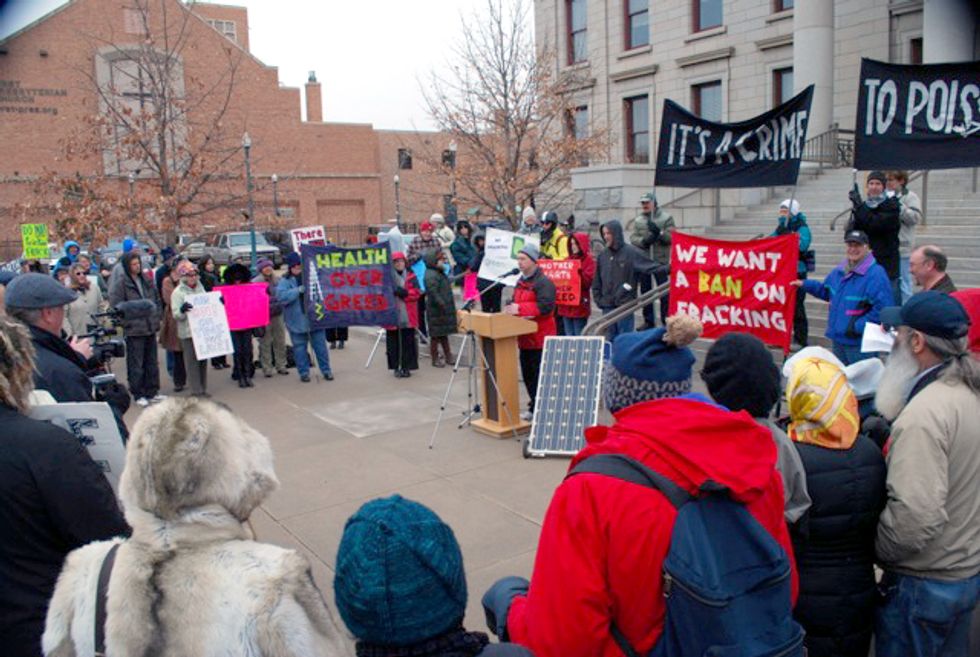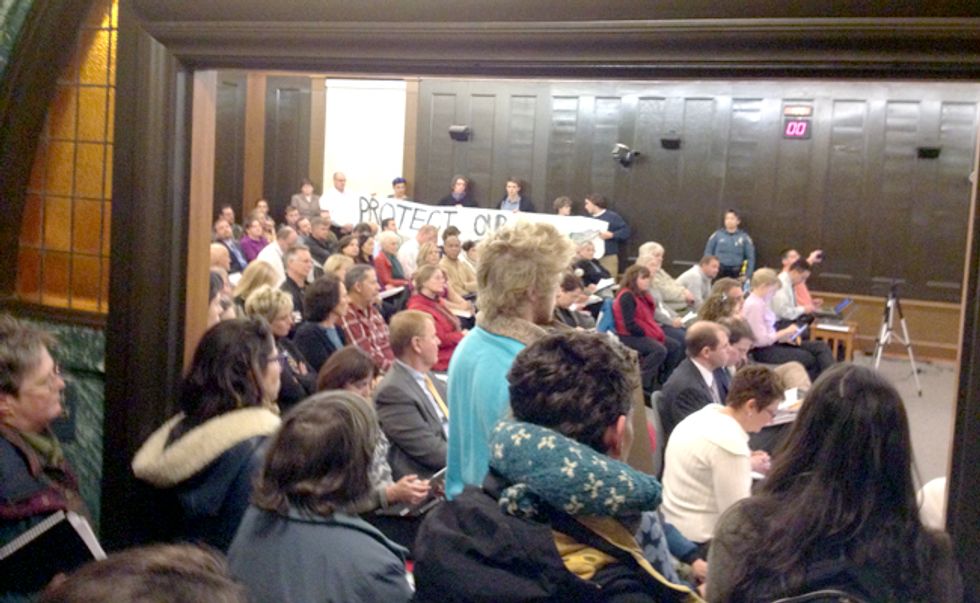 Check out this video of the rally:
Colorado is a strong "home rule" state. That is, cities and towns with home rule charters have powers superior to the state in matters of local jurisdiction. This straightforward declaration is found in Article 20, Section 6 of the Colorado Constitution.  It says in part:
"The people of each city or town … shall always have the power to make, amend, add to or replace" their "charter" … This ... "shall be its organic law and extend to all its local and municipal matters."
"Such charter … shall supersede within the territorial limits … of said city or town any law of the state in conflict therewith."
Predictably, the courts and legislature have made a mockery of the latter provision when it comes to the oil and gas industry having its way with the local folk. Oil and gas development has been declared by them to be a matter of supreme state concern over which the state and only the state has jurisdictional powers.  
It means in practice that the industry does not need the consent of the governed, only the consent of Governor Hickenlooper, Hick to his friends. Hickenlooper, famous for speed-dialing up his political career by jumping out of an airplane as a campaign stunt and wearing an open-throated shirt under his suit except at coronations, recently told a Senate committee he had drunk fracking fluid and had found it safe.
My colleague Wes Wilson at Be the Change told me, "Hick's drinking habits might pass for science in Louisiana, where creationism is also taught as science, but not here, where empirical evidence is still consulted and weighed, at least by those outside politics."
No clearer demonstration of the wackiness of the Governor's new religion of public-safety-through-selective-tasting was more evident than at a March 5 town hall meeting in Fort Collins. There Colorado State University's Monfort Professor of Climate Science, Scott Denning, told those assembled that he had worked as a field geologist in the industry, and that fracking is a dangerous, heavy industrial activity that should not be allowed in any city. He also said that new data gathered in Weld County showed the methane (natural gas) production losses were at nine percent. Over the critical short term, the next 20 years, this makes methane 4.5 times worse than coal for climate change because of methane's much greater heat trapping capacity.
His remarks concerning the dangers of fracking were not necessarily remarkable for their originality, for scientists and activists have made similar statements from across the country. What was remarkable was the Stepford Wives reaction of Hickenlooper's show-case representatives on the panel—one, the second in command at the state oil and gas commission, and the other, the head of air quality for the state department of public health. They did not engage his assertions. They simply stared blankly ahead and told the audience of their agencies many accomplishments. Clearly, for them, happiness is playing housewife to Anadarko, Encana and Shell, and perhaps servicing their neighbors Noble, Anschutz and Conoco when needed.
But fortunately, in the end, the Colorado Springs City Council, several of whom had been well tutored by local activists on the dangers of fracking to their city, voted down the rules.
Enriching the tableau being played out that day in Colorado Springs was the introduction of an initiative to ban fracking within the city by a local grassroots group. It is human rights based, focusing on the constitutional guarantees of the health, safety and the general welfare of every citizen, the guarantees, they argue, that give government its only legitimacy.
They hope the city will refer it onto the ballot. If not, they will go forward with it as an initiative. To be successful, they will need to collect perhaps as many as 27,000 signatures. The citizen's initiative, or the right of direct democracy as it's sometimes called, is the process the citizens of Longmont, Colorado were forced to take last year to enforce a fracking ban within their city. The Colorado Oil and Gas Association, an industry trade group, are now suing the city. Incredibly, Hick is openly cheering them on.
During the Colorado Springs council meeting, a couple councilmembers provided excellent public theatre. Realtor Tim Leigh, who voted for the rules, and some would say against the people, said he was voting for the rules because he didn't like the way the public had conducted itself, that it hadn't been decorous enough. Someone behind me muttered he should have been present at the French Revolution. Another in the back of the room yelled that he didn't think a "spite vote" should be considered valid. A woman sitting next to me wondered if he'd ever had to share his sand pile when he was young?
Equally entertaining was the exchange between Councilwoman Angela Dougan and the public. She had been criticized from the audience for constantly being on her cell phone during the several hours of public testimony. In explaining her vote for the rules she said she had been on her phone because she was fact checking the assertions made by the public and could find no evidence of their accuracy. This was met with moans.
I was told that Dougan, very recently, had called the police department—in a theatrical panic, perhaps, since her husband is on the police force—when she got a hand delivered flyer in her mail box from an anti-fracking grassroots group. She complained she didn't want them to know where she lived. It is unclear if she was relieved to find out it had been a saturation effort. That she had not, in fact, been targeted by the rabble.
Council members voting against the rules most often cited the high handedness the Governor and his staff had shown in denying any modification to the state's regulations. Asked and denied were requests to allow the city to do its own air monitoring of fracking operations, require the installation of water monitoring wells around every gas well, place all residential areas off limits to fracking and allow the hiring of one city inspector, underwriting his salary by charging a $5,000 fee for a drilling permit review. These were the suggestions of Councilwoman Jan Martin. She characterized them as modest and reasonable. Because the Governor's representative, Matt Lepore, had rejected them out of hand, she voted against Hick's rules, saying she could not vote for rules that did not give any consideration to the constitutional rights of home rule cities and the concerns of local citizens.  
Both council members Brandy Williams and Val Snider said they were supporting what they perceived to be the majority view that the state rules were not adequate to protect the citizens of Colorado Springs. Days earlier the local weekly newspaper, The Independent, published the results of a poll it had taken showing 51 percent of those polled supported a ban, 43 percent opposed and six percent were undecided. Phil Anschutz of Anschutz Exploration Corporation, one of his many corporations, recently acquired the Colorado Springs Gazette. He is believed to have fairly vast oil and gas holdings in the state, as he does across the nation. No poll on the merits of fracking is expected in this daily newspaper.

Rumors continue to circulate at the capitol that the industry has taken its own poll on fracking, with the results showing opposition to the way the industry and the Governor are running roughshod over citizen rights. Some have speculated this phantom poll may have played into Ultra Energy's announcement it would not develop, at least for now, its mineral rights on 18,000 acres of Colorado Springs land in a place known locally as Banning Lewis Ranch. The city annexed it several years ago for open space after a land developer went into bankruptcy. Whether Ultra's announcement was merely a ploy to get the city to think it was out of immediate danger from fracking is unknown. What is known is that it didn't work.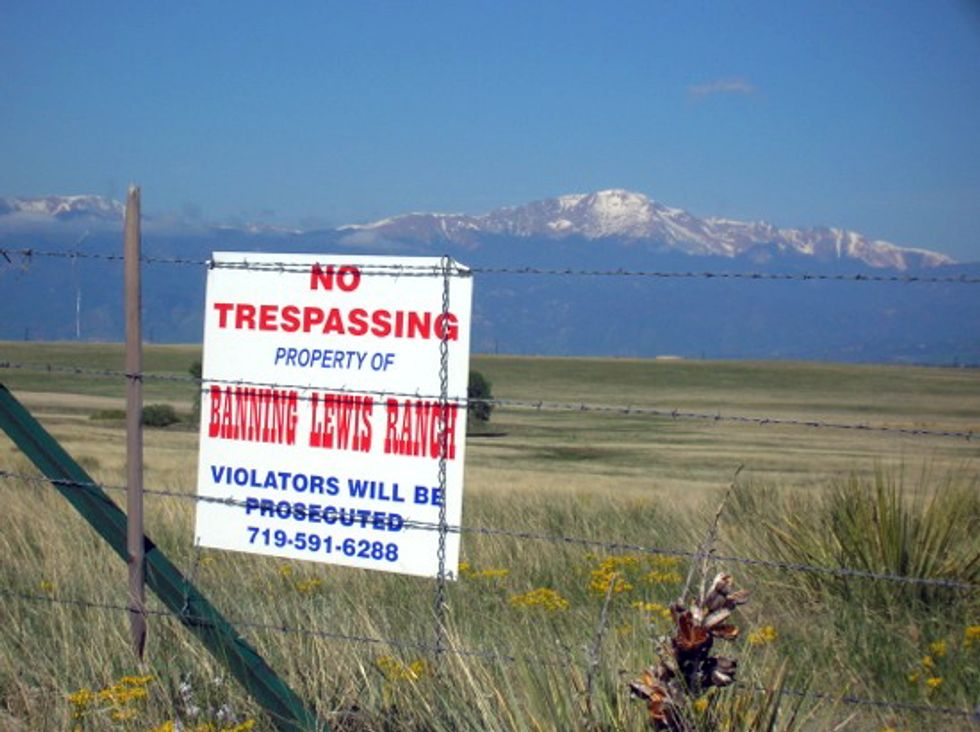 Citizens addressing the council were often concerned about water. Several wondered how and why the industry was apparently able to get water for fracking when the city was already in drought mode with twice a week watering restrictions? Only days later, Denver Water, the largest water purveyor in the state, announced it would be draining Antero Reservoir to save 4,000 acre-feet in evaporation losses and that it too was considering twice a week watering restrictions. The reservoir's storage of 19,000 acre-feet would be released downstream to lower reservoirs where the evaporation would be less.  
Antero is a world-class, flat-water trout fishery. I'm told it receives more than 100,000 visitor days a year. It is one of the chief economic drivers in Park County, Colorado, the rural mountain county in which it is situated. Studies done at Colorado State University on recreation values suggest it may contribute more than $4 million a year to the local economy. The last time it was drained, it didn't reopen for seven years, representing a loss of $24 million to our economy.
The best conservative estimate of how much water the industry will need to frack around 2,000 wells this year—half horizontal and half traditional—is about 16,000 acre-feet. This is four times the loss through evaporation at Antero. In fact, it approaches the entire storage capacity of Antero. If the industry continues to ramp up to where they are drilling mostly horizontally wells at a rate of more than 3,000 a year, as predicted, the water requirements could easily exceed 40,000 acre feet annually—horizontal drilling water demand goes up exponentially compared to traditional fracking.
Colorado Springs uses about 74,000 acre-feet annually. But here's the rub, when the city uses water, half is returned to the system to be reused. When the frackers use it, they consume all of it. More accurately, they destroy it for any other use. So, from a consumption standpoint, which is what really matters, the industry in just a very few years will be using more water than Colorado Springs does today. If one adds in the prospect of refracks for the 150,000 wells expected in the state in 30 years, the demand easily exceeds that of Denver which uses 260,000 acre feet annually.
The Governor's office and the Water Buffaloes seem unconcerned. This may partly be explained by the fact the Water Buffaloes get a substantial portion of their funding for new water projects from severance taxes paid by the oil industry to the state—life is often full of these small surprises. A larger surprise for most people is that of the 30 gas producing counties in the state, operators in only five of them even pay a severance tax to the state since local taxes paid, when combined with 19 statutory oil and gas subsidies, fully offset the severance debt. The largest surprise is that the industry pays no net severance taxes from Weld County, the fourth largest gas producing county in the U.S., proving once again, as many have argued, that tax laws are written by the rich for the rich.   
Several days after I attended the Colorado Springs council meeting, I read newspaper reports of a large uncontrolled leak and probable ground water contamination in Garfield County, Colorado, near the town of Parachute. I tried to miraculously consider, for purposes of  social and environmental analysis, what if this incident was in Colorado Springs?
It seems the leak was first verbally reported in Garfield County on March 8. It was discovered by accident during unrelated excavation activity. Ten days later it was still uncontrolled and the source still unidentified. As of March 19, the state had not yet issued a cease and desist order to Williams Energy, which operates a gas plant on Parachute Creek. Despite the delay, it claimed an order was in the works. Parachute Creek empties into the Colorado River which is federally protected under the Clean Water Act. More than 60,000 gallons of contaminated groundwater and 5,000 gallons of oil had so far been recovered, but, remarkably, some would say unbelievably, the source of the leak was still unknown. To protect its water supply, the town of Parachute had closed its municipal intake on Parachute Creek. According to locals, industry leaks and spills are common though they are usually covered up and go unreported—Hick is a big supporter of the industry's self-reporting regimen. One of the Colorado Springs activist leaders, Laurel Biedermann, told me, "if you believe in the efficacy of oil industry self reporting you probably believe in flying unicorns too."
Try to imagine a city of 360,000 people not storming city hall over such a lackluster effort. Colorado Springs has a police force of more than 600 officers, a fire department of about 400 firefighters, runs its own utilities and has a public health department. In a word, it has all the accoutrements of a modern middle-sized American city. How the Governor continues to claim that he can do a better job of protecting the local population with his merry band of 16 inspectors at the oil and gas commission than the city can is simply ludicrous, it may even border on malfeasance. Is it any wonder that many cities are moving toward an outright ban?
To make the day in Colorado Springs complete, mentioning of the citizens supporting the fracking rules needs to be included. Though few in number, one stood out. Full of the insouciance that comes only when one is sure the message he is carrying will be greeted with delight by his paymasters, Shawn Paige was ripe with economic wisdom of a kind, sure that he knew the true American way. Paige, deputy director for the Colorado chapter of Americans for Prosperity, an organization funded by the Koch brothers, said the rules were great, just what the country needed, and that we must learn to live with risk if we want to live in heated homes. Its been suggested that someone should ask him at the next council meeting if the mess in Parachute was the kind of risk he thought the people of Colorado Springs needed to endure to have a heated home?
Visit EcoWatch's FRACKING page for more related news on this topic.
——–
Sign the petition today, telling President Obama to enact an immediate fracking moratorium:

EcoWatch Daily Newsletter
Related Articles from EcoWatch
Recent Stories from EcoWatch