This website uses cookies to ensure you get the best experience while browsing it. By clicking 'Got It' you're accepting these terms.
Democracy at Its Best: Boulder County Extends Fracking Ban
Nov. 14, 2014 09:41AM EST
Energy

"The time is always right to do the right thing." —Martin Luther King, Jr.
As I sat in the hearing room of the Boulder County Commissioner yesterday I witnessed citizen-led democracy in action.
In a unanimous vote, three Boulder Colorado County Commissioners voted to extend the moratorium on oil and gas drilling in the county for the next three-and-a-half years. The three Democratic party women not only voted against fracking until July 1, 2018, they did so with strong language and gusto as tens-of-thousands of wells loom just across the border in neighboring Weld County waiting to invade the Boulder County landscape.

Commissioner Cindy Domenico started off the discussion with references about the increasing concerns and impacts of fracking on the public's health. Commissioner Deb Gardner followed up by pointing out how fracking is related to climate change, and how Boulder County wants to be at the forefront of protecting the planet for future generations. Commissioner Elise Jones batted cleanup and knocked it out of the park with a discussion about the "industrialization of well pads in suburban housing communities" that she witnessed during her fracking tours in Weld neighboring county.
For their action, the commissioners will likely get sued by the oil and gas industry. Encana, one of the biggest oil and gas driller/frackers in the U.S., has several well permits hanging in limbo in Boulder County, as do other drillers eyeing the "Niobrara Shale" that underlies this suburban landscape.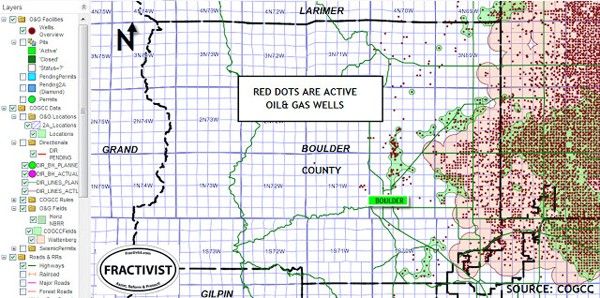 In nearby Longmont, a city within Boulder County, the oil and gas industry has already sued to try to force fracking down citizens' throats, as they have in nearby Fort Collins, Broomfield and Lafayette. The fight against fracking continues to escalate in Colorado as citizens and their elected officials stand up against this powerful industry and its backers in Governor Hickenlooper's office and beyond (Hickenlooper famously boasted to a U.S Senate Subcommittee that he drank fracking fluid).
It wasn't always this way, even in Boulder County. Eighteen months ago, these same three Commissioner waffled and waxed, seemingly afraid to enact a long-term moratorium to fight this industry. It wasn't until the will of the people—hundreds of people—rose up and created a citizen-led movement that gave the commissioners the backing to stand up and fight this industry. A few days ago, nearly a hundred people spoke at the Commissioners' public hearing on this topic. Several groups formed to address the issue including Frack Free Colorado and East Boulder County United and then other groups like the Sierra Club jumped in to bolster the fences.
We're seeing this citizen-led democracy against the powerful polluters in the fossil fuel industry rise up across the U.S. With people-power backing, these three Boulder County Commissioners even had the moxie to make the vote themselves rather than pushing it off to a vote of the people in the next election. Good for them!
Democracy gets in your blood when you see it happen. It's uplifting, alive and a force of nature that makes the corporate zombies in the fossil fuel industry look like pawns on the battlefield of human history and justice.
We must keep fighting—every town, every county, every state and across the U.S. It's our moment in history to do the right thing, and it feels great.
Gary Wockner, PhD, is an environmental activist in Colorado.
YOU MIGHT ALSO LIKE
Fracking Support Plummets Among Americans
Why Dr. Evil Is Targeting Anti-Fracking Activists as 'Big Green Radicals'
Groundbreaking Study Finds Cancer-Causing Air Pollution Near Fracking Sites
EcoWatch Daily Newsletter
Environmental Investigation Agency
Last week, the Peruvian Palm Oil Producers' Association (JUNPALMA) promised to enter into an agreement for sustainable and deforestation-free palm oil production. The promise was secured by the U.S. based National Wildlife Federation (NWF) in collaboration with the local government, growers and the independent conservation organization Sociedad Peruana de Ecodesarrollo.
Pixabay
Leaked documents show that Jair Bolsonaro's government intends to use the Brazilian president's hate speech to isolate minorities living in the Amazon region. The PowerPoint slides, which democraciaAbierta has seen, also reveal plans to implement predatory projects that could have a devastating environmental impact.
XL CATLIN SEAVIEW SURVEY / THE OCEAN AGENCY
Hope may be on the horizon for the world's depleted coral reefs thanks to scientists who successfully reproduced endangered corals in a laboratory setting for the first time, according to Reuters.
Last week we received positive news on the border wall's imminent construction in an Arizona wildlife refuge. The Trump administration delayed construction of the wall through about 60 miles of federal wildlife preserves.
PhotoAlto / Frederic Cirou / Getty Images
Drinking water treated with fluoride during pregnancy may lead to lower IQs in children, a controversial new study has found.
National Institude of Allergy and Infectious Disease
A Greenpeace rally calls for a presidential campaign climate debate on June 12 in Washington, DC. Sarah Silbiger / Getty Images