This website uses cookies to ensure you get the best experience while browsing it. By clicking 'Got It' you're accepting these terms.


The best of EcoWatch, right in your inbox. Sign up for our email newsletter!
Democracy at Its Best: Boulder County Extends Fracking Ban
Nov. 14, 2014 09:41AM EST

"The time is always right to do the right thing." —Martin Luther King, Jr.
As I sat in the hearing room of the Boulder County Commissioner yesterday I witnessed citizen-led democracy in action.
In a unanimous vote, three Boulder Colorado County Commissioners voted to extend the moratorium on oil and gas drilling in the county for the next three-and-a-half years. The three Democratic party women not only voted against fracking until July 1, 2018, they did so with strong language and gusto as tens-of-thousands of wells loom just across the border in neighboring Weld County waiting to invade the Boulder County landscape.

Commissioner Cindy Domenico started off the discussion with references about the increasing concerns and impacts of fracking on the public's health. Commissioner Deb Gardner followed up by pointing out how fracking is related to climate change, and how Boulder County wants to be at the forefront of protecting the planet for future generations. Commissioner Elise Jones batted cleanup and knocked it out of the park with a discussion about the "industrialization of well pads in suburban housing communities" that she witnessed during her fracking tours in Weld neighboring county.
For their action, the commissioners will likely get sued by the oil and gas industry. Encana, one of the biggest oil and gas driller/frackers in the U.S., has several well permits hanging in limbo in Boulder County, as do other drillers eyeing the "Niobrara Shale" that underlies this suburban landscape.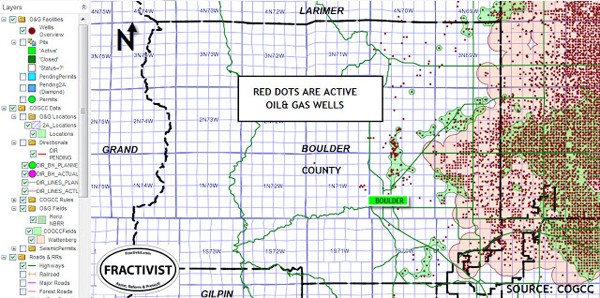 In nearby Longmont, a city within Boulder County, the oil and gas industry has already sued to try to force fracking down citizens' throats, as they have in nearby Fort Collins, Broomfield and Lafayette. The fight against fracking continues to escalate in Colorado as citizens and their elected officials stand up against this powerful industry and its backers in Governor Hickenlooper's office and beyond (Hickenlooper famously boasted to a U.S Senate Subcommittee that he drank fracking fluid).
It wasn't always this way, even in Boulder County. Eighteen months ago, these same three Commissioner waffled and waxed, seemingly afraid to enact a long-term moratorium to fight this industry. It wasn't until the will of the people—hundreds of people—rose up and created a citizen-led movement that gave the commissioners the backing to stand up and fight this industry. A few days ago, nearly a hundred people spoke at the Commissioners' public hearing on this topic. Several groups formed to address the issue including Frack Free Colorado and East Boulder County United and then other groups like the Sierra Club jumped in to bolster the fences.
We're seeing this citizen-led democracy against the powerful polluters in the fossil fuel industry rise up across the U.S. With people-power backing, these three Boulder County Commissioners even had the moxie to make the vote themselves rather than pushing it off to a vote of the people in the next election. Good for them!
Democracy gets in your blood when you see it happen. It's uplifting, alive and a force of nature that makes the corporate zombies in the fossil fuel industry look like pawns on the battlefield of human history and justice.
We must keep fighting—every town, every county, every state and across the U.S. It's our moment in history to do the right thing, and it feels great.
Gary Wockner, PhD, is an environmental activist in Colorado.
YOU MIGHT ALSO LIKE
Fracking Support Plummets Among Americans
Why Dr. Evil Is Targeting Anti-Fracking Activists as 'Big Green Radicals'
Groundbreaking Study Finds Cancer-Causing Air Pollution Near Fracking Sites
EcoWatch Daily Newsletter
A metal fence marked with the U.S. Border Patrol sign prevents people to get close to the barbed/concertina wire covering the U.S./Mexico border fence, in Nogales, Arizona, on Feb. 9. ARIANA DREHSLER / AFP / Getty Images
D'Bone Collector Museum head Darrell Blatchley shows plastic found inside the stomach of a Cuvier's beaked whale in the Philippines this weekend. - / AFP / Getty Images
Yet another whale has died after ingesting plastic bags. A young male Cuvier's beaked whale was found washed up in Mabini, Compostela Valley in the Philippines Friday, CNN reported. When scientists from the D' Bone Collector Museum in Davao investigated the dead whale, they found it had died of "dehydration and starvation" after swallowing plastic bags―40 kilograms (approximately 88 pounds) worth of them!
Pexels
By Jeff Turrentine
"Be careful what you wish for; you just might get it." This is something that everybody has to learn at some point. Lately, the lesson has hit home for a group of American automakers.
Art direction: Georgie Johnson. Illustrations: Freya Morgan
By Joe Sandler Clarke
"Don't expect us to continue buying European products," Malaysia's former plantations minister Mah Siew Keong told reporters in January last year. His comments came just after he had accused the EU of "practising a form of crop apartheid."

A few months later Luhut Pandjaitan, an Indonesian government minister close to President Joko 'Jokowi' Widodo, warned his country would retaliate if it was "cornered" by the EU.
Torres and his parents walk along the Rio Grande. Luis Torres / Earthjustice
By Luis Torres
For some people who live along the U.S.-Mexico border, President Trump's attempt to declare a national emergency and extend the border wall is worse than a wasteful, unconstitutional stunt. It's an attack on their way of life that threatens to desecrate their loved ones' graves.
Flooding caused by last week's bomb cyclone storm has broken records in 17 places across the state of Nebraska, CNN reported Sunday. Around nine million people in 14 states along the Mississippi and Missouri Rivers were under a flood watch, CNN meteorologist Karen Maginnis said.
A car destroyed by Cyclone Idai in Beira, Mozambique. ADRIEN BARBIER / AFP / Getty Images
At least 150 people have died in a cyclone that devastated parts of Mozambique, Zimbabwe and Malawi over the weekend, The Associated Press reported Sunday. Cyclone Idai has affected more than 1.5 million people since it hit Mozambique's port city of Beira late Thursday, then traveled west to Zimbabwe and Malawi. Hundreds are still missing and tens of thousands are without access to roads or telephones.
"I think this is the biggest natural disaster Mozambique has ever faced. Everything is destroyed. Our priority now is to save human lives," Mozambique's Environment Minister Celso Correia said, as AFP reported.