This website uses cookies to ensure you get the best experience while browsing it. By clicking 'Got It' you're accepting these terms.
Demand for Non-GMO Products Hits the Seed Industry
Jan. 17, 2016 10:52AM EST
GMO

The Non-GMO Project label is increasingly appearing on food products in the U.S. and now seed companies are starting to display the butterfly label. A few seed companies, seeing the growing demand for non-GMO products, are getting seed varieties Non-GMO Project verified though the numbers remain small compared with the number of non-GMO verified food companies.
"As demand for non-GMO choices continues to rise, farmers are seeking more non-GMO seed," Megan Westgate, executive director of the Non-GMO Project, said. "Similarly, smaller farms and home gardeners are choosing to plant more organic and non-GMO varieties."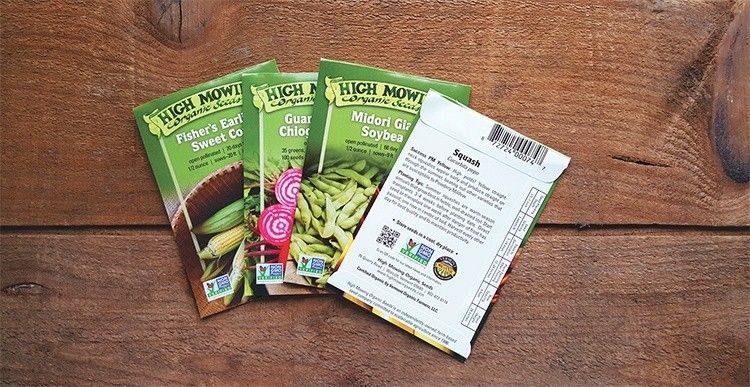 High Mowing Organic Seeds Leads the Way
Vermont-based High Mowing Organic Seeds has been the leader in Non-GMO Project verified seeds. All 700 of the company's organic seed varieties have been verified because of customer demand, according to company president Tom Stearns.
"We're continuing to hear concerns about GMOs from our customers and while we are certified organic that doesn't say anything about GMO contamination," Stearns said, who worked with the Non-GMO Project to develop a non-GMO verification program for seed. "We've spent a huge amount of time implementing (GMO) preventative measures and did GMO testing but we felt this wasn't enough. We wanted third party verification of our claims."
Stearns said there are many more GMO plants than people think.
"There are some 40 GMO plant species, including things like petunia and endive," he said. "There are contamination risks even when a GMO crop is not commercially approved, such as when crops such as GMO wheat escape field trials."
High Mowing Organic Seeds had all of their seed varieties verified to assure their customers.
"If we were to just verify 15 percent of our varieties that have higher GMO risk, our customers may have wondered about the other 85 percent," Stearns added.
Having all seeds verified also allows High Mowing Organic Seeds to be ready if more GMO varieties come to market since they will have GMO prevention systems in place.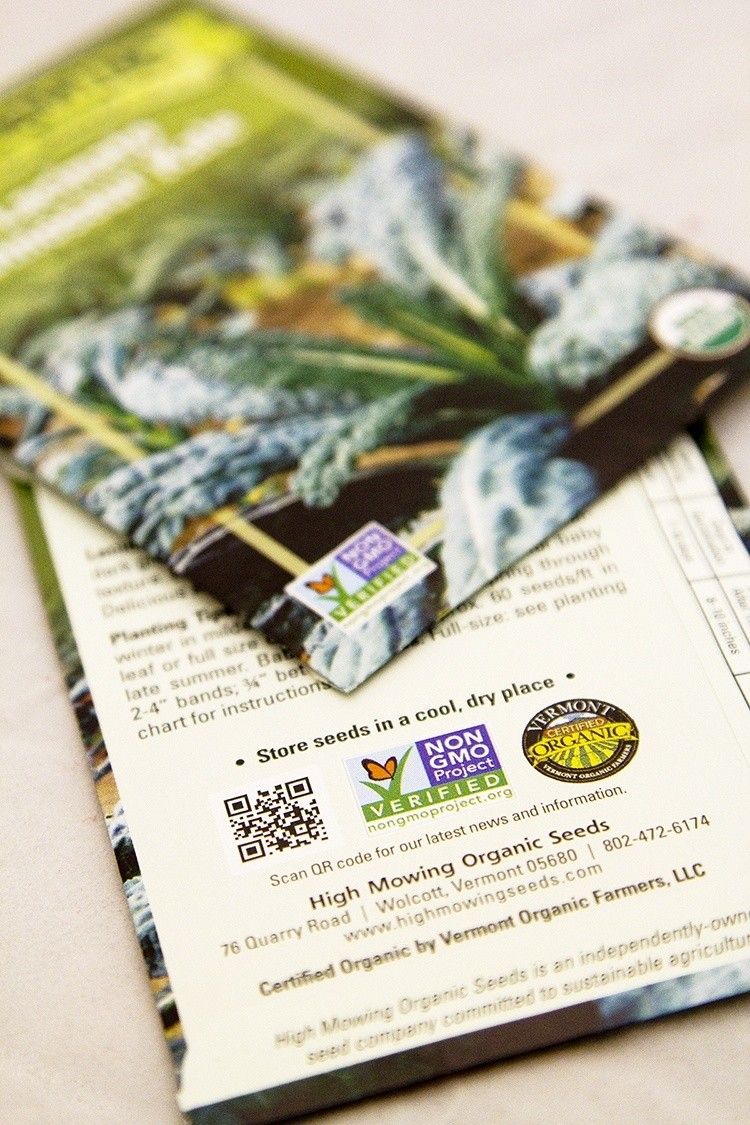 "If GM lettuce is introduced, we are prepared," Stearns remarked.
Tough Standard to Meet for Corn
Minnesota-based Albert Lea Seed House has begun getting some of its organic seed varieties Non-GMO Project verified.
"There's a huge demand for non-GMO and we wanted to be on the leading edge," Mac Ehrhardt, owner and manager Albert Lea, which sells organic and conventional seeds to farmers, said.
Albert Lea sells Non-GMO Project verified varieties of organic oats, rye, wheat and barley.
"We started with seed varieties we could get a handle on," Ehrhardt said. "Once we know what it takes, we will move forward on others."
The verification process was not that difficult, said Matt Leavitt, who handles organic certification for Albert Lea Seed House.
"It's not unlike organic certification and we've had systems in place for isolation and minimizing commingling for 20 years," Leavitt said.
Albert Lea Seed House also plans to get corn and soybean seed varieties verified but these will be more difficult due to GMO risks in those plants.
The Non-GMO Project's standard sets a GMO threshold of 0.25 percent for seed.
"It's a tough standard to meet for corn and also challenging for soybeans and alfalfa" Ehrhardt added. "It has to meet expectations of consumers, but must be achievable for farmers."
"We need a substantial amount of seed at those low levels in order to support the Project's 0.9 percent human food threshold over the long term," Westgate said.
Ehrhardt doesn't yet know how his farmer customers will respond to the non-GMO verification.
"There's huge demand for non-GMO but I question whether our farmers are interested in the label," he said.
Iowa-based Blue River Hybrids put two of its PuraMaize pollen-blocking corn hybrids through the Non-GMO Project verification.
Blue River Hybrids President Maury Johnson sees value in the verification for providing assurance to grain buyers and as a marketing tool.
"For a farmer who is growing organic and concerned about GMO content, this is a pretty handy way to buy seed that is non-GMO verified and has minimal or no GMO content," Johnson said. "That's a good first step."
Similar to Albert Lea Seed House, Johnson plans to get more seed varieties Non-GMO Project verified.
Costco Requested Non-GMO Verification
At Utah-based Mountain Valley Seed Company, retail giant Costco provided the impetus for getting seed varieties Non-GMO Project verified.
"The Non-GMO Project is very predominant in Costco and our Costco buyers wanted the verification," Robb Baumann, Mountain Valley Seed Company partner, said. "That's what led us to do it."
Mountain Valley Seed Company sells 16 organic seed varieties at Costco.
Baumann said his company receives calls "every day" from people asking about GMOs. "The number one question we get is about GMOs," he said.
Still, Bauman has mixed feelings about non-GMO verification.
"Certainly there is value in that customers see it as something good," he added. "But it is an expense. Organic is already expensive. In a way it's taking an organic product and putting another label on it that said the same thing twice."
Conventional Seeds Also Non-GMO Verified
While most Non-GMO Project verified seeds are organic, there are also verified conventional varieties. Washington-based Mighty Mustard sells three varieties of non-GMO verified mustard varieties that farmers grow as cover crops to suppress weeds and increase soil organic matter.
In Oregon, Pure Seed became the first seed company to sell non-GMO verified forage seed for animal feed and turf seed varieties for golf courses and municipal parks.
General Manager Lucas Solis said his company wants to be ahead of the curve.
"GMO has become a bigger topic in turf grass and some companies are developing GMO varieties," he said. "We see the advantage of being non-GMO from an education standpoint and we are doing our best to maintain the integrity of our products."
Further, Solis said Non-GMO Project verification provides assurance to customers, particularly international customers in countries that have strict GMO policies.
Need for Clean, Non-GMO Seed
While there is growing interest in Non-GMO Project verification among seed companies, there aren't many incentives for companies to have their seed verified because the Non-GMO Project focuses more on food.
"The Non-GMO Project Standard focuses on post-harvest testing, so there's no requirement to use verified seed," Westgate said. "The challenge is that without verified seed being required, there's less incentive for that sector to engage."
The Non-GMO Project has organized a Seed Advisory Committee that will examine ways to encourage more seed companies to get their products verified.
"We need to find a solution to creating more engagement," Westgate said.
While demand for non-GMO verified seed is not that strong, the need for it is, said Westgate.
"Seeds are the foundation of the food supply, so it's essential to preserve and build sources of clean, non-GMO seed," she concluded.
YOU MIGHT ALSO LIKE
4 Fish We're Overeating and What to Eat Instead
Why Doesn't the USDA Test for Residues on Food From Monsanto's 'Cancer Causing' Glyphosate?
FDA Approves Genetically Engineered Potato
Outraged Republican Senator Vows to Block Appointment of FDA Commissioner Over GMO Salmon
EcoWatch Daily Newsletter
By Adam Vaughan
Two-thirds of people in the UK think the amount people fly should be reined in to tackle climate change, polling has found.
Climate Week NYC
On Monday, Sept. 23, the Climate Group will kick off its 11th annual Climate Week NYC, a chance for governments, non-profits, businesses, communities and individuals to share possible solutions to the climate crisis while world leaders gather in the city for the UN Climate Action Summit.
By Pam Radtke Russell in New Orleans
Local TV weather forecasters have become foot soldiers in the war against climate misinformation. Over the past decade, a growing number of meteorologists and weathercasters have begun addressing the climate crisis either as part of their weather forecasts, or in separate, independent news reports to help their viewers understand what is happening and why it is important.

While airlines only serve bottled drinking water directly to customers, they use the plane's water for coffee and tea, and passengers can drink the tap water. Aitor Diago / Getty Images
You might want to think twice before washing your hands in an airplane bathroom.
By Allegra Kirkland, Jeremy Deaton, Molly Taft, Mina Lee and Josh Landis
Climate change is already here. It's not something that can simply be ignored by cable news or dismissed by sitting U.S. senators in a Twitter joke. Nor is it a fantastical scenario like The Day After Tomorrow or 2012 that starts with a single crack in the Arctic ice shelf or earthquake tearing through Los Angeles, and results, a few weeks or years later, in the end of life on Earth as we know it.
A pregnant woman works out in front of the skyline of London. SHansche / iStock / Getty Images Plus
Air pollution particles that a pregnant woman inhales have the potential to travel through the lungs and breach the fetal side of the placenta, indicating that unborn babies are exposed to black carbon from motor vehicles and fuel burning, according to a study published in the journal Nature Communications.
Teen activist Greta Thunberg delivered a talking-to to members of Congress Tuesday during a meeting of the Senate Climate Change Task Force after politicians praised her and other youth activists for their efforts and asked their advice on how to fight climate change.
Ten feet of water flooded 20 percent of this Minot, North Dakota neighborhood in June 2011.
DVIDSHUB
/
CC BY 2.0