This website uses cookies to ensure you get the best experience while browsing it. By clicking 'Got It' you're accepting these terms.
Delays and Special Interests Hinder Rules against Deadly Dust
Jan. 25, 2012 10:12AM EST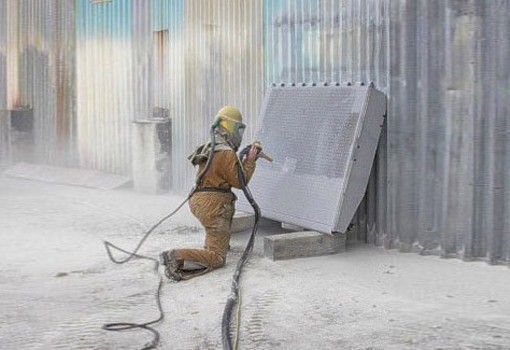 An extraordinary delay in the development of federal protections against exposure to crystalline silica is harming American workers, more than 300 public health scientists, doctors and occupational safety experts told President Obama Jan. 25.
In a letter, the group asked the president to intervene and direct the White House Office of Management and Budget (OMB) to complete its review of a proposed rule from the Occupational Safety and Health Administration (OSHA) to protect workers from exposure to the deadly dust "so that the public, workers, unions, public health experts and employers have the full opportunity to participate in the development of this important worker protection measure."  
Despite being required by executive order to complete its review of proposed rules within 90 days, OMB has held the rule for nearly a year, with no signal of when its review will be complete.
"This delay in action by OMB leaves workers at significant risk of disease and death," according to the letter. "It also prevents the rulemaking process from moving forward, obstructing public participation on this important worker safety and public health matter."
The scientists have joined the American Industrial Hygiene Association in questioning whether the delay is due to politics. The letter notes that OMB staff has held at least nine private meetings on the proposed rules, most of which involved individuals that represent companies with a direct financial stake in their outcome.
The rule has been in development for 14 years. On Dec. 21, 2011, the National Advisory Committee on Occupational Safety and Health wrote the secretaries of Labor and Health and Human Services to emphasize the importance of issuing the proposed silica rule "so that the public hearings and comment period can commence, and a final silica standard issued to protect workers from this serious workplace hazard."
"The White House's job is to coordinate the development of rules that protect the public, not to stand in their way," said Francesca Grifo, director of the Union of Concerned Scientists' Scientific Integrity Program. "The OMB is hundreds of days behind schedule, and every day these rules are delayed, more workers are at risk."
An estimated 1.7 million workers in the U.S. are exposed to respirable crystalline silica, a product of industrial processes like stonecutting, road building and sand blasting that can cause lung cancer, silicosis and other respiratory illnesses.
"Working in silica dust has left me with bad lungs," said Leonard Serafin, a former railroad worker with silicosis from San Bernardino, Calif. "Every day, I struggle to do activities because of my condition. I want to see that other people are protected from this dust—it's not fair to expose people to something this dangerous when they can be protected."
The Centers for Disease Control and Prevention report that about 200 workers die each year from silicosis, and studies estimate there are as many as 7,300 new cases of silicosis annually among U.S. workers. Most of the time, the prognosis is grim.
"When a person with silicosis starts to have trouble breathing, it is too late for effective treatment because the silica dust has caused permanent scarring of the lungs," said Dr. Robert Harrison, clinical professor of Medicine at University of California San Francisco and an occupational disease expert who signed the letter. "When I see a patient with silicosis, it's a stark reminder that our worker safety regulations are inadequate. Silicosis is 100 percent preventable."
Signers of the letter include public health and occupational safety advocates from 39 states and the District of Columbia along with several advocacy groups, including the National Council for Occupational Safety and Health, the Union of Concerned Scientists and Interfaith Worker Justice.
For more information, click here.
—————
The Union of Concerned Scientists is the leading U.S. science-based nonprofit organization working for a healthy environment and a safer world. Founded in 1969, UCS is headquartered in Cambridge, Massachusetts, and also has offices in Berkeley, Chicago and Washington, D.C.
EcoWatch Daily Newsletter
It was early in the morning last Thursday, and Jonathan Butler was standing on the Fred Hartman Bridge, helping 11 fellow Greenpeace activists rappel down and suspend themselves over the Houston Ship Channel. The protesters dangled in the air most of the day, shutting down a part of one of the country's largest ports for oil.
By C.J. Polychroniou
Climate change is by far the most serious crisis facing the world today. At stake is the future of civilization as we know it. Yet, both public awareness and government action lag way behind what's needed to avert a climate change catastrophe. In the interview below, Noam Chomsky and Robert Pollin discuss the challenges ahead and what needs to be done.
Food manufacturer General Mills issued a voluntary recall of more than 600,000 pounds, or about 120,000 bags, of Gold Medal Unbleached All Purpose Flour this week after a sample tested positive for a bacteria strain known to cause illness.
Imelda flooded highway 69 North in Houston Thursday. Thomas B. Shea / Getty Images
Extreme weather events supercharged by climate change in 2012 led to nearly 1,000 more deaths, more than 20,000 additional hospitalizations, and cost the U.S. healthcare system $10 billion, a new report finds.
Giant sequoia trees at Sequoia National Park, California. lucky-photographer / iStock / Getty Images Plus
A Bay Area conservation group struck a deal to buy and to protect the world's largest remaining privately owned sequoia forest for $15.6 million. Now it needs to raise the money, according to CNN.
This aerial view shows the Ogasayama Sports Park Ecopa Stadium, one of the venues for 2019 Rugby World Cup. MARTIN BUREAU / AFP / Getty Images
The Rugby World Cup starts Friday in Japan where Pacific Island teams from Samoa, Fiji and Tonga will face off against teams from industrialized nations. However, a new report from a UK-based NGO says that when the teams gather for the opening ceremony on Friday night and listen to the theme song "World In Union," the hypocrisy of climate injustice will take center stage.
Vera_Petrunina / iStock / Getty Images Plus
By Wudan Yan
In June, New York Times journalist Andy Newman wrote an article titled, "If seeing the world helps ruin it, should we stay home?" In it, he raised the question of whether or not travel by plane, boat, or car—all of which contribute to climate change, rising sea levels, and melting glaciers—might pose a moral challenge to the responsibility that each of us has to not exacerbate the already catastrophic consequences of climate change. The premise of Newman's piece rests on his assertion that traveling "somewhere far away… is the biggest single action a private citizen can take to worsen climate change."