This website uses cookies to ensure you get the best experience while browsing it. By clicking 'Got It' you're accepting these terms.
Delaware Riverkeeper Opposes Proposed Pennsylvania Air Emissions Permit
May. 24, 2012 09:45AM EST
Energy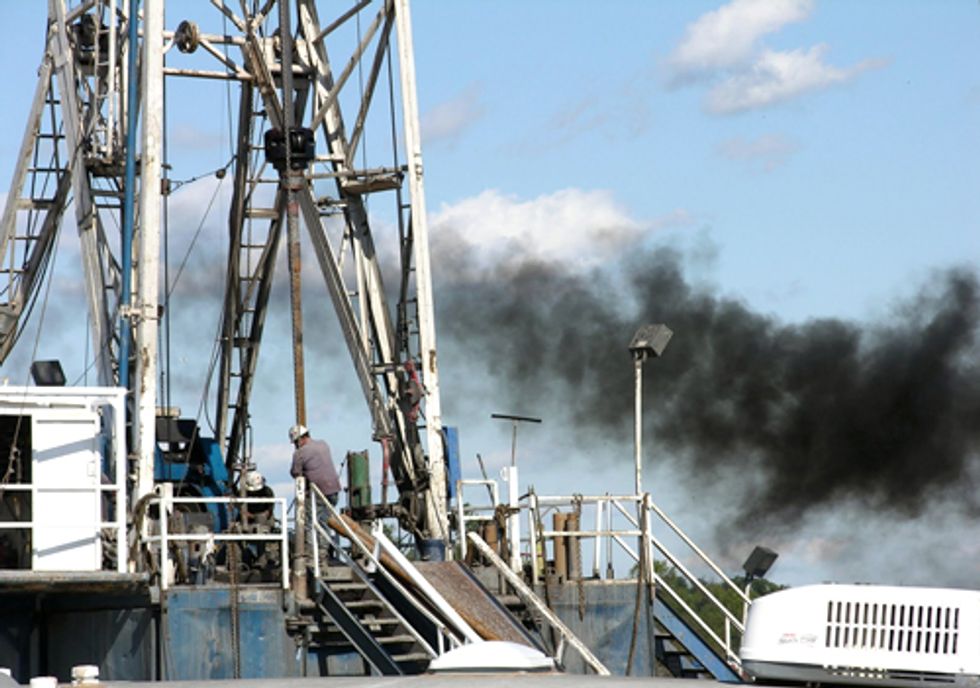 Delaware Riverkeeper Network submitted comments on May 23 to the Pennsylvania Department of Environmental Protection's (PADEP) Air Quality Bureau in Harrisburg regarding PADEP's proposed revisions to the General Plan Approval and/or General Operating Permit for Natural Gas Production and Processing Facilities, known as GP-5. PADEP noticed the proposed revisions in March with a comment deadline of May 2 but then extended the comment period to May 23. The revisions apply to natural gas operations throughout the Commonwealth and were necessary to address changes in U.S. Environmental Protection Agency (EPA) performance standards and national emissions standards for hazardous air pollutants.
For a copy of DRN's comments, click here.
DRN's comment focuses on the issue of atmospheric deposition of airborne pollutants from natural gas production and processing facilities. DRN concludes that the proposed GP-5 is not effective for the protection of human health or the environment and advocates that PADEP correct the deficiencies in the proposed permit before moving ahead.
"The deposition of pollutants emitted by natural gas operations on to water will lead to water quality degradation and provides a substantial pollution pathway that PADEP does not address in the proposed GP-5," said Maya van Rossum, the Delaware Riverkeeper. "This is a huge missing piece of the air pollution puzzle that faces all Pennsylvanians because of the dangerous pollutants the gas industry emits. The problem must be solved by addressing the whole picture, not just little bits. PADEP needs to fix this and fix it now," said van Rossum.
DRN engaged an air expert, Cherelle Blazer, MESc, of Texas to conduct a technical review of the GP-5 in regards to the issue of the deposition of air pollution on water; her report is included in the link to DRN comments above. Ms. Blazer found the proposed permit revisions to be inadequate in protecting public health and the environment because it does not go far enough in addressing the problem of deposition. Ms. Blazer recommends action be taken to analyze cumulative effects and then institute a plan to address them, to make more substantive cuts to emissions and to explore ways to prevent emissions such as restricting certain polluting activities (i.e. gas well flaring).
Ms. Blazer reviewed the scientific literature on this issue and points out that employing Best Available Control Technology (BACT), which is the primary method used in the GP-5, is simply not enough to keep air emissions from degrading the environment. In fact, the use of BACT in other parts of the country where drilling has been occurring has not resulted in effectively controlling nitrogen and sulfate, two of the dangerous air pollutants emitted by gas facilities that are deposited on to water. In Sublette County, Wyoming, where BACT is mandatory, nitrate and sulfate emissions have actually increased and there is evidence of atmospheric deposition in the water and on the land near gas fields there. Ms. Blazer points out that the proposed GP-5 permit can result in the same situation in Pennsylvania.
"Many pollutants are released by natural gas activities and they all must be stopped. Some of these toxics are deposited on land, vegetation and surface water, where they cause water quality pollution that affect millions more people downstream as well as downwind. PADEP is proposing to do the same old thing—a strictly technological fix. Well, this isn't working anywhere in the nation. PADEP needs a new model—they need to prevent the pollution that is harming people and polluting our air and water," said Tracy Carluccio, deputy director, Delaware Riverkeeper Network.
For more information on gas drilling, click here.
Visit EcoWatch's FRACKING page for more related news on this topic.
EcoWatch Daily Newsletter
A new study shows that half of all Arctic warming and corresponding sea-loss during the late 20th century was caused by ozone-depleting substances. Here, icebergs discharged from Greenland's Jakobshavn Glacier. Kevin Krajick / Earth Institute /
EurekAlert!
The world awakened to the hole in the ozone layer in 1985, which scientists attributed it to ozone depleting substances. Two years later, in Montreal, the world agreed to ban the halogen compounds causing the massive hole over Antarctica. Research now shows that those chemicals didn't just cut a hole in the ozone layer, they also warmed up the Arctic.
Diane Wilson holds up a bag full of nurdles she collected from one of Formosa's outfall areas on Jan. 15. Julie Dermansky / DeSmogBlog
On the afternoon of Jan. 15, activist Diane Wilson kicked off a San Antonio Estuary Waterkeeper meeting on the side of the road across from a Formosa plastics manufacturing plant in Point Comfort, Texas.
After Wilson and the waterkeeper successfully sued Formosa in 2017, the company agreed to no longer release even one of the tiny plastic pellets known as nurdles into the region's waterways. The group of volunteers had assembled that day to check whether the plant was still discharging these raw materials of plastics manufacturing.
Malaysian Environment Minister Yeo Bee Yin (front 2nd L) and officials inspect a container containing plastic waste shipment on Jan. 20, 2020 before sending back to the countries of origin. AFP via Getty Images
The Southeast Asian country Malaysia has sent 150 shipping containers packed with plastic waste back to 13 wealthy countries, putting the world on notice that it will not be the world's garbage dump, as CNN reported. The countries receiving their trash back include the United States, the United Kingdom, France and Canada.
Trump leaves after delivering a speech at the Congress Centre during the World Economic Forum annual meeting in Davos on Jan. 21, 2020. JIM WATSON / AFP via Getty Images