This website uses cookies to ensure you get the best experience while browsing it. By clicking 'Got It' you're accepting these terms.
Deceptive Fracking Claims Found Unacceptable by UK Ad Board
Sep. 04, 2014 07:26AM EST
Energy
Fossil fuel companies are getting more brazen in their claims, keeping the UK's advertising oversight board, the Advertising Standards Authority (ASA), busy sorting through them.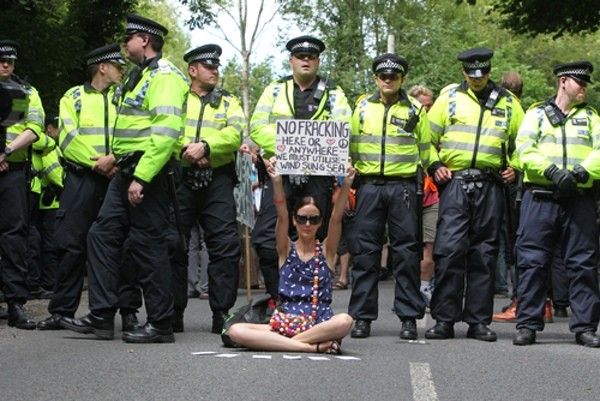 Photo credit: Shutterstock
We recently reported that the ASA ruled against Peabody Energy for implying that its coal was producing "clean" energy.
Dallas-based Breitling Energy went well beyond implication, attempting to seduce British citizens into a love affair with fracking. The ASA has found that an ad run in UK newspaper The Telegraph in February, was misleading, reports the Guardian.
The ad was in the form of a letter from CEO Chris Faulkner, an evangelist for fracking, who has written a book and produced a film on its benefits. It claimed the Britain suffered from a "near-catastrophic" gas shortage in early 2013 and that fracking could offer "decades worth of natural gas," "millions of pounds in tax revenues," "freedom from interruptions and stoppages as a result of Russia's political games with your gas supply," "lowering energy prices for millions," and "reducing greenhouse emissions by replacing coal with natural gas for energy."
After a reader complained that the ad exaggerated the gas shortage, that the benefits of fracking were unknown, and that Russia didn't provide any of the UK's gas supply, the ASA investigated and found against Breitling on all the charges. It told Breitling not to run any ads in the future without hard evidence.
The Guardian said:
Breitling produced press reports to back up its claim about gas supplies running short but it acknowledged that National Grid and the Department of Energy and Climate Change had said energy markets functioned normally at the time. Breitling cited David Cameron's assertion that fracking had 'real potential' to cut energy bills but the ASA decided its claims about the virtues of fracking were misleading and exaggerated.
Faulkner and Breitling vice president Thomas Miller were unrepentant and swaggering, attacking both the ASA and the Guardian, one of the UK's most reliable and respected news sources, according to Yahoo! Finance.
Referring to ASA also finding against a pair of American Apparel ads it deemed too suggestive, Miller said, "Fracking and sex. The Guardian editors sure know a good news story when they see one. You can see by what they chose to run and not run, how the media has over-controlled this debate. The sex ads were only covered because they were racy, that's all. There is no news value there whatsoever."
In fact, fracking has been a hotly debated and controversial in the UK where shale exploration sites are plentiful but the dense population means more potential human impacts. There have been numerous large-scale protests against fracking in the UK. And while England is known for its racy tabloids, the Guardian isn't one of them.
YOU MIGHT ALSO LIKE
Peabody Energy Can't Tout Its 'Clean Coal,' Says UK Ad Watchdog
1,000 March at Largest Fracking Protest in UK History
EcoWatch Daily Newsletter
Artist's conception of solar islands in the open ocean. PNAS
Millions of solar panels clustered together to form an island could convert carbon dioxide in seawater into methanol, which can fuel airplanes and trucks, according to new research from Norway and Switzerland and published in the Proceedings of the National Academy of Sciences journal, PNAS, as NBC News reported. The floating islands could drastically reduce greenhouse gas emissions and dependence on fossil fuels.
Marcos Alves / Moment Open / Getty Images
More than 40 percent of insects could go extinct globally in the next few decades. So why did the U.S. Environmental Protection Agency (EPA) last week ok the 'emergency' use of the bee-killing pesticide sulfoxaflor on 13.9 million acres?
EcoWatch teamed up with Center for Biological Diversity via EcoWatch Live on Facebook to find out why. Environmental Health Director and Senior Attorney Lori Ann Burd explained how there is a loophole in the The Federal Insecticide, Fungicide, and Rodenticide Act under section 18, "that allows for entities and states to request emergency exemptions to spraying pesticides where they otherwise wouldn't be allowed to spray."
Simple swaps that cut down on kitchen trash.
Sponsored
By Kayla Robbins
Along with the bathroom, the kitchen is one of the most daunting areas to try and make zero waste.
View of downtown Miami, Florida from Hobie Island on Feb. 2, 2019.
Michael Muraz / Flickr
The Democratic candidates for president descended upon Miami for a two-night debate on Wednesday and Thursday. Any candidate hoping to carry the state will have to make the climate crisis central to their campaign, as The New York Times reported.
By Sharon Kelly
On Monday, the Wall Street Journal featured a profile of Scott Sheffield, CEO of Pioneer Natural Resources, whose company is known among investors for its emphasis on drawing oil and gas from the Permian basin in Texas using horizontal drilling and hydraulic fracturing, or fracking.
Pexels
By Craig K. Chandler
The federal government has available to it, should it choose to use them, a wide range of potential climate change management tools, going well beyond the traditional pollution control regulatory options. And, in some cases (not all), without new legislative authorization.
Denis Poroy / Getty Images
By Dan Gray
Processed foods, in their many delicious forms, are an American favorite.
But new research shows that despite increasing evidence on just how unhealthy processed foods are, Americans have continued to eat the products at the same rate.
By Sarah Steffen
With a profound understanding of their environmental surroundings, indigenous communities around the world are often cited as being pivotal to tackling climate change.