Death Toll Soars in Climate Change-Related Pakistan Heat Wave
Jun. 24, 2015 11:56AM EST
Climate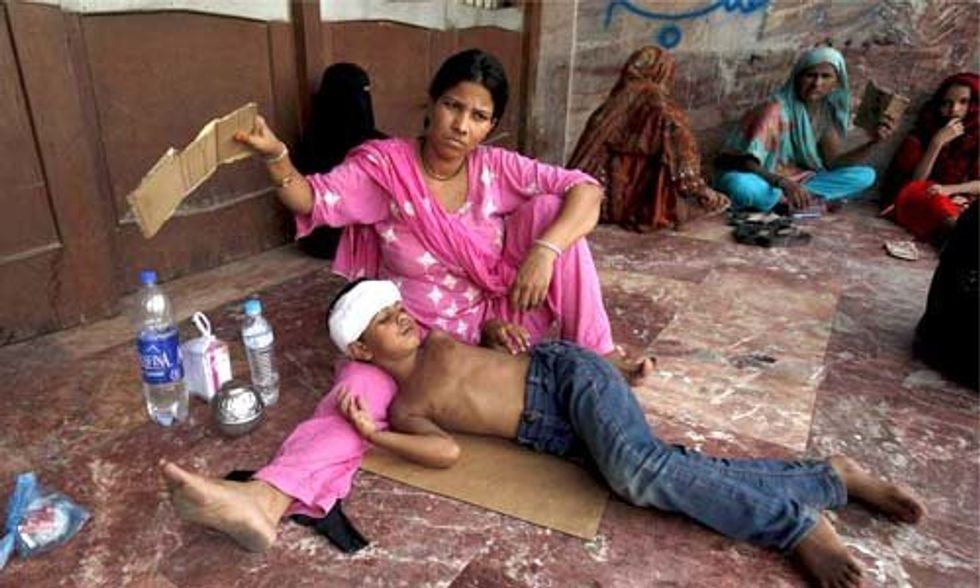 [Editor's note: Even as temperatures began to cool off on Thursday, the death toll climbed to more than 1,000 people in Karachi, Pakistan's largest city, according to the country' state-run television.]
A deadly heat wave spreading through southern Pakistan has killed nearly 800 people in just a few days—a number that threatens to rise as temperatures remain unusually high this week.
More than 600 people have died in Pakistan's heatwave http://t.co/bsc8q7NZ2H pic.twitter.com/gtEBFxqR5P

— Sky News (@SkyNews) June 24, 2015
At least 740 people have died of dehydration, heat stroke and other heat-related illnesses in Karachi, the country's largest city, since Saturday, with various sources estimating the death toll to have hit anywhere from 744 to 775. Local media reports that an additional 38 people have died in other provinces.
As temperatures hit 45°C (113°F) yesterday, Pakistan's Prime Minister Nawaz Sharif declared a state of emergency for hospitals, many of which have hit full capacity, with thousands needing care for heat stroke and dehydration.
Al Jazeera writes:
"The mortuary is overflowing, they are piling bodies one on top of the other," said Dr Seemin Jamali, a senior official at the Jinnah Postgraduate Medical Centre (JPMC), the city's largest government hospital.
"We are doing everything that is humanly possible here," she said, adding that since Saturday, the JPMC had seen more than 5,000 patients with heat-related symptoms. Of those, 384 patients had died, she said.
"Until [Tuesday] night, it was unbelievable. We were getting patients coming into the emergency ward every minute," she said.
Among those who have died, most have been either elderly or poor, officials say.
A former director of the Pakistan Environmental Protection Agency, Asif Shuja, said earlier this week that the soaring temperatures are an impact of climate change, fueled by rapid urbanization, deforestation and car use. "The last 30 years—from 1993-2012—had been warmer than the last 1,400 years. Scientists envisage a rise of 1-6.67°C in temperature till 2100 which will be disastrous," he told the Express Tribune.
But as the Daily Pakistan points out, a study conducted by the Lancet/UCL commission this week found that only 15 percent of Pakistani citizens believe climate change is a major threat, while 40 percent are unaware or deny its existence. That makes Pakistan the "least aware" country in the South Asian region of the threats of climate change.
Commentator Juan Cole adds:
Average temperatures are set to go up by at least 3.6 degrees Fahrenheit because of the carbon dioxide we have already spilled into the atmosphere by burning petroleum, coal and natural gas. That will put Pakistan's temperatures up to more like 114. It will go on up from there if we don't find ways to stop emitting so much CO2.
Discontent is rising, too. Many residents are reportedly angry with some of the government measures being taken, such as power cuts, which they say prevent locals from using air conditioning and fans.
BBC reports:
Hot weather is not unusual during summer months in Pakistan, but prolonged power cuts seem to have made matters worse, the BBC's Shahzeb Jillani reports.
Sporadic angry protests have taken place in parts of Karachi, with some people blaming the government and Karachi's main power utility, K-Electric, for failing to avoid deaths, our correspondent adds.
The prime minister had announced that there would be no electricity cuts but outages have increased since the start of Ramadan, he reports.
Three weeks ago, India faced a similar deadly heat wave, which saw 1,200 people killed as temperatures hit nearly 50°C (122°F).
YOU MIGHT ALSO LIKE
6 Devastating Heat Waves Hitting the Planet
Top 10 Greenhouse Gas Emitters: Find Out Which Countries Are Most Responsible for Climate Change
Pope's Encyclical Proves We Have an 'Unshakeable Moral Imperative to Act on Climate Change'
EcoWatch Daily Newsletter
Related Articles from EcoWatch
Recent Stories from EcoWatch