This website uses cookies to ensure you get the best experience while browsing it. By clicking 'Got It' you're accepting these terms.
Death Toll Climbs as Weather Experts Link Pakistan Heat Wave to Climate Change
Jul. 06, 2015 07:31AM EST
Climate
Pakistan's lack of preparedness in the face of increasingly intense weather events is being blamed for a growing death toll following what has been one of the most sustained heat waves in the country since records began.
And weather experts say that the extreme heat—which lasted for much of the second half of June, and was felt most in the southern province of Sindh—is linked to climate change.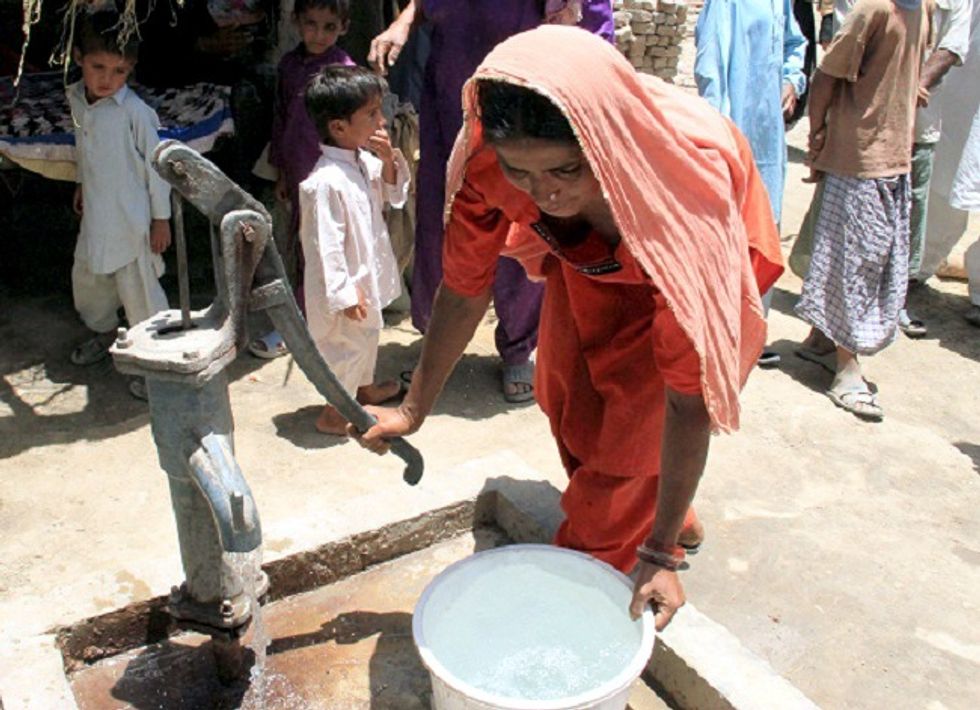 Ghulam Rasul, director general of the Pakistan Meteorological Department (PMD), told Climate News Network that the intense heat was caused by an unusually persistent area of low pressure over the Arabian Sea off Pakistan's coast.
"Usually, in summer, cool winds blow from the sea to land, and in winter the situation is the opposite," he said. "This moderates temperatures in the port city of Karachi, but this summer, this didn't happen."
Climate Task Force
Pervaiz Amir, formerly a member of a special task force on climate change set up by Nawaz Sharif, Pakistan's prime minister, said: "The mortality from heatstroke could have been avoided had the Sindh provincial government responded to a heat wave forecast issued by the Pakistan Meteorological Department."
Karachi, a city of nearly 20 million, was worst hit, with bodies piling up in the city's morgues, and hospitals crammed with people suffering from severe heatstroke as daytime temperatures climbed to well over 40°C for extended periods.
About 65,000 heatstroke patients were treated at the city's hospitals, and the death toll in southern Pakistan climbed above 1,200.
Pakistan's heat wave is so deadly that morgues are overflowing http://t.co/blcmHiaDeq

— Julienne Xene Cross (@ndnstyl) June 28, 2015
Chronic energy shortages—a common occurrence in Pakistan—added to the problem, and the heat wave came during Ramadan, the Muslim fasting period when people do not eat or drink during daylight hours.
Experts say Karachi has also suffered from what's known as the urban heat island effect, with poor urban planning and a lack of green spaces making conditions even hotter.
Social workers say the majority of those who have died have been the poor and homeless. At one stage, Karachi's cemeteries ran out of space for burying the dead.
Mohsin Iqbal, a climate scientist at the state-owned Global Change Impact Study Centre in Islamabad, says temperature increases in Pakistan are above the rise in average global temperatures.
Extreme Events
"This is leading to more extreme weather events, with floods and heat waves becoming more intense and frequent in recent years," he says.
Climate experts say weather patterns throughout the Asian sub-continent are changing, with more intense periods of heat, delays in the monsoon season and a greater incidence of drought conditions.
In April and May this year, many parts of India were hit by an intense heat wave, causing the death of more than 2,000 people.
AccuWeather, a global forecasting service, says delays in the arrival of monsoon rains and further hot periods are likely to exacerbate drought conditions in Pakistan and northwest India in July and August, threatening crop production across a wide swathe of land.
YOU MIGHT ALSO LIKE
June 2015 Smashes Heat and Rainfall Records in U.S.
Think Today's Refugee Crisis is Bad? Climate Change Will Make it a Lot Worse
EcoWatch Daily Newsletter
California Gov. Gavin Newsom speaking with attendees at the 2019 California Democratic Party State Convention at the George R. Moscone Convention Center in San Francisco.
Gage Skidmore
/ Flickr /
CC BY-SA 2.0
California Gov. Gavin Newsom imposed new restrictions on oil exploration in his state yesterday by putting a moratorium on hundreds hydraulic fracturing permits until the projects are reviewed by independent scientists, as the AP reported.
The endangered Houston toad. Courtesy of U.S. Fish and Wildlife Service
While the planet continues to heat up, almost every single one of the 459 species listed as endangered in the U.S. will struggle as the climate crisis intensifies, according to new research published in the journal Nature Climate Change.
"This singular scientific achievement was accomplished at Heliogen's commercial facility in Lancaster, California."
Heliogen
A startup backed by Bill Gates unveiled a breakthrough solar technology Tuesday that could free heavy industry from fossil fuels.
Rhodiola rosea is an adaptogenic herb that can help with chronic fatigue and stress-related burnout. Tero Laakso / Flickr
By Gavin Van De Walle, MS, RD
While everyone has specific life stressors, factors related to job pressure, money, health, and relationships tend to be the most common.
Stress can be acute or chronic and lead to fatigue, headaches, upset stomach, nervousness, and irritability or anger.
A video shows a woman rescuing a koala from Australia's wildfires.
VOA News / YouTube screenshot
More than 350 koalas may have died in the wildfires raging near the Australian town of Port Macquarie in New South Wales, but one got a chance at survival after a woman risked her life to carry him to safety.