This website uses cookies to ensure you get the best experience while browsing it. By clicking 'Got It' you're accepting these terms.
'Dear Governor Hickenlooper' Film Exposes Detriments of Fracking and Promise of Renewable Energy
May. 21, 2014 09:41AM EST
Energy
Dear Governor Hickenlooper, a collection of documentary films directed by a variety of Colorado filmmakers provides a new perspectives on fracking and clean energy through the eyes of scientists, entrepreneurs, artists and families. The film, addressed to Colorado's governor, premiers at Mountainfilm in Telluride on Memorial Day weekend.
Mountainfilm in Telluride, has screened a number of important and memorable environmental documentaries such as Gasland I and Gasland Part II, Bag It, The Cove and Who Killed The Electric Car. Dear Governor Hickenlooper introduces audiences to an ex-gas worker turned whistle blower, Aaron Milton; Cornell's Professor of Engineering, Anthony Ingraffea, who sheds new light on gas well failures; Dr. Theo Colburn on how fracking affects our children's health; a family whose dreams are broken when the gas company moves in next door. Shane Davis, AKA "The Fractivist," is Dear Governor Hickenlooper's protagonist, taking the audience from one story to the next while elucidating well site visits and statistics from the Colorado Oil and Gas Commission's own accident data.
"With 52,000 active wells in Colorado and 3,000-4,000 more coming on line every year, the stories of how fracking is impacting real people's lives across the state are unfolding daily," Stash Wislocki, the director of Dear Governor Hickenlooper. "We wanted to unleash the creativity of citizens and filmmakers from Denver to Durango and beyond to bring these stories and new science to light."
Dear Governor Hickenlooper was inspired by Jon Bowermaster's film, Dear Governor Cuomo, a film about a concert event staged at the New York capital by dozens of celebrities and musicians to keep New York's moratorium on fracking in place. So far, their efforts have been successful.
Dear Governor Cuomo was screened at Mountainfilm and festival director David Holbrooke was inspired to jumpstart a film in Colorado. "I believe in the power of film and strong storytelling to create change and hope this documentary will have that effect here in Colorado as well as other states," said Holbrooke.
Fracking, or hydraulic fracturing, uses 1 to 8 million gallons of water and up to 40,000 gallons of toxic chemicals per well. Each well can be fracked up to 16 times. There are 52,000 active wells in Colorado with 3,000-4,000 additional wells permitted each year. The huge volume of water being used and permanently removed from the ecosystem due to chemical and radioactive contamination is pitting the oil and gas industry against farmers and concerned citizens. In addition, fracking is affecting air quality. Recent studies have shown that in rural areas across Colorado and Wyoming, ground level ozone near fracking sites is higher than ozone levels in downtown Los Angeles.
Another study by the Colorado School of Public Health shows that people living within a half mile of a fracking site have an elevated risk of cancer. Further, Cornell's Dr. Anthony Ingraffea co-authored a study showing how the high methane leakage rates from fracking operations contribute more to global warming than the carbon equivalent emissions from burning coal. The science is out: fracking is detrimental to our health and environment and it needs to stop.
The film also emphasizes on Colorado's renewable energy potential, and examines the reasons renewable energy development in the state and country isn't on-par with many countries in Europe that get 50 to 80 percent of their power from renewable sources today.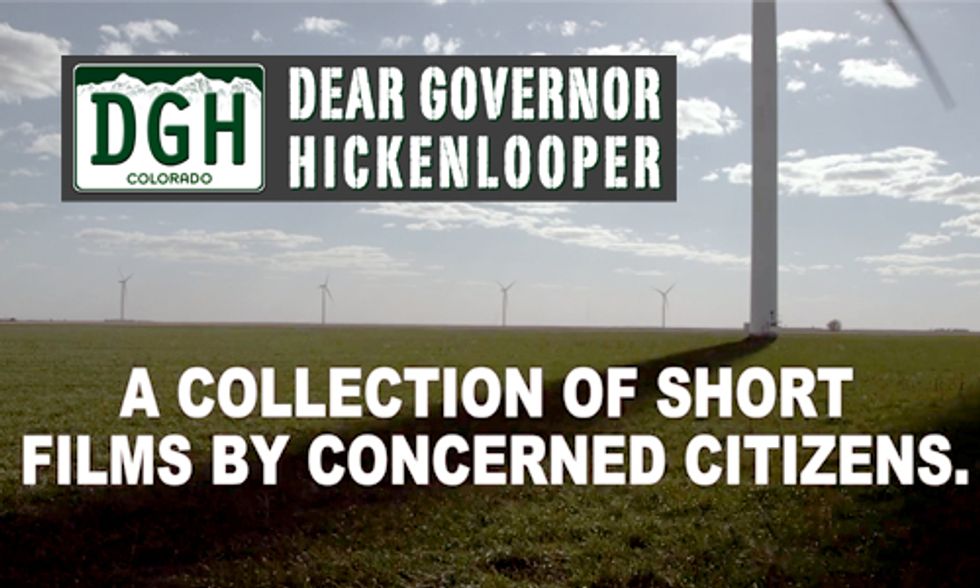 "When I talk to experts like Stanford's Dr. Mark Jacobson, who is featured in Dear Governor Hickenlooper, about the fact that it is possible, today, to be powered 100 percent by renewable energy, but we simply lack the political will to do so, I can't help but ask this question," said Allison Wolff, producer of Dear Governor Hickenlooper. "Why would we permanently poison our water, our air and our communities for the short-term gain of a handful of oil companies and politicians when it is possible to have clean energy right now?"
The makers of Dear Governor Hickenlooper are closely aligned with grassroots organizations across the state that successfully put initiatives on the ballot in 2012 and 2013 to ban or put moratoria on fracking. These groups will be organizing screenings of Dear Governor Hickenlooper throughout the summer and fall in cities and towns throughout Colorado, leading up to 2014 elections when there are likely to be new fracking- and renewable energy-related state-wide initiatives on the ballot.
——–
YOU ALSO MIGHT LIKE
Mountainfilm in Telluride Inspires Conversation and Action on Issues That Matter
Jon Stewart Highlights Earthquakes, Chevron's Pizza and Other 'Benefits' of Fracking
A Look Back at the Town That Didn't Back Down to Fracking
——–
EcoWatch Daily Newsletter
In this view from an airplane rivers of meltwater carve into the Greenland ice sheet near Sermeq Avangnardleq glacier on Aug. 4 near Ilulissat, Greenland. Climate change is having a profound effect in Greenland, where over the last several decades summers have become longer and the rate that glaciers and the Greenland ice cap are retreating has accelerated. Sean Gallup / Getty Images
The rate that Greenland's ice sheet is melting surpassed scientists' expectations and has raised concerns that their worst-case scenario predictions are coming true, Business Insider reported.
An Alagoas curassow in captivity. Luís Fábio Silveira / Agência Alagoas / Mongabay
By Pedro Biondi
Extinct in its habitat for at least three decades, the Alagoas curassow (Pauxi mitu) is now back in the jungle and facing a test of survival, thanks to the joint efforts of more than a dozen institutions to pull this pheasant-like bird back from the brink.

Elizabeth Warren's Blue New Deal aims to expand offshore renewable energy projects, like the Block Island Wind Farm in Rhode Island.
Luke H. Gordon / Flickr
By Julia Conley
Sen. Elizabeth Warren expanded her vision for combating the climate crisis on Tuesday with the release of her Blue New Deal — a new component of the Green New Deal focusing on protecting and restoring the world's oceans after decades of pollution and industry-caused warming.
Former U.S. Secretary of State Rex Tillerson leaves the courthouse after testifying in the Exxon Mobil trial on Oct. 30, 2019 in New York. DON EMMERT / AFP via Getty Images
A judge in New York's Supreme Court sided with Exxon in a case that accused the fossil fuel giant of lying to investors about the true cost of the climate crisis. The judge did not absolve Exxon from its contribution to the climate crisis, but insisted that New York State failed to prove that the company intentionally defrauded investors, as NPR reported.
By Sharon Elber
You may have heard that giving a pet for Christmas is just a bad idea. Although many people believe this myth, according to the ASPCA, 86 percent of adopted pets given as gifts stay in their new homes. These success rates are actually slightly higher than average adoption/rehoming rates. So, if done well, giving an adopted pet as a Christmas gift can work out.