This website uses cookies to ensure you get the best experience while browsing it. By clicking 'Got It' you're accepting these terms.
'Dear Governor Hickenlooper' Film Exposes Detriments of Fracking and Promise of Renewable Energy
May. 21, 2014 09:41AM EST
Energy
Dear Governor Hickenlooper, a collection of documentary films directed by a variety of Colorado filmmakers provides a new perspectives on fracking and clean energy through the eyes of scientists, entrepreneurs, artists and families. The film, addressed to Colorado's governor, premiers at Mountainfilm in Telluride on Memorial Day weekend.
Mountainfilm in Telluride, has screened a number of important and memorable environmental documentaries such as Gasland I and Gasland Part II, Bag It, The Cove and Who Killed The Electric Car. Dear Governor Hickenlooper introduces audiences to an ex-gas worker turned whistle blower, Aaron Milton; Cornell's Professor of Engineering, Anthony Ingraffea, who sheds new light on gas well failures; Dr. Theo Colburn on how fracking affects our children's health; a family whose dreams are broken when the gas company moves in next door. Shane Davis, AKA "The Fractivist," is Dear Governor Hickenlooper's protagonist, taking the audience from one story to the next while elucidating well site visits and statistics from the Colorado Oil and Gas Commission's own accident data.
"With 52,000 active wells in Colorado and 3,000-4,000 more coming on line every year, the stories of how fracking is impacting real people's lives across the state are unfolding daily," Stash Wislocki, the director of Dear Governor Hickenlooper. "We wanted to unleash the creativity of citizens and filmmakers from Denver to Durango and beyond to bring these stories and new science to light."
Dear Governor Hickenlooper was inspired by Jon Bowermaster's film, Dear Governor Cuomo, a film about a concert event staged at the New York capital by dozens of celebrities and musicians to keep New York's moratorium on fracking in place. So far, their efforts have been successful.
Dear Governor Cuomo was screened at Mountainfilm and festival director David Holbrooke was inspired to jumpstart a film in Colorado. "I believe in the power of film and strong storytelling to create change and hope this documentary will have that effect here in Colorado as well as other states," said Holbrooke.
Fracking, or hydraulic fracturing, uses 1 to 8 million gallons of water and up to 40,000 gallons of toxic chemicals per well. Each well can be fracked up to 16 times. There are 52,000 active wells in Colorado with 3,000-4,000 additional wells permitted each year. The huge volume of water being used and permanently removed from the ecosystem due to chemical and radioactive contamination is pitting the oil and gas industry against farmers and concerned citizens. In addition, fracking is affecting air quality. Recent studies have shown that in rural areas across Colorado and Wyoming, ground level ozone near fracking sites is higher than ozone levels in downtown Los Angeles.
Another study by the Colorado School of Public Health shows that people living within a half mile of a fracking site have an elevated risk of cancer. Further, Cornell's Dr. Anthony Ingraffea co-authored a study showing how the high methane leakage rates from fracking operations contribute more to global warming than the carbon equivalent emissions from burning coal. The science is out: fracking is detrimental to our health and environment and it needs to stop.
The film also emphasizes on Colorado's renewable energy potential, and examines the reasons renewable energy development in the state and country isn't on-par with many countries in Europe that get 50 to 80 percent of their power from renewable sources today.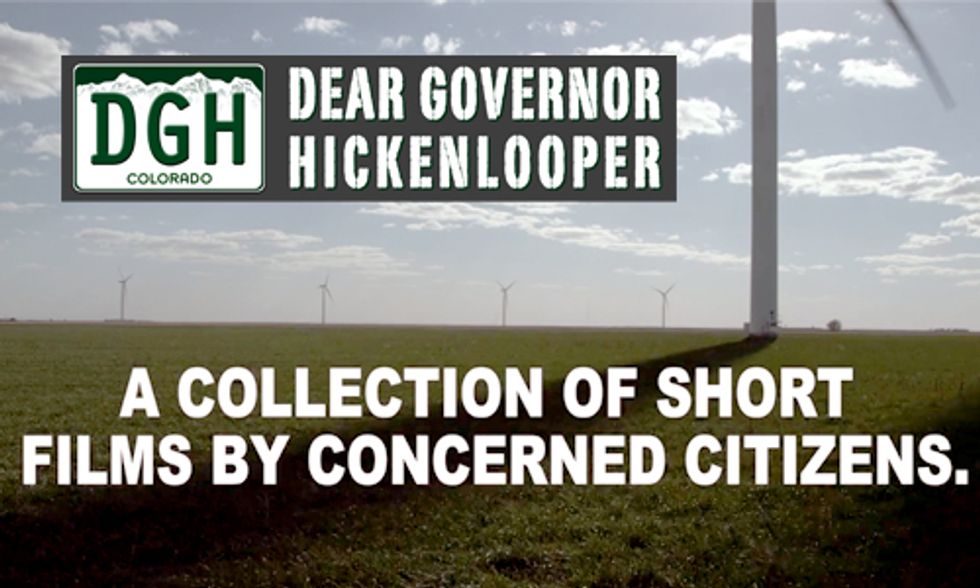 "When I talk to experts like Stanford's Dr. Mark Jacobson, who is featured in Dear Governor Hickenlooper, about the fact that it is possible, today, to be powered 100 percent by renewable energy, but we simply lack the political will to do so, I can't help but ask this question," said Allison Wolff, producer of Dear Governor Hickenlooper. "Why would we permanently poison our water, our air and our communities for the short-term gain of a handful of oil companies and politicians when it is possible to have clean energy right now?"
The makers of Dear Governor Hickenlooper are closely aligned with grassroots organizations across the state that successfully put initiatives on the ballot in 2012 and 2013 to ban or put moratoria on fracking. These groups will be organizing screenings of Dear Governor Hickenlooper throughout the summer and fall in cities and towns throughout Colorado, leading up to 2014 elections when there are likely to be new fracking- and renewable energy-related state-wide initiatives on the ballot.
——–
YOU ALSO MIGHT LIKE
Mountainfilm in Telluride Inspires Conversation and Action on Issues That Matter
Jon Stewart Highlights Earthquakes, Chevron's Pizza and Other 'Benefits' of Fracking
A Look Back at the Town That Didn't Back Down to Fracking
——–
EcoWatch Daily Newsletter
Yulia Lisitsa / iStock / Getty Images Plus
Collagen is the most abundant protein in your body.
It is the major component of connective tissues that make up several body parts, including tendons, ligaments, skin, and muscles.
Greenpeace activists unfurl banners after building a wood and card 'oil pipeline' outside the Canadian High Commission, Canada House, to protest against the Trudeau government's plans to build an oil pipeline in British Colombia on April 18, 2018 in London. Chris J Ratcliffe / Getty Images
By Jessica Corbett
In an open letter to Canadian Prime Minister Justin Trudeau and Deputy Prime Minister Chrystia Freeland, 42 Nobel laureates implored the federal government to "act with the moral clarity required" to tackle the global climate crisis and stop Teck Resources' proposed Frontier tar sands mine.
Mapping Urban Heat through Portland State University /
video
Concrete and asphalt absorb the sun's energy. So when a heat wave strikes, city neighborhoods with few trees and lots of black pavement can get hotter than other areas — a lot hotter.
The Rio San Antonio, in the headwaters basin of the Rio Grande in New Mexico, will lose federal protections under a new rule. Bob Wick / BLM California
By Tara Lohan
The Santa Fe River starts high in the forests of New Mexico's Sangre de Cristo mountains and flows 46 miles to the Rio Grande. Along the way it plays important roles for wildlife, irrigation, recreation and other cultural uses, and provides 40 percent of the water supply for the city of Santa Fe's 85,000 residents.