This website uses cookies to ensure you get the best experience while browsing it. By clicking 'Got It' you're accepting these terms.
'Dear Governor Hickenlooper' Film Exposes Detriments of Fracking and Promise of Renewable Energy
May. 21, 2014 09:41AM EST
Dear Governor Hickenlooper, a collection of documentary films directed by a variety of Colorado filmmakers provides a new perspectives on fracking and clean energy through the eyes of scientists, entrepreneurs, artists and families. The film, addressed to Colorado's governor, premiers at Mountainfilm in Telluride on Memorial Day weekend.
Mountainfilm in Telluride, has screened a number of important and memorable environmental documentaries such as Gasland I and Gasland Part II, Bag It, The Cove and Who Killed The Electric Car. Dear Governor Hickenlooper introduces audiences to an ex-gas worker turned whistle blower, Aaron Milton; Cornell's Professor of Engineering, Anthony Ingraffea, who sheds new light on gas well failures; Dr. Theo Colburn on how fracking affects our children's health; a family whose dreams are broken when the gas company moves in next door. Shane Davis, AKA "The Fractivist," is Dear Governor Hickenlooper's protagonist, taking the audience from one story to the next while elucidating well site visits and statistics from the Colorado Oil and Gas Commission's own accident data.
"With 52,000 active wells in Colorado and 3,000-4,000 more coming on line every year, the stories of how fracking is impacting real people's lives across the state are unfolding daily," Stash Wislocki, the director of Dear Governor Hickenlooper. "We wanted to unleash the creativity of citizens and filmmakers from Denver to Durango and beyond to bring these stories and new science to light."
Dear Governor Hickenlooper was inspired by Jon Bowermaster's film, Dear Governor Cuomo, a film about a concert event staged at the New York capital by dozens of celebrities and musicians to keep New York's moratorium on fracking in place. So far, their efforts have been successful.
Dear Governor Cuomo was screened at Mountainfilm and festival director David Holbrooke was inspired to jumpstart a film in Colorado. "I believe in the power of film and strong storytelling to create change and hope this documentary will have that effect here in Colorado as well as other states," said Holbrooke.
Fracking, or hydraulic fracturing, uses 1 to 8 million gallons of water and up to 40,000 gallons of toxic chemicals per well. Each well can be fracked up to 16 times. There are 52,000 active wells in Colorado with 3,000-4,000 additional wells permitted each year. The huge volume of water being used and permanently removed from the ecosystem due to chemical and radioactive contamination is pitting the oil and gas industry against farmers and concerned citizens. In addition, fracking is affecting air quality. Recent studies have shown that in rural areas across Colorado and Wyoming, ground level ozone near fracking sites is higher than ozone levels in downtown Los Angeles.
Another study by the Colorado School of Public Health shows that people living within a half mile of a fracking site have an elevated risk of cancer. Further, Cornell's Dr. Anthony Ingraffea co-authored a study showing how the high methane leakage rates from fracking operations contribute more to global warming than the carbon equivalent emissions from burning coal. The science is out: fracking is detrimental to our health and environment and it needs to stop.
The film also emphasizes on Colorado's renewable energy potential, and examines the reasons renewable energy development in the state and country isn't on-par with many countries in Europe that get 50 to 80 percent of their power from renewable sources today.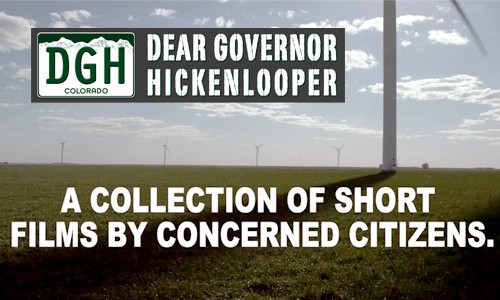 "When I talk to experts like Stanford's Dr. Mark Jacobson, who is featured in Dear Governor Hickenlooper, about the fact that it is possible, today, to be powered 100 percent by renewable energy, but we simply lack the political will to do so, I can't help but ask this question," said Allison Wolff, producer of Dear Governor Hickenlooper. "Why would we permanently poison our water, our air and our communities for the short-term gain of a handful of oil companies and politicians when it is possible to have clean energy right now?"
The makers of Dear Governor Hickenlooper are closely aligned with grassroots organizations across the state that successfully put initiatives on the ballot in 2012 and 2013 to ban or put moratoria on fracking. These groups will be organizing screenings of Dear Governor Hickenlooper throughout the summer and fall in cities and towns throughout Colorado, leading up to 2014 elections when there are likely to be new fracking- and renewable energy-related state-wide initiatives on the ballot.
——–
YOU ALSO MIGHT LIKE
Mountainfilm in Telluride Inspires Conversation and Action on Issues That Matter
Jon Stewart Highlights Earthquakes, Chevron's Pizza and Other 'Benefits' of Fracking
A Look Back at the Town That Didn't Back Down to Fracking
——–
EcoWatch Daily Newsletter
Bernie Sanders holds his first presidential campaign rally at Brooklyn College on March 02 in Brooklyn, New York. Kena Betancur / VIEWpress / Corbis. Getty Images
Bernie Sanders has become the first contender in the crowded 2020 Democratic presidential primary field to pledge to offset all of the greenhouse gas emissions released by campaign travel, The Huffington Post reported Thursday.
An aerial view of the flooding at the Camp Ashland, Nebraska on March 17. Nebraska National Guard / Staff Sgt. Herschel Talley / Flickr / CC BY 2.0
The record flooding in the Midwest that has now been blamed for four deaths could also have lasting consequences for the region's many farmers.
In tea, food, or just on your windowsill, embrace the fragrance and fantastic healing potential of herbs.
By Ana Santos Rutschman
The world of food and drug regulation was rocked earlier this month by the news of a change in leadership at the Food and Drug Administration. Commissioner Scott Gottlieb resigned and will step down in early April. His temporary replacement is Dr. Ned Sharpless, director of the National Cancer Institute.
MartinPrescott / iStock / Getty Images
On Wednesday the U.S. Environmental Protection Agency (EPA) announced the first 20 chemicals it plans to prioritize as "high priority" for assessment under the Toxic Substances Control Act. Given the EPA's record of malfeasance on chemicals policy over the past two years, it is clear that these are chemicals that EPA is prioritizing to ensure that they are not properly evaluated or regulated.
Strawberries top the Environmental Working Group's "Dirty Dozen" list of U.S. produce most contaminated with pesticides. DANIEL LEAL-OLIVAS / AFP / Getty Images
Which conventionally-grown fruits and vegetables in the U.S. are most contaminated with pesticides? That's the question that the Environmental Working Group answers every year with its "Dirty Dozen" list of produce with the highest concentration of pesticides after being washed or peeled.
A drilling rig in a Wyoming natural gas field. William Campbell / Corbis via Getty Images
A U.S. federal judge temporarily blocked oil and gas drilling on 300,000 acres of federal leases in Wyoming Tuesday, arguing that the Bureau of Land Management (BLM) "did not sufficiently consider climate change" when auctioning off the land, The Washington Post reported.
Mizina / iStock / Getty Images
Oats are widely regarded as one of the healthiest grains you can eat, as they're packed with many important vitamins, minerals, and fiber.