Deadly Massive Chemical Explosion Raises Concerns of Toxic Brew Released Into the Environment
Aug. 17, 2015 02:04PM EST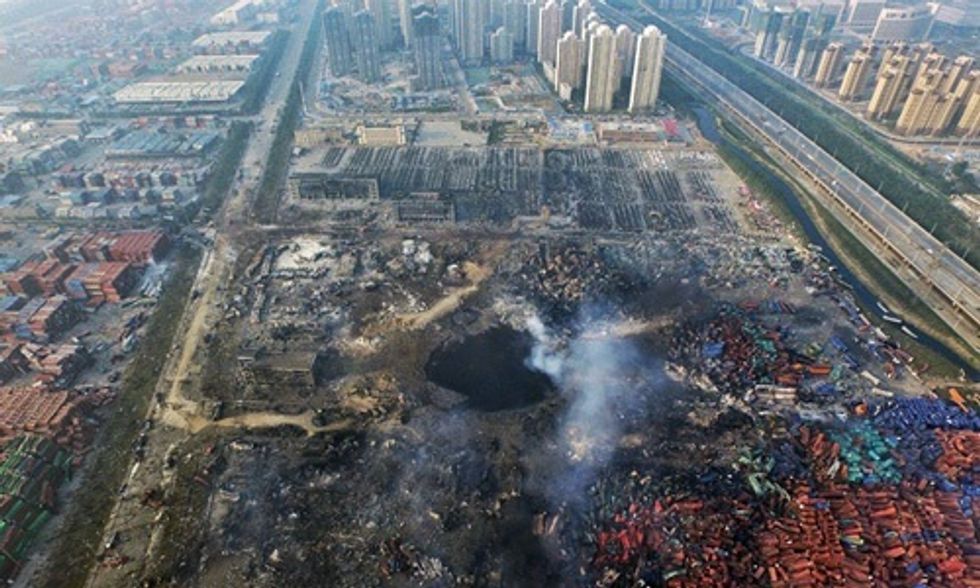 In the wake of the deadly explosion that ripped through Tianjin, China that has claimed at least 114 lives and left 70 more still missing since last Wednesday, attention is now being turned to what might have triggered the disaster as well as the toxic chemical brew released into the environment.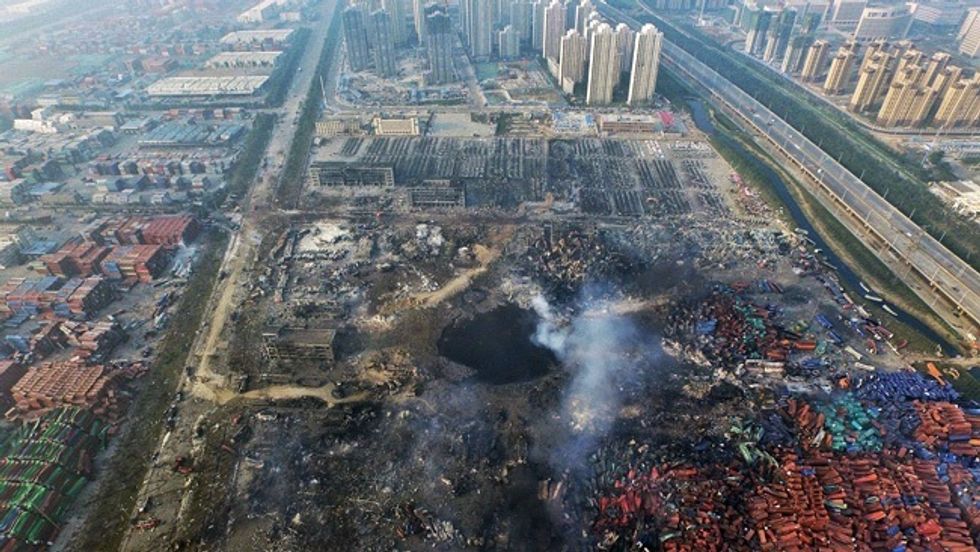 While the exact cause is currently unclear, we know that the blast occurred at a warehouse owned by Rui Hai International Logistics, a private company licensed to handle potentially hazardous cargo, The New York Times reported.
Officials from the Tianjin Tanggu Environmental Monitoring Station reported that the company stored a number of toxic industrial chemicals—sodium cyanide, toluene diisocyanate and calcium carbide—and was licensed to handle highly combustible substances such as compressed and liquefied natural gas, the Times wrote.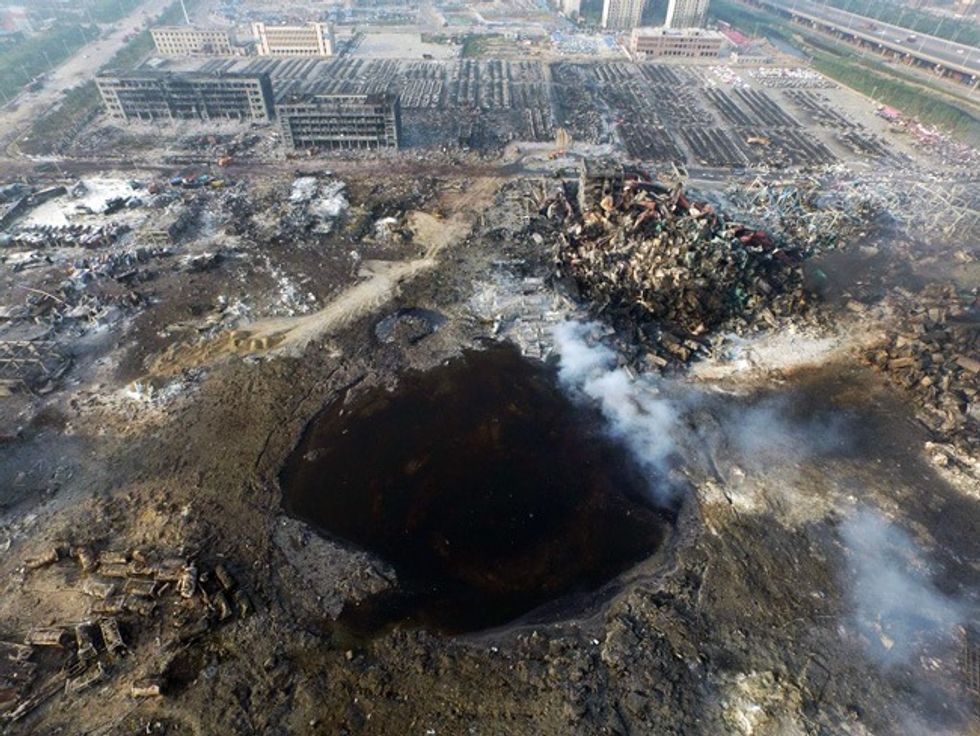 Deborah Read, an associate professor at Massey University's Center for Public Health Research in New Zealand, described to the The National Business Review the dangerous nature of these three chemicals on human health.
"Sodium cyanide releases hydrogen cyanide gas on contact with acids or water. Hydrogen cyanide interferes with the body's ability to use oxygen particularly affecting the brain, heart and lungs and can rapidly lead to death," she said.
As for the other chemicals that were reportedly present in the warehouse, Read continued that "toluene diisocyanate irritates eyes and airways and can cause asthma and fluid in the lungs (pulmonary oedema)."
"Contact of calcium carbide with water can result in fire and explosion. Calcium carbide is corrosive to skin, eyes and airways and can cause fluid in the lungs (pulmonary oedema)," she said.
More information desperately needed in #Tianjin. Precise make-up of "cocktail of chemicals" still unknown pic.twitter.com/AzYjsbETx3

— Greenpeace East Asia (@GreenpeaceEAsia) August 15, 2015
Sodium cyanide, which is primarily used in the mining industry and for plastic production, is of particular concern; the U.S. Centers for Disease Control and Prevention saying that exposure to chemical can be "rapidly fatal."
According to the Associated Press, the warehouse stored 700 tons of sodium cyanide, a quantity that violated safety rules. Safety laws require facilities as such to be 1,000 (3,300 feet) away from residences, public buildings and highways, but the warehouse was within 500 meters of both an expressway and a 100,000-square meter (1 million-square foot) apartment complex, the AP reported.
In the images below, you'll see the trail of destruction as a result from the horrific incident.
PICS: last night blast in #Tianjin. #TianjinBlast pic.twitter.com/DFY6UB15XV

— Aleena علینہ (@AnmolAleena) August 12, 2015
#TianjinBlast presents potentially disastrous consequences - also for natural #environment http://t.co/Hcw3AYKY4k pic.twitter.com/c2FodZwBHd

— DW - Environment (@dw_eco) August 17, 2015
Another Missing Firefighter Found Dead in #TianjinBlast, Comrades Salute Him at Blast Site http://t.co/HmY0tnAB8V pic.twitter.com/P5prjTdU1e

— People's Daily,China (@PDChina) August 14, 2015
Bao Jingling, the chief engineer from Tianjin's environmental protection bureau, said at a press conference this morning that excessive levels of sodium cyanide—with the highest levels at 27 times the acceptable limit—were detected in surface wastewater at the blast site, The Guardian reported.
Meanwhile, as NBC News reported, impending rain and thunderstorms have raised concerns about the potential of poisonous hydrogen cyanide being released into the air, as sodium cyanide is water-soluble.
"If there is rain, it will produce hydrogen cyanide, so we are monitoring it closely," said Bao.
Greenpeace East Asia noted in a press release that residents within the 3 kilometer safety zone surrounding the blast have been evacuated due to the presence of hazardous chemicals.
The #TianjinBlast crater. http://t.co/b1sTTrR48G pic.twitter.com/B2UGJbjllN

— Fergus Ryan (@fryan) August 15, 2015
The organization also released a separate statement that highlights the need for more government regulation:
"In the first half of 2015, over 13 chemical industry explosion accidents have occurred. The severity of the Tianjin explosion should be a wake-up call for the government. Loopholes must be closed, and regulations must be implemented strictly and effectively. If not, we will continue to see these kinds of dangerous accidents."
Greenpeace East Asia's Toxics Campaigner Wu Yixiu added:
"The horrific Tianjin explosion on Wednesday night and the worrying scenes we have witnessed over the last five days are just the tip of the iceberg. What lies beneath the surface is years of negligence in regards to hazardous chemicals policies and their implementation."
Researchers recently found that in the notoriously polluted country, 1.6 million people die every year from heart, lung and stroke due to polluted air. That's 4,000 people a day.
The Chinese government has rolled out investigations into any abuse of power that may have contributed to the lethal explosion, The Guardian reported.
"We must thoroughly investigate [the incident] and hold accountable all those responsible," Premier Li Keqiang said. "We must give an answer for families of the victims, an answer for all residents of Tianjin, an answer for all Chinese people, and an answer for history."
Chinese Public Security Minister Guo Shengkun also said that those responsible for the disaster will be "punished severely."
In addition to the death toll and those still missing, about 6,300 people have been displaced and 721 have been injured, NBC News reported (via China's Xinhua news agency).
Watch the video for footage of the blast (video might be disturbing for some).
YOU MIGHT ALSO LIKE
1,000 Activists Join Together to Say No to Big Coal
Grassroots Pressure Escalates to Shut Down Diablo Canyon Nuke Plant
Fracking Chemicals Linked to Cancer, According to New Report
EcoWatch Daily Newsletter