Deadly Heat Waves Sweep the Globe
Aug. 13, 2015 11:04AM EST
Climate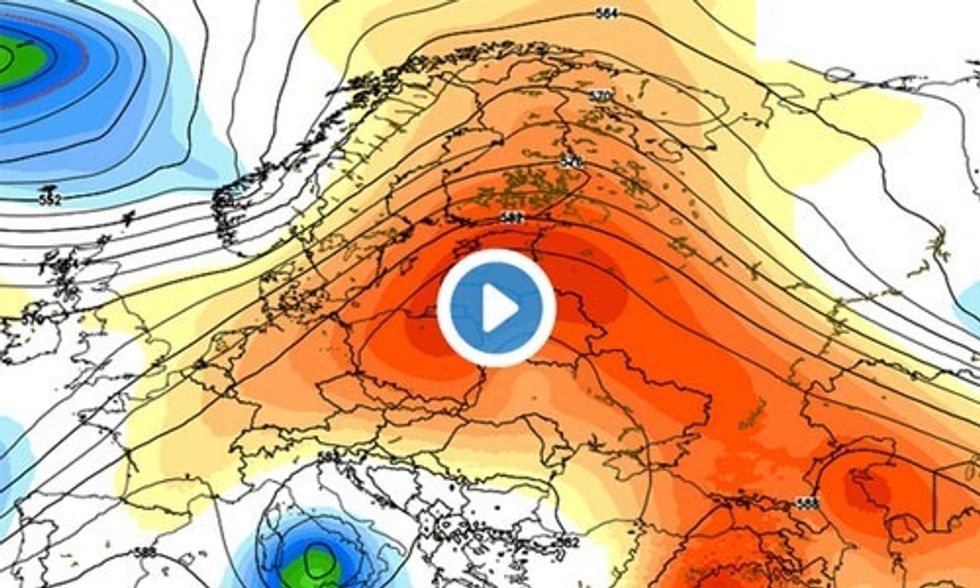 This summer is undoubtedly one for the record books. Brutal heat has literally melted roads, ignited forest fires and affected millions around the planet. Extreme weather has scorched the Middle East, Asia, Europe and the U.S, as weather experts predict that this year will surpass last year as the hottest in recorded history.
A massive heat dome continues to break so many records across Europe and the Middle East http://t.co/SFu4AlGjjM pic.twitter.com/NyGmNflXug

— 350 dot org (@350) August 12, 2015
"I'd not be surprised if 2015 ends up the warmest year on record," said National Oceanic and Atmospheric Administration (NOAA) climate monitoring chief Derek Arndt in June.
The Middle East
Death tolls are currently climbing in Egypt as temperatures soar to 114 degrees Fahrenheit. The Associated Press reported that more than 60 people—mostly elderly—have died from the heat and high humidity. An additional 581 people have been hospitalized for heat exhaustion.
Death toll in Egypt's scorching heat wave rises to over 60, @AP reports http://t.co/gF3FHOH9cj pic.twitter.com/dWp8YXg9tH

— BuzzFeed News (@BuzzFeedNews) August 12, 2015
The entire region has been devastated by the relentless heat. Earlier this week, Iran hit a sweltering 164 degrees—just a few degrees shy of the highest ever record heat index. Pakistan's devastating heat wave in June killed 1,233 and hospitalized more than 1,900 due to dehydration, heat stroke and other heat-related illnesses. In neighboring India, 2,500 people succumbed to heat a month earlier.
Asia
Japan is experiencing heat-related deaths in 29 out of its 47 prefectures, with Tokyo currently experiencing an "unprecedented" streak of temperatures over 95 degrees, according to Weather.com. The week of July 27 through Aug. 2—where 25 people died from heat stroke and other heat-related illnesses—was considered the "deadliest" week in the country and nearly equaled the death toll of 30 in the preceding three months combined, Weather.com added in its report.
Deadly heat wave kills 32 across Japan in a week, 11,219 sent to hospitals http://t.co/5U3hUjBOHo pic.twitter.com/IZwQpRxTZt

— Tokyo Reporter (@tokyoreporter) August 12, 2015
Elsewhere in Asia, Chinese weather authorities have issued heat wave alerts as some parts of the country experienced temperatures in the triple digits. The Guardian also reported in July that North Koreans were ordered to start work at 5 a.m. in order to cope with temperatures around 104 degrees Fahrenheit in Pyongyang.
Europe
The heat has smashed records across the continent, reminding some of the devastating summer of 2003 that claimed 30,000 lives. "Europeans have been painfully aware of the dangers of extreme heat since the killer heat wave of July 2003," said Weather.com senior meteorologist Nick Wiltgen.
"This July 2015 was the warmest July on record for Spain, Italy, Switzerland and Austria," Dr. Jeff Masters, Weather Underground's director of meteorology, told the website.
Eastern Europe is also seeing temperatures up to the mid-90s, when highs around 75 are more common this time of year, AccuWeather wrote. And Poland is also experiencing the mass extinction of one very unsuspecting victim: IKEA meatballs.
Record-breaking heat in Europe has forced Ikea in Poland to take meatballs off the menu. http://t.co/5Til53XFDS pic.twitter.com/EXrB2u9cWb

— Foreign Policy (@ForeignPolicy) August 11, 2015
North America
Although summer is coming to an end, many parts of the U.S. will still be baking in the sun's rays. Some Los Angelenos, for instance, will feel temperatures in the 100s this week, the Los Angeles Times reported. Stuart Seto, a weather specialist with the National Weather Service, told the publication on Monday that while the city's temperatures are not record-breaking, they are still about 10 degrees above average for this time of year.
Heat wave expected to bake Los Angeles by Thursday http://t.co/qdBjja2Pjs pic.twitter.com/5WQ0SLSjrq

— Los Angeles Times (@latimes) August 11, 2015
The American summer of 2015 has also been marked by destructive wildfires that have burned through the West. So far, flames have burned nearly 5 million acres (an area the size of Connecticut) in the state of Alaska. Climate Central even created an interactive map that shows in real time the active wildfires in the U.S.
Climate change?
Global warming has been suggest as one of the possible culprits of this extreme heat.
"The heat wave is still ongoing and it is premature to say whether it can be attributed to climate change or whether it is due to naturally occurring climate variability," stated Omar Baddour, who coordinates the World Meteorological Organization's World Climate Data and Monitoring Program.
"But climate change scenarios predict that heat waves will become more intense, more frequent and longer. It is notable that the time between major heat waves (2003, 2010 and 2015) is getting shorter," he added.
YOU MIGHT ALSO LIKE
How to Prevent Worldwide Climate Catastrophe
11 Social Media Posts Show Reality of Extreme Weather Worldwide
EcoWatch Daily Newsletter
Related Articles from EcoWatch
Recent Stories from EcoWatch