This website uses cookies to ensure you get the best experience while browsing it. By clicking 'Got It' you're accepting these terms.
Dead Zones Devour Oceans' Oxygen
May. 04, 2016 12:44PM EST
Climate
Scientists in the U.S. have identified a new hazard in a world in which the climates change and the oceans warm: measurable stretches of the seas could become sapped of oxygen.
They say that parts of the southern Indian Ocean, the eastern tropical Pacific and the Atlantic are already less oxygen-rich because of global warming. And oxygen deprivation could become increasingly widespread across large regions of ocean between 2030 and 2040.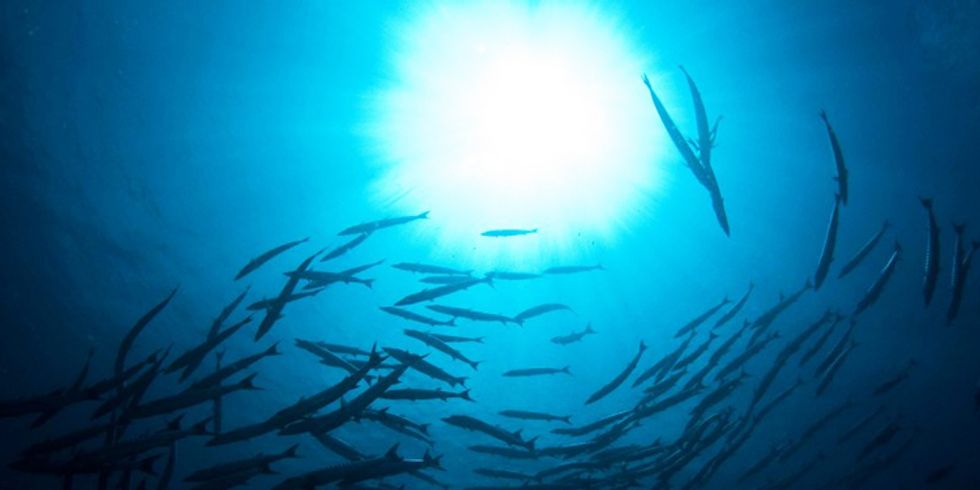 Anyone who has ever kept a home aquarium knows that, in the summer, the fish in the tank are more likely to be seen gasping nearer the surface. That is because the colder the water, the greater its capacity for dissolved oxygen.
Chemistry Change
Growing concentrations in the atmosphere of the greenhouse gas carbon dioxide have begun to change the ocean chemistry, making sea water gradually and alarmingly more acidic and less hospitable to many of the species adapted to ocean life.
Now Matthew Long, an oceanographer at the U.S. National Centre for Atmospheric Research in Boulder, Colorado and colleagues report in Global Biogeochemical Cycles journal that they repeatedly modeled changes in the ocean's oxygen content over the years 1920 to 2100.
Oxygen from the atmosphere gets into the sea only when it dissolves directly or is released by photosynthesizing marine plants and phytoplankton. The warmer the water, the harder life is for the creatures nearer the surface.
To make things more difficult, warmer waters are less dense, making them less likely to sink and bring the colder, more oxygen-rich waters to the surface. In unusually hot weather, "dead zones" appear in the seas, where fish and shellfish cannot survive.
The researchers warn that there will be more of these as global temperatures continue to rise. "Loss of oxygen in the ocean is one of the serious side-effects of a warming atmosphere and a major threat to marine life," Dr. Long said.
Swiftly Detectable
"Since oxygen concentrations in the ocean naturally vary, depending on variations in winds and temperature at the surface, it's been challenging to attribute any deoxygenation to climate change. This new study tells us when we can expect the impact from climate change to overwhelm the natural variability."
The new map suggests that even by 2100, some waters—off the east coasts of Africa and Australia and Southeast Asia and parts of the South Atlantic, for instance—will remain oxygen-rich. But oxygen loss due to climate change will become detectable much more swiftly in northern waters in the Pacific and parts of the Atlantic.
There are uncertainties. Oxygen measurements in the world's oceans—and 70 percent of the planet is covered by blue water—are relatively sparse.
"We need comprehensive and sustained observations of what's going on in the oceans to compare with what we're learning from our models and to understand the full impact of a changing climate," Dr. Long said.
YOU MIGHT ALSO LIKE
Arctic Ice Melt Affects Weather Patterns All Over North Atlantic
60% of Loggerhead Turtles Stranded on Beaches in South Africa Had Ingested Plastic
Climate Change Could Make Parts of Middle East and North Africa 'Uninhabitable'
Solar Impulse Pilot: 'I Flew Over Plastic Waste As Big As a Continent'
EcoWatch Daily Newsletter
U.S. President Donald Trump listens as Anthony Fauci, Director of the National Institute of Allergy and Infectious Diseases speaks in the Rose Garden for the daily coronavirus briefing at the White House on March 29 in Washington, DC. Tasos Katopodis / Getty Images
By Jake Johnson
Just over a month after proclaiming that the number of coronavirus cases in the U.S. would soon "be down to close to zero," President Donald Trump said during a press briefing on the White House lawn Sunday that limiting U.S. deaths from the pandemic to between 100,000 and 200,000 people would mean his administration and the country as a whole did "a very good job."
Dicamba is having a devastating impact in Arkansas and neighboring states. A farmer in Mississippi County, Arkansas looks at rows of soybean plants affected by dicamba. The Washington Post / Getty Images
Documents unearthed in a lawsuit brought by a Missouri farmer who claimed that Monsanto and German chemical maker BASF's dicamba herbicide ruined his peach orchard revealed that the two companies knew their new agricultural seed and chemical system would likely damage many U.S. farms, according to documents seen by The Guardian.
Washington State Governor Jay Inslee and other leaders speak to the press on March 28, 2020 in Seattle. Karen Ducey / Getty Images
A bushfire burns outside the Perth Cricket Stadium in Perth, Australia on Dec. 13, 2019. PETER PARKS / AFP via Getty Images

By Albert Van Dijk, Luigi Renzullo, Marta Yebra and Shoshana Rapley
2019 was the year Australians confronted the fact that a healthy environment is more than just a pretty waterfall in a national park; a nice extra we can do without. We do not survive without air to breathe, water to drink, soil to grow food and weather we can cope with.
By Fino Menezes
Everyone adores dolphins. Intelligent, inquisitive and playful, these special creatures have captivated humans since the dawn of time. But dolphins didn't get to where they are by accident — they needed to develop some pretty amazing superpowers to cope with their environment.