This website uses cookies to ensure you get the best experience while browsing it. By clicking 'Got It' you're accepting these terms.
Dead Zones Devour Oceans' Oxygen
May. 04, 2016 11:44AM EST
Climate
Scientists in the U.S. have identified a new hazard in a world in which the climates change and the oceans warm: measurable stretches of the seas could become sapped of oxygen.
They say that parts of the southern Indian Ocean, the eastern tropical Pacific and the Atlantic are already less oxygen-rich because of global warming. And oxygen deprivation could become increasingly widespread across large regions of ocean between 2030 and 2040.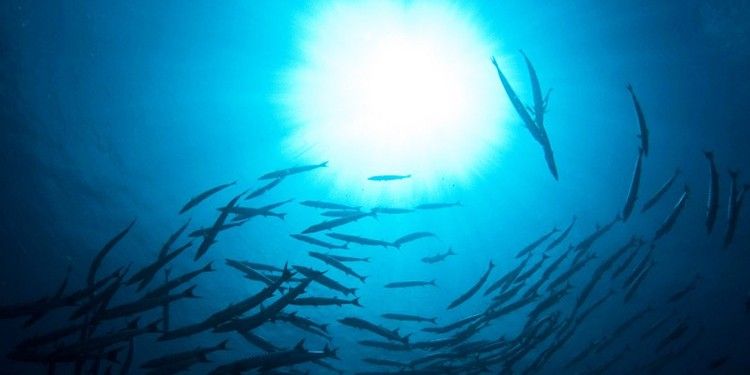 Anyone who has ever kept a home aquarium knows that, in the summer, the fish in the tank are more likely to be seen gasping nearer the surface. That is because the colder the water, the greater its capacity for dissolved oxygen.
Chemistry Change
Growing concentrations in the atmosphere of the greenhouse gas carbon dioxide have begun to change the ocean chemistry, making sea water gradually and alarmingly more acidic and less hospitable to many of the species adapted to ocean life.
Now Matthew Long, an oceanographer at the U.S. National Centre for Atmospheric Research in Boulder, Colorado and colleagues report in Global Biogeochemical Cycles journal that they repeatedly modeled changes in the ocean's oxygen content over the years 1920 to 2100.
Oxygen from the atmosphere gets into the sea only when it dissolves directly or is released by photosynthesizing marine plants and phytoplankton. The warmer the water, the harder life is for the creatures nearer the surface.
To make things more difficult, warmer waters are less dense, making them less likely to sink and bring the colder, more oxygen-rich waters to the surface. In unusually hot weather, "dead zones" appear in the seas, where fish and shellfish cannot survive.
The researchers warn that there will be more of these as global temperatures continue to rise. "Loss of oxygen in the ocean is one of the serious side-effects of a warming atmosphere and a major threat to marine life," Dr. Long said.
Swiftly Detectable
"Since oxygen concentrations in the ocean naturally vary, depending on variations in winds and temperature at the surface, it's been challenging to attribute any deoxygenation to climate change. This new study tells us when we can expect the impact from climate change to overwhelm the natural variability."
The new map suggests that even by 2100, some waters—off the east coasts of Africa and Australia and Southeast Asia and parts of the South Atlantic, for instance—will remain oxygen-rich. But oxygen loss due to climate change will become detectable much more swiftly in northern waters in the Pacific and parts of the Atlantic.
There are uncertainties. Oxygen measurements in the world's oceans—and 70 percent of the planet is covered by blue water—are relatively sparse.
"We need comprehensive and sustained observations of what's going on in the oceans to compare with what we're learning from our models and to understand the full impact of a changing climate," Dr. Long said.
YOU MIGHT ALSO LIKE
Arctic Ice Melt Affects Weather Patterns All Over North Atlantic
60% of Loggerhead Turtles Stranded on Beaches in South Africa Had Ingested Plastic
Climate Change Could Make Parts of Middle East and North Africa 'Uninhabitable'
Solar Impulse Pilot: 'I Flew Over Plastic Waste As Big As a Continent'
EcoWatch Daily Newsletter
A vegan diet can improve your health, but experts say it's important to keep track of nutrients and protein. Getty Images
By Dan Gray
Research shows that 16 weeks of a vegan diet can boost the gut microbiome, helping with weight loss and overall health.
A healthy microbiome is a diverse microbiome. A plant-based diet is the best way to achieve this.
It isn't necessary to opt for a strictly vegan diet, but it's beneficial to limit meat intake.
New research shows that following a vegan diet for about 4 months can boost your gut microbiome. In turn, that can lead to improvements in body weight and blood sugar management.
Students gathered at the National Mall in Washington DC, Sept. 20. NRDC
By Jeff Turrentine
Nearly 20 years have passed since the journalist Malcolm Gladwell popularized the term tipping point, in his best-selling book of the same name. The phrase denotes the moment that a certain idea, behavior, or practice catches on exponentially and gains widespread currency throughout a culture. Having transcended its roots in sociological theory, the tipping point is now part of our everyday vernacular. We use it in scientific contexts to describe, for instance, the climatological point of no return that we'll hit if we allow average global temperatures to rise more than 2 degrees Celsius above preindustrial levels. But we also use it to describe everything from resistance movements to the disenchantment of hockey fans when their team is on a losing streak.
samael334 / iStock / Getty Images
Berries are small, soft, round fruit of various colors — mainly blue, red, or purple.
A glacier is seen in the Kenai Mountains on Sept. 6, near Primrose, Alaska. Scientists from the U.S. Geological Survey have been studying the glaciers in the area since 1966 and their studies show that the warming climate has resulted in sustained glacial mass loss as melting outpaced the accumulation of new snow and ice. Joe Raedle / Getty Images
By Mark Mancini
On Aug. 18, Iceland held a funeral for the first glacier lost to climate change. The deceased party was Okjökull, a historic body of ice that covered 14.6 square miles (38 square kilometers) in the Icelandic Highlands at the turn of the 20th century. But its glory days are long gone. In 2014, having dwindled to less than 1/15 its former size, Okjökull lost its status as an official glacier.
Members of Chicago Democratic Socialists of America table at the Logan Square Farmers Market on Aug. 18. Alex Schwartz
By Alex Schwartz
Among the many vendors at the Logan Square Farmers Market on Aug. 18 sat three young people peddling neither organic vegetables, gourmet cheese nor handmade crafts. Instead, they offered liberation from capitalism.
Hackney primary school students went to the Town Hall on May 24 in London after school to protest about the climate emergency. Jenny Matthews / In Pictures / Getty Images
Bird watching in the U.S. may be a lot harder than it once was, since bird populations are dropping off in droves, according to a new study.