Day 3: Fracking Pipeline Protest Gains Momentum
Feb. 20, 2013 03:04PM EST
Energy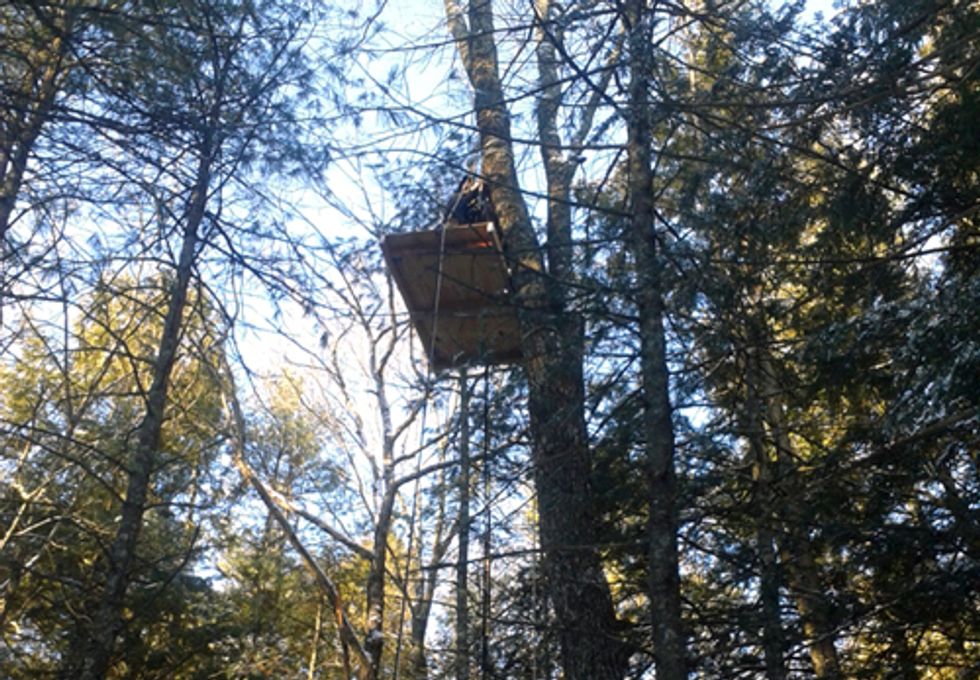 Gifford Pinchot, from Orange County, NY, is staging a tree sit on a suspended platform to prevent clearcutting for construction of the Northeast Upgrade Project of the Tennessee Gas Pipeline (TGP) between Foster Hill and Cummins Hill roads in Pike County, Pennsylvania, near the boarder of New Jersey. The Northeast Upgrade Project would transport Marcellus Shale gas from fracking wells along Pennsylvania's Northern Tier. Fracking is a controversial method of extracting natural gas, as it has been known to contaminate local waterways. There are significant issues with the disposal of toxic fracking wastewater, and other social, economic and environmental concerns.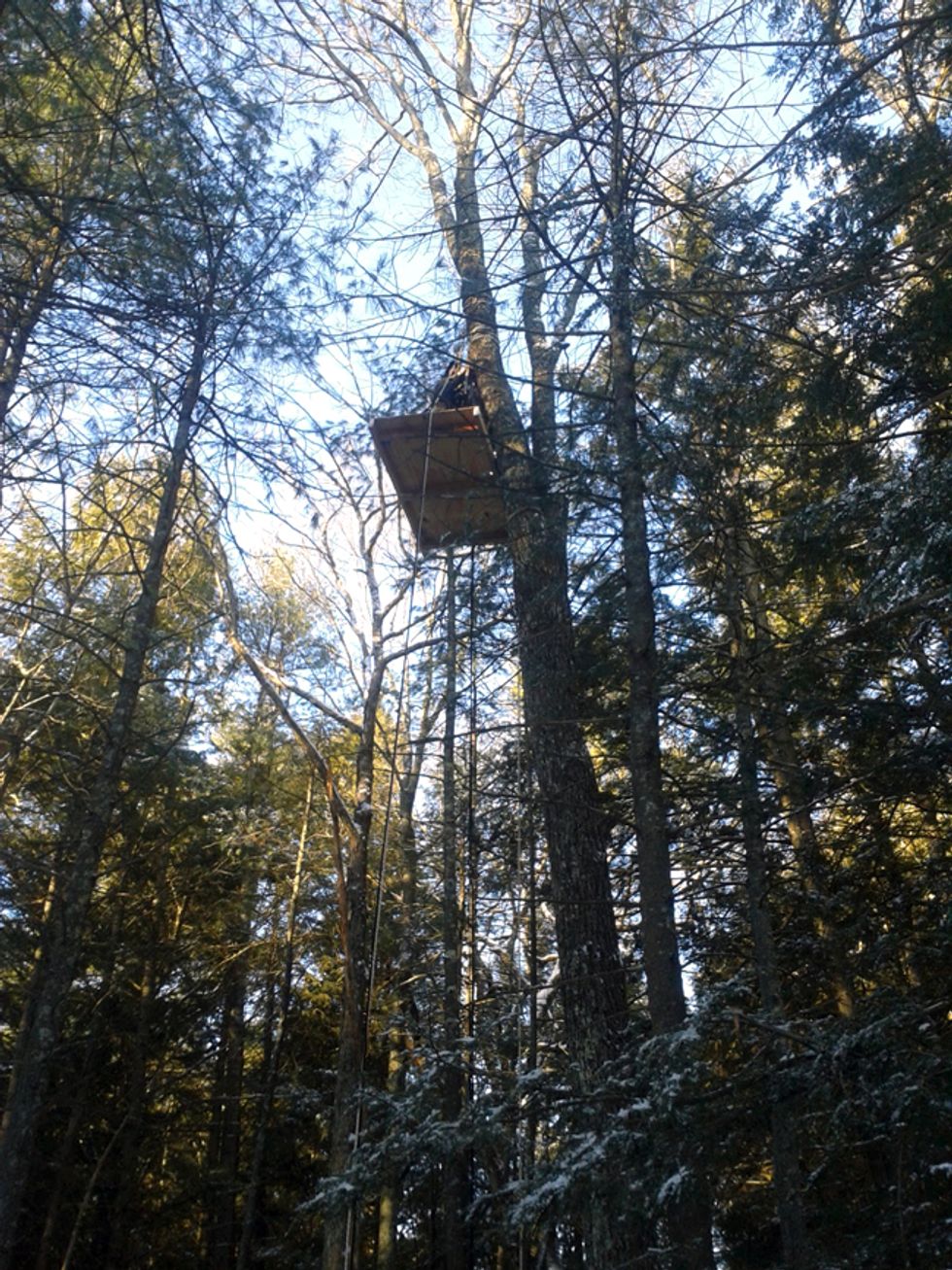 "I'm concerned that the TGP 's project is set to go through six sensitive wetlands on its way to Cummins Hill, clearing through mature forest and important ecological habitat, including endangered species," said Pinchot.
Cummins Hill is a cultural icon for Milford, being home to at least one bald eagle's nest as well as being an economic resource for eco-tourism. "These gas executives just want to extract from our communities—take what they can and leave us to deal with ecological devastation," said Pinchot.
A large banner reading "No Pipeline!" was dropped over the interstate 84 overpass on Cummins Hill Road to display support for the blockades that have been ongoing since Monday. A lock down by Alex Lotorto and Cornelia Pinochot at the Delaware State Forest entrance gate in eastern Pennsylvania, now on its third day, is blocking access to a slated clearcut.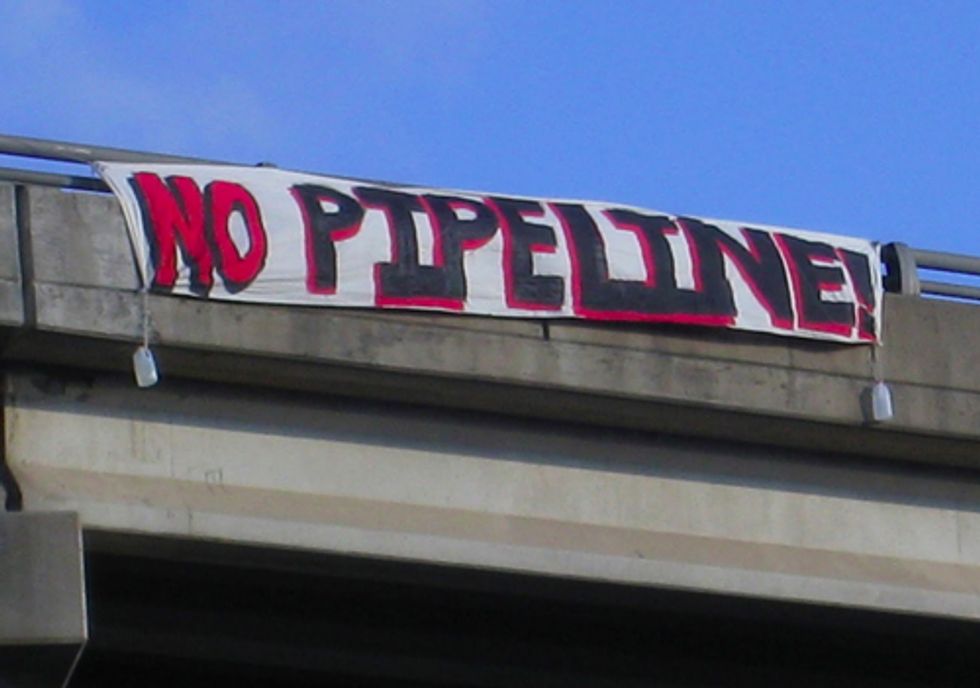 These actions are part of a campaign opposing the Tennessee Pipeline in the Delaware River Basin. The direct action campaign is taking place after nearly two years of local political and grassroots opposition in the courts, public comment and protest.
This week will culminate with family friendly events, including a vigil on Friday at 5 p.m. at the traffic light in Milford (intersection of Broad and Harford0) and a sidewalk march Saturday afternoon from the Milford traffic light, over the Delaware River to Montague, NJ. All are welcome to attend.
Check out this video from Delaware Riverkeeper showing the clearcutting of old growth trees to make way for the Northeast Upgrade Project:
Visit EcoWatch's FRACKING page for more related news on this topic.
——–
Sign the petition today, telling President Obama to enact an immediate fracking moratorium:

EcoWatch Daily Newsletter