This website uses cookies to ensure you get the best experience while browsing it. By clicking 'Got It' you're accepting these terms.
David Suzuki: World Water Day Reminds Us Not to Take Clean Water for Granted
Mar. 16, 2016 09:49AM EST
Insights + Opinion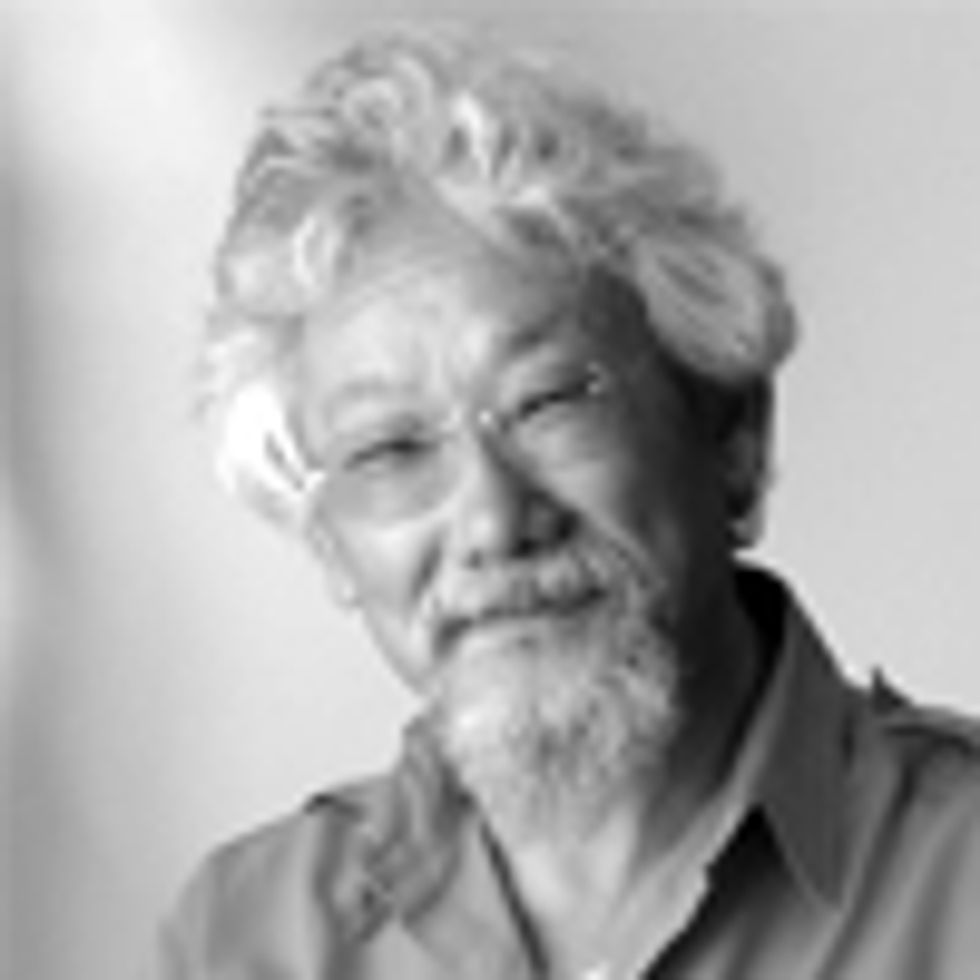 Earth's oceans, lakes, rivers and streams are its circulatory system, providing life's essentials for people, animals and ecosystems. Canada has one-fifth of the world's freshwater, a quarter of its remaining wetlands and its longest coastline. With this abundance, it's easy to take water for granted. Many of our daily rituals require its life-giving force. Yet do we recognize our good fortune in having clean, safe water at the turn of a tap?
Not everyone in Canada is so lucky. On any given day, more than 1,000 boil-water advisories are in place across the country. Imagine having to walk to your local church every morning to fill plastic jugs with clean drinking water for your family. Or having to drive to your town's fire station or community center to collect bottled water. Imagine having to boil water for everything you do at home—cooking, cleaning, washing. This is the sad reality for people who live in communities with boil-water advisories, some for decades at a time.
Water problems are dangerous. In May 2000, bacteria in Walkerton, Ontario's water supply caused seven deaths and more than 2,300 illnesses. A public inquiry blamed the crisis on flaws in the province's approval and inspection programs, a "lack of training and expertise" among water-supply operators and government budget cuts.
In 2001, nearly half of North Battleford, Saskatchewan's 14,000 residents became ill from contaminated water. An inquiry concluded provincial oversight was inadequate and ineffective.
Indigenous communities continue to face a widespread drinking water crisis, with people on First Nations reserves 90 times more likely than other Canadians to lack access to clean water.
Health Canada reports that 131 drinking-water advisories were in effect in 87 Indigenous communities at the end of 2015, not including British Columbia. Places like Shoal Lake 40, Grassy Narrows and Neskantaga have been under boil-water advisories for decades. In British Columbia, the First Nations Health Authority reports that 28 drinking-water advisories were in effect in 25 Indigenous communities as of Jan. 31.
How can this continue in a water-rich country like Canada?
Canada recognized the right to water at the United Nations Conference on Sustainable Development in 2012. Yet our government has failed to live up to its commitment. As a 2015 UN report points out, "The global water crisis is one of governance, much more than of resource availability and this is where the bulk of the action is required in order to achieve a water secure world."
We are the only G8 country and one of just two Organisation for Economic Co-operation and Development countries, without legally enforceable national drinking-water-quality standards. Federal water policy is more than 25 years old and in dire need of revision. We have no national strategy to address urgent water issues and no federal leadership to conserve and protect water. Instead, we rely on a patchwork of provincial water policies, some enshrined in law and some not. Meanwhile, highly intensive industrial activities, agribusiness and pollution are putting water supplies at risk.
The federal government will deliver its first budget on March 22—World Water Day. The David Suzuki Foundation's Blue Dot movement is also taking a stand on World Water Day, helping communities across Canada call on the federal government to make good on our human right to clean water by enacting a federal environmental bill of rights.
Canada's environment and climate change minister has a mandate to "treat our freshwater as a precious resource that deserves protection and careful stewardship." The government could take a big step toward accomplishing this by recognizing our right to a healthy environment, including our right to clean water.
The government should also implement legally binding national standards for drinking water quality equal to or better than the highest standards in other industrialized nations and set long-term targets and timelines to reduce water pollution. And it should fulfil our right to water by addressing the drinking water crisis in Indigenous communities and establishing a Canada Water Fund to foster the clean-water tech industry and create a robust national water quality and quantity monitoring system.
Committing to these actions would help ensure all Canadians have access to clean, safe water for generations to come. On World Water Day, help protect the people and places you love by joining the Blue Dot movement.
YOU MIGHT ALSO LIKE
The Nature Conservancy and Leonardo DiCaprio Foundation Unite to Create Second Largest Marine Protected Area in West Indian Ocean
10 Stunning Images Show Human's Huge Impact on the Earth
Bolivia's Second-Largest Lake Dries Up: Is Utah's Great Salt Lake Next?
EcoWatch Daily Newsletter
Heavy industry on the lower Mississippi helps to create dead zones.
AJ Wallace on Unsplash.
Cutting out coal-burning and other sources of nitrogen oxides (NOx) from heavy industry, electricity production and traffic will reduce the size of the world's dead zones along coasts where all fish life is vanishing because of a lack of oxygen.
Despite the ongoing coronavirus pandemic, which has restricted the ability to gather in peaceful assembly, a Canadian company has moved forward with construction of the controversial Keystone XL pipeline, according to the AP.
A gas flare from the Shell Chemical LP petroleum refinery illuminates the sky on August 21, 2019 in Norco, Louisiana. Drew Angerer / Getty Images.
Methane levels in the atmosphere experienced a dramatic rise in 2019, preliminary data released Sunday shows.
A retired West Virginia miner suffering from black lung visits a doctor for tests. Andrew Lichtenstein / Corbis via Getty Images
In some states like West Virginia, coal mines have been classified as essential services and are staying open during the COVID-19 pandemic, even though the close quarters miners work in and the known risks to respiratory health put miners in harm's way during the spread of the coronavirus.
Solar panel installations and a wind turbine at the Phu Lac wind farm in southern Vietnam's Binh Thuan province on April 23, 2019. MANAN VATSYAYANA / AFP via Getty Images