This website uses cookies to ensure you get the best experience while browsing it. By clicking 'Got It' you're accepting these terms.
David Suzuki: We Have to Stop Killing Our Oceans With Plastic
Feb. 25, 2015 08:27AM EST
Insights + Opinion

Eight million tonnes. That's how much plastic we're tossing into the oceans every year! University of Georgia environmental engineer Jenna Jambeck says it's enough to line up five grocery bags of trash on every foot of coastline in the world.
A study published by Jambeck and colleagues in the journal Science on Feb. 12 examined how 192 coastal countries disposed of plastic waste in 2010. The report, Plastic waste inputs from land into the ocean, estimates that of 275 million tonnes of plastic generated, about eight million (based on a midpoint estimate of 4.8 million to 12.7 million tonnes) ends up in the seas—blown from garbage dumps into rivers and estuaries, discarded on beaches or along coastlines and carried to the oceans.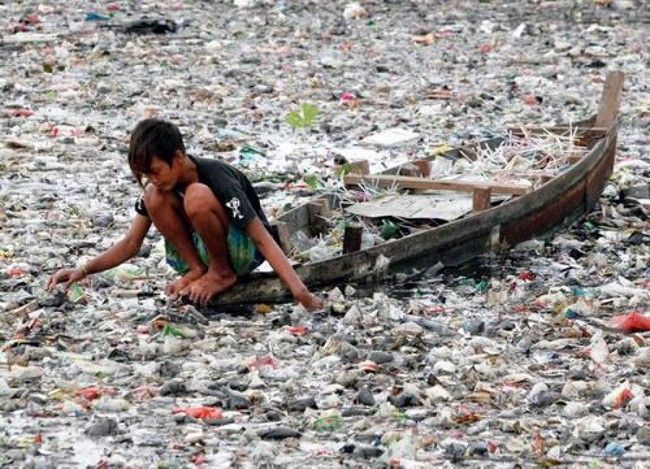 Plastic is everywhere in our seas. It accumulates on the sea floor and in sediments, washes up on coastlines and is taken up by fish and other sea creatures.
China tops the list of 20 countries responsible for 83 percent of "mismanaged plastic" in the oceans, sending between 1.32 and 3.53 million tonnes into the seas. The U.S., which has better waste-management systems, is number 20 on the list, responsible for 0.04 to 0.11 tonnes. Some countries in the top 20 don't even have formal waste-management systems. The fear is that, as human populations grow, the amount of plastic going into the oceans will increase dramatically if countries don't improve waste-management systems and practices—and reduce the amount of plastic they produce and use.
Scientists don't know where most plastic ends up or what overall effect it's having on marine life and food supplies. They do know that massive islands of plastic and other waste—some as large as Saskatchewan—swirl in five gyres in the north and south Pacific, north and south Atlantic and Indian oceans. But that's only a small amount of the total.
Plastic is everywhere in our seas. It accumulates on the sea floor and in sediments, washes up on coastlines and is taken up by fish and other sea creatures. It affects birds, fish, mammals and other marine life. It eventually breaks down into smaller bits, which can look like fish eggs and get eaten by marine animals, but it never biodegrades. Those particles, or microplastics, just keep building up. They also absorb and concentrate toxic chemicals, poisoning the animals that consume them. Studies show that 44 percent of all seabird species have plastic in and around their bodies, and fish, birds, turtles and whales often become fatally entangled in plastic waste.
Even the search for Malaysia Airlines Flight 370, which went down over the South China Sea in March 2014, was confounded when investigators looking for crash evidence kept finding plastic debris.
Humans depend on healthy oceans for food, water, air, recreation and transportation. Oceans contain more than 97 percent of the planet's water and produce more than half the oxygen we breathe. They also absorb carbon—important to reducing global warming. Half the world's people live in coastal zones, and ocean-based businesses contribute more than $500 billion a year to the global economy.
What we do to the oceans and the life therein, we do to ourselves. So what can we do to keep them—and us—healthy?
The report's authors say reducing "mismanaged" plastic waste, regulating the amount of plastics that enter the waste stream and improving waste-disposal methods in the top 20 offending countries are all essential. But, Jambeck notes, "It's not just about improving the infrastructure in other countries. There are things we can do in our daily lives to reduce the amount of waste plastic we all produce."
Canada's relatively good waste-disposal and recycling systems keep us off the 20 worst offenders list—but we can still do better. Reducing the amount of plastic we use is the first step. For consumers, that means avoiding overpackaged goods and unnecessary plastic items, such as bottled water, single-serve K-cup coffee pods and disposable products. We must also get better at reusing and recycling. According to a report by the U.S. non-profit As You Sow, plastic is the fastest-growing form of packaging, and only about 14 percent gets recycled.
Oceans and the life they support face numerous threats, from climate change to overfishing. Reducing the amount of plastic we dump into them is a challenge we can meet. Let's get on it.
YOU MIGHT ALSO LIKE
8 Million Metric Tons of Plastic Dumped Into World's Oceans Each Year
Undersea Superheroes Save Imperiled Marine Life
EcoWatch Daily Newsletter
A glacier is seen in the Kenai Mountains on Sept. 6, near Primrose, Alaska. Scientists from the U.S. Geological Survey have been studying the glaciers in the area since 1966 and their studies show that the warming climate has resulted in sustained glacial mass loss as melting outpaced the accumulation of new snow and ice. Joe Raedle / Getty Images
By Mark Mancini
On Aug. 18, Iceland held a funeral for the first glacier lost to climate change. The deceased party was Okjökull, a historic body of ice that covered 14.6 square miles (38 square kilometers) in the Icelandic Highlands at the turn of the 20th century. But its glory days are long gone. In 2014, having dwindled to less than 1/15 its former size, Okjökull lost its status as an official glacier.
Members of Chicago Democratic Socialists of America table at the Logan Square Farmers Market on Aug. 18. Alex Schwartz
By Alex Schwartz
Among the many vendors at the Logan Square Farmers Market on Aug. 18 sat three young people peddling neither organic vegetables, gourmet cheese nor handmade crafts. Instead, they offered liberation from capitalism.
Hackney primary school students went to the Town Hall on May 24 in London after school to protest about the climate emergency. Jenny Matthews / In Pictures / Getty Images
Bird watching in the U.S. may be a lot harder than it once was, since bird populations are dropping off in droves, according to a new study.
Amazon CEO Jeff Bezos announces the co-founding of The Climate Pledge at the National Press Club on Sept. 19 in Washington, DC. Paul Morigi / Getty Images for Amazon
The day before over 1,500 Amazon.com employees planned a walkout to participate in today's global climate strike, CEO Jeff Bezos unveiled a sweeping plan for the retail and media giant to be carbon neutral by 2040, 10 years ahead of the Paris agreement schedule.
For the past seven years, the Anishinaabe people have been facing the largest tar sands pipeline project in North America. We still are. In these dying moments of the fossil fuel industry, Water Protectors stand, prepared for yet another battle for the water, wild rice and future of all. We face Enbridge, the largest pipeline company in North America, and the third largest corporation in Canada. We face it unafraid and eyes wide open, for indeed we see the future.
The climate crisis often intensifies systems of oppression. Rieko Honma / Stone / Getty Images Plus
By Mara Dolan
We see the effects of the climate crisis all around us in hurricanes, droughts, wildfires, and rising sea levels, but our proximity to these things, and how deeply our lives are changed by them, are not the same for everyone. Frontline groups have been leading the fight for environmental and climate justice for centuries and understand the critical connections between the climate crisis and racial justice, economic justice, migrant justice, and gender justice. Our personal experiences with climate change are shaped by our experiences with race, gender, and class, as the climate crisis often intensifies these systems of oppression.