David Suzuki: Put People Before Politics

When we elect people to office, we give them power to make and enact decisions on our behalf. They should have a vision that extends beyond the next election and the latest Dow Jones average—to our children and grandchildren.
We expect our leaders to have a clear picture of our world and the conditions necessary for human life and well-being. If they don't, how can they make informed decisions? So let me outline some simple, scientifically validated truths about us and the world we live in—truths that should guide our political decisions.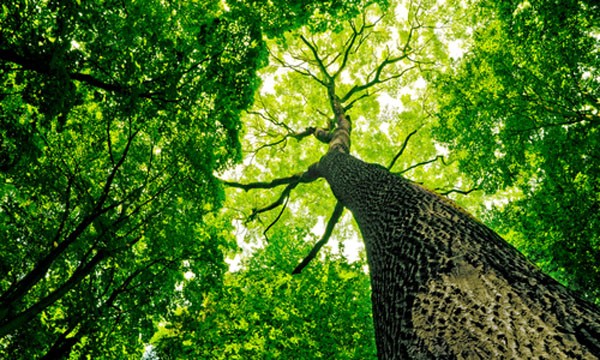 Photo credit: Shutterstock
We are, above all else, biological beings, with an absolute need for clean air from the moment of birth to the last death rattle. We take air deep into our lungs and filter whatever's in it. Plants on land and in the ocean take in the greenhouse gas carbon dioxide and release oxygen during photosynthesis, creating the atmosphere we depend on.
We are about 60 percent water by weight, so we need clean water to be healthy. When water falls to Earth, it's filtered through tree and other plant roots, soil fungi and bacteria, cleansing it so it's safe to drink.
All the energy in our bodies that we use to move, grow and reproduce is sunlight captured by plants in photosynthesis and converted to chemical energy, which we ingest. We eat plants and animals for our nourishment, so whatever they're exposed to ends up in our bodies. We need clean soil to give us clean food.
These are basic, biological facts and should be the prism through which any decision is made at individual, corporate or government levels. Protection of air, water, soil and the web of life should be the highest social, political and economic priority.
We're also social animals. Scientists have shown that love during childhood is essential for healthy development. Children who are deprived of love at critical points can develop a variety of physical and psychological deficits. To avoid those, we have to work for strong families and supportive communities, full employment, justice, greater income and gender equity and freedom from terror, genocide and war.
Finally, we are spiritual creatures who require sacred places, a sense of belonging to the world and a recognition that we are not in charge of nature, but dependent on the biosphere for our health and well-being. We are not outside of nature; we are part of it.
To be fully healthy and human, our most elemental needs are biological, social and spiritual. Politicians ought to know this. Their role is to protect and enhance those necessities of life; otherwise there is no vision, direction or leadership.
That's why it's absurd for a politician or government representative to speak about any aspect of the economy without acknowledging the threat of human-induced climate change. Many oppose doing anything on ideological grounds, but the science is overwhelming and compelling, and the need for action is clear. What can you say about "leaders" who choose to ignore the best available evidence to the detriment of the people they are elected to represent?
Surely those who act only for short-term economic gain, imposing destructive consequences on generations to come, must be held responsible. We must also consider the consequences of rapid and excessive exploitation of fossil fuels on the world's poorest people, who have done little to create climate change but are most affected by it. 
Even though Canada ratified the legally binding Kyoto Protocol, which spelled out our obligations to reduce the risk of climate change, many of our "leaders" have wilfully ignored scientific evidence and urgent calls to meet the protocol's targets, and Canada eventually abandoned the agreement. What should we call that?
And what can we say about "leaders" who can see something is wrong and have the means to respond but choose not to? This is what Canada is doing—in the face of overwhelming evidence and pleading of other industrialized nations.
Our elected representatives deserve respect for their commitment. But the elevated status and power of politicians also carries responsibilities. Many are abrogating those responsibilities for ideological reasons that have nothing to do with our well-being.
You Might Also Like
Global Warming Deniers Become More Desperate By the Day
The Right to Breathe Fresh Air, Drink Clean Water and Eat Healthy Food
Disturbing footage of a snake in Goa, India vomiting an empty soft drink bottle highlights the world's mounting plastic pollution crisis.
Keep reading...
Show less
By Melissa Hellmann
When her eldest son was in elementary school in the Oakland Unified School District, Ruth Woodruff became alarmed by the meals he was being served at school. A lot of it was frozen, processed foods, packed with preservatives. At home, she was feeding her children locally sourced, organic foods.
Keep reading...
Show less
May. 28, 2017 01:33PM EST
Laurie Woolever
By James O'Hare
There are 20 million people in the world facing famine in South Sudan, Somalia, Nigeria and Yemen. In developed nations, too, people go hungry. Venezuela, for instance, is enduring food insecurity on a national level as a result of economic crisis and political corruption. In the U.S., the land of supposed excess, 12.7 percent of households were food insecure in 2015, meaning they didn't know where their next meal would come from.
Keep reading...
Show less
May. 28, 2017 01:22PM EST
Melwater, Greenland ice sheet. Diane Tuft
Artists are taking the climate crisis into frame and the results are emotional, beautiful and stirring.
So you've seen the best climate change cartoons and shared them with your friends. You've showed your family the infographics on climate change and health, infographics on how the grid works and infographics about clean, renewable energy. You've even forwarded these official National Oceanic and Atmospheric Administration graphs that explain the 10 clear indicators of climate change to your colleagues at the office.
Keep reading...
Show less
May. 27, 2017 01:11PM EST
As the Trump administration moves full speed ahead on boosting the oil and fossil fuel industry, opposition to increased pipeline construction is cropping up in different communities around the country.
Keep reading...
Show less
May. 27, 2017 01:02PM EST
Minke whale stranding near Havergate Island in Suffolk. MCGA.
By Simon Evans
Last Saturday, two dead whales washed up on the coast of Suffolk, in eastern England, and a third was spotted floating at sea.
What happened next illustrates how news can spread and evolve into misinformation, when reported by journalists rushing to publish before confirming basic facts or sourcing their own quotes.
Keep reading...
Show less
May. 27, 2017 01:22PM EST
By Monica Amarelo and Paul Pestano
Sun safety is a crucial part of any outdoor activity for kids, and sunscreen can help protect children's skin from harmful ultraviolet rays. Kids often get sunburned when they're outside unprotected for longer than expected. Parents need to plan ahead and keep sun protection handy in their cars or bags.
Keep reading...
Show less
May. 27, 2017 01:02PM EST
By Joe McCarthy
A lot of people take part in community clean-up efforts—spending a Saturday morning picking up litter in a park, mowing an overgrown field or painting a fence.
Keep reading...
Show less