This website uses cookies to ensure you get the best experience while browsing it. By clicking 'Got It' you're accepting these terms.
David Suzuki: Hundreds of Grizzly Bears Will Die in Barbaric Trophy Hunt
Mar. 11, 2015 08:44AM EST
Insights + Opinion

Watching grizzly bears catch and eat salmon as they swim upstream to spawn is an unforgettable experience. Many people love to view the wild drama. Some record it with photos or video. But a few want to kill the iconic animals—not to eat, just to put their heads on a wall or coats on a floor.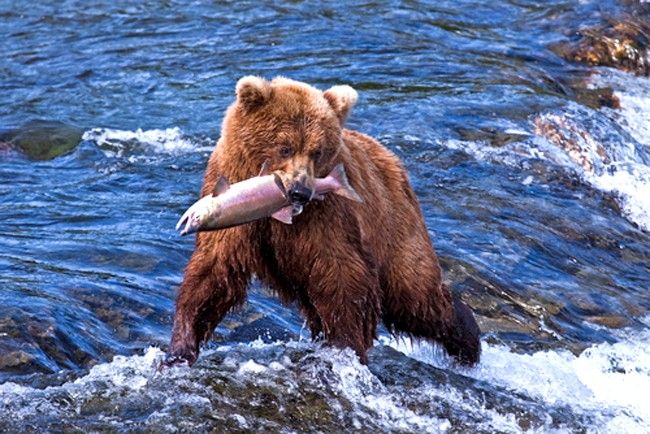 Photo credit: Shutterstock
The spring grizzly kill starts April 1 and extends for several weeks, followed by a second fall season. By year's end, several hundred will have died at the hands of humans, close to 90 percent shot by trophy hunters—many of them foreign license-holders, as the B.C. government plans to enact new regulations to allow hunters from outside B.C. to take 40 percent of grizzlies slated for killing. The government also plans to allow foreign interests and corporations to buy and run guide-outfitting territories previously run only by B.C. residents. Local hunting organizations say the new rules put them at a disadvantage.
According to the Vancouver Observer, hunting guide associations donated $84,800 to B.C. political parties from 2005 to 2013, 84 percent to the B.C. Liberals.
In the controversy over regulatory changes, we've lost touch with the fact that the grizzly trophy hunt is horrific, regardless of whether bears are killed by resident hunters or big-game hunters who pay thousands of dollars for the chance to kill a bear here—often because it's illegal in their home countries.
Grizzlies once roamed much of North America, from Mexico to the Yukon and from the West Coast through the prairies. Habitat loss and overhunting have since shrunk their range by more than half. In Canada, 16 subgroups are on the brink of extinction, including nine in south-central B.C. and Alberta's entire grizzly population.
Just how many bears reside in B.C. is in dispute. The government claims more than 15,000 grizzlies live here, but Raincoast Conservation Foundation science director Chris Darimont, a University of Victoria conservation biologist, puts the number closer to the government's earlier estimate of 6,600—before it doubled that in 1990 based on a single study in southeastern B.C.'s Flathead area.
According to a Maclean's article, in 2000, the government "suppressed the work of one of its own biologists, Dionys de Leeuw, for suggesting the hunt was excessive and could be pushing the bears to extinction. De Leeuw was later suspended without pay for having pursued the line of inquiry." The government then pursued a five-year legal battle with groups including Raincoast Conservation and Ecojustice to keep its grizzly kill data sealed.
Allan Thornton, president of the British Environmental Investigation Agency, which has studied B.C. grizzly management since the late 1990s, is blunt about the government's justification. "The British Columbia wildlife department does not use rigorous science," he told the Vancouver Observer. In 2004, the European Union banned imports of all B.C. grizzly parts into member countries after its analysis found the hunt to be unsustainable.
Even the economic case is shaky. Studies by the Centre for Responsible Travel and Raincoast Conservation conclude revenue from bear-viewing is far higher than revenue from grizzly hunting.
Grizzly population health is an indicator of overall ecosystem health, and bears are important to functioning ecosystems. They help regulate prey such as deer and elk, maintain forest health by dispersing seeds and aerating soil as they dig for food, and fertilize coastal forests by dragging salmon carcasses into the woods. Hunting isn't the only threat. Habitat loss, decreasing salmon runs, collisions with vehicles and other conflicts with humans also endanger grizzlies. Because they have low reproduction rates, they're highly susceptible to population decline. Hunting is one threat we can easily control.
According to polls, almost 90 percent of B.C. residents oppose hunting grizzlies for trophies, including many Frist Nations and food hunters. Scientists say it's unsustainable. The Coastal First Nations coalition has banned grizzly hunting in its territories, but the government doesn't recognize the ban. The Raincoast Conservation Foundation has bought hunting licences in an attempt to reduce bear kills on the coast.
Simply put, most British Columbians—and Canadians—are against the grizzly trophy hunt. It's time for the government to listen to the majority rather than industry donors and ban this barbaric and unsustainable practice.
YOU MIGHT ALSO LIKE
160+ Eco-Films Featured at This Year's Environmental Film Festival
Canned Tuna Shopping Guide: How Does Your Brand Stack Up?
Robert Swan Leads Antarctic Expedition to Show Firsthand Effects of Climate Change
EcoWatch Daily Newsletter
Tuna auctions are a tourist spectacle in Tokyo. Outside the city's most famous fish market, long queues of visitors hoping for a glimpse of the action begin to form at 5 a.m. The attraction is so popular that last October the Tsukiji fish market, in operation since 1935, moved out from the city center to the district of Toyosu to cope with the crowds.

gmnicholas / E+ / Getty Images
Kristan Porter grew up in a fishing family in the fishing community of Cutler, Maine, where he says all roads lead to one career path: fishing. (Porter's father was the family's lone exception. He suffered from terrible seasickness, and so became a carpenter.) The 49-year-old, who has been working on boats since he was a kid and fishing on his own since 1991, says that the recent warming of Maine's cool coastal waters has yielded unprecedented lobster landings.
Aerial view of lava flows from the eruption of volcano Kilauea on Hawaii, May 2018. Frizi / iStock / Getty Images
Hawaii's Kilauea volcano could be gearing up for an eruption after a pond of water was discovered inside its summit crater for the first time in recorded history, according to the AP.
The Eqip Sermia Glacier is seen behind a moraine left exposed by the glacier's retreat during unseasonably warm weather on Aug. 1 at Eqip Sermia, Greenland. Sean Gallup / Getty Images
hadynyah / E+ / Getty Images
By Johnny Wood
The Ganges is a lifeline for the people of India, spiritually and economically. On its journey from the Himalayas to the Bay of Bengal, it supports fishermen, farmers and an abundance of wildlife.
The river and its tributaries touch the lives of roughly 500 million people. But having flowed for millennia, today it is reaching its capacity for human and industrial waste, while simultaneously being drained for agriculture and municipal use.
Here are some of the challenges the river faces.
By Jake Johnson
As a growing number of states move to pass laws that would criminalize pipeline protests and hit demonstrators with years in prison, an audio recording obtained by The Intercept showed a representative of a powerful oil and gas lobbying group bragging about the industry's success in crafting anti-protest legislation behind closed doors.
Reposted with permission from our media associate Common Dreams.

DESIREE MARTIN / AFP / Getty Images
Wildfires raging on Gran Canaria, the second most populous of Spain's Canary Islands, have forced around 9,000 people to evacuate.