This website uses cookies to ensure you get the best experience while browsing it. By clicking 'Got It' you're accepting these terms.
David Suzuki: How to Save the Monarch Butterfly
May. 02, 2015 08:55AM EST

The monarch butterfly is a wonderful creature with an amazing story. In late summer, monarchs in southern Canada and the northern U.S. take flight, traveling more than 5,000 kilometers to alpine forests in central Mexico. The overwintering butterflies cling to fir trees there in masses so dense that branches bow under their weight.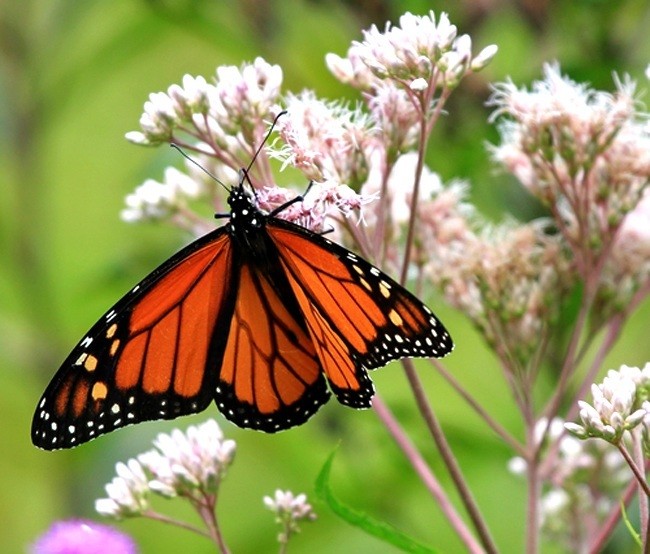 Monarch butterflies have only one food source: milkweed. Photo credit: Shutterstock
The monarch's multigenerational journey northward is every bit as remarkable as the epic southern migration. Three or four successive generations fly to breeding grounds, lay eggs and perish. The resulting caterpillars transform into butterflies and then take on the next leg of the trip. Monarchs arriving in Canada in late summer are often fourth or fifth generation descendants of butterflies that flew south the previous year.
What may be the monarch's most striking quirk is its caterpillars' reliance on milkweed as its sole food source, a phenomenon called "monophagy." Milkweed plants contain small traces of cardenolides, bitter chemicals monarchs store in their bodies to discourage predators, which associate the butterflies' distinctive coloration with bad taste. But relying on a single type of plant for survival is a risky strategy that has put monarchs in grave danger.
In the mid-1990s, the eastern monarch population was more than 1 billion. In winter 2013, the population had dropped by more than 95 percent to 35 million, with a modest increase to 56.5 million this past winter. As University of Guelph postdoctoral research fellow Tyler Flockhart notes, a single severe storm could extinguish the entire monarch population. A 2002 snowstorm wiped out 80 million butterflies. A similar trend has been occurring west of the Rockies, where the western population overwinters in California and migrates as far north as central B.C.
Much of the monarch butterfly decline has been pinned on virtual eradication of its critical food source throughout much of its migration path by profligate use of a glyphosate-based weed killer called Roundup, which corn and soybean crops have been genetically modified to tolerate. Blanketing fields with the herbicide kills plants like milkweed. As a result, several U.S. states in the Midwest—the heart of monarch breeding territory—have lost most of their native milkweed, causing monarch reproductive rates to drop by more than 80 per cent.
A recent study suggests glyphosate is merely the first of a one-two toxic punch from industrial agricultural operations. The second is neonicotinoids, the controversial nicotine-based insecticides that have been identified as a chief culprit in the decline of honeybees, along with a host of birds, bees and butterflies. It appears that even at one part per billion, these chemicals can affect monarch caterpillar development, delivering a potential knockout blow for the imperiled insects.
The good news is that many jurisdictions are catching up with the science. Ontario's government has proposed regulations to reduce neonicotinoids use by 80 per cent over the next couple of years. In early April, the U.S. Environmental Protection Agency issued a moratorium on new applications to use neonicotinoids. I hope this marks the turning of the toxic tide, but time is running out.
What can you do to help? While government agencies in Mexico, the U.S. and Canada are scrambling to hatch plans to save monarchs, the scientific community has been clear: A lot of milkweed must be planted over the next few years. One great opportunity is the many thousands of kilometers of linear corridors—rail, road and hydro rights-of-way—that run throughout the migratory landscape and can be modified to grow milkweed and other pollinator-friendly plants.
Yards, school grounds and parks are also perfect for butterfly gardens and milkweed patches, and planting milkweed in your backyard or balcony garden is a great way to help. Be sure to call your local garden centre or nursery to ensure they stock native milkweed plants this spring.
Find out more about milkweed and information about how to bring monarchs back from the brink at the David Suzuki Foundation's Got Milkweed campaign website. You can also donate to support Foundation volunteers planting milkweed in the greater Toronto area.
Planting milkweed may seem small, but the combined actions of thousands of concerned citizens stitching together parks and yards with schools and rights-of-way into a glorious tapestry of butterfly corridors could usher in a new, hopeful era for monarch butterflies.
YOU MIGHT ALSO LIKE
Microbeads: A Sign of Our Plastic Consumer Madness
5 Horrifying Images from the Nepal Earthquake
MIT's Solar-Powered Desalination Machine Could Help Drought-Stricken Communities
Prince William and British naturalist David Attenborough attend converse during the World Economic Forum annual meeting, on January 22 in Davos, Switzerland. Fabrice Cofferini /AFP / Getty Images
Britain's Prince William interviewed famed broadcaster David Attenborough on Tuesday at the World Economic Forum's annual meeting in Switzerland.
During the sit-down, the 92-year-old naturalist advised the world leaders and business elite gathered in Davos this week that we must respect and protect the natural world, adding that the future of its survival—as well as humanity's survival—is in our hands.
Electric vehicle sales took off in 2018, with a record two million units sold around the world, according to a new Deloitte analysis.
What's more, the accounting firm predicts that another 21 million electric cars will be on the road globally over the next decade due to growing market demand for clean transportation, government subsidies, as well as bans on fossil fuel cars.
Teenager Alex Weber and friends collected nearly 40,000 golf balls hit into the ocean from a handful of California golf courses.
Alex Weber /
CC BY-ND
Southwest Greenland had the most consistent ice loss from 2003 to 2012. Eqalugaarsuit, Ostgronland, Greenland on Aug. 1, 2018.
Rob Oo / CC BY 2.0
Greenland is melting about four times faster than it was in 2003, a new study published Monday in the Proceedings of the National Academy of Sciences found, a discovery with frightening implications for the pace and extent of future sea level rise.
"We're going to see faster and faster sea level rise for the foreseeable future," study lead author and Ohio State University geodynamics professor Dr. Michael Bevis said in a press release. "Once you hit that tipping point, the only question is: How severe does it get?"
Finally, some good news about the otherwise terrible partial government shutdown. A federal judge ruled that the Trump administration cannot issue permits to conduct seismic testing during the government impasse.
The Justice Department sought to delay—or stay—a motion filed by a range of coastal cities, businesses and conservation organizations that are suing the Trump administration over offshore oil drilling, Reuters reported. The department argued that it did not have the resources it needed to work on the case due to the shutdown.
Most people have heard of the Amazon, South America's famed rainforest and hub of biological diversity. Less well known, though no less critical, is the Pantanal, the world's largest tropical wetland.
Like the Amazon, the Pantanal is ecologically important and imperiled. Located primarily in Brazil, it also stretches into neighboring Bolivia and Paraguay. Covering an area larger than England at more than 70,000 square miles, the massive wetland provides irreplaceable ecosystem services that include the regulation of floodwaters, nutrient renewal, river flow for navigability, groundwater recharge and carbon sequestration. The wetland also supports the economies of the four South American states it covers.
Demonstrators participate in a protest march over agricultural policy on Jan. 19 in Berlin, Germany. Carsten Koall / Getty Images Europe
By Andrea Germanos
Organizers said 35,000 people marched through the streets of the German capital on Saturday to say they're "fed up" with industrial agriculture and call for a transformation to a system that instead supports the welfare of the environment, animals and rural farmers.

The fire that erupted after a pipeline explosion in Mexico Friday. FRANCISCO VILLEDA / AFP / Getty Images
By Patrick Rogers
If you have ever considered making the switch to an environmentally friendly electric vehicle, don't drag your feet. Though EV prices are falling, and states are unveiling more and more public charging stations and plug-in-ready parking spots, the federal government is doing everything it can to slam the brakes on our progress away from gas-burning internal combustion engines. President Trump, likely pressured by his allies in the fossil fuel industry, has threatened to end the federal tax credits that have already helped put hundreds of thousands of EVs on the road—a move bound to harm not only our environment but our economy, too. After all, the manufacturing and sale of EVs, hybrids, and plug-in hybrids supported 197,000 jobs in 2017, according to the most recent U.S. Energy and Employment Report.