David Suzuki: Feed-In Tariffs Accelerate the Renewable Energy Revolution
In the early 1990s, Germany launched Energiewende or "energy revolution," a program "to combat climate change, avoid nuclear risks, improve energy security and guarantee competitiveness and growth." Renewable energy grew from 4 percent in 1990 to more than 27 percent in 2014, including a significant increase in citizen-owned power projects, according to energy think tank Agora Energiewende.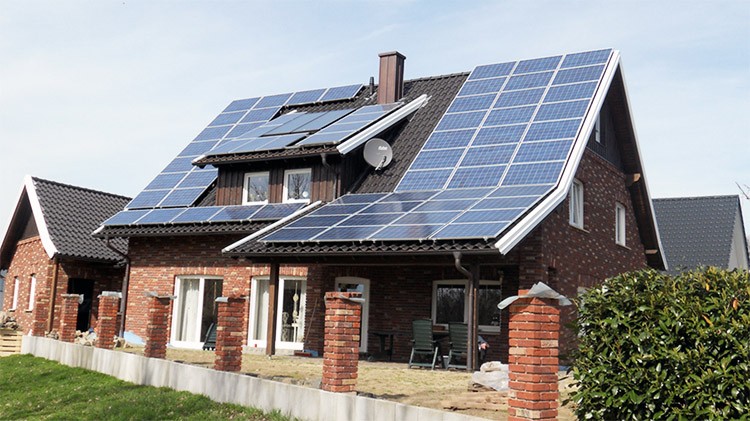 Germany's greenhouse gas emissions dropped by 27 percent during that time. Its goal is to reduce emissions 40 percent from 1990 levels by 2020 and more than 80 percent by 2050. Polls show that 90 percent of Germans like the program—even though it means paying higher rates for electricity.
There's good reason for this widespread support. The primary technologies of wind and solar have become cost-competitive with conventional energy sources. Variable renewable sources and "flexibility options" for conventional and renewable power generation are making baseload power obsolete—which means the system is geared to wind and solar rather than nuclear or coal. It's one of the most reliable energy systems in the world. And it's created jobs and revenue.
Energiewende hasn't solved all of Germany's emissions and energy issues. Electricity rates are among Europe's highest, although they're expected to come down as more renewable energy becomes available and efficient usage means "actual costs to households are comparable to countries with lower prices but higher consumption levels." The country still gets more energy from coal than renewables, transportation and heating consume significant energy from conventional sources and heavy industry makes Germany one of Western Europe's highest emitters. Opposition from power utilities and coal companies, with consequent government compromises, has also slowed progress. But a range of initiatives and tools has put Germany on track to meeting its long-term climate commitments.
One tool Germany used to achieve its rapid progress was a feed-in tariff, which guarantees renewable energy producers—individuals, businesses, community organizations and power companies—access to the grid and payment from power utilities for energy they put into the system. At first, the tariff wasn't enough to cover costs, but in 2000 Germany introduced a law that guaranteed feed-in tariffs for 20 years at prices high enough for producers to profit. As renewable energy costs drop and more is brought into the system, tariffs go down.
Feed-in tariffs are in place in Ontario, and in many countries worldwide. The Pembina Institute notes they're effective for several reasons. They "reward actual production" rather than just installation, they minimize development investment risks and "facilitate access to financing" and they encourage small, medium and large producers and "community and local ownership and engagement, minimizing opposition to projects."
They also "encourage renewable power producers to use the most efficient technology, driving down costs by fostering industrial competition" and while they cause short-term electricity price hikes, those stabilize over time as costs and risks of conventional power generation and volatile fossil fuel markets are reduced. Income paid through tariffs "more than offsets any electricity price increases" for those who generate renewable energy. And if the full environmental and health damages of fossil fuels are considered, renewables are an even better bargain.
Many jurisdictions with feed-in tariffs have become leading exporters of renewable energy technology, creating local jobs and strengthening economies—with little or no government spending! Feed-in tariffs vary in rates and designs according to what types and scales of technologies governments want to encourage and where they want them located, which means they must be carefully designed.
Massive centralized power sources are not efficient and are quickly becoming outdated. Some power is lost when it has to be transmitted over long distances and large sources usually keep operating even when power isn't required. Using smart grids and distributed renewable energy with demand-management systems allows energy to be dispatched where and when it's needed, most often over shorter distances and a variety of power sources makes them more reliable, as large-scale power outages are less frequent.
Burning finite fuels in huge plants to generate electricity is no way to power the future. Meeting global commitments to reduce greenhouse gas emissions and slow global warming requires a transition from fossil fuels to renewable energy. Feed-in tariffs are an effective way for governments to encourage that shift.
YOU MIGHT ALSO LIKE
Court Documents Show Peabody Energy Funded Dozens of Climate Denial Groups
Uncovered Documents Reveal MSNBC Show Worked to Promote Fracking
Noam Chomsky: The Doomsday Clock Is Nearing Midnight
Apple Is Generating So Much Renewable Energy It Plans to Start Selling It
Wikimedia Commons
By Stacy Malkan
Neil deGrasse Tyson has inspired millions of people to care about science and imagine themselves as participants in the scientific process. What a hopeful sign it is to see young girls wearing t-shirts emblazoned with the words, "Forget princess, I want to be an astrophysicist."
Keep reading...
Show less
www.youtube.com
By Andy Rowell
Any day now we will truly witness climate change in action. Within days at worst, maybe weeks at best, scientists predict that a huge section of the Larsen C ice shelf in Antarctica will break off into the ocean, in what is called a major "carving" event.
Keep reading...
Show less
www.youtube.com
President Trump visited Cedar Rapids, Iowa on June 21 to speak to a large crowd in the U.S. Cellular Center at a political rally organized by his campaign.
As Trevor Noah noted during The Daily Show episode last night (starts at 2:25), the real reason Trump has these rallies is to "get back in front of his loyal crowds and feed of their energy." Noah believes that "Trump supporters are so on board with their dude he can say anything and they'll come along for the ride."
Keep reading...
Show less
The Kamuthi solar plant in the southern Indian state of Tamil Nadu.
The rapid growth in renewable energy continues to put a dent in the demand for coal.
Coal India, the world's biggest coal mining company and producer of 82 percent of the country's coal, announced the closure of 37 mines that are financially "unviable."
Keep reading...
Show less
www.youtube.com
By Katie O'Reilly
Two years ago—long before coal became one of the most dominant and controversial symbols of the 2016 presidential election—Bloomberg Philanthropies approached production company RadicalMedia with the idea of creating a documentary exploring the U.S. coal mining industry. Last spring, they brought on Emmy-nominated director Michael Bonfiglio, tasked with forging a compelling story out of the multitudes of facts, statistics and narratives underlying the declining industry.
Keep reading...
Show less
Mayors for 100% Clean Energy
Keep reading...
Show less
www.youtube.com
Thanks to Newsy for their coverage on Thursday's news that the U.S. Fish and Wildlife Service removed grizzly bears in the Greater Yellowstone region from the Endangered Species List.
Watch above as Newsy explains that the decision comes despite serious concerns from the environmental and scientific community, and Tribal Nations about a declining, isolated grizzly bear population with diminishing food resources and record-high mortalities.
Keep reading...
Show less
www.facebook.com
By Francine Kershaw
Seismic airguns exploding in the ocean in search for oil and gas have devastating impacts on zooplankton, which are critical food sources for marine mammals, according to a new study in Nature. The blasting decimates one of the ocean's most vital groups of organisms over huge areas and may disrupt entire ecosystems.
And this devastating news comes on the heels of the National Marine Fisheries Service's proposal to authorize more than 90,000 miles of active seismic blasting. Based on the results of this study, the affected area would be approximately 135,000 square miles.
Keep reading...
Show less
By Jill Richardson
Is coconut oil:
good for you
bad for you
neither good nor bad
scientists don't know
The subject of this question is the source of a disagreement. Initially, the question was thought to be settled decades ago, when scientist Ancel Keys declared all saturated fats unhealthy. Coconut oil, which is solid at room temperature, is a saturated fat.
Keep reading...
Show less


Get EcoWatch in your inbox