This website uses cookies to ensure you get the best experience while browsing it. By clicking 'Got It' you're accepting these terms.
David Suzuki: Climate Change Is Real Threat, Not Activists Calling for Immediate Action
Mar. 04, 2015 09:16AM EST
Climate

A scientist, or any knowledgeable person, will tell you climate change is a serious threat for Canada and the world. But the RCMP has a different take. A secret report by the national police force, obtained by Greenpeace, both minimizes the threat of global warming and conjures a specter of threats posed by people who rightly call for sanity in dealing with problems caused by burning fossil fuels.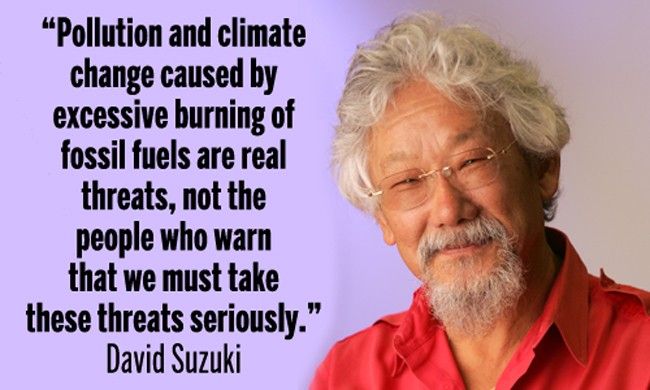 The RCMP report has come to light as federal politicians debate the "anti-terrorism" Bill C-51. Although the act wouldn't apply to "lawful advocacy, protest, dissent and artistic expression," its language echoes the tone of the RCMP report. It would give massive new powers to the Canadian Security Intelligence Service to prevent any person or group from "undermining the security of Canada," including "interference with critical infrastructure" and the "economic or financial stability of Canada." And it would seriously infringe on freedom of speech and expression. The new CSIS powers would lack necessary public oversight.
The RCMP report specifically names Greenpeace, Tides Canada and the Sierra Club as part of "a growing, highly organized and well-financed anti-Canada petroleum movement that consists of peaceful activists, militants and violent extremists who are opposed to society's reliance on fossil fuels." The report downplays climate change, calling it a "perceived environmental threat" and saying members of the "international anti-Canadian petroleum movement … claim that climate change is now the most serious global environmental threat and that climate change is a direct consequence of elevated anthropogenic greenhouse gas emissions which, reportedly, are directly linked to the continued use of fossil fuels." It also makes numerous references to anti-petroleum and indigenous "extremists."
Language in the RCMP report and Bill C-51 leaves open the possibility that the act and increased police and CSIS powers could be used against First Nations and environmentalists engaging in non-violent protests against pipelines or other environmentally destructive projects.
As University of Ottawa law professor Craig Forcese points out, with its reference to "foreign-influenced activities within or relating to Canada that are detrimental to the interests of Canada," the anti-terrorism law could be used in the case of a "foreign environmental foundation funding a Canadian environmental group's secret efforts to plan a protest (done without proper permits) in opposition to the Keystone Pipeline Project." Considering that government ministers have already characterized anti-pipeline protesters as "foreign-funded radicals", that's not a stretch. The RCMP could consider my strong support for greenhouse gas emissions reductions and renewable energy as "anti-petroleum".
Combatting terrorism is important, but Canada is not at war, and we already have many laws—and enhanced police powers—to deal with terrorist threats. More importantly, the RCMP report fuels the legitimate fear that the new law could be used to curtail important civil liberties, affecting everyone from religious minorities to organized labour and First Nations to environmentalists.
If, for any reason, someone causes another person harm or damages infrastructure or property, that person should—and would, under current laws—face legal consequences. But the vast majority of people calling for rational discussion about fossil fuels and climate change—even those who engage in civil disobedience—aren't "violent anti-petroleum extremists." They're people from all walks of life and ages who care about our country, our world, our families and friends and our future.
Canada is much more than a dirty energy "superpower." Many people from different cultures and backgrounds and with varying political perspectives have built a nation that is the envy of the world. We have a spectacular natural environment, enlightened laws on issues ranging from equal rights to freedom of speech, robust social programs and a diverse, educated population. We mustn't sacrifice all we have gained out of fear, or give up our hard-won civil liberties for a vague and overreaching law that, as Forcese and University of Toronto law professor Kent Roach point out, "undermines more promising avenues of addressing terrorism."
Pollution and climate change caused by excessive burning of fossil fuels are real threats, not the people who warn that we must take these threats seriously. And while we must also respond to terrorism with the strong tools already in place, we have to remember that our rights and freedoms, not fear, are what keep us strong.
YOU MIGHT ALSO LIKE
Koch Brothers, ExxonMobil and Big Coal Fund Climate Denier Scientist Willie Soon
Greenpeace's Kumi Naidoo Targeted by Intelligence Agencies as 'Security' Threat
Al Roker Tells Larry King: Snowstorms Are Due to Climate Change
EcoWatch Daily Newsletter
SHEALAH CRAIGHEAD
By Elliott Negin
On July 19, President Trump hosted Apollo 11 astronauts Buzz Aldrin and Michael Collins and their families, along with the family of their deceased colleague Neil Armstrong, at a White House event to commemorate the 50th anniversary of the first manned landing on the moon.
The study looked at three groups of diverse lizards from South America. Daniel Pincheira-Donoso
Cold-climate lizards that give live birth to their offspring are more likely to be driven to extinction than their egg-laying cousins as global temperatures continue to rise, new research suggests.
Sean Gallup / Getty Images
A stock photo of fire in the Amazon; a record number of fires have burned there this year. Brasil2 / E+ / Getty Images
Tuna auctions are a tourist spectacle in Tokyo. Outside the city's most famous fish market, long queues of visitors hoping for a glimpse of the action begin to form at 5 a.m. The attraction is so popular that last October the Tsukiji fish market, in operation since 1935, moved out from the city center to the district of Toyosu to cope with the crowds.

gmnicholas / E+ / Getty Images
Kristan Porter grew up in a fishing family in the fishing community of Cutler, Maine, where he says all roads lead to one career path: fishing. (Porter's father was the family's lone exception. He suffered from terrible seasickness, and so became a carpenter.) The 49-year-old, who has been working on boats since he was a kid and fishing on his own since 1991, says that the recent warming of Maine's cool coastal waters has yielded unprecedented lobster landings.
Aerial view of lava flows from the eruption of volcano Kilauea on Hawaii, May 2018. Frizi / iStock / Getty Images
Hawaii's Kilauea volcano could be gearing up for an eruption after a pond of water was discovered inside its summit crater for the first time in recorded history, according to the AP.