This website uses cookies to ensure you get the best experience while browsing it. By clicking 'Got It' you're accepting these terms.
David Bowie's Song 'Heroes' an Anthem for Dolphin and Whale Activists Worldwide
Jan. 14, 2016 09:55AM EST
By David Kirby
David Bowie is being remembered as a musical genius, a gifted artist and a fashion icon. But to whale and dolphin activists, he was nothing short of a hero.
Bowie's hauntingly moving song "Heroes," the title track of his 1977 album, has become a rallying cry for people around the world working to end the killing and capture of whales and dolphins at the cove in Taiji, Japan.
The song, which includes the lyrics "I, I wish you could swim/Like the dolphins, like dolphins can swim," accompanies the closing credits of the 2009 documentary The Cove, which brought global attention to the annual slaughter in Taiji.
Most people don't know that Bowie, a quiet but generous supporter of animal welfare causes who died on Sunday at 69, personally intervened to make sure the song could be licensed for a minimal fee.
The Cove director Louie Psihoyos said the movie's producer, Fisher Stevens, knew Bowie's wife, Iman. "That's how we got through to him," he said. "If we'd had to go through record-company channels, it never would've happened."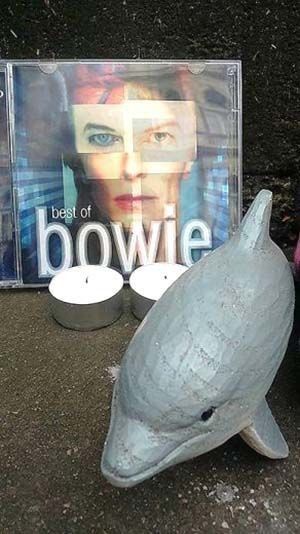 According to Psihoyos, the cost of licensing a rock song for commercial films starts at about $25,000 and can reach six figures. After hearing about the film, Bowie insisted that RCA Records make "Heroes" available for $3,000.
"They had to charge something so they weren't giving it away," Psihoyos said. "It was hardly worth the time for the record label to write up the contract."
A licensing employee for Sony Music Entertainment, which owns RCA Records, confirmed that the fee was reduced but said the amount paid "is confidential."
The song, reportedly about an East German and West German couple who meet at the Berlin Wall—"I, I can remember (I remember)/Standing, by the wall (by the wall)/And the guns, shot above our heads (over our heads)"—became a powerful anthem for the anti-whaling movement.
"I didn't know at the time about his support for animal rights," Psihoyos said of Bowie. "But it turns out he had a huge heart."
Ric O'Barry, star of The Cove and founder of Ric O'Barry's Dolphin Project, said that during the film's closing credits, "people jump out of their seats and want to do something. That song reenergizes people and helps keep the issue alive. Sometimes I meet people and when they recognize me, they start singing 'Heroes.'"
"There is nothing to galvanize a community around a movement like a movie and with every social movement, you always needed songs," Psihoyos said. "This was a song for that moment."
The moment lives on. This Saturday in London, thousands of people are expected to march to the Japanese Embassy to protest the dolphin drives, which run every September to March.
Bowie and his hit single will be featured prominently during the day.
"We're going to make it a massive tribute to Bowie," protest organizer Nicole Venter and founder of MEOKO, a platform for electronic music, said.
Venter said some protesters will be wearing Bowie masks and brandishing banners bearing his image. Meanwhile, a vintage car will lead the march, blasting sounds of dolphins being killed at the cove—and, of course, "Heroes."
"We will probably play it several times and people will sing along," Venter said. "Still, this won't become a circus. We're there for the dolphins, but we also want to pay tribute to Bowie."
The singer, who later sported a dolphin tattoo, was working to save dolphins and whales as early as 1972, when Bowie and the Spiders From Mars headlined the Friends of the Earth Save the Whale Benefit Concert in London.
O'Barry will not be at the protest. He leaves Sunday for Taiji, where police briefly detained him last August. On Tuesday, his Dolphin Project said 35 to 40 striped dolphins were killed at the cove.
"I think London is one of the keys of stopping the slaughter," O'Barry said.
"'Heroes' is our theme song and they're going to play it loud," he added. "The Japanese government will have a very difficult time dealing with that PR nightmare. Thank you, David Bowie."
This article was reposted with permission from our media associate TakePart.
YOU MIGHT ALSO LIKE
Huge Victory for Elephants: Hong Kong Bans Ivory Trade
Breathtaking Images Illuminate Pope Francis' Climate Message on the Vatican
Oppose Welfare Ranching, Not Wolves
EcoWatch Daily Newsletter
Tuna auctions are a tourist spectacle in Tokyo. Outside the city's most famous fish market, long queues of visitors hoping for a glimpse of the action begin to form at 5 a.m. The attraction is so popular that last October the Tsukiji fish market, in operation since 1935, moved out from the city center to the district of Toyosu to cope with the crowds.

gmnicholas / E+ / Getty Images
Kristan Porter grew up in a fishing family in the fishing community of Cutler, Maine, where he says all roads lead to one career path: fishing. (Porter's father was the family's lone exception. He suffered from terrible seasickness, and so became a carpenter.) The 49-year-old, who has been working on boats since he was a kid and fishing on his own since 1991, says that the recent warming of Maine's cool coastal waters has yielded unprecedented lobster landings.
Nicole Greenfield is a writer at NRDC whose articles on religion, the environment, popular culture and social justice have appeared in many publications.
Aerial view of lava flows from the eruption of volcano Kilauea on Hawaii, May 2018. Frizi / iStock / Getty Images
Hawaii's Kilauea volcano could be gearing up for an eruption after a pond of water was discovered inside its summit crater for the first time in recorded history, according to the AP.
The Eqip Sermia Glacier is seen behind a moraine left exposed by the glacier's retreat during unseasonably warm weather on Aug. 1 at Eqip Sermia, Greenland. Sean Gallup / Getty Images
hadynyah / E+ / Getty Images
By Johnny Wood
The Ganges is a lifeline for the people of India, spiritually and economically. On its journey from the Himalayas to the Bay of Bengal, it supports fishermen, farmers and an abundance of wildlife.
The river and its tributaries touch the lives of roughly 500 million people. But having flowed for millennia, today it is reaching its capacity for human and industrial waste, while simultaneously being drained for agriculture and municipal use.
Here are some of the challenges the river faces.
Protesters gathered outside US Bank and Wells Fargo locations around the U.S. to protest investment in the Dakota Access Pipeline on Dec. 1, 2016. This photo is from a protest outside US Bank in south Minneapolis, Minnesota.
Fibonacci Blue / CC BY 2.0
By Jake Johnson
As a growing number of states move to pass laws that would criminalize pipeline protests and hit demonstrators with years in prison, an audio recording obtained by The Intercept showed a representative of a powerful oil and gas lobbying group bragging about the industry's success in crafting anti-protest legislation behind closed doors.
Reposted with permission from our media associate Common Dreams.

DESIREE MARTIN / AFP / Getty Images
Wildfires raging on Gran Canaria, the second most populous of Spain's Canary Islands, have forced around 9,000 people to evacuate.