This website uses cookies to ensure you get the best experience while browsing it. By clicking 'Got It' you're accepting these terms.
Data Reveals More Dangerous Coal Ash Ponds
Nov. 01, 2011 03:40PM EST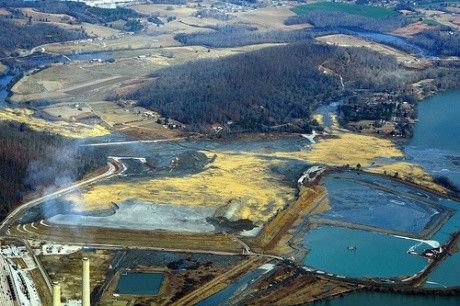 The U.S. Environmental Protection Agency's (EPA) latest release of data concerning coal ash ponds reveals a threefold increase in the number of significant-hazard rated coal ash ponds. This nightmare scenario comes as legislation passed by the House of Representatives and introduced in the Senate proposes to completely castrate the EPA's ability to set federally enforceable safeguards for proper coal ash disposal.
"Coal ash ponds are threatening hundreds of communities and their drinking water supplies, but the current approach in Congress is to ignore the problem and hope it goes away," said Earthjustice attorney Lisa Evans.
The EPA is rating coal ash ponds according to a National Inventory of Dams (NID) criteria that categorizes the ponds by the damage that would occur if the pond collapses. Coal ash ponds are usually earthen structures holding back millions of tons of toxic coal ash and water. This month, the EPA recently released a new set of data that reveals 181 significant hazard dams in 18 states. This is more than three times the 60 significant-hazard ponds listed in the original database released in 2009. In addition to the increase in the number of significant hazard-rated ponds, eight of the previously unrated coal ash ponds were found to be high hazard ponds in information released by the EPA earlier this year. Because of the switch in ratings after the EPA inspections, the total number of high hazard ponds has stayed roughly the same at a total of 47 ponds nationwide.
Because coal ash ponds are not federally regulated and are largely unregulated by states, there is usually no requirement to classify the ponds, no matter how large they are. After the catastrophic collapse of the TVA Kingston Fossil Plant's coal ash pond in December 2008, the EPA requested information from all coal ash pond owners through the issuance of an information request letter in March 2009. The Tennessee pond collapse released over a billion gallons of toxic sludge, which flooded 300 acres, destroyed and damaged dozens of homes, and left TVA with a cleanup cost of more than $1 billion.
The initial response to the EPA in 2009 from utilities owning coal ash ponds revealed that hundreds of coal ash ponds were not rated according to the NID criteria. Some of the ponds without ratings were even larger than the six-story pond that failed in Tennessee. Consequently, since 2009, the EPA has been requesting additional information from owners and conducting inspections of the largest of the nation's 676 coal ash ponds.
According to the NID criteria, high hazard coal ash ponds are categorized as such because their failure will likely cause loss of human life. Significant hazard dams can cause economic loss, environment damage, disruption of lifeline facilities, or impact other concerns. Low hazard dams are those where failure or mis-operation results in no probable loss of human life and low economic and/or environmental losses that are principally limited to the owner's property.
Six states that gained high hazard ponds include:
Kentucky—Mill Creek Station, Louisville—1 high hazard pond
Ohio—Kyger Creek Station, Gallipolis—2 high hazard ponds
Indiana—Eagle Valley Generating Station, Indianapolis—1 high hazard pond
Harding Street Power Station, Indianapolis—2 high hazard ponds
R. M. Schahfer Power Station, Wheatfield—2 high hazard ponds
Missouri—Sikeston Power Station, Sikeston—1 high hazard pond
Pennsylvania—WPS Energy Services, Shamokin Dam—1 high hazard pond
Alabama—Ernest Gaston Electric Generations Plant, Wilsonville—1 high hazard pond
Eight of these 11 newly characterized high-hazard ponds (almost three quarters of those inspected) received a poor inspection rating from EPA after their discovery and inspection.
Eighteen states gained significant hazard ponds: Alabama, Georgia, Illinois, Indiana, Louisiana, Kansas, Kentucky, Michigan, Missouri, Mississippi, Montana, North Carolina, North Dakota, Ohio, South Carolina, Virginia, Wisconsin and Wyoming. Forty-two of the 112 newly identified significant hazard ponds (about one third) received a poor rating after inspection by the EPA.
The sharp increase in coal ash ponds likely to cause significant damage if they should fail should give the Senate pause as they consider S.1751, a bill that will allow coal ash ponds to operate indefinitely without adequate safeguards. The bill does not require coal ash pond phase out, nor does it require ponds to comply with basic safety requirements established in 1978 by Mine Health and Safety Administration (MHSA) after the deadly collapse of the Buffalo Creek coal slurry impoundment, which killed over a hundred people in WV in 1972. The Senate bill does not even mandate the most basic engineering standard for pond safety—the maintenance and design of ponds for the maximum amount of toxic cargo they will hold. In fact the bill explicitly allows coal ash ponds to contain more toxic sludge than they were designed to contain.
"The current agenda in Congress is to attack public health protections on behalf of dirty industries with a long history of failing to clean up their mess," Evans added. "For every day this House has been in session, there has been a vote to curtail EPA protections. That is absolutely unconscionable. Too many Americans live near toxic coal ash dumps and unless federal action is taken soon, another TVA disaster is just waiting to happen. We shouldn't have to wait for more destruction or loss of life to act."
For more information, click here.
EcoWatch Daily Newsletter
Variety of fermented food korean traditional kimchi cabbage and radish salad. white and red sauerkraut in ceramic plates over grey spotted background. Natasha Breen / REDA&CO / Universal Images Group / Getty Image
Even if you've never taken probiotics, you've probably heard of them.
These supplements provide numerous benefits because they contain live microorganisms, such as bacteria or yeast, which support the healthy bacteria in your gut (1, 2, 3, 4).
Pexels
Singapore will become the first country in the world to place a ban on advertisements for carbonated drinks and juices with high sugar contents, its health ministry announced last week. The law is intended to curb sugar consumption since the country has some of the world's highest diabetes rates per capita, as Reuters reported.
A typical adult takes around 20,000 breaths per day. If you live in a megacity like Beijing, with many of those lungfuls you're likely to inhale a noxious mixture of chemicals and pollutants.
Fred Stone holds his brown swiss cow Lida Rose at his Arundel dairy farm on March 18 after a press conference where he spoke about PFAS chemical contamination in his fields. Gregory Rec / Portland Portland Press Herald via Getty Images
By Susan Cosier
First there was Fred Stone, the third-generation dairy farmer in Maine who discovered that the milk from his cows contained harmful chemicals. Then came Art Schaap, a second-generation dairy farmer in New Mexico, who had to dump 15,000 gallons of contaminated milk a day.
Protesters attend the 32nd annual Fur-Free Friday demonstration on Nov. 23, 2018 in Beverly Hills, California. Ella DeGea / Getty Images
California Governor Gavin Newsom signed into law a bill that that bans the sale and manufacture of fur products in the state. The fur ban, which he signed into law on Saturday, prohibits Californians from selling or making clothing, shoes or handbags with fur starting in 2023, according to the AP.
By Simon Evans
During the three months of July, August and September, renewables generated an estimated total of 29.5 terawatt hours (TWh), compared with just 29.1TWh from fossil fuels, the analysis shows.
A demonstrator waves an Ecuadorian flag during protests against the end of subsidies to gasoline and diesel on Oct. 9 in Quito, Ecuador. Jorge Ivan Castaneira Jaramillo / Getty Images
Protesters block the road outside Mansion House in London during an XR climate change protest. Gareth Fuller / PA Images via Getty Images