Daryl Hannah and East Texas Great-Grandmother Arrested Protesting Keystone XL Pipeline
Oct. 04, 2012 08:47PM EST
Energy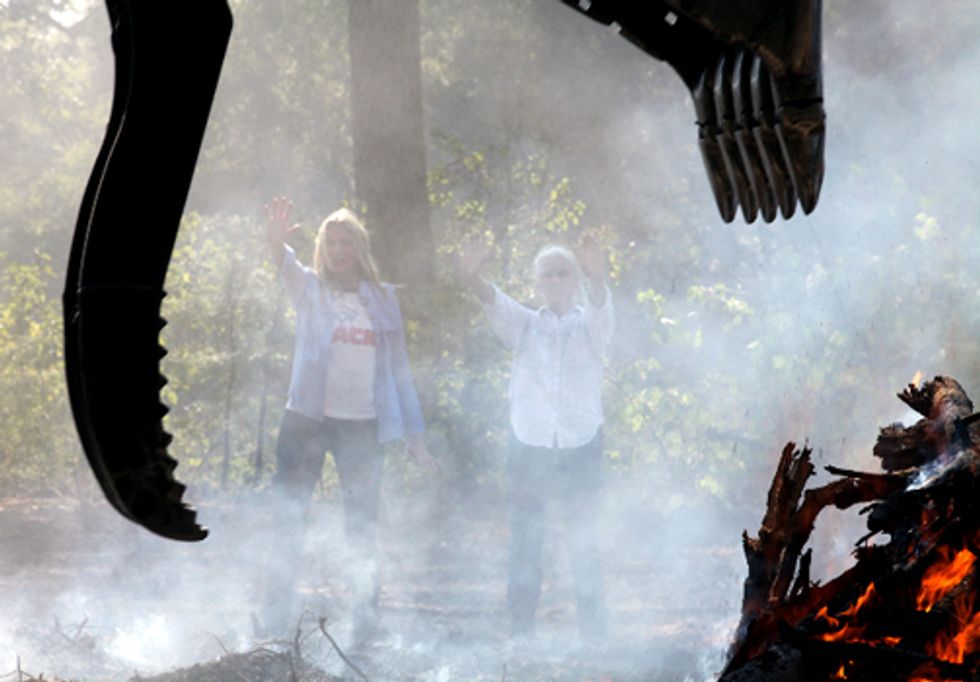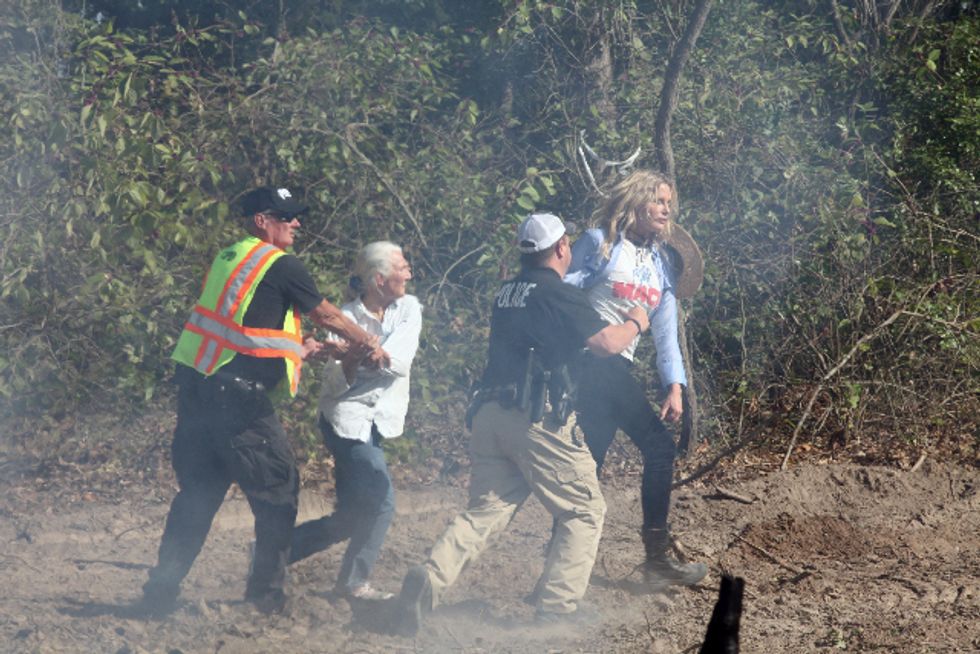 How can you be arrested for "trespassing" on your own land? Well, anything can happen when a multi-national corporation comes in and expropriates your farm for their profit.
That's why actress and activist Daryl Hannah has joined forces with East Texas ranch owner Eleanor Fairchild, 78, to stage a protest against Keystone XL construction on Fairchild's farm. The actress is intent on defending Fairchild's home and business, Fairchild Farms, a portion of which has been expropriated by TransCanada, for its toxic tar sands pipeline. The duo claims their action is inspired by the our ongoing tree blockade happening on a neighboring property.
On Thursday afternoon, Hannah marched across Fairchild's property with the ranch owner to block construction crews who have cleared large swaths of land along the controversial tar sands pipeline's route. Keystone XL will permanently bisect Fairchild's 300 acre ranch, which includes undeveloped wetland areas and natural springs producing more than 400 gallons of fresh water per minute from her property. Hannah, whose outspoken anti-Keystone position dates back many years, expressed pride to be able to stand with Fairchild who is watching her home and its delicate ecosystems destroyed in front of her eyes.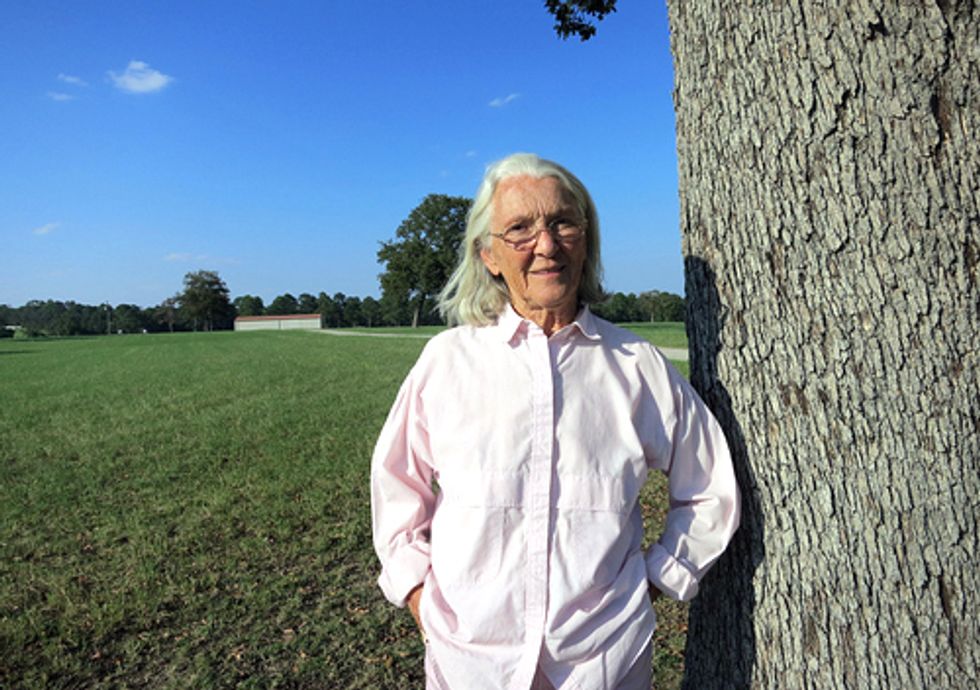 "I am standing in solidarity with the farmers, ranchers and landowners who have been bullied, coerced and threatened by TransCanada. Texans do not want this toxic export pipeline coming through and compromising their land and water," she shared. "Texas has already experienced a tragic and epic drought. We cannot afford to compromise our water supply for a multinational corporation's profits."
Fairchild, a great-grandmother, has been staunchly opposed to TransCanada's Keystone XL tar sands pipeline project since she was first informed of it several years ago. She never signed a contract with the Canadian pipeline company, who, in turn, proceeded to expropriate her ranch through Texas' lax eminent domain legal proceedings.
Originally unwilling to take action, she found herself inspired yet again due to the bravery exhibited on a neighboring property by the tree blockade. Fairchild explains, "We're all neighbors here and everyone knows everyone's business, really, so I knew the group was up to something at the tree blockade, but hearing about the young girl, Maggie, on the 40-foot tall pole all alone the other day, I knew I had to do something myself. I can't climb a pole like her, but if I can raise hell by sitting down, I'm going to! What this foreign corporation's doing just isn't right."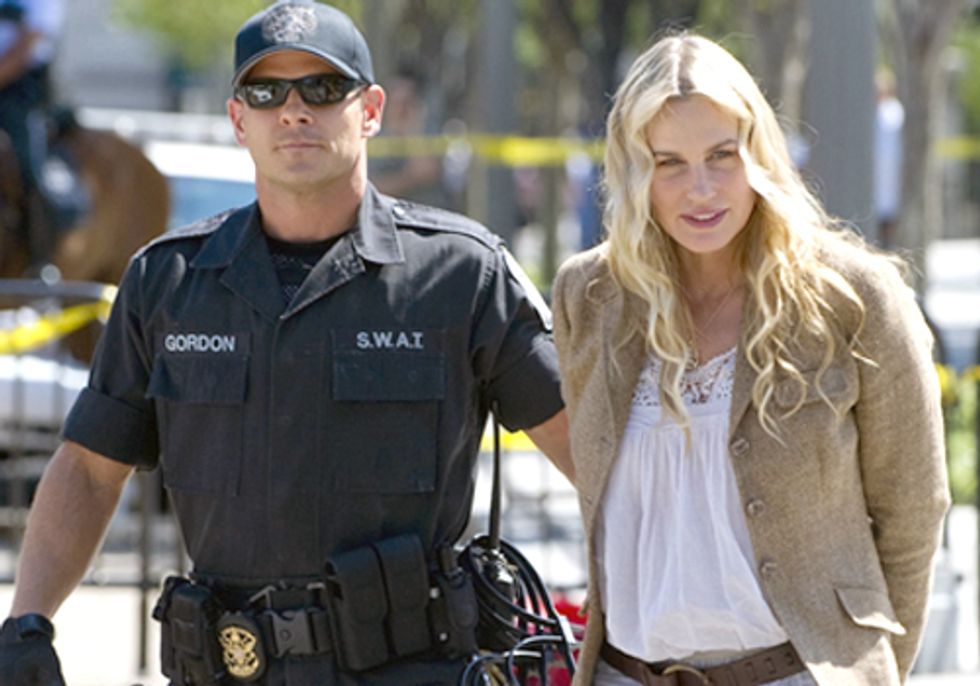 "I couldn't be prouder to take a stand with my new inspiration, Eleanor," Hannah said. "We're rising up to defend homes here and now, because if a multinational corporation like TransCanada can come in and steal private property from Texans, then they'll do it to anyone."
TransCanada is currently embroiled in several lawsuits from landowners challenging the legality of their use of eminent domain to take land for the tar sands pipeline project. Property owners who initially signed contracts but who have since come to unequivocally oppose the fraudulent nature of the dangerous project have been silenced through ruthless legal threats. Fairchild, however, is undeterred.
"Tar sands is the dirtiest fuel on the planet, and I want the world to know that Texans do not want this pipeline forced through their homes," she continued. "From the White House to my house, I don't want this pipe threatening anyone's house anywhere in the world!"
Come learn how to take a stand against Keystone XL with East Texas landowners at our Direct Action Training Camp, Oct. 12-14 and a public action on the Monday the 15.
Visit EcoWatch's KEYSTONE XL page for more related news on this topic.
The photo below is just the beginning of the destruction on Eleanor's land. See more photos in our flickr set.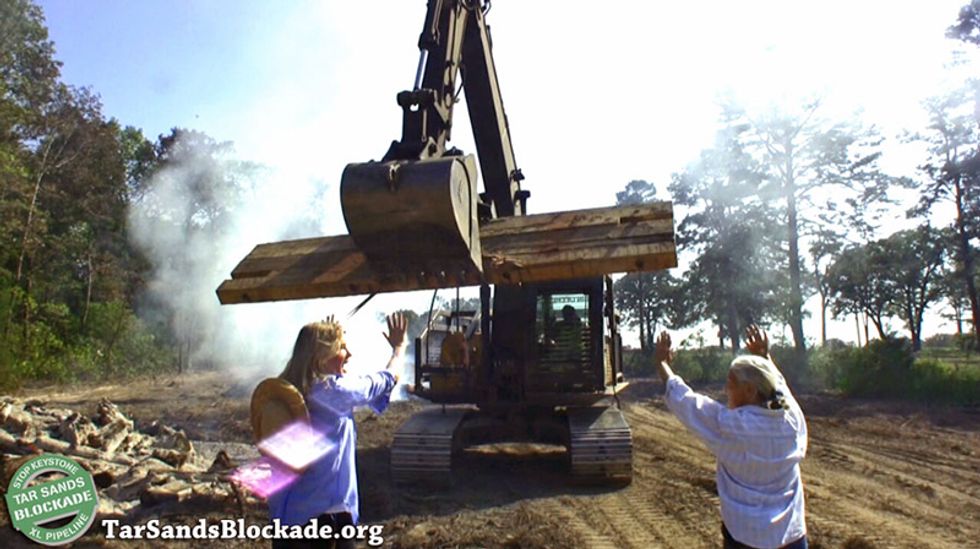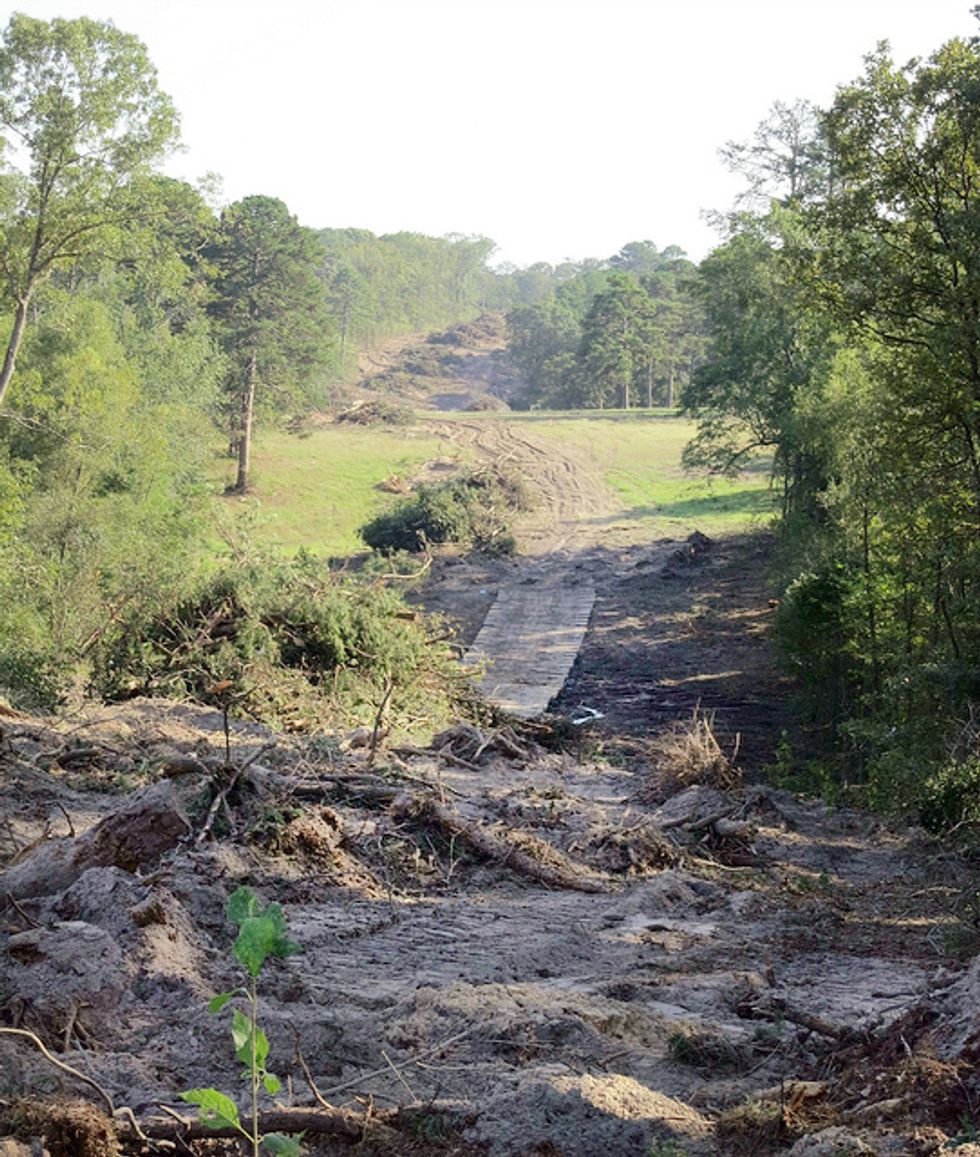 EcoWatch Daily Newsletter