This website uses cookies to ensure you get the best experience while browsing it. By clicking 'Got It' you're accepting these terms.
Dark Money Fuels Election Wins for Climate Deniers
Nov. 05, 2014 01:27PM EST
In what turned out to be a bad midterm election for the environment, climate deniers won a slew of races across the country, fueled by big spending from fossil fuel interests such as the Koch brothers. Their money overruled increasing public support for reigning in carbon-spewing industries to address climate change.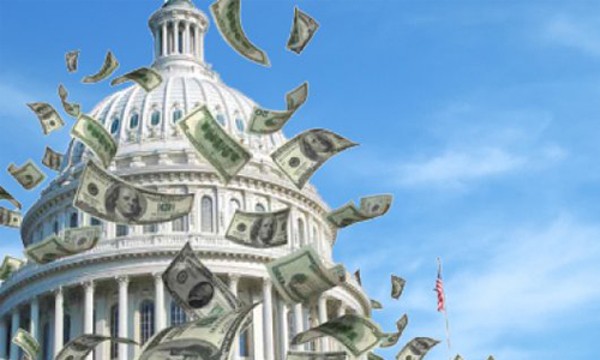 Dirty energy money also overshadowed the heaviest pro-environmental spending yet from climate-friendly billionaire Tom Steyer and his organization NextGen Climate. Some of the media are spinning this as a big defeat for Steyer and environmentalists. But it was more a matter of more money drowning them out—and how much more is unknown. While Steyer has been open about his spending through NextGen Climate, estimated at more than $50 million, the Koch brothers conceal much of their money in so-called 501 (c) 4 organizations, a form of nonprofit that can spend unlimited amounts of "dark money" without revealing its funders.
In fact, three of the seven candidates that NextGen Climate made top priorities prevailed: Senator Jeanne Shaheen in New Hampshire, Senator-elect Gary Peters in Michigan and governor-elect Tom Wolf. Shaheen beat Scott Brown, who has changed positions on climate more often than he's changed the state he's run in. Peters squelched Terri Lynn Land who has said there should be a "debate" on the extent of human involvement in climate change and called Peters and Steyer "radical liberals." Wolf beat sitting Governor Tom Corbett who also has said climate change is a "subject of debate" and ordered references to it that he thought took a position on it deleted from a state website. Corbett is also head cheerleader for Pennsylvania's booming fracking sector.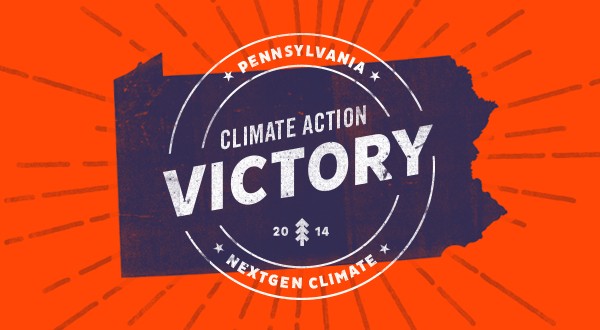 "Whatever may have driven individual races, the American people want action on climate change," said Frances Beinecke of the Natural Resources Defense Council. "They didn't vote to roll back foundational environmental safeguards for the sake of polluter profits. We will empower the voice of the people. We will defend clean air, safe water, healthy wildlife and fertile lands. And we'll press for real action to protect future generations from the dangers of climate change."
Unfortunately, numerous climate-denying or climate-unfriendly governors with different goals retained their jobs, including Rick Scott in Florida, John Kasich in Ohio, Butch Otter in Idaho, Sam Brownback in Kansas and Paul LePage in Maine.
Scott edged out Democrat Charlie Crist, who committed to addressing the severe impacts climate change is having on a state exposed to rising sea levels and intense hurricanes. Scott, with the Koch-backed Americans for Prosperity investing heavily in his ground campaign, has refused to meet with scientists and even Christian evangelicals concerned about the climate.
In Maine, LePage vetoed a study on preparing the state's communities and businesses for the impacts of climate change, saying both that it's not happening and that it's actually good for Maine.
Kasich, elected in a landslide victory in Ohio, presided over the freeze on Ohio's renewable energy standards, which were passed with almost unanimous bipartisan support in 2008. It was the first rollback of clean energy standards in the country, and a bill is currently in the Ohio legislature to repeal them permanently. Kasich, with his massive support from fossil fuel interests, is almost certainly involved in the effort and will sign it, although he prefers to let the legislature take the fall, refusing public comment.
Climate denier senators-elect Cory Gardner in Colorado, Joni Ernst in Iowa, Thom Tillis in North Carolina and Shelly Moore Capito in West Virginia, as well as the reelections of fossil fuel-funded senators like Kentucky's Mitch McConnell, gave Republicans a Senate majority. That will make breaking through the gridlock to get any action on climate change infinitely tougher, with McConnell now Senate Majority Leader (assuming he's not deposed by someone more extreme, like Texas Senator Ted Cruz). With a 7 percent score from the League of Conservation Voters (LCV), $3.6 million in contributions from the fossil fuel industry and a crusade against the U.S. Environmental Protection Agency (EPA), he's a dedicated foe of the environment.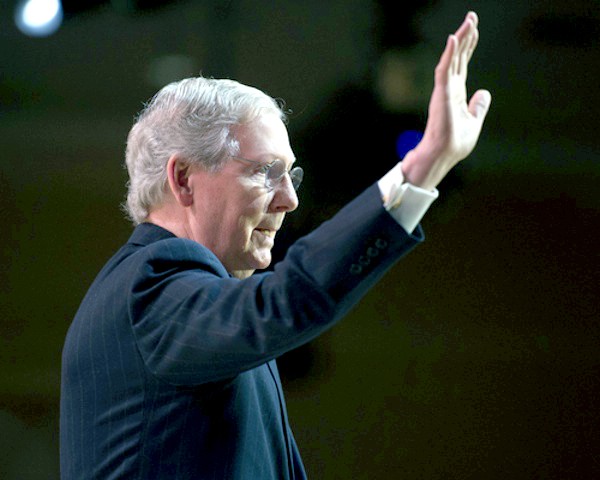 Photo credit: Shutterstock
New head of the Senate Environment and Public Works Committee? Oklahoma's James Inhofe, author of The Greatest Hoax: How The Global Warming Conspiracy Threatens Your Future.
Gardner defeated staunch environmental ally Mark Udall in a campaign that included millions from Koch Industries and other fossil fuel interests.
"Everything in Colorado has shifted farther to the right toward the oil and gas industry and the climate-change denial funded by millions of dollars from the Koch Brothers," said Colorado environmental activist Gary Wockner. "Most notably, Democratic U.S. Senator Mark Udall was swept out of office by Tea Partier Cory Gardner who is a 100 percent voting member of the most anti-environmental U.S. House of Representatives in history and declined to answer climate change questions during the race."
Iowa's Joni Ernst, probably the most conservative candidate elected last night, has punted on whether she believes climate change is manmade and boasts of driving an electric car. But she has vowed to work to abolish the EPA and repeal the Clean Water Act saying it was one of the most damaging laws for business. That's another measure that once had overwhelming bipartisan support and has been a huge success in cleaning up America's waterways. She replaced the retiring Tom Harkin, a strong pro-environmental vote.
But Beinecke pointed out, "Several senators won by running clean—including Jeanne Shaheen in New Hampshire, Susan Collins in Maine and Senator-elect Gary Peters in Michigan. All are climate champions. Peters took on the Koch brothers and promised Michigan voters he would fight in Congress to protect the Great Lakes from climate change."
"The election may have changed the political dynamics in Washington, but it doesn't change the science," said Mindy Lubber, president of sustainable business group Ceres. "The reality of global warming and the need for urgent action remain an imperative. Business leaders understand this truth. Smart companies are making wise choices about their energy purchases and future operational planning in a carbon-constrained world."
Another voice for business was Rhone Resch, president and CEO of the Solar Energy Industries Association (SEIA), who urged political leaders not to leave solar behind. "It's critically important for our leaders in Washington, as well as our state capitals, to put aside their differences and work together to find real solutions that will grow our economy and put more people to work," he said.
"As one of the fastest-growing industries in America, solar is a shining example of how stable, consistent and reliable public policies are paying huge dividends for our economy and environment. As pundits analyze the results of Tuesday's elections, here is one important mandate to remember: Polls consistently show that 9 out of 10 Americans want to see an expanded use of solar energy nationwide."
Michael Brune, executive director of the Sierra Club, was also undeterred. "Despite the climate movement's significant investments and an unprecedented get out the vote program, strong voices for climate action were defeated and candidates paid for by corporate interests and bolstered by sinister voter suppression tactics won the day," he said.
"But don't be fooled. This election marked a pivotal change in how candidates confront the climate crisis. Even the most anti-environmental candidates were compelled to greenwash their voting records and change their tune on climate denial. The climate on climate is changing. A Congress elected by corporate polluters may think it can force a polluter agenda on this country. But public support is solidly behind action to tackle the climate crisis. There is a growing movement of climate and clean energy voters that will be standing up to polluters and their political allies every step of the way."
YOU MIGHT ALSO LIKE
Top 20 'Dirty Denier$' Who Accept Big Bucks from Big Polluters
Climate Denial Machine Fueled By Big Oil and Koch Brothers Impacts Congressional Races
Prince William and British naturalist David Attenborough attend converse during the World Economic Forum annual meeting, on January 22 in Davos, Switzerland. Fabrice Cofferini /AFP / Getty Images
Britain's Prince William interviewed famed broadcaster David Attenborough on Tuesday at the World Economic Forum's annual meeting in Switzerland.
During the sit-down, the 92-year-old naturalist advised the world leaders and business elite gathered in Davos this week that we must respect and protect the natural world, adding that the future of its survival—as well as humanity's survival—is in our hands.
Electric vehicle sales took off in 2018, with a record two million units sold around the world, according to a new Deloitte analysis.
What's more, the accounting firm predicts that another 21 million electric cars will be on the road globally over the next decade due to growing market demand for clean transportation, government subsidies, as well as bans on fossil fuel cars.
Teenager Alex Weber and friends collected nearly 40,000 golf balls hit into the ocean from a handful of California golf courses.
Alex Weber /
CC BY-ND
Southwest Greenland had the most consistent ice loss from 2003 to 2012. Eqalugaarsuit, Ostgronland, Greenland on Aug. 1, 2018.
Rob Oo / CC BY 2.0
Greenland is melting about four times faster than it was in 2003, a new study published Monday in the Proceedings of the National Academy of Sciences found, a discovery with frightening implications for the pace and extent of future sea level rise.
"We're going to see faster and faster sea level rise for the foreseeable future," study lead author and Ohio State University geodynamics professor Dr. Michael Bevis said in a press release. "Once you hit that tipping point, the only question is: How severe does it get?"
Finally, some good news about the otherwise terrible partial government shutdown. A federal judge ruled that the Trump administration cannot issue permits to conduct seismic testing during the government impasse.
The Justice Department sought to delay—or stay—a motion filed by a range of coastal cities, businesses and conservation organizations that are suing the Trump administration over offshore oil drilling, Reuters reported. The department argued that it did not have the resources it needed to work on the case due to the shutdown.
Most people have heard of the Amazon, South America's famed rainforest and hub of biological diversity. Less well known, though no less critical, is the Pantanal, the world's largest tropical wetland.
Like the Amazon, the Pantanal is ecologically important and imperiled. Located primarily in Brazil, it also stretches into neighboring Bolivia and Paraguay. Covering an area larger than England at more than 70,000 square miles, the massive wetland provides irreplaceable ecosystem services that include the regulation of floodwaters, nutrient renewal, river flow for navigability, groundwater recharge and carbon sequestration. The wetland also supports the economies of the four South American states it covers.
Demonstrators participate in a protest march over agricultural policy on Jan. 19 in Berlin, Germany. Carsten Koall / Getty Images Europe
By Andrea Germanos
Organizers said 35,000 people marched through the streets of the German capital on Saturday to say they're "fed up" with industrial agriculture and call for a transformation to a system that instead supports the welfare of the environment, animals and rural farmers.

The fire that erupted after a pipeline explosion in Mexico Friday. FRANCISCO VILLEDA / AFP / Getty Images
By Patrick Rogers
If you have ever considered making the switch to an environmentally friendly electric vehicle, don't drag your feet. Though EV prices are falling, and states are unveiling more and more public charging stations and plug-in-ready parking spots, the federal government is doing everything it can to slam the brakes on our progress away from gas-burning internal combustion engines. President Trump, likely pressured by his allies in the fossil fuel industry, has threatened to end the federal tax credits that have already helped put hundreds of thousands of EVs on the road—a move bound to harm not only our environment but our economy, too. After all, the manufacturing and sale of EVs, hybrids, and plug-in hybrids supported 197,000 jobs in 2017, according to the most recent U.S. Energy and Employment Report.