Dark Money Documentary Exposes Koch Brothers' Spending Secrets
May. 20, 2014 02:49PM EST
Energy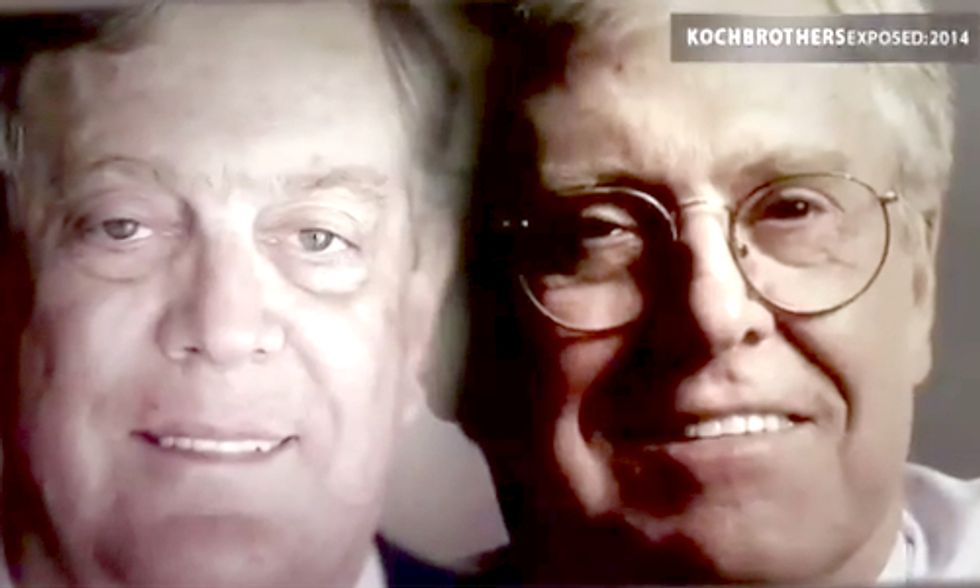 Just two years after Brave New Films released Koch Brothers Exposed, the company returns with a 2014 edition of the documentary. While the Kochs' political spending habits haven't changed much since then, they're all the more emboldened by the Supreme Court's historic McCutcheon v. FEC ruling.
With individual donors no longer facing a cap on political contributions, the dark money floodgates are entirely open. That puts a new spin on Brave New Films' hour-long examination of Charles and Dave Koch, who coincidentally happen to be tied fourth place on the Forbes 400 list.
"Koch Brothers Exposed: 2014 Edition delves even deeper into where their money is going, who their money is hurting and how much they are making during this whole process leading up to the 2014 elections," Brave New Films writes on its website.
Robert Greenwald and Brave New Films will premiere the film tonight in conjunction with a Congressional press briefing featuring U.S. House of Representatives Minority Leader Nancy Pelosi and Senate Majority Leader Harry Reid. The event is set for 6:15 p.m. and can be live streamed by clicking here.
As the above trailer points out, the Koch's wealth and clout aren't the issue. It's how they use those tools. The Kochs have long supported many of the legislators who introduce and push through legislation that keeps fossil fuels alive despite their damaging effects on the environment. Supreme Court Justices Clarence Thomas and Antonin Scalia have been seen at Koch-sponsored events. Attorney Ted Olson, who represented Citizens United in the 2010 spending decision that helped the GOP claim the House majority, is now the Kochs' legal representation.
"The Kochs use the law they helped to write to spend millions more in their efforts to buy the public policies they want," says a narrator in another trailer for the documentary.
The end of that trailer ends with Reid asking a question that should make any environmental advocate pause. 
"Looks like the Koch Brothers already bought the House. They should buy the Senate," the Nevada senator said. "And what's next? They gonna buy a president?"
——–
YOU ALSO MIGHT LIKE
Supreme Court Chooses Dark Money Billionaires Over Environment in Historic McCutcheon v. FEC Ruling
Jimmy Carter Slams Koch Brothers and 'Unpleasantly Successful' Climate Denial Campaign
'Years of Living Dangerously' Clip Shows How New Jersey Gov. Chris Christie Caved in to Koch Brothers
——–
EcoWatch Daily Newsletter