This website uses cookies to ensure you get the best experience while browsing it. By clicking 'Got It' you're accepting these terms.
Daring Aerial Blockade Halts Tar Sands Pipeline Construction in Michigan
Aug. 07, 2013 02:23PM EST
Energy
Michigan Coalition Against Tar Sands
Today, Michigan Coalition Against Tar Sands (MI-CATS) took direct action in the Crane Pond State Game Area to halt expansion of Canadian corporation Enbridge Energy's tar sands pipeline 6B. Enbridge's claim that they have restored the Kalamazoo River after the 2010 spill holds no merit, nor does it justify expanding the pipeline. Tar sands cannot be cleaned up; this material is thick and heavy, it sinks in water and clings to surfaces. Expanding the pipeline increases the risk of another disaster for all of life and future generations.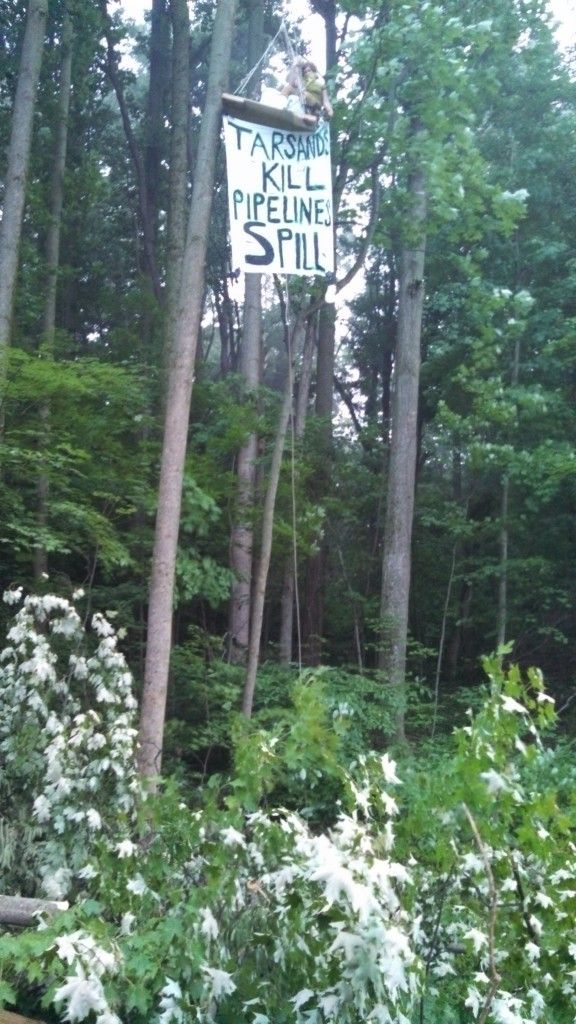 A resident who lives within the Kalamazoo River Basin climbed into the trees early this morning and is occupying a platform suspended by a rope traverse. Spanning a portion of where construction is taking place, the rope traverse is the sole line that holds the platform up in the air. If it were cut and/or tampered with by police or workers, the resident could fall from the tree resulting in serious injury, possibly even death.
"Tar sands pipeline 6B is pumping a dangerous concoction which fuels global capitalism. This pipeline is Canada's promise that industrialized capitalism will continue to exploit and oppress the people of the world and the environment. Capitalism guarantees the continued destruction of the natural world," stated representatives of the MI-CATS.
"It enables the ruling class to exploit the world's resources and force the rest of the population to labor for the ruling classes profits. Additionally, we are way beyond the verge of climate crisis. It is of utmost importance that carbon emissions stop immediately," emphasized MI-CATS representatives. "Tar sands infrastructure is one example of industries at the root of the oil addiction. By taking action at the root of the problem, we endeavor to stop the symptoms of the problem. If we halt all carbon emissions into the atmosphere and remember how to live in harmony with the earth, there might be hope for life as we humans have known it for a few hundred thousand years."
MI-CATS asserts that direct action tactics, including civil disobedience, are now necessary as Enbridge's dominant presence in our bio-region has allowed no room for any constructive alternatives. After three long years of blatant lies and omissions, Enbridge has the audacity to triple the capacity of the same pipeline that poured an ecologically abrasive sludge into the Kalamazoo River. This catastrophe was the largest inland oil spill this continent has ever experienced. While the Kalamazoo spill was the largest, it is one of many devastations brought on by Enbridge. Enbridge's insidious business practices caused more than 800 pipeline spills between 1999 and 2010; that is more than one tar sands spill a week.
Enbridge places profit before our families, the ecosystem, our grandmothers, our dogs, like Smokey [a pet who died as a result of the 2010 tar sands spill], our grandchildren and the future of life on this planet. The continuation of tar sands transportation through pipelines like Line 6B risk more than just our own backyards; everything in the industry's wake is left defiled and in squalor. Our actions against Enbridge won't stop until Enbridge stops participating in the resource extraction industry. We stand in solidarity with all first peoples' whose lands were forcibly taken from them, Idle No More, Fearless Summer, those working to end corporate personhood, all the species going extinct, those sick and dying thanks to the extraction industry and all folks fighting oppression in order to live full and happy lives.
UPDATE:
The resident is out of the tree, stopped work for the entire day, and is not arrested!  Success!
UPDATE:
2:30 p.m.
Cass County Sheriff's Office released an official statement on the ongoing action:
Sheriff Joseph M. Underwood Jr. reports that his office was contacted by Enbridge to report that there were possible protesters on the right of way of the pipeline project. The location of the is on Patterson Hill Rd south of Huffman St. in Newburg Township, Cass County, MI. Deputies were sent to the location to find a subject approx. 60 feet up in a tree. The subject is involved in a peaceful protest. Deputies on scene are maintaining dialog to have a peaceful and safe conclusion to the protest. The call came in to Cass County 911 at 0818hrs. The Cass County Sheriff's Office is being assisted at the scene by Michigan State Police, Pokagon Tribal Police and Newburg Ambulance Service. All remain on scene.
UPDATE:
1:55 p.m.
Detective Daly has delivered a signed letter to Felix promising that if they come down from the trees by 5 p.m. they will not be arrested.
UPDATE:
12:37 p.m.
Detective Kristen Daly, from Cass County Sherif Department told Felix that she has spoken with the local prosecuting attorney and representatives from Enbridge. She claims that they have agreed that if the protestor comes down from the tree by 5 p.m., they will let them go without any charges. When Felix asked how they can be guaranteed she would keep her word, Kristen responded "you'll just have to trust me." 
UPDATE:
12:05 p.m.
Detectives on scene, trying to figure out how the tree sit works. They could be heard stating loudly "We've never seen this s### before." protestor is in high spirits!
UPDATE:
10:40 a.m.
Police had intended to tie life-line off to two backhoes. After some uncertainty, both pieces of equipment drove off without attempting it.
UPDATE:
10:04 a.m.
Police have threatened to taze the protestor and use dogs to attack folks on the ground supporting them. Please call the Cass County Sheriff's Department and let them know people are watching. (269) 445-8644.
UPDATE:
9:28 a.m.
Police officer throws large log up at protestor.
UPDATE:
9:20 a.m.
After turning back workers and their equipment for the last several hours, police have arrived on scene and threatened to cut protestor's life-line.
Visit EcoWatch's TAR SANDS page for more related news on this topic.
——–
EcoWatch Daily Newsletter
Colombia rainforest. Marcel Oosterwijk / CC BY-SA 2.0
Many of us think of the Amazon as an untouched wilderness, but people have been thriving in these diverse environments for millennia. Due to this long history, the knowledge that Indigenous and forest communities pass between generations about plants, animals and forest ecology is incredibly rich and detailed and easily dwarfs that of any expert.
picture-alliance / Newscom / R. Ben Ari
By Wesley Rahn
Plastic byproducts were found in 97 percent of blood and urine samples from 2,500 children tested between 2014 and 2017, according to a study by the German Environment Ministry and the Robert Koch Institute.

Pexels
Medically reviewed by Daniel Bubnis, MS, NASM-CPT, NASE Level II-CSS
Hot yoga has become a popular exercise in recent years. It offers many of the same benefits as traditional yoga, such as stress reduction, improved strength, and flexibility.
Lara Hata / iStock / Getty Images
By SaVanna Shoemaker, MS, RDN, LD
Rice is a staple in many people's diets. It's filling, inexpensive, and a great mild-tasting addition to flavorful dishes.
An image of the trans-alaskan oil pipeline that carries oil from the northern part of Alaska all the way to valdez. This shot is right near the arctic national wildlife refuge. kyletperry / iStock / Getty Images Plus
The Trump administration has initialized the final steps to open up nearly 1.6 million acres of the protected Alaskan National Wildlife Refuge to allow oil and gas drilling.
Kaboompics / Pexels
Tensions between lawmakers and several large manufacturing companies came to a head on Capitol Hill this week during a hearing on toxic fluorochemicals in U.S. drinking water.