Dare the World to Save the Planet—I Will if You Will
Oct. 11, 2012 09:04AM EST
Climate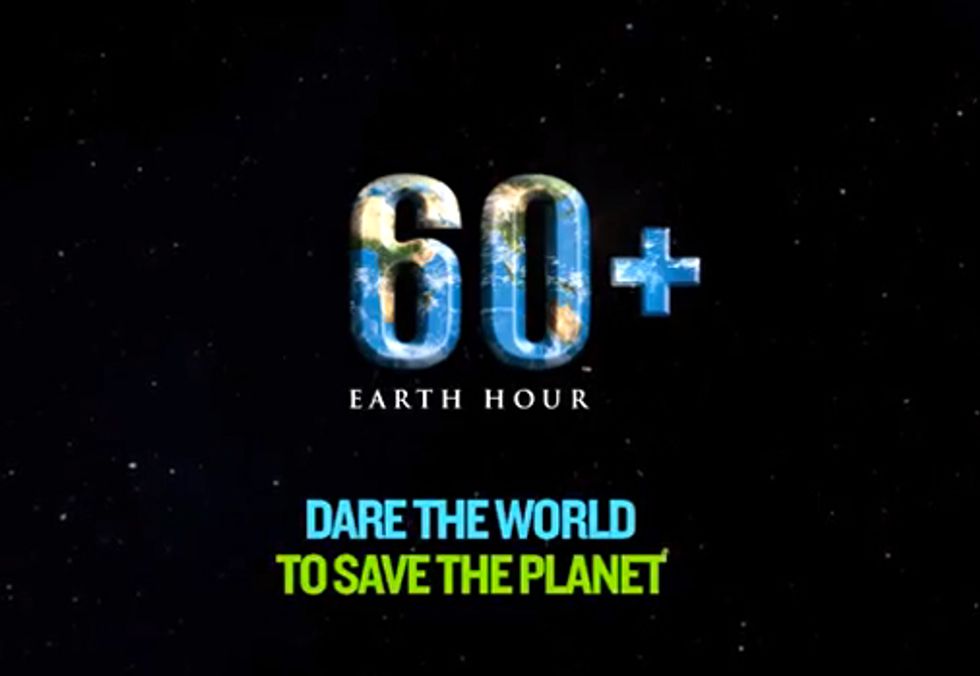 Earth Hour premiered its official video for 2013, with David Guetta's Without You featuring Usher revealed as the highly anticipated soundtrack for the world's largest campaign for the planet.
An energetic showcase of the best crowd-sourced footage from this year's global lights off celebration, the video also introduces Earth Hour's theme for the next three years, "I Will If You Will"—taking the passion of Earth Hour, beyond the hour.
Earth Hour 2012 embraced 7,001 cities and towns in 152 countries and territories, with hundreds of millions of people participating across all seven continents.
Created by Sydney-based award-winning design firm, Resolution™, the video displays a glimpse of the thousands of viral "I Will If You Will" challenges created in 2012, from international supermodel Miranda Kerr's yoga challenge, all the way to a student organized high school flash mob challenge in Korea.
The video begins and ends with awe-inspiring images of our world from above, celebrating Earth Hour reaching the International Space Station for the first time in 2012, and an emotive visual reminder of the one thing that unites us all—the planet.
Earth Hour Global co-Founder and CEO Andy Ridley says this year's video reflects how "I Will If You Will" is the next step towards an interconnected global community, sharing the opportunities and challenges of a sustainable future.
"The video illustrates how every individual can become the inspiration to their own family, friends, peers and the world by sharing what they're willing to do to save the planet," he says.
Creative director of the Earth Hour 2013 video, Tim Dyroff of Resolution™, added that working directly with clients like Earth Hour is a very satisfying process.
"We work together to make the presentation as exciting and relevant to as wide an audience as possible. There are no rights and wrongs in this kind of work, and it's really about collaboration and listening that gets good work like this out the door," he says.
"I am determined to involve our business in campaigns that promote change for the better, and Earth Hour fits the bill perfectly."
In 2012, Earth Hour's digital footprint more than doubled from 91 million in 2011, reaching more than 200 million people across various online platforms around the world.
Earth Hour 2013 will take place from 8.30 - 9.30 p.m. on Saturday, March 23.
Visit EcoWatch's CLIMATE CHANGE and ENERGY page for more related news on this topic.
EcoWatch Daily Newsletter