This website uses cookies to ensure you get the best experience while browsing it. By clicking 'Got It' you're accepting these terms.
Dangers of Coal Ash Gets Much-Needed National Media Attention
Oct. 07, 2014 03:04PM EST
Energy
Thanks to the third-largest and most recent coal ash spill at Duke Energy's Dan River plant in Eden, N.C., this past February—and the federal investigation and political nonsense that followed—it may seem as though coal ash is only a North Carolina issue, but it is not. Coal ash pollution is a national issue (well, truly, it's an international issue) that warrants national media attention, though it rarely enjoys that sort of spotlight.
However, with MSNBC's coal-ash segment last night and news from The Charlotte Business Journal that CBS' "60 Minutes" is working on a special investigation that should air in about a month, the spotlight is coming coal ash's way. This will be 60 Minutes' second special on coal ash.
As the clock ticks down to Dec. 19, expect the national spotlight to intensify. That's the day the U.S. Environmental Protection Agency (EPA) is expected to release its coal ash regulations after more than three decades of pondering what it should do about the stuff that can be found even in states that don't have coal plants, like Rhode Island.
To fully understand the coal ash issue, you must look to history. A hundred years ago today, the soot from coal-fired power plants was released into the air and the communities nearby were coated in the black stuff. After World War II, however, that would no longer do. People had grown tired of their homes, cars, children and pets being coated in corrosive, oily coal soot; it was a reality that didn't fit the shiny ideals of the 1950s. So, the people complained.
Around that time the coal industry began watering down its air pollution and pumping that slurry–which often contained other forms of waste water, like raw sewage–into holding ponds. The practice did improve air quality, but it was short-sighted.
Fast-forward a few decades, and we realize that dumping concentrated coal waste into unlined, earthen dams isn't the best idea. In fact it's a pretty rotten idea, especially since coal ash can be reused in products like concrete and asphalt where it's encapsulated so wind and water can't carry it off. That practice that pre-dates the waste ponds by at least a decade, is one that enables the coal companies to sell their trash and keeps the sludgy, toxic soup that is coal-ash waste water away from the rivers and lakes that eventually flow through faucets in homes and businesses.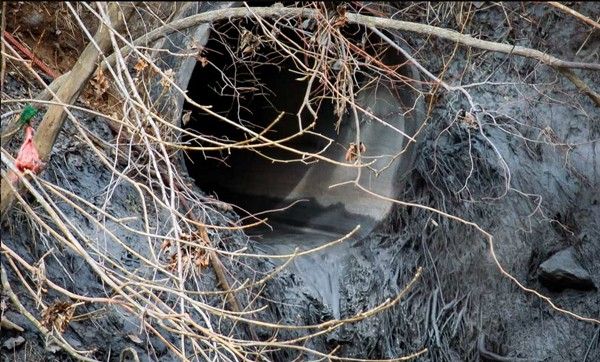 The practice of removing coal pollution from the air and storing it in waste ponds also pre-dates the U.S. EPA, most state environmental agencies, the Clean Air Act and the Clean Water Act. Not to be repetitive, but this is an important point: The coal industry made a real attempt to mitigate air pollution after the public complained decades ago. Sure, burying coal trash in their backyards like cavemen has backfired now, but let's at least give them credit for responding to community concerns once upon a time.
As Dean Naujoks, the Yadkin Riverkeeper in North Carolina, pointed out last night during MSNBC's hour-long coal special via "All In with Chris Hayes," thanks to improvements in air pollution technology, more and more pollutants are removed from coal plants' smoke stacks. But that mean those same pollutants are being stored in greater quantities in giant pits on the edge of drinking water sources. (The largest coal ash "pond," Little Blue, is on the border of Pennsylvania and West Virginia and measures about 1,000 acres).
This is a major problem. These earthen dams, especially the older ones, are often unlined, leaking, and as we now know after multiple failures, essentially aging infrastructure that allows contaminants to flow into the fresh water reserves of this nation all day, every day. Many of these contaminants aren't tested for by local municipalities, either. After interviewing lawmakers and regulators around the country while filming for the upcoming documentary "Coal Ash Chronicles," the reason for that, I'm told, is that local governments fear knowing what's in the water because they don't want to be on the hook for cleaning it up, which is to say that tax payers could be on the hook.
The most dramatic coal ash dam failure was in Tennessee in December 2008 where 1.1 billion gallons of coal ash waste rushed into the Emory and Cinch Rivers in the middle of the night a couple days before Christmas, knocking houses off their foundations, uprooting trees and railroad tracks, and covering about 300 acres in so much coal waste that nearly six years later there is still coal ash in those rivers, and probably always will be.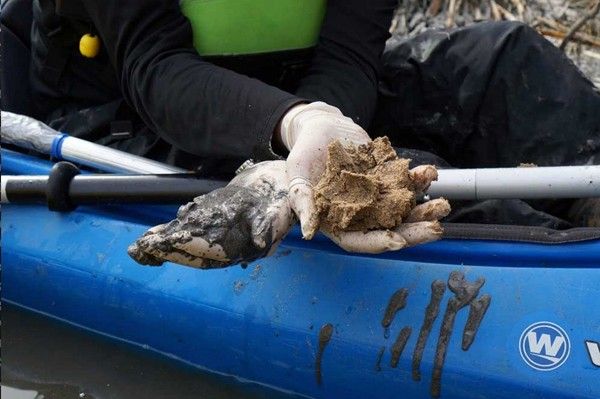 But that's not all. The list of the 'ingredients' in coal ash in similar ponds around the country reads like the periodic table and includes heavy metals, like arsenic, and radioactive elements, like uranium, that you most definitely don't want to drink or feed to your children. More, we know–thanks to the industry's self-reported numbers to state governments and EPA–that these elements are contaminating ground- and surface waters around the country and potentially making people very sick with illnesses that range from learning disabilities to cancer and Alzheimer's disease.
So now we know, and people around the country are once again complaining so loudly that the national media has picked up the scent. Thank goodness, because the times they sure have changed: Instead of doing the right thing, mitigating their own risks, and selling their coal trash to recycling companies, the coal industry chose instead to fight regulations with lobbying dollars. Then the Dan River spill and the underlying corruption that allowed it to happen changed everything and all of the industry's promises and head-patting turned out to be a façade hiding a very ugly truth.
Now the people must raise their voices again because word on the street is that EPA is leaning toward coal-ash regulations that favor industry over the people's best interests under the guise that something is better than nothing.
Rhiannon Fionn is an independent investigative journalist, filmmaker and the "Queen of Coal Ash." Her film, "Coal Ash Chronicles," will be released in 2015.
YOU MIGHT ALSO LIKE
Time to Hold Duke Energy Accountable for Dangerous Coal Ash Impoundments to Prevent Next Spill
Hidden Camera Reveals Dumping of Toxic Coal Ash Into Ohio River
How Kentucky's Illegal Coal-Ash Contamination Typifies an American Crisis
EcoWatch Daily Newsletter
DESIREE MARTIN / AFP / Getty Images
Wildfires raging on Gran Canaria, the second most populous of Spain's Canary Islands, have forced around 9,000 people to evacuate.
Wolves in Mount Rainier, Washington. Ron Reznick / VW Pics / Universal Images Group via Getty Images
The last four members of an embattled wolf pack were killed in Washington State Friday, hours before the court order that could have saved them.
Plateau Creek near De Beque, Colorado, where land has been leased for oil and gas production. Helen H. Richardson / The Denver Post / Getty Images
By Randi Spivak
Slashing two national monuments in Utah may have received the most attention, but Trump's Interior Department and U.S. Forest Service have been quietly, systematically ceding control of America's public lands to fossil fuel, mining, timber and livestock interests since the day he took office.
Aerial view of lava flows from the eruption of volcano Kilauea on Hawaii, May 2018. Frizi / iStock / Getty Images
Hawaii's Kilauea volcano could be gearing up for an eruption after a pond of water was discovered inside its summit crater for the first time in recorded history, according to the AP.
Global SO2 Emission Hotspot Database / Greenpeace
A new report by Greenpeace International pinpointed the world's worst sources of sulfur dioxide pollution, an irritant gas that harms human health. India has seized the top spot from Russia and China, contributing nearly 15 percent of global sulfur dioxide emissions.
The huge surge this year in Amazon deforestation is leading some European countries to think twice about donations to the Amazon Fund. LeoFFreitas / Moment / Getty Images
By Sue Branford and Thais Borges
Ola Elvestrun, Norway's environment minister, announced Thursday that it is freezing its contributions to the Amazon Fund, and will no longer be transferring €300 million ($33.2 million) to Brazil. In a press release, the Norwegian embassy in Brazil stated:
Gina Lopez, the Philippine secretary of the environment, at a meeting with residents affected by a mine tailing disaster. Keith Schneider
Gina Lopez, a former Philippine environment secretary, philanthropist and eco-warrior, died on Aug. 19 from brain cancer. She was 65.
Trump speaks to contractors at the Shell Chemicals Petrochemical Complex on Aug. 13 in Monaca, Pennsylvania. Jeff Swensen / Getty Images
Thousands of union members at a multibillion dollar petrochemical plant outside of Pittsburgh were given a choice last week: Stand and wait for a speech by Donald Trump or take the day off without pay.