This website uses cookies to ensure you get the best experience while browsing it. By clicking 'Got It' you're accepting these terms.
Cuomo Administration Denies Critical Certification at Indian Point Nuclear Power Plant
Nov. 12, 2015 09:26AM EST
Energy
Citing numerous environmental and public safety concerns, the New York Department of State (DOS) has filed an objection to Entergy's request for a Coastal Consistency Determination for the Indian Point nuclear plant. This objection has the potential to block Entergy's request for a 20-year extension of its operating license for the plant's Unit 2 and Unit 3 reactors and require the closure of Indian Point as soon as next year.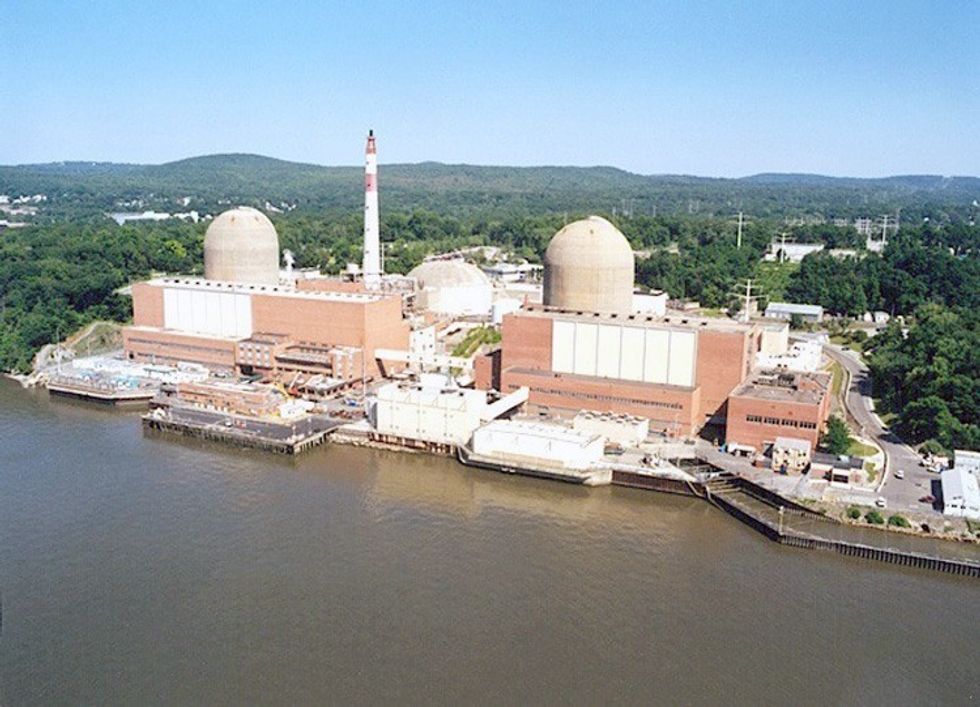 In its objection, Gov. Andrew Cuomo's administration has highlighted many concerns over Indian Point, including:
The plant's massive intake of 2.5 billion gallons of water of day for cooling, which heats the nearby river, killing aquatic life.
A dubious history of operational accidents including transformer explosions and other component malfunctions.
The nuclear power plant's location near two active seismic faults.
Indian Point's location near the nation's most heavily populated area and its proximity to critical ecological resources and drinking water.
Electromagnetic interference with transmission lines and pipelines.
Violations of state water quality standards posed by the continued operation of the plant.
Risks regarding the storage of on-site nuclear waste in overly dense spent fuel pools; and
Radiological leaks from spent fuel pools and other components, which have already resulted in large plumes of groundwater contamination under the site that leach into the Hudson River.
The objection, filed Nov. 6, agrees with many of Riverkeeper's own findings regarding the dangers to public safety and the environment posed by the problematic 40-year-old nuclear facility and the unquestionable feasibility of replacing the plant with other energy sources. In addition to finding that the various devastating and pervasive impacts and risks caused by the operation of Indian Point run afoul of various of the state's coastal policies, DOS also importantly emphasized how Indian Point is not necessary to the New York state power system, which would continue to operate reliably if Indian Point was not generating electricity.
The objection is essentially a denial of a certificate by the Cuomo administration. As a result of this objection, the Nuclear Regulatory Commission (NRC) is prohibited from re-licensing the reactors unless the objection is overridden on appeal by the U.S. Secretary of Commerce.
As part of Entergy's application review process, Riverkeeper filed its own comments with the DOS in 2013. In those comments, Riverkeeper discussed the numerous ways in which the continued operation of Indian Point would result in inconsistencies with the state's coastal policies. Many of the reasons discussed and the evidence cited by Riverkeeper form the basis of the recent DOS decision.
Entergy filed an application for certification by the state in 2012, but despite this, the utility now claims that Indian Point is "grandfathered" out of needing a coastal consistency finding. This claim has since been litigated in state courts. In 2014, despite the clear regulatory framework dictating the need for a coastal consistency determination, a New York state appellate court ruled that the plant is grandfathered in under the Coastal Management Plan, which protects wildlife habitat as well as recreational activities on the Hudson River and need not obtain the certification. That decision has been appealed to the state's highest court—the New York State Court of Appeals—which has agreed to hear the case. A decision is expected in 2016. Riverkeeper has intervened as a "friend of the court" and filed an amicus brief.
"This news is encouraging. We're satisfied with the Department of State's thorough evaluation of the impacts and risks regarding Indian Point and ultimate finding that a coastal consistency determination for the plant is simply inappropriate," says Riverkeeper Staff Attorney Deborah Brancato. "This objection is tantamount to a denial and we are confident that under the correct reading of the law, New York's highest court should find that a Consistency Determination is necessary for relicensing and that the department's decision will stand."
The NRC licenses new commercial power reactors for 40 years terms and can renew operating licenses for an additional 20 years. Contrary to what one would expect or hope, the focus of the license renewal process is extremely limited. Only narrow aspects of plant safety and environmental impacts are examined.
The Cuomo Administration has been working on "multiple fronts" to close Indian Point, according to Richard Kauffman, the state's "energy czar" who manages the state's entire energy portfolio, including the New York State Department of Public Service, the New York Power Authority, the Long Island Power Authority and the New York State Energy Research and Development Authority.
"The governor has repeatedly said that he wants to close Indian Point," Kauffman told state senators in a committee hearing earlier this year.
"Even before he was governor, he was saying that," said Kauffmann. "We are in litigation on multiple fronts opposing the relicensing and this involves state entities, including the Department of State, Department of Environmental Conservation (DEC) and the attorney general's office."
After a transformer explosion and fire at the plant on May 9 (the third such explosion in just eight years), Gov. Cuomo again voiced his longstanding concerns with Indian Point and he recently mocked the Indian Point evacuation plan calling it unrealistic. But until now, the Cuomo administration has not explicitly taken steps to close the problematic, aging nuclear power plant.
The NRC is reviewing Indian Point's two operating licenses—the first expired in 2013 and the other expires later this year.
While the NRC holds regulatory control over nuclear power plants such as Indian Point, the state of New York permits the plant's use of Hudson River water for its operations and can withhold or limit the permission to operate based on water quality concerns.
Last year, as a potential alternative to the state and Riverkeeper's longstanding push for a closed-cycle cooling water intake system to reduce the massive fish kills caused by Indian Point, the Department of Environmental Conservation proposed annual closures of the two operating reactors for up to 118 days in the spring and summer in order to mitigate damage to fish populations as they spawn. Such seasonal closures are a way to reduce the number of fish that are killed when they are sucked into the plant's cooling water system, which draws from the river, in the event Entergy does not implement a closed-loop cooling system.
Earlier this year, Riverkeeper presented evidence in hearings before DEC administrative judges supported by numerous expert witnesses to show that Indian Point seasonal outages can be implemented without adverse impacts to electric system reliability or air quality and without a significant increase in consumer electricity prices.
YOU MIGHT ALSO LIKE
26 National Parks Fail EPA's New Ozone Standard
25 Million Americans at Risk From Oil Train Traffic in Their Communities
Exxon + 49 Other Big Polluters Set to Be Investigated for Causing Extreme Weather Events
EcoWatch Daily Newsletter
A verdant and productive urban garden in Havana. Susanne Bollinger / Wikimedia Commons
By Paul Brown
When countries run short of food, they need to find solutions fast, and one answer can be urban farming.
Trevor Noah appears on set during a taping of "The Daily Show with Trevor Noah" in New York on Nov. 26, 2018.
The Daily Show With Trevor Noah / YouTube screenshot
Rebecca Burgess came up with the idea of a fibersheds project to develop an eco-friendly, locally sourced wardrobe.
Nicolás Boullosa / CC BY 2.0
By Tara Lohan
If I were to open my refrigerator, the origins of most of the food wouldn't be too much of a mystery — the milk, cheese and produce all come from relatively nearby farms. I can tell from the labels on other packaged goods if they're fair trade, non-GMO or organic.
A television crew reports on Hurricane Dorian while waves crash against the Banana River sea wall. Paul Hennessy / SOPA Images / LightRocket / Getty Images
By Mark Hertsgaard and Kyle Pope
Some good news, for a change, about climate change: When hundreds of newsrooms focus their attention on the climate crisis, all at the same time, the public conversation about the problem gets better: more prominent, more informative, more urgent.
U.S. Senators Chris Coons (D-Del.) and Mike Braun (R-Ind.) met with Bill Gates on Nov. 7 to discuss climate change and ways to address the challenge.
Senator Chris Coons
The U.S. Senate's bipartisan climate caucus started with just two members, a Republican from Indiana and a Democrat from Delaware. Now it's up to eight members after two Democrats, one Independent and three more Republicans joined the caucus last week, as The Hill reported.
A timelapse video shows synthetic material and baby fish collected from a plankton sample from a surface slick taken off Hawaii's coast.
Honolulu Star-Advertiser / YouTube screenshot