This website uses cookies to ensure you get the best experience while browsing it. By clicking 'Got It' you're accepting these terms.
Cuba and U.S. Announce Historic Partnership on Marine Conservation
Nov. 19, 2015 11:15AM EST
Insights + Opinion
The National Oceanic and Atmospheric Administration (NOAA) and the National Park Service (NPS) signed a Memorandum of Understanding (MOU) with Cuba's Ministry of Science, Technology and Environment (CITMA) yesterday. The agreement will facilitate collaboration in marine science, stewardship and management of Marine Protected Areas (MPAs). The MOU also aims to promote education and outreach initiatives in both countries.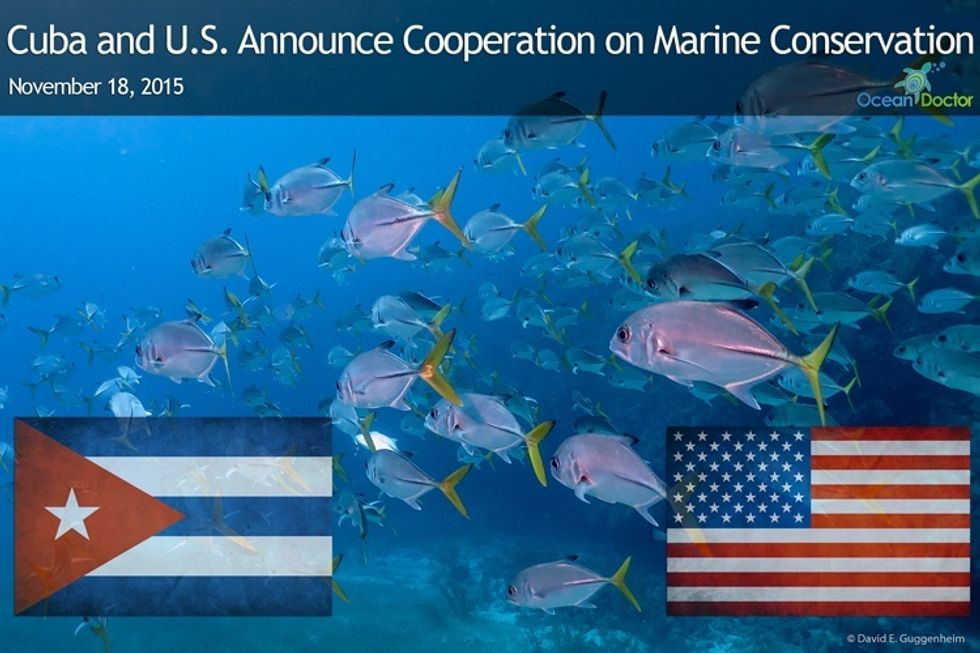 The effort will focus on Guanahacabibes National Park in Cuba, a biosphere reserve. Also included are the waters of Banco San Antonio that lie off Cuba's northwestern coast, the Flower Garden Banks and Florida Keys National Marine Sanctuaries, the Dry Tortugas national park and Biscayne national park.
The MOU builds upon the work led by a number of U.S. nongovernmental organizations (NGOs), including Ocean Doctor, Center for International Policy and Environmental Defense Fund, which have worked for more than 15 years to elevate collaboration in marine science and conservation in Cuba during a period with no diplomatic relations and limited government-to-government dialogue. Marine conservation is recognized as one of the most successful areas of collaboration between Cuba and the U.S. during the years without formal diplomatic relations.
I co-led a decade of research expeditions with the University of Havana's Center for Marine Research to create the first ecosystem maps of Cuba's northwestern coast, until then its most unexplored waters. Banco San Antonio, the key Cuban component of today's agreement, was part of those expeditions. In the process, this research helped train the next generation of Cuban marine scientists who today are in positions of leadership in Cuba.
Ocean Doctor works in Cuba, housed by its Cuba Conservancy Program. It has advanced beyond basic scientific research to comprehensive conservation efforts, including:
Coral Reef Health and Resilience: Ocean Doctor is leading research efforts focused on the health and resilience of Cuba's coral reefs along Cuba's southwestern coast, including the Isle of Youth. This research will help ensure the ongoing protection of these reefs and may help provide insights to protecting coral reefs throughout the Caribbean.
The Cuba-U.S. Sustainability Partnership (CUSP): In collaboration with the Center for International Policy, CUSP was announced earlier this year. It aims to help Cuba prepare for the immense wave of tourism and foreign investment from the U.S., and also to prevent it from following the path of other regions in the Caribbean that have lost their culture and natural ecosystems, such as Cancún.
Valuing Cuba's Ecosystems: In collaboration with World Resources Institute, University of Colorado Boulder, the Cuban Center for Coastal Ecosystem Research and other partners, Ocean Doctor is working to apply the tools of environmental economics to Cuba's natural ecosystems to support sound decision making. This effort is focused on a proposal to expand the protection of one of Cuba's most important marine protected areas.
Cuba Environmental Film Festival: In partnership with the Antonio Nuñez Jimenez Foundation for Humanity and Nature and the Global Foundation for Democracy and Development (Dominican Republic), Ocean Doctor is leading efforts to launch Cuba's first environmental film festival in October 2016. The festival will feature renowned filmmakers and environmentalists from around the world as well as Cuba, and through film presentations and round tables, will serve to foster dialogue in Cuban communities about environmental issues.
YOU MIGHT ALSO LIKE
Palau Creates One of the World's Largest Marine Sanctuaries
Cuban Embassy Opens in DC After 54 Years: Will Cuba Remain the 'Green Jewel' of the Caribbean?
Why Cuba-U.S. Collaboration Is More Important Than Ever
500 Years After Columbus, Cuba's Gardens of the Queen Still Pristine
EcoWatch Daily Newsletter
A new report spotlights a U.N. estimate that at least 275 million people rely on healthy coral reefs. A sea turtle near the Heron Island in the Great Barrier Reef is seen above. THE OCEAN AGENCY / XL CATLIN SEAVIEW SURVEY
In a new report about how the world's coral reefs face "the combined threats of climate change, pollution, and overfishing" — endangering the future of marine biodiversity — a London-based nonprofit calls for greater global efforts to end the climate crisis and ensure the survival of these vital underwater ecosystems.
Half of the extracted resources used were sand, clay, gravel and cement, seen above, for building, along with the other minerals that produce fertilizer. Cavan Images / Cavan / Getty Images
The world is using up more and more resources and global recycling is falling. That's the grim takeaway from a new report by the Circle Economy think tank, which found that the world used up more than 110 billion tons, or 100.6 billion metric tons, of natural resources, as Agence France-Presse (AFP) reported.
By Gero Rueter
Heating with coal, oil and natural gas accounts for around a quarter of global greenhouse gas emissions. But that's something we can change, says Wolfgang Feist, founder of the Passive House Institute in the western German city of Darmstadt.

By George Citroner
Recent research finds that official government figures may be underestimating drug deaths by half.
Researchers estimate that 142,000 people died due to drug use in 2016.
Drug use decreases life expectancy after age 15 by 1.4 years for men and by just under 1 year for women, on average.
Government records may be severely underreporting how many Americans die from drug use, according to a new study by researchers from the University of Pennsylvania and Georgetown University.
Water coolers in front of shut-off water fountains at Center School in Stow, MA on Sept. 4, 2019 after elevated levels of PFAS were found in the water. David L. Ryan / The Boston Globe via Getty Images
In a new nationwide assessment of drinking water systems, the Environmental Working Group found that toxic fluorinated chemicals known as PFAS are far more prevalent than previously thought.