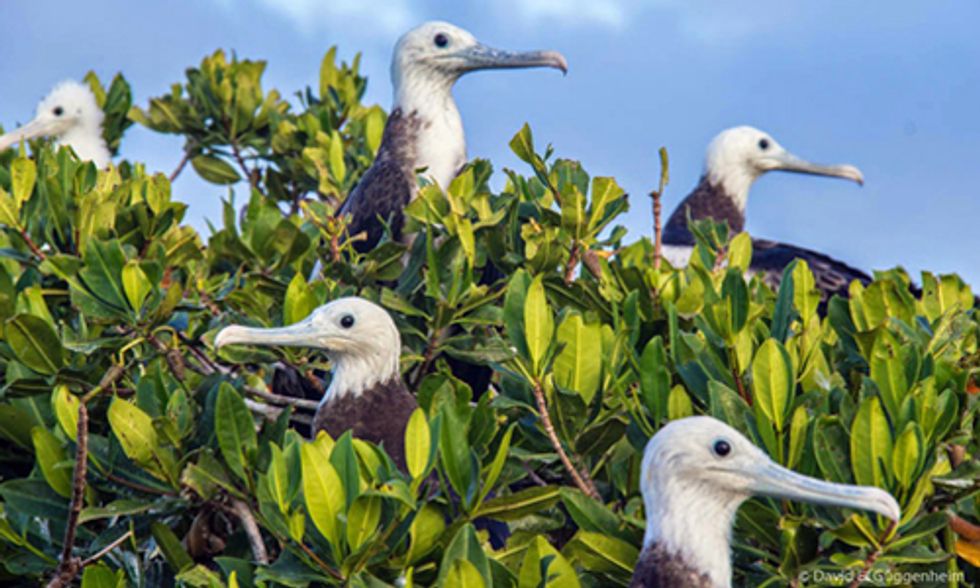 [Editor's note: Conor Kennedy traveled this summer to Cuba to dive the Gardens of the Queen, one of the most pristine marine environments in the Caribbean, to conduct ecological assessments of the coral reef ecosystem with Ocean Doctor. This is Part III of a five-part series. Read Part I, Part II, Part IV and Part V.]
On June 21, we rode a Chinese manufactured bus the six-hour, 200-mile ride to Porto Jucaro, on Cuba's southern mid-coast. From Havana we travelled southeast on the Autopista Nacional, a six-lane tarmac highway with rutted red dirt tributaries cutting through towns and forests and crossing meandering rivers. We passed cooperative farms of corn and tobacco. Farmers wielding machetes battled hefty cane stalks in endless sugar cane fields shadowed by the smoking chimneys of sugar mills. Ruler-straight royal palms, massive flowering orange flamboyant trees and spreading acacias with brilliant yellow flowers, shaded grass-thatched huts nestled among banana groves, and orchards of papaya, mango, chirimolla, plantain and mamey, a fruit the Cubans use to make milkshakes.

Just as in Havana, the highways carried cars from the 1940s and 1950s and motorcycles with sidecars, and horse and buggies. Roadside stands selling coconuts and fruit juice marked the incursion of Cuba's new entrepreneurial capitalism. At the town of Tagnasco, we stopped for sandwiches at a thatched-roof government restaurant where we browsed through a library of books, propaganda and postcards for sale about Che Guevara and the other heroes of the Cuban Revolution. My dad caught a turquoise colored Cuban anole. Then we turned onto the Artery Central and proceeded south to Porto Jucaro through open savannah dotted with ranches where ubiquitous cowboys straddling fat ponies herded goats and Brahman cattle, until the flatlands rose into mountains as we approached the coast.

At the small port of Jucaro, we boarded the 125-foot Avalon II for the forty-mile cruise south to the thousand-island archipelago that constitutes Gardens of the Queen National Park. The island chain that has been protected for 18 years is renowned among divers and scientists as the most pristine reef system in the Western Hemisphere. We moored in a narrow channel between two mangrove-fringed islands: Cayo Anclitas and Cayo Caballones.
Avalon, an Italian Company that maintains a partnership with the Cuban government, has an exclusive license to operate two large dive boats in the Gardens of the Queen. Avalon and its founder, Giuseppe "Pepe" Omnega, played a key role in working with the Cuban government to establish this marine reserve and continues to play an important role in supporting research and conservation efforts there.
Each vessel carries up to 20 divers on one-week tours of the 40-mile island chain. In order to protect the reefs, the Cuban government limits visits to 1,000 divers per year. Elsewhere in the Caribbean, some dive sites a fraction of this size can see as many divers in a single day. Cuba also permits 500 fishermen annually to fly-fish the flats, mangroves and reefs for tarpon, permit, snook and bonefish. The fishery, of course, is catch and release. The only extractive fishery belongs to local fishermen who use tiny traps called "casitas" to harvest a small number of live lobsters.
The moment the Avalon II's engines quit at the mooring site, Aidan executed a flip and what appeared to be a spectacularly painful starfish belly flop, from a rail forty feet above the turquoise waters. He managed a stoic smile as I swam past him toward shore against the strong tidal current. I climbed out onto the untouched white sand beach tripping over meandering armies of live conch grazing in the near-shore eel grass. They could not have been more numerous on the day Columbus named the Gardens of the Queen. I compared in my mind this cornucopia to the relatively barren waters I have seen and explored elsewhere in the Gulf—from the Bahamas to Puerto Rico to Mexico. "This," I thought to myself, "is what the ocean is supposed to look like."
After our swim we found our bunks, stowed our duffels and headed to the galley for dinner with 13 members of The Explorer's Club expedition team and explorer, author and TV host, Josh Bernstein, all assembled by our host, Dr. David Guggenheim of Ocean Doctor, a nonprofit organization based in Washington, D.C., which arranges legal educational visits to Cuba under the U.S. Department of Treasury's so called "people to people" licensing program. During our on-board briefing over delicious Cuban fish, pork and chicken that evening, the trip manager and divemaster, Tony Cardenas, 32, a charming Cuban and well educated marine biologist, told us that we would make 15 dives over six days. The first four days we would see known dive sites. During the last two days we would investigate new sites in remote regions of the reserve or on its margins. Some of these had never before been dived. Tony, who speaks perfect English with buoyant humor, would guide Team 1 in one skiff while Josh Bernstein and his photographer, J.P., were relegated to dive with us.
Our dive master was Noel Lopéz Rodriguez, a beefy mustachioed 53-year-old Cuban marine photographer. Noel told us that he was born in the city of Camaguey and began diving when he was 18, spear fishing the reefs on Cuba's north coast. His love for marine life and characteristic Cuban ingenuity led him to reconstruct a black-market Russian double scuba tank and refit a rusty, East German compressor. He built his own homemade camera housing from pieces of Plexiglas discarded by Soviet bloc tourists.

Back in the day, Noel spent three days in prison under police questioning when local authorities suspected his strange equipment was part of another CIA plot against the island. Tony was also briefly detained on the beach when a low level police officer believed that he might be using a similarly reconstructed montage of scuba equipment to escape the island, unnoticed by swimming underwater to the U.S.
YOU MIGHT ALSO LIKE
Gardens of the Queen: Caribbean's Last Pristine Coral Reefs
EcoWatch Daily Newsletter
Related Articles from EcoWatch