This website uses cookies to ensure you get the best experience while browsing it. By clicking 'Got It' you're accepting these terms.
Critical Habitat Designated for Threatened Chiricahua Leopard Frog
Mar. 19, 2012 08:05AM EST
Climate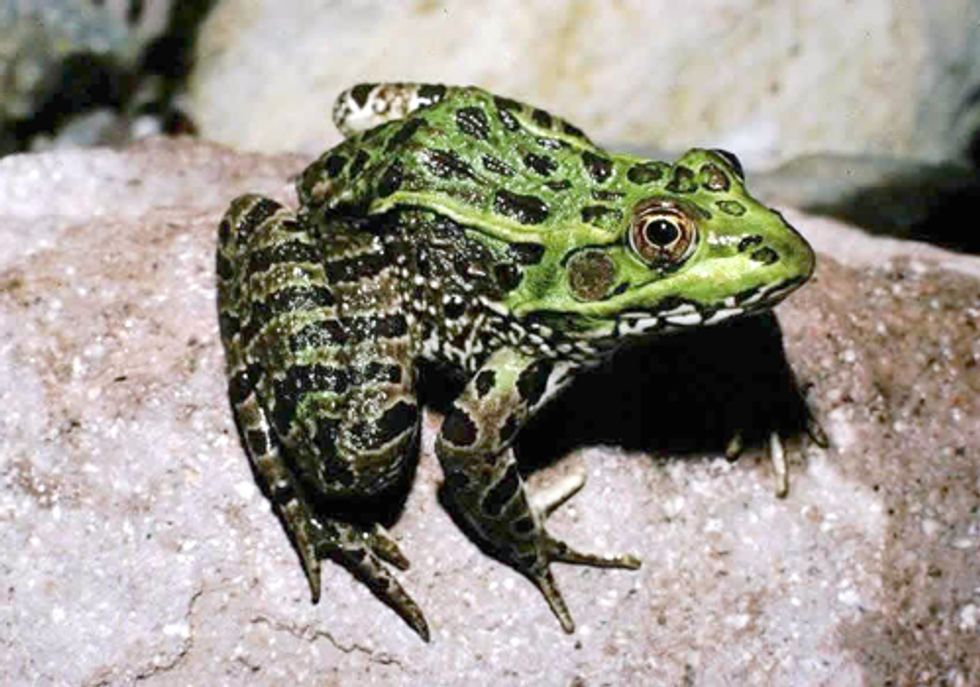 The U.S. Fish and Wildlife Service has designated approximately 10,346 acres as critical habitat for the Chiricahua leopard frog (Lithobates chiricahuensis) in Arizona and New Mexico to help protect the species from ongoing threats and serve as refugia for its recovery. The agency also affirmed the frog's threatened status following recent reclassification of the species. The critical habitat designation is made in response to a settlement agreement between the agency and WildEarth Guardians in May 2009.
"Critical habitat is essential to species recovery, and will be especially important for the leopard frog," said Mark Salvo, wildlife program director for WildEarth Guardians. "Facing recurrent drought, an onslaught of threats to its habitat, devastating chytrid fungus, and non-native predators, this frog needs all the help it can get."
The Chiricahua leopard frog historically occurred in cienegas, lakes, ponds and riparian zones at elevations between 3,281 to 8,890 feet in central and southeastern Arizona, west-central and southwestern New Mexico, and the sky islands and Sierra Madre Occidental of northeastern Sonora and western Chihuahua, Mexico. It has been eliminated from its namesake, the Chiricahua Mountains of Arizona, and has disappeared from more than 80 percent of its former range in Arizona and New Mexico.
The final rule, to be published in the Federal Register on March 20, designates 39 sites as critical habitat within the frog's range in Apache, Cochise, Gila, Graham, Greenlee, Pima, Santa Cruz, and Yavapai Counties in Arizona; and Catron, Grant, Hidalgo, Sierra, and Socorro Counties, New Mexico. All but one of the sites are currently occupied by leopard frogs. The 39 units are on federal (6,958 acres), state (348 acres) and private (3,040 acres) land.
Myriad land uses threaten the Chiricahua leopard frog and its habitat include mining, livestock grazing, water diversion, groundwater pumping, development, and altered fire regimes. Drought, exacerbated by climate change, also affects the species. However, the most important threats to the frog are the deadly chytrid fungus and predation by non-native animals. Chytrid fungus is contributing to amphibian population declines worldwide and has caused major die-offs in the Chiricahua leopard frog. A host of non-native predators also prey on the Chiricahua leopard frog, including bullfrogs, crayfish, fish and salamanders. For instance, sites where the leopard frog has been eliminated are 2.6 times more likely to have introduced crayfish than control sites. Also, despite prohibitions, the Service has documented continued releases by anglers of non-native salamanders (used as bait) infected with chytrid into the leopard frog's habitat.
Critical habitat designation applies differently to federal and non-federal lands. On federal lands, critical habitat designation requires federal agencies to consult with the Fish and Wildlife Service prior to permitting activities within designated areas to ensure they do not adversely affect the listed species. The same restrictions do not apply to land use and development in critical habitat on non-federal lands, unless they require federal permitting or expenditures, in which case the Service would assess the proposed activity for its potential to destroy or adversely modify critical habitat, and may require some modifications, before approving further federal involvement.
For more information, click here.
EcoWatch Daily Newsletter
A Starbucks barista prepares a drink at a Starbucks Coffee Shop location in New York. Ramin Talaie / Corbis via Getty Images
By Cathy Cassata
Are you getting your fill of Starbucks' new Almondmilk Honey Flat White, Oatmilk Honey Latte, and Coconutmilk Latte, but wondering just how healthy they are?
By Sharon Kelly
Back in April last year, the Trump administration's Environmental Protection Agency decided it was "not necessary" to update the rules for toxic waste from oil and gas wells. Torrents of wastewater flow daily from the nation's 1.5 million active oil and gas wells and the agency's own research has warned it may pose risks to the country's drinking water supplies.
Swedish climate activist Greta Thunberg takes part in a "Friday for Future" youth demonstration in a street of Davos on Jan. 24, 2020 on the sideline of the World Economic Forum annual meeting. FABRICE COFFRINI / AFP via Getty Images
Treasury Secretary Steven Mnuchin pretended not to know who Greta Thunberg is, and then he told her to get a degree in economics before giving world leaders advice, as The Guardian reported.
The Visible Infrared Imaging Radiometer Suite on the Suomi NPP satellite acquired this image of forest fire smoke hovering over North America on Aug. 15, 2018. NASA Earth Observatory
New York City isn't known for having the cleanest air, but researchers traced recent air pollution spikes there to two surprising sources — fires hundreds of miles away in Canada and the southeastern U.S.
If temperatures continue to rise, the world is at risk from global
sea-level rise
, which will flood many coastal cities as seen above in Bangladesh. NurPhoto / Contributor / Getty Images
The mounting climate emergency may spur the next global financial crisis and the world's central banks are woefully ill equipped to handle the consequences, according to a new book-length report by the Bank for International Settlements (BIS), as S&P Global reported. Located in Basel, Switzerland, the BIS is an umbrella organization for the world's central banks.