Creating Sustainable Strategies to Address China's Growing Greenhouse Gas Emissions
As greenhouse gas emissions are slowly reduced in Europe and the U.S., total global emissions are still rising, due in large part to the fast-growing economies of India and China. The U.S. Energy Information Agency reports that half of the world's increase in energy consumption by 2040 will be attributed to China and India, "as they use energy to fuel their economic growth."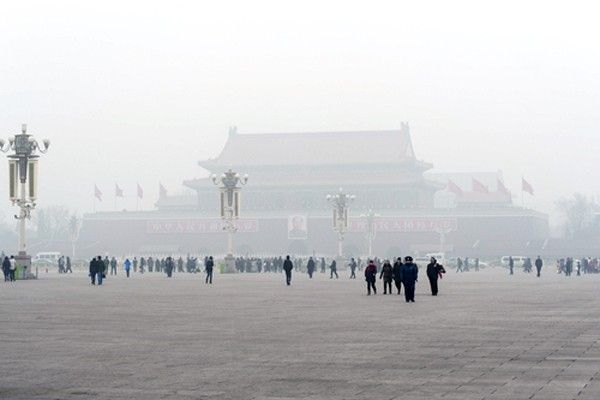 axz700
/
Shutterstock.com
While Chinese investment in solar power recently hit an all-time high, China is still relying heavily on coal and other fossil fuels to meet its increasing economic and energy demands. According to Justin Gillis of the New York Times:
"China is spending heavily on renewable and nuclear energy as it tries to slow the growth of coal, but despite those efforts it has become by far the largest emitter of greenhouse gases. Its emissions of 10 billion tons a year of carbon dioxide from the burning of fossil fuels and cement manufacturing are almost twice those of the United States, though emissions per person are still far higher in the United States."
Of course, climate change is not the only global sustainability problem, but it is an important and prominent one. Reducing emissions and promoting global environmental sustainability is a shared responsibility for all countries, but China's contribution is particularly important. China recognizes their key role. At the United Nations Climate Summit last month, the Chinese Vice Premier announced China's intention to reach peak carbon dioxide emissions as soon as possible, building on previously-announced commitments to set a cap on carbon. However, although the Chinese government has worked to establish a sustainable strategy for its development, the sheer pace of China's economic growth makes it a difficult task.
It is important for China and in fact all of the planet's economic development, that we incorporate a more holistic understanding of environmental sustainability—including, but not limited to, greenhouse gas emissions—as we make the transition to a sustainable, renewable economy. For this to happen, we need a rigorous, valid and standardized system to measure and manage sustainability. We need a generally accepted set of sustainability metrics if we are to seriously assess the progress we are making during the transition to a sustainable economy.
Next week, I'll be traveling to Beijing to formalize a partnership between Columbia University's Earth Institute and the China Center for International Economic Exchanges (CCIEE), a leading think tank focused on promoting international economic research and exchanges in various fields. One of our research groups at the Earth Institute, the Research Program on Sustainability Policy and Management, will be conducting joint research with the Center to design a sustainability measurement and metrics system based on China's unique economic development path.
The broader importance of this work lies in the need for a standardized methodology to organize the vastly increasing amount of sustainability performance measures—in a way that enhances organizational and local level management and improves sustainability performance. The partnership with CCIEE will produce applied research that can contribute to both U.S. and Chinese decision-making in sustainability policy. This, in turn, could facilitate the development of renewable resource-based economies in China, the U.S. and around the world.
While in Beijing, I'll also be visiting the Columbia Global Centers | East Asia, an important partner for the Earth Institute as we expand our research into China, where I'll be giving a talk on "Environmental Policy and the Business of Sustainability." I'll be discussing the importance of environmental policy in achieving a sustainable society and the need to manage short-term costs for long-term gains. I'll trace the environmental movement over the past century, exploring how the environment emerged as a public policy issue and how current environmental policy reflects our values as society. I'll also discuss how environmental regulation influences the economy and demonstrate how the path to a clean economy requires public policy that stimulates changes in the economic behaviors of businesses, governments and individuals.
As China advances their sustainability efforts and aims to achieve a growing economy along with a cleaner environment, it's important that they look at how other countries have overcome similar obstacles. I have worked on U.S. environmental issues since 1975, and have a keen appreciation of the mistakes we made here in the U.S. as we moved to decouple the growth of pollution from the growth of the gross domestic product (GDP). Before the U.S. Environmental Protection Agency (EPA) was created, U.S. pollution was growing at a rate similar to the rate of economic growth. By the time EPA was a decade old, the absolute levels of pollution had dropped, while the GDP continued to grow. With few exceptions, that trend has continued ever since. My hope is that some of what we learned here in the U.S. through trial and error I can share with my colleagues in China and help them avoid making some of the mistakes we made.
Ultimately, it will be important for the U.S. to increase its efforts on sustainability and decrease carbon emissions, but it's necessary for China to quickly step up their efforts as well. While China faces many challenges, I look forward to the Earth Institute playing a small part in efforts to advance China's sustainability strategy with the China Center for International Economic Exchanges.
YOU MIGHT ALSO LIKE
'All Hands on Deck' Declares Ban Ki-moon at UN Climate Summit
Capitalism vs. The Climate: Stephen Colbert Talks To Naomi Klein
People's Consumptive Demands Undermine Planet's Life-Support Systems
Dow CEO Andrew Liveris and President Donald Trump in February.
U.S. Environmental Protection Agency (EPA) administrator Scott Pruitt met with Dow Chemical CEO Andrew Liveris before deciding to reverse an earlier EPA decision to ban the company's toxic and widely used pesticide, chlorpyrifos.
According to records obtained by the Associated Press, the EPA boss met with Liveris for about 30 minutes at a Houston hotel on March 9. Later that month, Pruitt announced that he would no longer pursue a ban on chlorpyrifos from being used on food, ignoring his agency's own review that even small amounts of the pesticide could impact fetus and infant brain development.
Keep reading...
Show less
www.facebook.com
Native communities and environmental justice advocates in Louisiana opened a new resistance camp Saturday to oppose the proposed Bayou Bridge Pipeline project. Called L'eau Est La Vie, or Water is Life, the camp will consist of floating indigenous art structures on rafts and constant prayer ceremonies during its first two weeks.
Keep reading...
Show less
Continuing its march toward elimination of key Clean Water Act protections, the U.S. Environmental Protection Agency (EPA) on Tuesday issued a formal notice of withdrawal of the Obama administration's rule defining which waters can be protected against pollution and destruction under federal law.
Keep reading...
Show less
The U.S. Environmental Protection Agency (EPA) is not doing enough to prevent weed resistance to the herbicide glyphosate (Roundup) says a new report from the EPA's Inspector General's Office, which draws in part on a report from the agbiotech company, Pioneer: Weed Management in the Era of Glyphosate Resistance.
Keep reading...
Show less
SUMR
When it comes to the latest wind turbine technologies, size matters. A group of six institutions and universities is designing an offshore wind turbine that will stand 500 meters in height. That's taller than the Eiffel Tower and the Empire State Building.
The research team, led by researchers at the University of Virginia, believes that its wind turbine concept will produce 50 megawatts of peak power, or about 10 times more powerful than conventional wind turbines.
Keep reading...
Show less
www.facebook.com
Natural gas is often considered the cleanest fossil fuel, but could it actually be dirtier than coal?
Watch as New York Times reporter Mark Bittman, in the above Year's of Living Dangerously video, investigates how much methane is leaking at fracking wells. Find out how the natural gas industry's claims compare to what scientists are reporting.
See what happens when Gaby Petron, an atmospheric scientist with NOAA, converts her van into a mobile methane detector and sets out across northeastern Colorado for two years, taking thousands of readings to uncover the truth.
www.youtube.com
Adrian Grenier was named UN Goodwill Ambassador earlier this month. The Hollywood actor, best known for his iconic role of A-list movie star Vincent Chase in the HBO smash hit and film Entourage, will advocate for drastically reducing single-use plastic and protection of marine species, and encourage his followers to make conscious consumer choices to reduce their environmental footprint, according to the UN Environment announcement.
"Together we must usher in a new era of compassion and carefulness through forward thinking environmental programs to drive measurable change," Grenier said. "I am personally committed to creating ways in which the global community can come together to help solve our most critical climate crises through routine, collective action.
"The more we connect to nature in our daily lives, the more dedicated we will become to our individual commitments. Together, I believe we can go further, faster in our race to achieve the UN Sustainable Development Goals by 2030."
Watch the video above to learn more.
The last week has seen a flood of stories on clean energy's prospects—stories that make your head spin with their conflicting tales of renewable energy's prospects of ending our dangerous addiction to fossil fuel power from coal and gas.
Keep reading...
Show less