Creating a Swimmable Buriganga River in Bangladesh
Aug. 12, 2014 01:39PM EST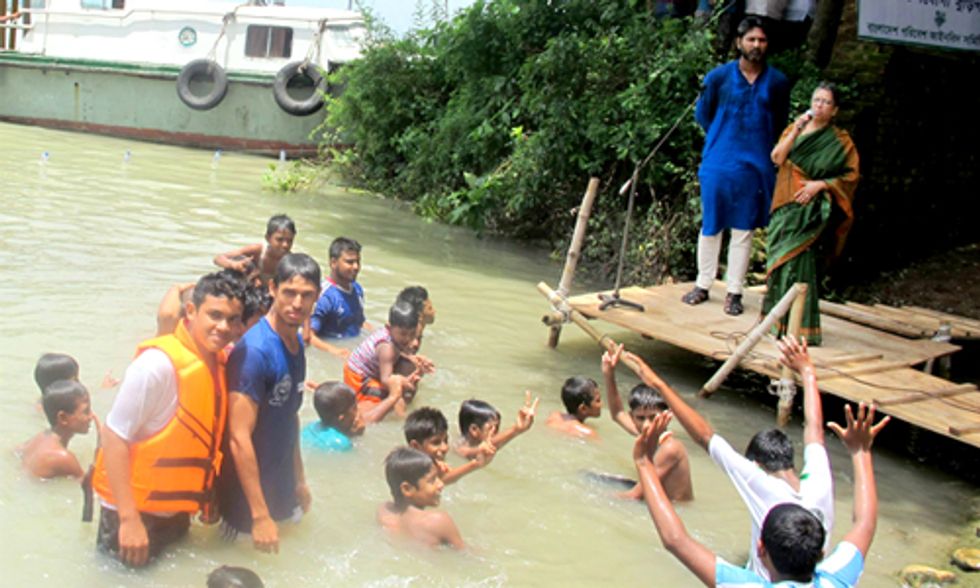 The joy of diving into a pool of freshwater is an unparalleled life experience, and for many generations until now has been a readily available opportunity. Ponds, streams and rivers—a gift from nature.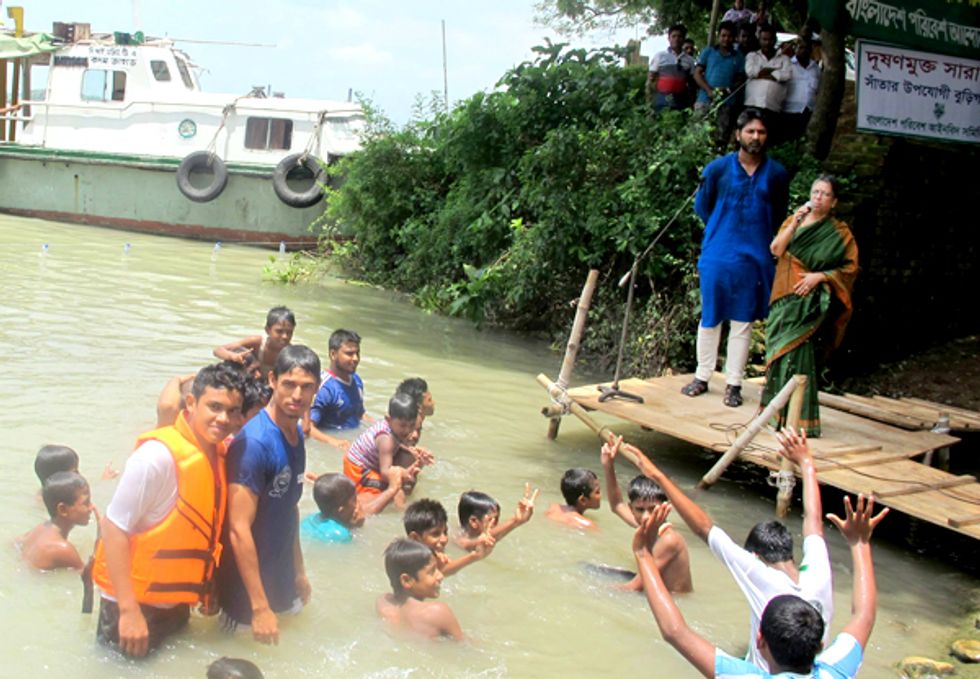 But economic expansion and population growth, powerfully backed by commercial interests, has for many decades now diminished this experience. Our future generations do not have the opportunity for this experience. It is more of a privilege than everyday act to be able to swim in clean, fresh water. The river Buriganga, lifeline of Dhaka city, the capital of Bangladesh, is such an example. For several years now this river has been maltreated by the residents of Dhaka, leading to it being recognized as a "Black River."
Buriganga Riverkeeper, part of Waterkeeper Alliance, has been actively working towards rehabilitating the river. Today, at the Bosila area of the river, we have demanded it be pollution-free and swimmable throughout the year. To observe Waterkeeper Swimmable Water Weekend 2014, we organized a public gathering and community swimming event in the area.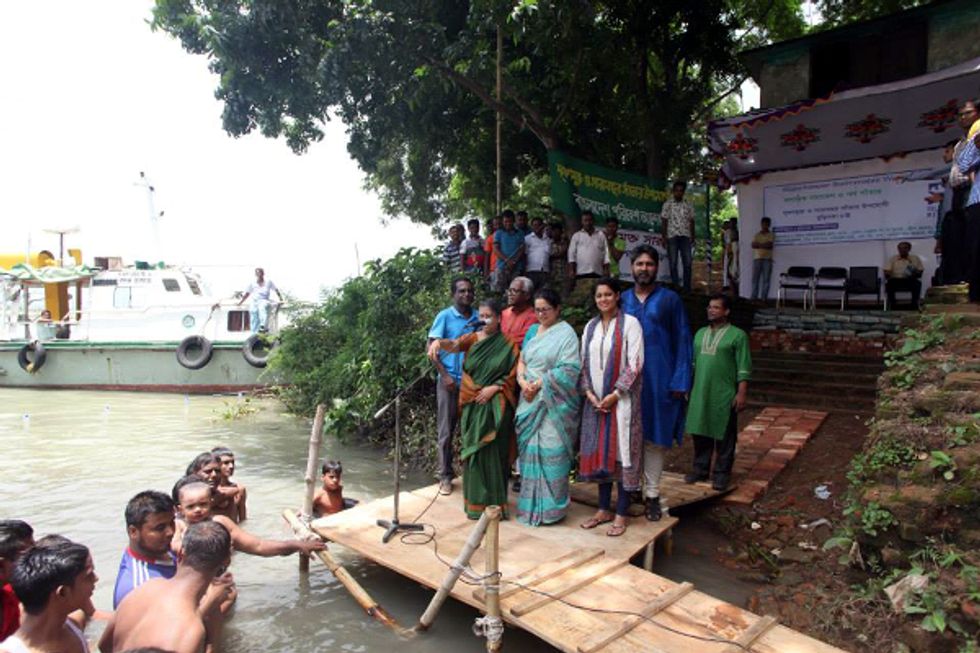 The event on Aug. 9 was chaired by former advisor to the government,  activist and advocate Sultana Kamal. She said, "The rivers are controlled and occupied by only a handful of individuals and organizations. They need to be brought under state supervision for the sake of the nation." Kamal added, "We should all work together to save our rivers, and everyone should act as a Riverkeeper. If we don't save our rivers, we will not be able to save our city and civilization."
She was joined by others who echoed similar thoughts. Rasheda K. Chowdhury has called for the attention of the Honorable Prime Minister and suggested speedy action towards saving the river. Syeda Rizwana Hasan, Magsaysay award winner and representing Bangladesh Environment Lawyers Association (BELA), said, "A lot of the pillars used to demarcate the river area are done in a way that seems there is no riverbank. Moreover, there is also lack of political will power. In order to strengthen this, local residents have to play an important role."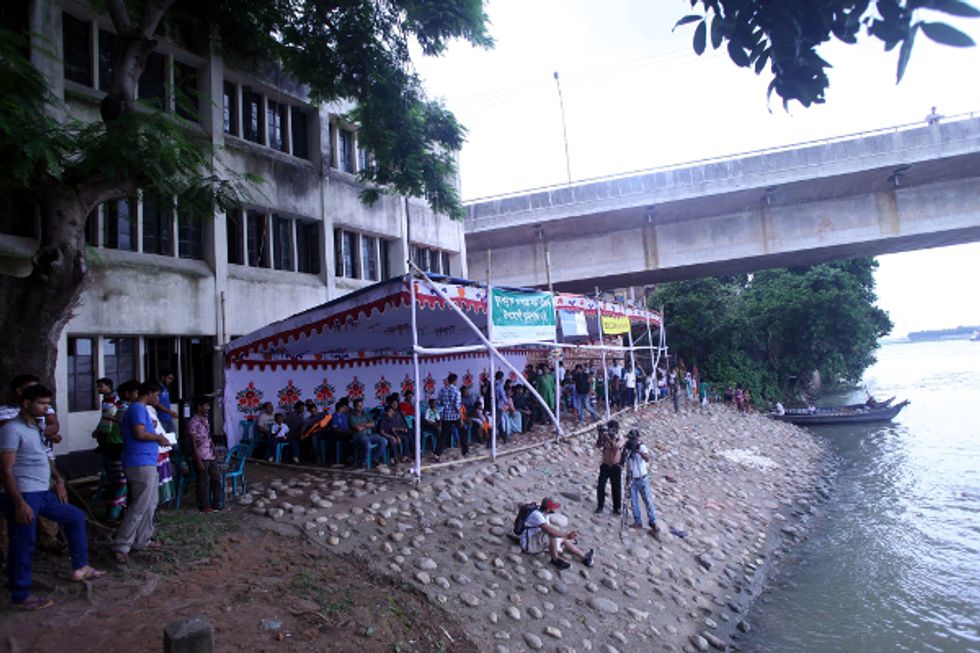 Waterkeeper Swimmable Water Weekend 2014 in Bangladesh. Photo credit: Buriganga Riverkeeper
Hasan Masud, popular cultural personality; Gazi Ashraf Lipu, former captain of Bangladesh National Cricket Team; freedom fighter Sultan Ahmed Tipu, Shahjahan Mridha Benu, joint secretary of Bangladesh Poribesh Andolon; and Mohammad Manik Hossain, chairperson of Bosila Primary School, also attended and spoke in support of clean water.
The 13 organizations supporting the event include: Bosila United Club, Bangladesh Poribesh Andolon (BAPA), Bangladesh Environmental Lawyers Association (BELA), WBB Trust, Green Voice, Aachol Trust, Sobuj Pata, Mastul Foundation, Himu Paribohon, Paribartan Chai, NDF, Friends of Rivers and Green Magazine. Residents of Bosila were active participants during the event, which was organized and facilitated by Buriganga Riverkeeper, Sharif Jamil.
You Might Also Like
In Deep Water—Bangladesh Waterkeeper Provides Hope for Revival of the Buriganga River
Devil in the Deep Blue Sea: How Many Dead Zones Are Out There?
Businesses Unite for Swimmable, Fishable and Drinkable Water
EcoWatch Daily Newsletter
Recent Stories from EcoWatch