Cove Point Fracked Gas Export Facility vs. Safety of 24,000 Residents
Jun. 18, 2014 04:16PM EST
Energy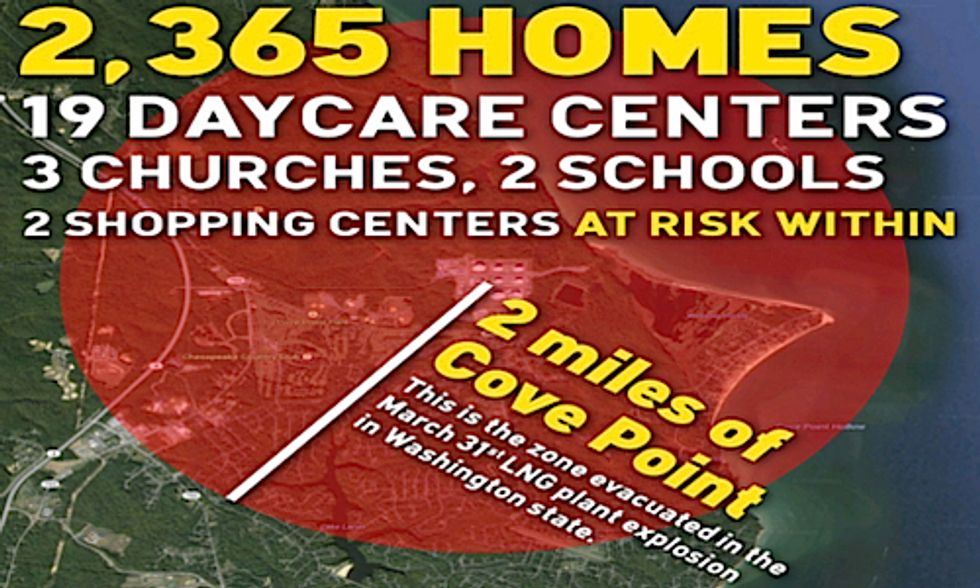 As a resident of the town of Lusby, MD, where a Virginia-based energy giant Dominion Resources wants to build a massive $3.8 billion liquefied natural gas (LNG) export facility, I've sought out and received a significant education on the safety risks inherent in this industry over the past year. In the process, I've returned again and again to this question: Is my safety—and that of the thousands of families living within several miles of this project—a significant concern to federal regulators?
These are facts, not mere speculation: on Sept. 13, 2013, a gas processing facility partly owned by Dominion Resources exploded  in Natrium, WV. On March 31, an LNG plant exploded in Plymouth, WA, injuring five workers and rupturing an LNG storage tank, resulting in the formation of a flammable vapor gas cloud. On April 23, another major gas processing facility exploded in Opal, WY, forcing the evacuation of the entire town of about 95 residents.
These facts are highly significant because the potential consequences of a similar explosion at Dominion's proposed Cove Point LNG export facility in Lusby could be far more severe.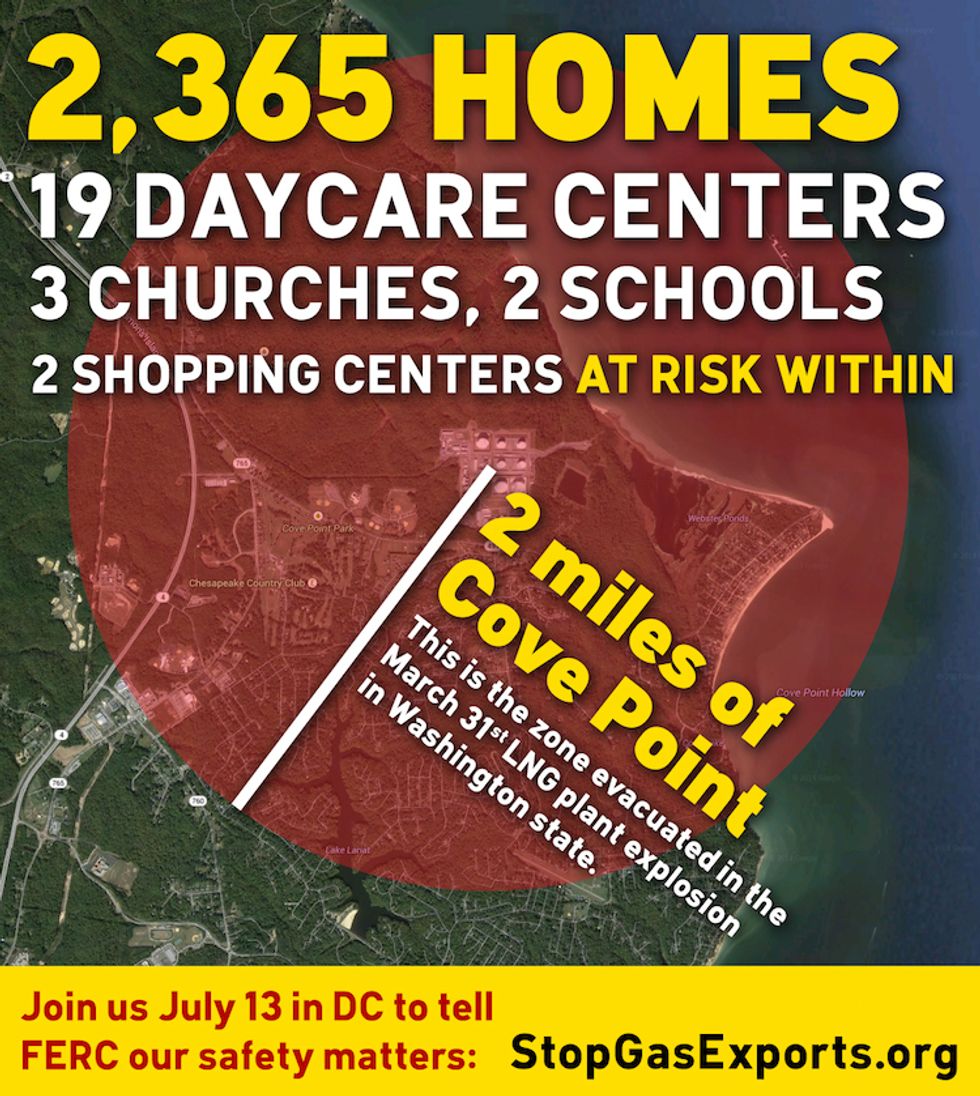 No other LNG export facility proposed in the U.S. would be located so close to so many people. My neighbor Dale Allison, a former aerospace engineer with the Navy, has dug into what that could mean for our community, and his findings are alarming. He found a 2006 report by the Maryland Department of Natural Resources showing that a flash fire from a LNG storage tank at Dominion's current import facility could already threaten a 4,265-foot "consequence zone" around the plant—an area which includes hundreds of homes. Dominion's current proposal would require the addition of new hazardous facilities to supercool the gas and require expanded transportation and storage of highly volatile chemicals, like liquid propane, involved in that process. And, as another Lusby neighbor, Lili Sheeline, wrote to our local newspaper, the Calvert Recorder, Dominion's facility will have far more equipment "squeezed in" to a facility footprint only a fraction larger than the one that exploded in Wyoming, "posing a far greater risk of accidents ... that could spiral out of control."
These facts are significant because in the previously mentioned explosions, the area of evacuation was much smaller than the densely populated area surrounding Cove Point. The fire at Natrium burned for seven hours. Four hundred people in a two-mile radius were evacuated in Plymouth, across the river. The explosion could be felt as far away as six miles. In Opal, 95 residents in a five mile radius were evacuated.
By comparison, in Lusby there are 2,473 people living within one mile around Dominion Cove Point. In addition to nearly 600 homes, there are several schools, daycare and senior facilities, churches, and a major public park in close proximity to Cove Point. The zip code of Lusby—of which Cove Point is a part—is home to more than 24,000 residents according to the 2010 U.S. Census, and is serviced by an all-volunteer fire department. Recently, a local assistant fire chief, Mickey Shymansky, resigned over concerns that this department is neither trained nor equipped to handle an LNG-related emergency.
For months, my neighbors and I have been demanding answers. How will everyone evacuate in the case of a catastrophic event? How far could potential vapor gas cloud or flash fire catastrophes spread into the neighborhoods right next door? Is the 60-foot-tall, three-quarter-mile long barrier wall Dominion has proposed building along the perimeter really for "sound abatement," as Dominion originally claimed, or "vapor cloud containment," as the company later confirmed to federal regulators, or "fire-blocking," as Dominion apparently told Shymansky?
The response to these questions from Dominion and local officials has been utterly insufficient. One of my Lusby neighbors was told by the Calvert Emergency Planning Office that, in event of an evacuation, Cove Point residents could drive under a burning vapor cloud to the neighboring, highly populated development of Chesapeake Ranch Estates, with its maze of winding roads. How ridiculous is that? If there is a viable emergency evacuation plan, no one within the county government or Dominion has bothered to share it with the public—perhaps because none exists and perhaps because no one has figured out how to evacuate so many people via a two-lane road that would turn into major gridlock in a matter of minutes.
Equally troubling, the Federal Energy Regulatory Commission (FERC) appears to agree that the people of Lusby are insignificant. Although numerous individuals and environmental groups pleaded for a full Environmental Impact Statement for Dominion's proposed export facility, on May 15, FERC issued a limited draft Environmental Assessment. It failed to even list the more than 24,000 residents of Lusby as a nearby "population center." It failed to include an updated human risk assessment—required under 2013 National Fire Protection Association standards—to quantify the potential threat to nearby homes from potential vapor cloud, flash fire or explosion hazards.  It failed to address Dominion Cove Point's proximity to the Calvert Cliffs Nuclear Power Plant, three miles north, and to the naval aviation base across the Patuxent River. By all appearances, FERC is poised to merely rubber-stamp Dominion's application, as it has done with so many other gas industry applications across the country.
This is why the Calvert Citizens for a Healthy Community are joining thousands of Americans to rally at FERC headquarters in Washington, D.C. on July 13. FERC needs to know that we will not stand by while the safety of the residents of Cove Point and Lusby is placed at risk.
We must tell FERC that residents of southern Calvert County will not be treated like human test dummies. If you agree, please join us on July 13 to let FERC know that the battle has just begun.
EcoWatch Daily Newsletter
Related Articles from EcoWatch