This website uses cookies to ensure you get the best experience while browsing it. By clicking 'Got It' you're accepting these terms.
Cousteau to SeaWorld: Captive Orcas 'Need to Be Released'
Apr. 28, 2016 12:45PM EST
At a press conference held Wednesday in San Diego, Jean-Michel Cousteau, oceanographic explorer and president of the Ocean Futures Society, urged SeaWorld to free its current population of captive orcas.
"They need to be released and put back into a place where we can keep an eye on them and they can reconnect with nature," Cousteau, who is the son of legendary underwater explorer Jacques Cousteau, said.
On March 17, the scandal-plagued ocean theme park made a dramatic shift when it announced the end of it orca breeding program and that its current population of killer whales will live out their lives at the company's habitats instead of in the wild or ocean sanctuaries. SeaWorld explained that the orcas were born under human care and have never lived in the wild, they "could not survive in oceans that include environmental concerns such as pollution and other man-made threats."
SeaWorld CEO Joel Manby also explained in a Los Angeles Times op-ed published on the same day of the announcement that marine animals born in captivity would "likely die" if they were released:
If we release them into the ocean, they will likely die. In fact, no orca or dolphin born under human care has ever survived release into the wild. Even the attempt to return the whale from "Free Willy," Keiko, who was born in the wild, was a failure.
But at the PETA-hosted conference, Cousteau argued against this reasoning seeing as how he and his team personally worked with Keiko after filming. Keiko was rehabilitated and moved to a seaside sanctuary in Iceland where he lived in ocean waters for more than five years.
Back in March, Cousteau also posted a letter to the Los Angeles Times editor in response to Manby's op-ed explaining why Keiko's livelihood was improved after his release:
As we congratulate SeaWorld for announcing this monumental step in ending the captive breeding program; I urge Mr. Manby to reconsider his statement about Keiko and I ask him to understand that the quality of Keiko's remaining years were significantly enhanced by having an opportunity to live in an ocean sea pen with many weeks of forays in the open ocean. The orcas in SeaWorld are living in bare and boring enclosures. These highly intelligent animals deserve to live their remaining years in natural environment under human care. The overwhelming evidence of orca distress in captivity is far too great to ignore.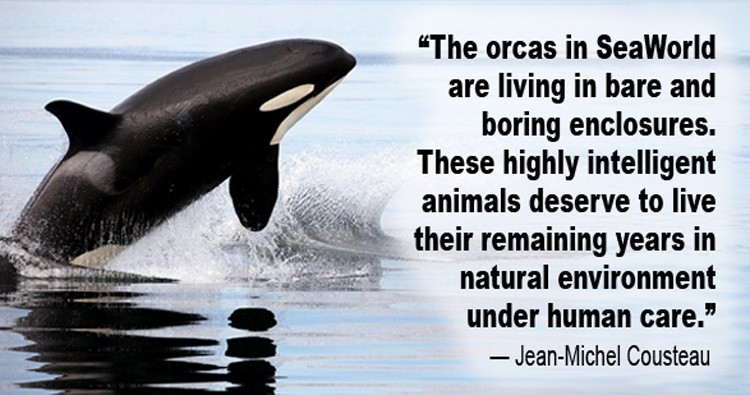 Cousteau was joined by a panel of experts including neuroscientist and orca expert Lori Marino, physician Dr. Hope Ferdowsian and PETA's captive wildlife veterinarian Heather Rally at the conference yesterday.
Rally said that the orcas will continue to suffer as long as they are displayed at SeaWorld and that the park's backstage tanks "are barely large enough to even accomodate the animal's body."
Dr. Ferdowsian said that the "orcas are waiting for reprieve ... what we need to do is remove the cause of their suffering."
Cousteau urged SeaWorld to be "a leader in showing the rest of the world, where there are other captive orcas, that they can do the same thing."
He suggested that if the theme park was worried about its business after releasing the orcas, they could instead create education centers and give visitors regular updates about its former orca inhabitants, The Guardian reported.
"It would be a win-win for–of course for all the captive marine animals, particularly dolphins and whales–to be put back there," Cousteau said. "It would be a win-win for all these enterprises who now have access to communications we didn't have many years ago and can literally educate the public."
YOU MIGHT ALSO LIKE
Tens of Thousands of People Demand Arizona's 'Swim With The Dolphins' Park Be Stopped
Trans Mountain Tar Sands Pipeline 'Final Harpoon' for Endangered Killer Whales
Shocking Migratory Changes Bring Electric Rays to Canada's Pacific
EcoWatch Daily Newsletter
Bernie Sanders holds his first presidential campaign rally at Brooklyn College on March 02 in Brooklyn, New York. Kena Betancur / VIEWpress / Corbis. Getty Images
Bernie Sanders has become the first contender in the crowded 2020 Democratic presidential primary field to pledge to offset all of the greenhouse gas emissions released by campaign travel, The Huffington Post reported Thursday.
An aerial view of the flooding at the Camp Ashland, Nebraska on March 17. Nebraska National Guard / Staff Sgt. Herschel Talley / Flickr / CC BY 2.0
The record flooding in the Midwest that has now been blamed for four deaths could also have lasting consequences for the region's many farmers.
In tea, food, or just on your windowsill, embrace the fragrance and fantastic healing potential of herbs.
By Ana Santos Rutschman
The world of food and drug regulation was rocked earlier this month by the news of a change in leadership at the Food and Drug Administration. Commissioner Scott Gottlieb resigned and will step down in early April. His temporary replacement is Dr. Ned Sharpless, director of the National Cancer Institute.
MartinPrescott / iStock / Getty Images
On Wednesday the U.S. Environmental Protection Agency (EPA) announced the first 20 chemicals it plans to prioritize as "high priority" for assessment under the Toxic Substances Control Act. Given the EPA's record of malfeasance on chemicals policy over the past two years, it is clear that these are chemicals that EPA is prioritizing to ensure that they are not properly evaluated or regulated.
Strawberries top the Environmental Working Group's "Dirty Dozen" list of U.S. produce most contaminated with pesticides. DANIEL LEAL-OLIVAS / AFP / Getty Images
Which conventionally-grown fruits and vegetables in the U.S. are most contaminated with pesticides? That's the question that the Environmental Working Group answers every year with its "Dirty Dozen" list of produce with the highest concentration of pesticides after being washed or peeled.
A drilling rig in a Wyoming natural gas field. William Campbell / Corbis via Getty Images
A U.S. federal judge temporarily blocked oil and gas drilling on 300,000 acres of federal leases in Wyoming Tuesday, arguing that the Bureau of Land Management (BLM) "did not sufficiently consider climate change" when auctioning off the land, The Washington Post reported.
Mizina / iStock / Getty Images
Oats are widely regarded as one of the healthiest grains you can eat, as they're packed with many important vitamins, minerals, and fiber.