Cousteau to SeaWorld: Captive Orcas 'Need to Be Released'
At a press conference held Wednesday in San Diego, Jean-Michel Cousteau, oceanographic explorer and president of the Ocean Futures Society, urged SeaWorld to free its current population of captive orcas.
"They need to be released and put back into a place where we can keep an eye on them and they can reconnect with nature," Cousteau, who is the son of legendary underwater explorer Jacques Cousteau, said.
On March 17, the scandal-plagued ocean theme park made a dramatic shift when it announced the end of it orca breeding program and that its current population of killer whales will live out their lives at the company's habitats instead of in the wild or ocean sanctuaries. SeaWorld explained that the orcas were born under human care and have never lived in the wild, they "could not survive in oceans that include environmental concerns such as pollution and other man-made threats."
SeaWorld CEO Joel Manby also explained in a Los Angeles Times op-ed published on the same day of the announcement that marine animals born in captivity would "likely die" if they were released:
If we release them into the ocean, they will likely die. In fact, no orca or dolphin born under human care has ever survived release into the wild. Even the attempt to return the whale from "Free Willy," Keiko, who was born in the wild, was a failure.
But at the PETA-hosted conference, Cousteau argued against this reasoning seeing as how he and his team personally worked with Keiko after filming. Keiko was rehabilitated and moved to a seaside sanctuary in Iceland where he lived in ocean waters for more than five years.
Back in March, Cousteau also posted a letter to the Los Angeles Times editor in response to Manby's op-ed explaining why Keiko's livelihood was improved after his release:
As we congratulate SeaWorld for announcing this monumental step in ending the captive breeding program; I urge Mr. Manby to reconsider his statement about Keiko and I ask him to understand that the quality of Keiko's remaining years were significantly enhanced by having an opportunity to live in an ocean sea pen with many weeks of forays in the open ocean. The orcas in SeaWorld are living in bare and boring enclosures. These highly intelligent animals deserve to live their remaining years in natural environment under human care. The overwhelming evidence of orca distress in captivity is far too great to ignore.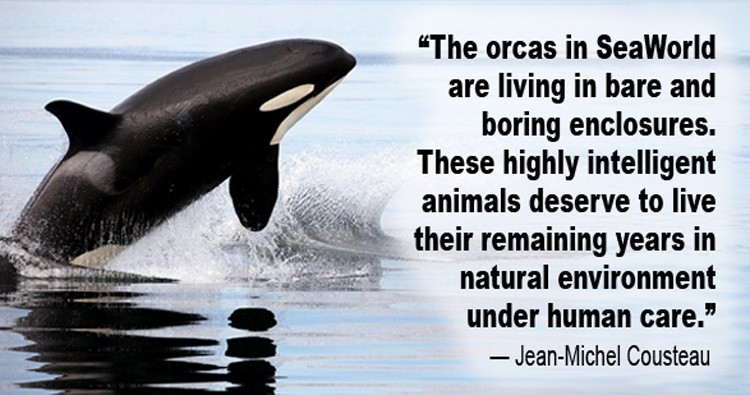 Cousteau was joined by a panel of experts including neuroscientist and orca expert Lori Marino, physician Dr. Hope Ferdowsian and PETA's captive wildlife veterinarian Heather Rally at the conference yesterday.
Rally said that the orcas will continue to suffer as long as they are displayed at SeaWorld and that the park's backstage tanks "are barely large enough to even accomodate the animal's body."
Dr. Ferdowsian said that the "orcas are waiting for reprieve ... what we need to do is remove the cause of their suffering."
Cousteau urged SeaWorld to be "a leader in showing the rest of the world, where there are other captive orcas, that they can do the same thing."
He suggested that if the theme park was worried about its business after releasing the orcas, they could instead create education centers and give visitors regular updates about its former orca inhabitants, The Guardian reported.
"It would be a win-win for–of course for all the captive marine animals, particularly dolphins and whales–to be put back there," Cousteau said. "It would be a win-win for all these enterprises who now have access to communications we didn't have many years ago and can literally educate the public."
YOU MIGHT ALSO LIKE
Tens of Thousands of People Demand Arizona's 'Swim With The Dolphins' Park Be Stopped
Trans Mountain Tar Sands Pipeline 'Final Harpoon' for Endangered Killer Whales
Shocking Migratory Changes Bring Electric Rays to Canada's Pacific
iStock
By Robert Coleman
The Environmental Working Group's (EWG) just-released Tap Water Database shows that a startling number of cancer-causing chemicals contaminate the nation's drinking water. Of 250 different contaminants detected in tests by local utilities, 93 are linked to an increased risk of developing cancer.
Keep reading...
Show less
Aaron Teasdale
By Aaron Teasdale
"How much moon do we have tonight?" I yelled to my friend Greg, trying to make myself heard over the sounds of wind and surging water. The sun was sinking toward the mountains all too quickly and our float-in campsite lay somewhere down the river's bends in darkening forest.
Greg shrugged. He had no clue of the moon's cycle either, which showed just how tragically pasty and over-civilized we'd turned. Our days had become filled with computer screens, not forest scenes; our nights capped with ceilings, not stars. All of which made this journey on standup paddleboards so sweet—or at least we hoped it would be sweet, if the pesky headwind would let up before we had to risk disfiguring ourselves while navigating boulder-strewn waters by headlamp and whatever light the moon might spare.
Keep reading...
Show less
By Rebekah Wilce
The world of independent chemical testing has a shiny veneer. The public is reassured that chemicals they're exposed to on a daily basis are certified by technicians in spotless white lab coats who carefully conduct scientific studies, including on animals in neat rows of cages.
But a federal grand jury investigation that ended with convictions in the early 1980s discovered that Industrial Bio-Test Laboratories (IBT), the largest such lab in the U.S., conducted trials with mice that regularly drowned in their feeding troughs. The dead animals would decompose so quickly that "their bodies oozed through wire cage bottoms and lay in purple puddles on the dropping trays." IBT even invented an acronym "TBD/TDA" for its raw safety data, later discovered to mean "too badly decomposed."
Keep reading...
Show less
iStock
Roman officials are considering shutting off the water supply to one-third of the city's residents for eight hours per day as early as this weekend, according to reports.
Keep reading...
Show less
Ararat Rock Solar farm in Mount Airy, North Carolina. NARENCO
North Carolina Gov. Roy Cooper signed a bill into law Thursday that will boost solar production but curb wind energy in the state.
House Bill 589, the result of months of arduous negotiations between utilities and the solar industry, is intended to encourage the continued growth of solar in the state, but it includes a moratorium on new wind projects for the next 18 months.
Keep reading...
Show less
Algal blooms in Lake St. Clair and in western Lake Erie in 2015. NASA Earth Observatory
Heavier rainfall linked to rising temperatures could substantially increase the volume of agricultural runoff flowing into waterways, triggering toxic algal blooms, according to new research.
A study published Thursday in the journal Science finds that heavier rainfall could increase nitrogen runoff in U.S. lakes, rivers and streams by 19 percent by the end of this century.
Keep reading...
Show less
iStock
By Jen Sawada
Sharks have been around for 400 million years, before the time of the dinosaurs, but there's much more to them than big teeth and summer blockbusters. Consider these facts, which will change what you think about sharks.
Keep reading...
Show less
Felix Kramer / Wikimedia
By Jason Mathers
The high level of confidence that automotive industry leaders have in the future of electric vehicles (EVs) has been on full display recently.
Keep reading...
Show less


Get EcoWatch in your inbox