Courtroom Showdown Challenges TransCanada's Right to Eminent Domain over Keystone Tar Sands Pipeline
Aug. 13, 2012 12:35PM EST
Energy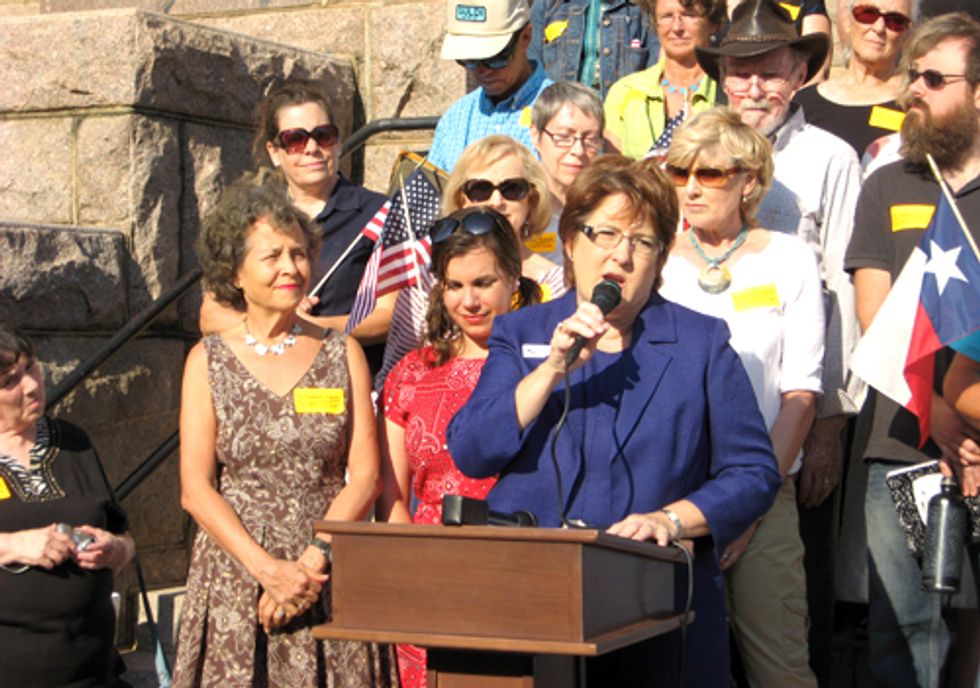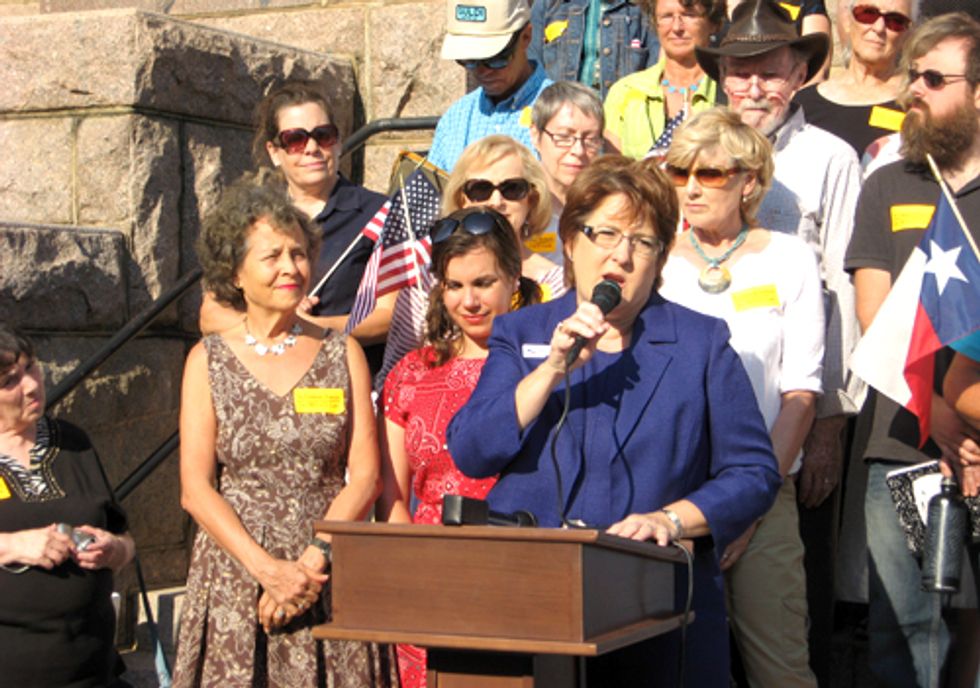 On Aug. 10, statewide groups of all political persuasions went to the Lamar County courthouse to support Texas landowner Julia Trigg Crawford against TransCanada, which has announced plans to start building the southern segment of the Keystone pipeline to carry tar sands crude from Cushing, Oklahoma to Texas Gulf Coast refineries.
The courtroom showdown marked the first landmark battle following a recent Supreme Court case ruling in favor of landowners. Crawford's hearing is the first case since the Supreme Court ruling to protect private property from an illegal taking. Julia Trigg Crawford, along with her attorney Wendi Hammond, faced Judge Bill Harris and a team of TransCanada lawyers in a packed courtroom of observers with an overflow crowd for more than six hours. Crawford's attorney contended that TransCanada is a foreign-owned pipeline carrying tar sands for private profit, challenging its qualifications as a common carrier with eminent domain rights.
Texas courts have long held that property owners could not challenge property takings by pipelines, but a recent, unanimous Texas Supreme Court decision, which highlighted the fight between Texas Rice Land Partners versus Denbury Green Pipeline changed that equation. In the Denbury Green court case, the justices unanimously ruled that the pipeline company had to prove it was meeting the state's statutes and serving a common good before it should be given the right to "take" private property.
"Today the eyes of Texas were shining upon the Judge in this case. All of us were here to see if he would stand up to protect landowners from illegal takings or side with a foreign pipeline company. The Crawford case begged the question of whether Judge Bill Harris would allow a hearing on the facts or whether he would deny a landowner justice in favor of this Canadian company," said Debra Medina, former gubernatorial candidate and executive director of We Texans, a nonpartisan public policy advocacy group. "It appears we will not get our answer today. The court has been saddled with volumes of paper and will take it, along with the arguments, heard today into consideration before rendering its decision. A decision may be rendered as early as Wednesday."
"However, it is disappointing that the court granted TransCanada the right to start trenching with a writ of possession," Medina added.
"Why are Texans made to fend for themselves against the likes of corporations like TransCanada?" Medina asked. "The leaders of this state often talk about protecting property rights—but when the abuse starts, they stand up for the politically influential. This is in keeping with the crony capitalist lethargy that grips Austin. They pretend to see and hear no evil. The fervor by which people from all political stripes came here today to rally for the Crawford's cause should make it clear: Texans are tired of abuse at the hands of big business and big donors."
"The Texas Railroad Commission approved TransCanada's permit to operate a pipeline as a common carrier, yet the agency has stated that it doesn't review the applications for pipelines and doesn't have the authority to determine common carrier status or give eminent domain permission to TransCanada," commented Jessica Ellison, spokeswoman from Independent Texans. "TransCanada has yet to prove to the court that they meet the legal requirements of transporting the product for the public good or for public use."
With the threat of imminent trenching for TransCanada's southern pipeline segment to begin, landowners such as David Daniel of Winnsboro have now told TransCanada that it can no longer come on his property. Daniel has recently been served with notice by TransCanada that they are seeking a court order with the threat of damages should he continue to refuse entry onto his property. Daniel's Winnsboro neighbor, Susan Scott, has also recently refused the entry of surveyors on her land.
"Here we've had a private company masquerading as a 'common carrier' pipeline in order to obtain the power of eminent domain in Texas. The Crawford family, along with those landowners supporting her today and more than 90 other landowners, have had their land condemned by TransCanada. These landowners deserve to be protected from eminent domain abuse before irreparable harm is done to their property," contended Terri Hall, founder and director of Texans Uniting for Reform and Freedom. "It's an outrage that in a state that claims to be pro-property rights, that there's absolutely no state authority checking to see whether or not these private companies meet the legal requirements of a public use pipeline. Landowners should not be put in the position of law enforcers at great personal expense."
Recently, the Texas House Land and Resource Management Committee met at the Capitol to hear invited testimony from Crawford and other interested parties regarding the dilemma of industries self-proclaiming they are common carriers with no review from any state agency as to whether a company is truly a common carrier or not.
"The answers we need may not lie ultimately in this Judge's decision, the answer may lie an appeals court. The final outcome will also be laid at the foot of the Texas legislature to do something about this kind of abuse," noted Tom 'Smitty' Smith, executive director of Public Citizen. "We have already begun the process of pointing out the grave inequities of companies being able to walk into the Railroad Commission saying 'trust us,' we're a common carrier, and then be granted eminent domain authority without the needed checks and balances and review by an authorized government agency. That needs to change with the next legislative session."
"Regardless that there were no decisions made today, it is clear that more steps need to be taken," remarked Linda Curtis, director of Indy Texans. "Ms. Crawford's case is emblematic of the continuing struggle of Texas landowners being tread upon by a private company, taking land for private use, and foreign profit. In the revolutionary words of those who've come before us, 'we've not yet begun to fight'…and this court case makes it evident that more landowners like Ms. Crawford need to stand up and be heard."
The trial before Judge Harris marked the continuation of proceedings which began in Paris on Feb. 13. TransCanada's attorneys have complained that the delay of the start of its southern segment has cost the company $3 to $4 million per day.
The southern segment of TransCanada's Keystone pipeline encompasses a 485-mile trek from Cushing to refineries on the Gulf coast. In Texas, more than 1,450 parcels of land have been acquired by TransCanada in its pursuit of construction on the pipeline which has been slated to commence any day pending any further legal delays. Ms. Crawford's 600-acre farm near Sumner, north of Paris, signifies the last tract in contention between Cushing and the refineries on the Gulf Coast.
Visit EcoWatch's KEYSTONE XL page for more related news on this topic.
EcoWatch Daily Newsletter