This website uses cookies to ensure you get the best experience while browsing it. By clicking 'Got It' you're accepting these terms.
Court Victory on Nukes Creates Transparency on Safety Exemptions at Indian Point
Jan. 11, 2013 07:19AM EST
Energy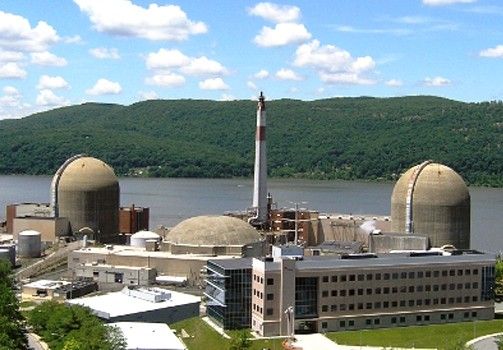 Robert F. Kennedy, Jr.: This 2nd Circuit decision in Brodsky v NRC is a turning point in our long-running struggle to end the collusion between the NRC and the nuclear industry. It will both protect and involve the public in key NRC health and safety decisions. Our primary concern has always been public health and safety, nowhere more important than with an Indian Point reactor with the worst health and safety record in the nation and located 28 miles from New York City.
Brodsky v. NRC is the federal litigation challenging the Nuclear Regulatory Commission's (NRC) practice of issuing "exemptions" to its own health and safety regulations at Indian Point, and to do so in complete secrecy. The plaintiffs argued that Federal law requires the NRC to notify and involve the public before it allows Entergy to violate NRC health and safety requirements.
On Jan. 6, the U.S. 2nd Circuit Court of Appeals issued its' decision on the matters argued last May in New York City. The Court agreed with the plaintiffs, and expressed grave concern about the NRC's ongoing practice of making safety decisions in secret.
The Appeals Court remanded the case to the District Court and required the NRC to appear and explain why public participation was "inappropriate or impracticable."
In other words, the Court has created a new legal standard and legal presumption in favor of public participation in "exemption" decisions. From now on the NRC must permit public participation or explain why it's not going to do so. This is a substantial victory because there are hundreds, if not thousands, of such secret "exemptions" at Indian Point and at other reactors across the country which have weakened or evaded safety and health requirements. It's now possible to seek an accounting of those "exemptions" and challenge many of them.
The particular Indian Point "exemption" challenged in Brodsky v. NRC dealt with fire safety. NRC Rules require that the electric cables that control reactor shutdown in an emergency have fire insulation that lasts one hour. When tested, the insulation at Indian Point (and elsewhere) lasted 27 minutes. Rather than require Entergy to upgrade the insulation to meet the one hour requirement the NRC, at Entergy's request, issued an "exemption" that lowered the requirement to 24 minutes. It did so without notifying the public of its consideration of Entergy's application, or permitting the public to comment, or participate, or attend a public hearing.
By ending the secrecy of the "exemption" process the Court has created two important dynamics. First, it will be difficult if not impossible for the NRC to continue to use secrecy as a shield for decisions that are at best controversial and at worst truly dangerous. Second, we can begin to examine the true extent of "exemptions" at Indian Point and scores of other reactors. Both are important parts of making the NRC a fair and effective regulator.
Plaintiffs had also challenged the Indian Point "exemptions" as violations of other laws as well. While the 2nd Circuit declined to agree on some of those matters, plaintiffs are pleased that the core of their concerns have been favorably addressed. Plaintiffs will continue to vigorously participate in the continuing litigation.
The coalition that brought the litigation included the Sierra Club-Atlantic Chapter and Westchester's Citizens Awareness Network (Westcan), whose steadiness and support were crucial. The plaintiffs are appreciative of the intervention of then Attorney General Andrew Cuomo, whose early concern about this issue was noted by the Court.
Environmental activist Robert F. Kennedy, Jr. said, "This 2nd Circuit decision in Brodsky v NRC is a turning point in our long-running struggle to end the collusion between the NRC and the nuclear industry. It will both protect and involve the public in key NRC health and safety decisions. Our primary concern has always been public health and safety, nowhere more important than with an Indian Point reactor with the worst health and safety record in the nation and located 28 miles from New York City."
Hamilton Fish, a board member of the leading environmental organization Riverkeeper said, "This is a real victory for public safety and transparency in the critical area of nuclear oversight from a court celebrated for its commitment to free speech and the first amendment."
Marilyn Elie, president of Plaintiff WestCan said, "This is a victory for transparency in government and due process.  It makes it possible for people to have a voice in important nuclear decisions in their community and helps hold the NRC accountable for protecting public health and safety, something it hasn't done in years."
Annie Wilson, former chair of the energy committee of Plaintiff Sierra Club-Atlantic Chapter and energy co-chair of Sierra NYC said, "These dangerous 'exemptions' can no longer be handed out in secret.  We're very pleased with the Court decision."
Here are excerpts from the decision:
The NRC must "supplement the administrative record to explain why allowing public input into the exemption request was inappropriate or impracticable."
The failed fire insulation at Indian Point was a "degradation of defense-in-depth fire protection and safe shut down in the event of a significant fire".
The NRC is bound by the requirement that "federal agencies examine and disclose the potential environmental impacts of projects before allowing them to proceed, which process "must involve the public."
"public scrutiny [i]s an "essential" part" of NRC actions, which "must ensure that environmental information is available to public officials and citizens before decisions are made and before actions are taken."
"The record before us fails to provide any agency explanation for why no public participation was deemed practicable or appropriate with respect to the challenged exemption case." and is "devoid of any evidence of public input on Entergy's exemption request, and with no explanation by the NRC of its decision not to afford public participation of any kind."
Richard Brodsky is a former NYS Assemblyman who is currently a senior fellow at the progressive think tank Demos in NYC and at the NYU Wagner School for Public Service.
Visit EcoWatch's NUCLEAR POWER page for more related news on this topic.
EcoWatch Daily Newsletter
EPA Administrator Andrew Wheeler signs the so-called Affordable Clean Energy rule on June 19, replacing the Obama-era Clean Power Plan that would have reduced coal-fired plant carbon emissions. U.S. Environmental Protection Agency / Twitter
By Elliott Negin
On July 8, President Trump hosted a White House event to unabashedly tout his truly abysmal environmental record. The following day, coincidentally, marked the one-year anniversary of Andrew Wheeler at the helm of the U.S. Environmental Protection Agency (EPA), first as acting administrator and then as administrator after the Senate confirmed him in late February.
A timber sale in the Kaibab National Forest. Dyan Bone / Forest Service / Southwestern Region / Kaibab National Forest
By Tara Lohan
If you're a lover of wilderness, wildlife, the American West and the public lands on which they all depend, then journalist Christopher Ketcham's new book is required — if depressing — reading.
Golde Wallingford submitted this photo of "Pure Joy" to EcoWatch's first photo contest. Golde Wallingford
EcoWatch is pleased to announce our third photo contest!

Somalians fight against hunger and lack of water due to drought as Turkish Ambassador to Somalia, Olgan Bekar (not seen) visits the a camp near the Mogadishu's rural side in Somalia on March 25, 2017. Sadak Mohamed / Anadolu Agency / Getty Images
World hunger is on the rise for the third consecutive year after decades of decline, a new United Nations (UN) report says. The climate crisis ranks alongside conflict as the top cause of food shortages that force more than 821 million people worldwide to experience chronic hunger. That number includes more than 150 million children whose growth is stunted due to a lack of food.
Eduardo Velev cools off in the spray of a fire hydrant during a heatwave on July 1, 2018 in Philadelphia. Jessica Kourkounis / Getty Images
By Adrienne L. Hollis
Because extreme heat is one of the deadliest weather hazards we currently face, Union of Concerned Scientist's Killer Heat Report for the U.S. is the most important document I have read. It is a veritable wake up call for all of us. It is timely, eye-opening, transparent and factual and it deals with the stark reality of our future if we do not make changes quickly (think yesterday). It is important to ensure that we all understand it. Here are 10 terms that really help drive home the messages in the heat report and help us understand the ramifications of inaction.
Senator Graham returns after playing a round of golf with Trump on Oct. 14, 2017 in Washington, DC. Ron Sachs – Pool / Getty Images
Lindsey Graham, the South Carolina Senate Republican who has been a close ally of Donald Trump, did not mince words last week on the climate crisis and what he thinks the president needs to do about it.
A small Bermuda cedar tree sits atop a rock overlooking the Atlantic Ocean. todaycouldbe / iStock / Getty Images Plus
By Marlene Cimons
Kyle Rosenblad was hiking a steep mountain on the island of Maui in the summer of 2015 when he noticed a ruggedly beautiful tree species scattered around the landscape. Curious, and wondering what they were, he took some photographs and showed them to a friend. They were Bermuda cedars, a species native to the island of Bermuda, first planted on Maui in the early 1900s.
krisanapong detraphiphat / Moment / Getty Images
By Grace Francese
You may know that many conventional oat cereals contain troubling amounts of the carcinogenic pesticide glyphosate. But another toxic pesticide may be contaminating your kids' breakfast. A new study by the Organic Center shows that almost 60 percent of the non-organic milk sampled contains residues of chlorpyrifos, a pesticide scientists say is unsafe at any concentration.