This website uses cookies to ensure you get the best experience while browsing it. By clicking 'Got It' you're accepting these terms.
Court Rules That New York Towns Can Ban Fracking
Jun. 30, 2014 09:47AM EST
Energy
In a precedent-setting case decided today by the New York Court of Appeals, local communities have triumphed over the fracking industry. The court ruled that the towns of Dryden and Middlefield can use local zoning laws to ban heavy industry, including oil and gas production within municipal borders.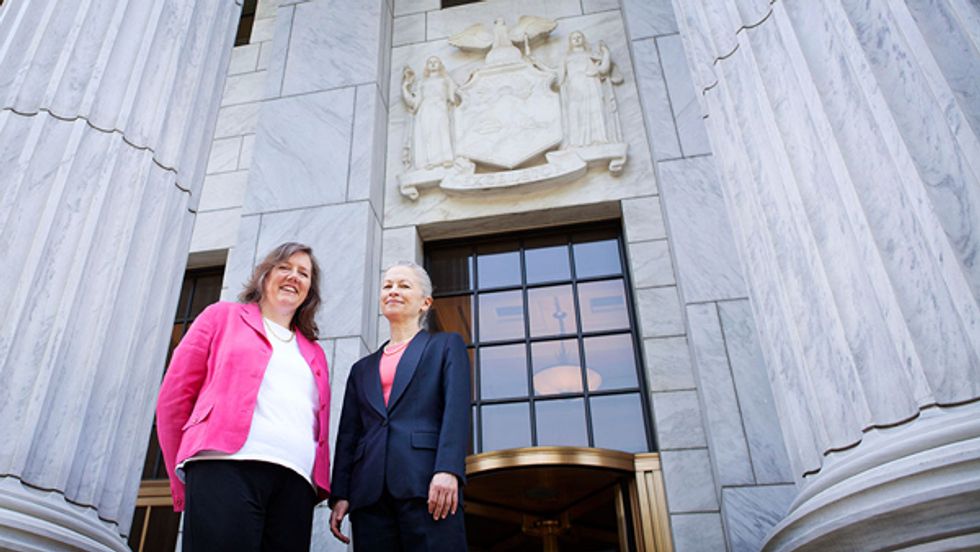 "Today the Court stood with the people of Dryden and the people of New York to protect their right to self determination. It is clear that people, not corporations, have the right to decide how their community develops," said Dryden Deputy Supervisor Jason Leifer. "This would not have been possible without the hard work of many of my friends and neighbors and our lawyers Deborah Goldberg of Earthjustice and Mahlon Perkins. Today's ruling shows all of America that a committed group of citizens and public officials can stand together against fearful odds and successfully defend their homes, their way of life and the environment against those who would harm them all in the name of profit."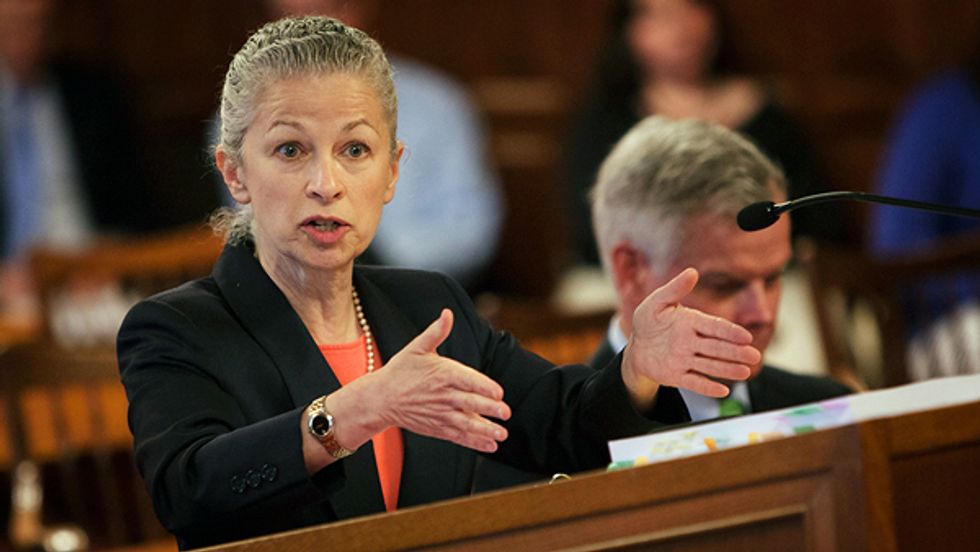 "This decision by the Court of Appeals has settled the matter once and for all across New York State and has sent a firm message to the oil and gas industry," said Earthjustice Managing Attorney Deborah Goldberg. "For too long the oil and gas industry has intimidated and abused people, expecting to get away with it. That behavior is finally coming back to haunt them, as communities across the country stand up and say 'no more.' Earthjustice is proud to have stood with, and fought on behalf of, one such community." 
Many other cities and towns in New York have been waiting for today's decision to establish bans or moratoriums of their own. The victory also gives legal authority to the more than 170 New York municipalities that have passed measures against fracking in their communities. Today's decision will also serve as inspiration for a growing number of localities in Colorado, Ohio, Texas, Pennsylvania and California that are hoping to stop the controversial drilling practice.
"Town by town, New Yorkers have taken a stand against fracking. Today's victory confirms that each of these towns is on firm legal ground," said Helen Slottje, an Ithaca-based attorney whose legal research inspired New York's local fracking ban groundswell and who was honored with the 2014 Goldman Environmental Prize. "The oil and gas industry tried to take away a fundamental right that pre-dates even the Declaration of Independence: the right of municipalities to regulate local land use. But they failed. The anti-fracking measures passed by Dryden, Middlefield and dozens of other New York municipalities are fully enforceable."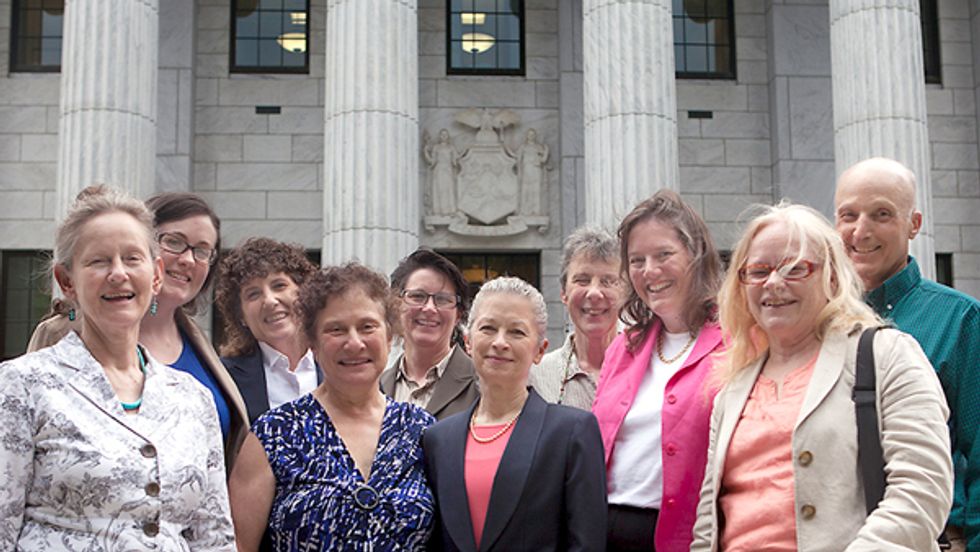 In response to the court's 5-2 decision, John Armstrong of Frack Action and New Yorkers Against Fracking said, "We applaud the court for once again affirming the right of New Yorkers to ban fracking and its toxic effects from their communities. As Chief Judge Lippman said, you don't bulldoze over the voice of the people. But water and air contamination don't stop at local boundaries, and Governor Cuomo must ban fracking statewide to protect our health and homes from the arrogant and inherently harmful fracking industry."
The case in Dryden has attracted nation wide attention and taken on special significance. More than 20,000 people from across the country and globe sent messages to the town board, expressing support for the town through the course of its nearly three-year legal battle. An Earthjustice video depicting the town's fight has garnered more than 80,000 views.
"We did it! This victory is for everyone who loves their town and will fight to the end to protect it," said Dryden resident Deborah Cipolla-Dennis. "I'm proud of my town and I'm proud of the people in Fort Collins, CO; Denton, TX; Santa Cruz, CA; and all the others who are standing up to the oil and gas industry." 
EcoWatch Daily Newsletter
A new report spotlights a U.N. estimate that at least 275 million people rely on healthy coral reefs. A sea turtle near the Heron Island in the Great Barrier Reef is seen above. THE OCEAN AGENCY / XL CATLIN SEAVIEW SURVEY
In a new report about how the world's coral reefs face "the combined threats of climate change, pollution, and overfishing" — endangering the future of marine biodiversity — a London-based nonprofit calls for greater global efforts to end the climate crisis and ensure the survival of these vital underwater ecosystems.
Half of the extracted resources used were sand, clay, gravel and cement, seen above, for building, along with the other minerals that produce fertilizer. Cavan Images / Cavan / Getty Images
The world is using up more and more resources and global recycling is falling. That's the grim takeaway from a new report by the Circle Economy think tank, which found that the world used up more than 110 billion tons, or 100.6 billion metric tons, of natural resources, as Agence France-Presse (AFP) reported.
By Gero Rueter
Heating with coal, oil and natural gas accounts for around a quarter of global greenhouse gas emissions. But that's something we can change, says Wolfgang Feist, founder of the Passive House Institute in the western German city of Darmstadt.

By George Citroner
Recent research finds that official government figures may be underestimating drug deaths by half.
Researchers estimate that 142,000 people died due to drug use in 2016.
Drug use decreases life expectancy after age 15 by 1.4 years for men and by just under 1 year for women, on average.
Government records may be severely underreporting how many Americans die from drug use, according to a new study by researchers from the University of Pennsylvania and Georgetown University.
Water coolers in front of shut-off water fountains at Center School in Stow, MA on Sept. 4, 2019 after elevated levels of PFAS were found in the water. David L. Ryan / The Boston Globe via Getty Images
In a new nationwide assessment of drinking water systems, the Environmental Working Group found that toxic fluorinated chemicals known as PFAS are far more prevalent than previously thought.