This website uses cookies to ensure you get the best experience while browsing it. By clicking 'Got It' you're accepting these terms.
Court Rules Feds Failed to Protect Thousands of Whales and Dolphins From Navy Sonar
Sep. 27, 2013 11:05AM EST
A federal court has ruled that National Marine Fisheries Service (NMFS) failed to protect thousands of whales, dolphins, porpoises, seals and sea lions from U.S. Navy warfare training exercises along the coasts of California, Oregon and Washington.
In an opinion released late Wednesday, Magistrate Judge Nandor Vadas, U.S. District Court for the District of Northern California, found that NMFS's approval of the Navy's training activities in its Northwest Training Range Complex failed to use the best available science to assess the extent and duration of impacts to whales and other marine mammals. The decision requires the federal agency to reassess its permits to ensure that the Navy's training activities comply with protective measures in the Endangered Species Act.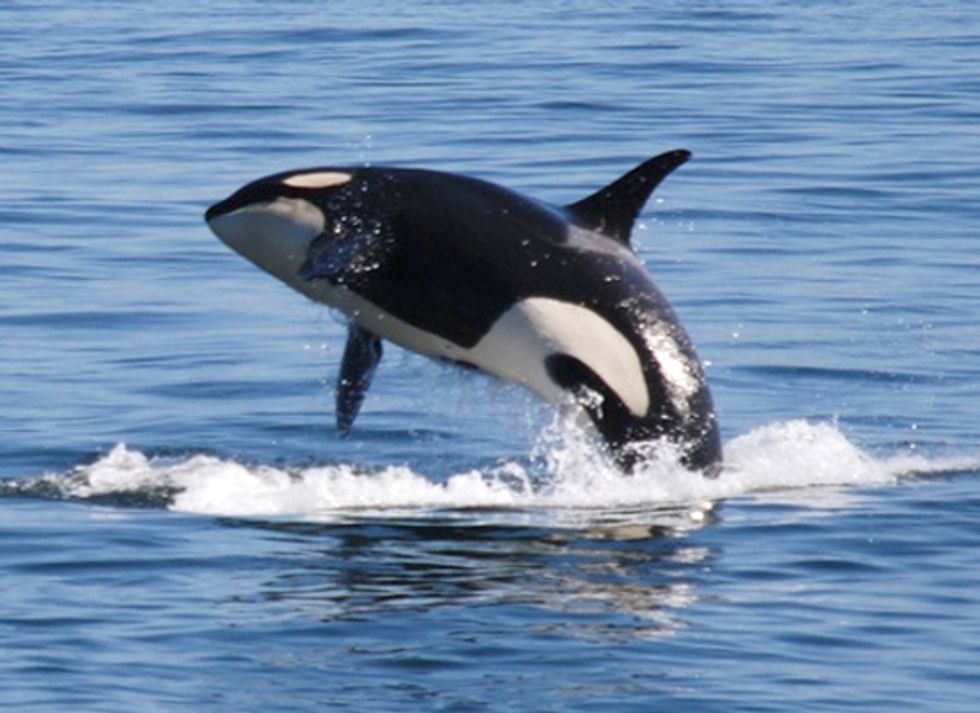 "This is a victory for dozens of protected species of marine mammals, including critically endangered Southern Resident orcas, blue whales, humpback whales, dolphins and porpoises," said Steve Mashuda, an Earthjustice attorney representing a coalition of conservation and Northern California Indian Tribes. "NMFS must now employ the best science and require the Navy to take reasonable and effective actions to avoid and minimize harm from its training activities."
The Navy uses a vast area of the West Coast, stretching from Northern California to the Canadian border, for training. Activities include anti-submarine warfare exercises involving tracking aircraft and sonar; surface-to-air gunnery and missile exercises; air-to-surface bombing exercises; and extensive testing for several new weapons systems.
In 2010 and 2012, NMFS authorized the Navy to harm or "take" marine mammals and other sealife through 2015. The permits allow the Navy to conduct increased training exercises that can harm marine mammals and disrupt their migration, nursing, breeding or feeding, primarily as a result of harassment through exposure to the use of sonar.
New science from 2010 and 2011 shows that whales and other marine mammals are far more sensitive to sonar and other noise than previously thought. In permitting the Navy's activities, NMFS ignored this new information. The Court found that the agency violated its legal duty to use this "best available data" when evaluating impacts to endangered whales and other marine life.
The Court also rejected the agency's decision to limit its review to only a five-year period when the Navy has been clear that its training activities will continue indefinitely. The Court held that NMFS's limited review "ignores the realities of the Navy's acknowledged long-term, ongoing activities in the [Northwest Training Range]," because "a series of short-term analyses can mask the long-term impact of an agency action. … [T]he segmented analysis is inadequate to address long-term effects of the Navy's acknowledged continuing activities in the area."
"This is an important win for the environment and for the tribes' traditional, cultural and subsistence ways in their ancestral coastal territories," said Hawk Rosales, executive director of the InterTribal Sinkyone Wilderness Council. "Marine mammals now stand a better chance of being protected from the Navy's war testing and training off our coastline."
According to the ruling, NMFS must now reassess the permits using the latest science, which could trigger a requirement that the Navy do more to protect whales and dolphins in its ongoing training exercises.
"The Navy's Northwest Training Range is the size of the state of California, yet not one square inch was off-limits to the most harmful aspects of naval testing and training activities," said Zak Smith, staff attorney for Natural Resources Defense Council. "NMFS relied on faulty science when approving the Navy's permits and thousands of marine mammals suffered the consequences."
"Today's ruling gives whales and other marine mammals a fighting chance against the Navy," said Miyoko Sakashita, oceans director at the Center for Biological Diversity. "This ruling means that the Navy must take greater precautions to protect marine life."
The Navy's mid-frequency sonar has been implicated in mass strandings of marine mammals in, among other places, the Bahamas, Greece, the Canary Islands and Spain. In 2004, during war games near Hawai'i, the Navy's sonar was implicated in a mass stranding of up to 200 melon-headed whales in Hanalei Bay. In 2003, the USS Shoup, operating in Washington's Haro Strait, exposed a group of endangered Southern Resident killer whales to mid-frequency sonar, causing the animals to stop feeding and attempt to flee the sound. Even when sonar use does not result in these or other kinds of physical injury, it can disrupt feeding, migration and breeding or drive whales from areas vital to their survival.
"In 2003, NMFS learned firsthand the harmful impacts of Navy sonar in Washington waters when active sonar blasts distressed members of J pod, one of our resident pods of endangered orcas," said Kyle Loring, staff attorney for Friends of the San Juans. "The use of deafening noises just does not belong in sensitive areas or marine sanctuaries where whales and dolphins use their acute hearing to feed, navigate and raise their young."
Marcie Keever, oceans and vessels program director at Friends of the Earth, added, "Recent research confirms that the 82 remaining endangered Southern Resident orcas use coastal waters within the Navy's training range to find salmon during the critical fall and winter months. NMFS must do more to assure that the Navy is not pushing these critically endangered orcas and other endangered marine mammals even closer to extinction."
Earthjustice represents the InterTribal Sinkyone Wilderness Council, Center for Biological Diversity, Friends of the Earth and Friends of the San Juans and has partnered with the Natural Resources Defense Council in the lawsuit.
Visit EcoWatch's BIODIVERSITY page for more related news on this topic.

EcoWatch Daily Newsletter
By Raya A. Al-Masri
Different strategies for resisting the spread of the new coronavirus have emerged in different countries. But the one that has cut through everywhere is simple and, supposedly, can be done by anyone: "Wash your hands with water and soap for at least 20 seconds."
A USGS map showing the location of a 6.5 magnitude quake that shook Idaho Tuesday evening. USGS
Idaho residents were rattled Tuesday evening by the biggest earthquake to shake the state in almost 40 years.
A sign marks the ground covering TransCanada's Keystone I pipeline outside of Steele City, Nebraska on April 21, 2012. Lucas Oleniuk / Toronto Star via Getty Images

The company behind the controversial and long-delayed Keystone XL pipeline announced it would proceed with the project Tuesday, despite concerns about the climate impacts of the pipeline and the dangers of transporting construction crews during a pandemic.
Penguins are seen near the Great Wall station in Antarctica, Feb. 9, days after the continent measured its hottest temperature on record at nearly 65 degrees Fahrenheit. Xinhua / Liu Shiping / Getty Images
By Richard Connor
Scientists have recorded Antarctica's first documented heat wave, warning that animal and plant life on the isolated continent could be drastically affected by climate change.
The Athos I tanker was carrying crude oil from Venezuela when a collision caused oil to begin gushing into the Delaware River.
U.S. Department of the Interior
A case that has bounced around the lower courts for 13 years was finally settled yesterday when the U.S. Supreme Court upheld a lower court decision, finding oil giant Citgo liable for a clean up of a 2004 oil spill in the Delaware River, according to Reuters.