Countdown to Kickoff: The Solar-Powered Super Bowl
This year the Golden State will be hosting the Golden Anniversary of what many consider the greatest spectacle in all of professional sports and this year the game will be powered in part by golden rays of sunshine.
The Solar Energy Industries Association (SEIA) is counting down to the kick off between the Denver Broncos and the Carolina Panthers, not just because we love the game, the multi-million dollar advertisements and the A-list halftime entertainment, but also because solar energy—our MVP—will be playing a starring role.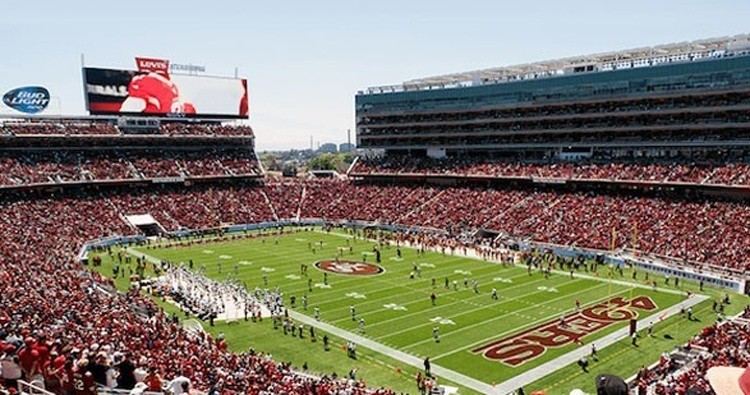 This year's big game will be played at Levi's Stadium in Santa Clara, California. Home to the San Francisco 49ers, Levi's Stadium is the first professional football stadium in the National Football League (NFL) to open with LEED Gold certification. The Leadership in Energy & Environmental Design certification program recognizes best-in-class building strategies and practices. LEED certified buildings save money and resources and have positives impact on the health of occupants, while promoting renewable, clean energy.
Solar was a key strategy in the 49ers' sustainability playbook. The solar at the stadium through NRG's installations produces 375 kilowatts (kW) of peak power from more than 1,150 solar panels. In fact, the system can generate enough power in a year to meet electricity demand during every 49ers' home game. The first area of the NRG solar installation is the three NRG Bridges that lead fans into Levi's from the Red Parking Lot. The second is the NRG Solar Terrace which overlooks the football field and Silicon Valley from the top of the stadium.
"NRG was a true partner with us in building this stadium," Ethan Casson, 49ers chief revenue officer, said. "We could not have achieved LEED Gold certification without them."
San Jose-based SunPower built all of the solar photovoltaic (PV) panels for Levi's—544 on the stadium roof and another 642 on the NRG Energy Bridges, footbridges for fans that connect a main parking area to the stadium. In addition to producing power, the solar panels act as a shade canopy for the bridges and terrace.
"This year's big game is making environmental history as fans root for their favorite team, playing in the NFL's first LEED Gold certified stadium featuring SunPower high efficiency solar panels," Tom Werner, SunPower president and CEO, said. "At SunPower, we're proud to support our progressive commercial business partners that are making wise economic and environmental investments with solar."
In 2015, nearly a third of the NFL teams played or trained at stadiums with on-site solar assets. That's 8,000 solar PV panels, generating more than 10 million kilowatt-hours per year.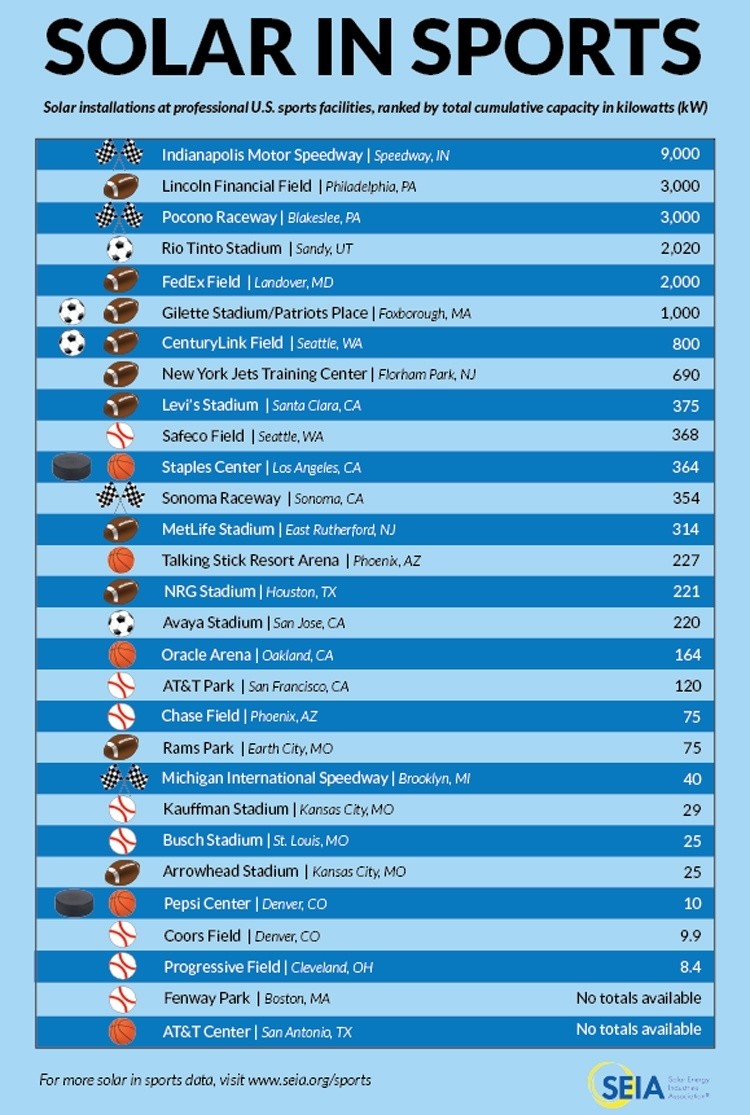 And there is more to come, with a new system under contract with the Baltimore Ravens and one in planning for the Atlanta Falcons. That's not to mention the nearly 1 million solar systems that are installed on homes and businesses across the country.
"It's a movement across the country—become more sustainable," Al Guido, 49ers chief operating officer, said. "And stadiums have to do their part. But we wanted to be functionally green, not just green for green's sake."
Hosting the game in the state-of-the-art Levi's Stadium is a major play for solar energy and part of a strong sustainability statement.
As NFL teams look for ways to keep their hometown fans cheering, investing in money-saving, 21st century technology like solar is a touchdown in everyone's playbook.

YOU MIGHT ALSO LIKE
This School District Could Save Millions by Switching to 100% Solar
Watch Colbert Explain Why the Broncos Should Draft Hillary Clinton for the Super Bowl
This Kid Warrior Is Assembling a Teen Army to the Save the Planet
A coalition of conservation groups and others announced Thursday that a historic number of comments and petitions of support have been submitted to the U.S. Department of the Interior in support of Bears Ears National Monument. Despite the entirely inadequate 15-day comment period ending on May 26, more than 685,000 comments in support of Bears Ears National Monument have been collected.
Keep reading...
Show less
Rink Glacier in western Greenland, with a meltwater lake visible center. NASA/OIB
Scientists have had their eyes on Greenland as its iconic glaciers have begun disappearing due to a warming climate. But, what they didn't expect to see was a whole new type of melting.
Keep reading...
Show less
Mountain View Fire
By Lena Moffitt
An oil tanker in Mead, Colorado exploded, killing one and injuring three on Thursday. Authorities are continuing to investigate the cause of the explosion.
Keep reading...
Show less
Banner created by Alliance for Climate Education
Keep reading...
Show less
Twenty-two GOP senators sent a letter Thursday urging Donald Trump to pull out of the Paris agreement. They argued remaining in the deal could "upend" the administration's ability "to fulfill its goal of rescinding the Clean Power Plan."
Keep reading...
Show less
By Cheryl Johncox
The Federal Energy Regulatory Commission (FERC) rejected on Thursday Energy Transfer Partners' request to resume horizontal directional drilling at two sites for its Rover fracked gas pipeline. This rejection comes after numerous leaks into Ohio's wetlands, and Clean Air and Clean Water act violations. FERC has halted the process at only eight locations of the 32 where drilling is taking place under Ohio's wetlands and streams.
Keep reading...
Show less
By Nadia Prupis
A majority of people in eight countries say they are ready to change their lifestyles if it would prevent climate catastrophe, a survey on global threats released Wednesday found.
Keep reading...
Show less
May. 25, 2017 01:55PM EST
Bill Maher is sick of billionaires' obsession with Mars, more like "Mars-a-Lago," he said.
In a new animation produced by ATTN:, the popular talk show host of Real Time, discusses the perils of our planet, including how "climate change is killing us."
Keep reading...
Show less