This website uses cookies to ensure you get the best experience while browsing it. By clicking 'Got It' you're accepting these terms.
Could This Zero-Emissions, Triple-Decker Solar Plane Revolutionize the Aviation Industry?
Apr. 29, 2015 11:13AM EST
Business
As the Solar Impulse 2 makes its historic round-the-world trip powered only by the energy of the sun, it's not so crazy to think that sometime in the future, commercial flying will abandon dirty fossil fuels.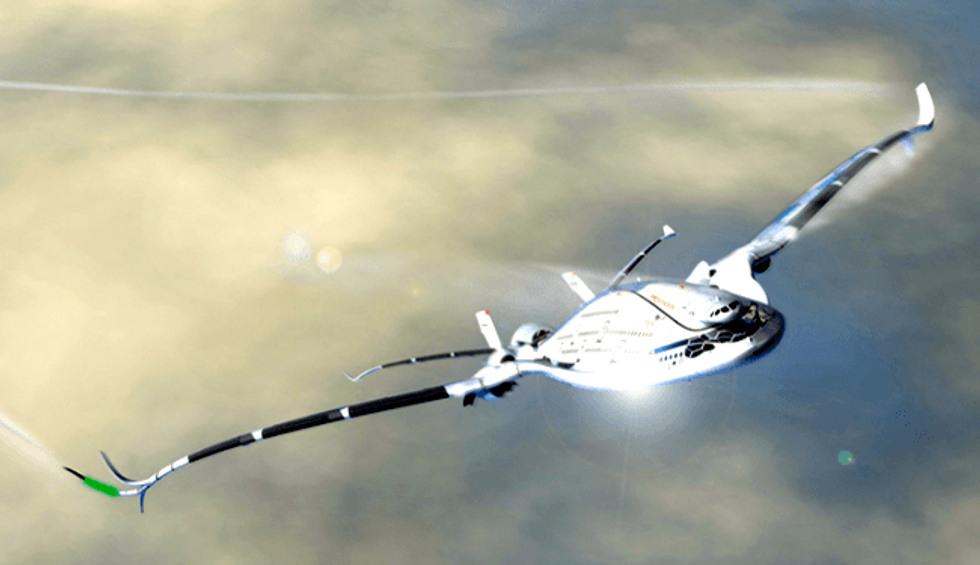 Photo credit: Behance
Well, the future of air travel might come sooner than we think, as Spanish graphic designer Oscar Vinals believes his conceptual zero-emission plane dubbed the "AWWA-QG Progress Eagle" could take off within the next 15 years.
According to CNN, the plane is powered by six hydrogen engines including a rear engine that doubles as a wind turbine. Solar panels on the roof and wings would also provide the ultralight plane with juice as it flies.
"The best aspect of the Progress Eagle would be its capacity to generate its own energy," Vinals told CNN, adding that the flight would be "noiseless."
Vinals' triple-decker aircraft could carry up to 800 passengers. The cockpit is located on the second floor, offering the pilots with panoramic views and a room with beds, coffee and workspace for the crew members. Because there's much more space than the standard commercial plane, there could be space for private rooms, shops and restaurants.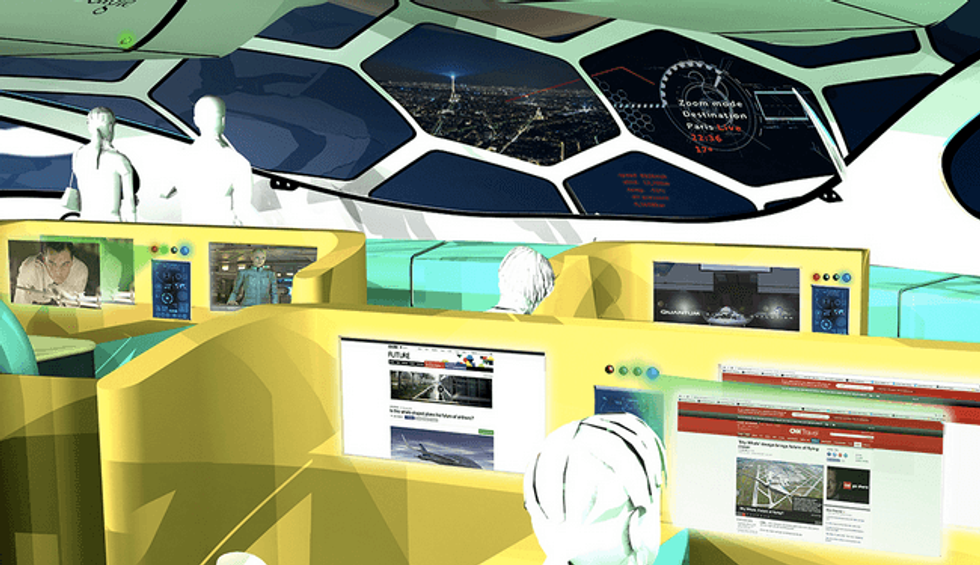 Photo credit: Behance
"Twelve hours in an airplane could feel more like a select hotel," Vinals said. "It would reduce the stress of a long flight."
With a 96-meter wingspan (about 314 feet), the plane is about as large as two Olympic swimming pools. But Vinals envisions that the wings could fold in order to reduce its size and meet international airport regulations. To compare a Boeing 777 has the wingspan of about 60 meters (197 ft).
Vinals described on the website Behance that the lightweight Progress Eagle is designed with "smart and self-repairing wings, composed by carbon nanotube and carbon fibers," and a "hollow endoskeleton in an ultra-lightweight beehive-shape of titanium and graphene."
Ever the aviation visionary, Vinals came up with a similar AWWA Sky Whale last year that could carry 755 passengers.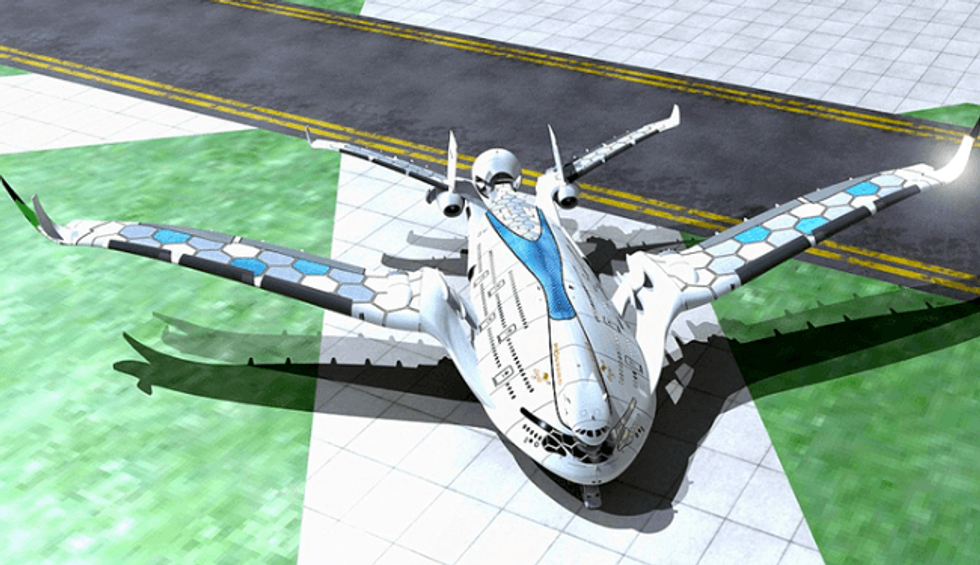 Photo credit: Behance
Vinals admitted that modern technology is a little off from allowing his dream machine to take flight. However, he contended that "today we have about 40 percent of the technology needed to build it."
"Quantum solar cells, nanowires to kinetic power, micro radio wave harvesters—these technologies only exist in a limited scale at the best laboratories around the world," he said to CNN. "But in a few years, we could overcome our limits and build anything imaginable."
Whatever your thoughts are on the feasibility of a plane like this, the whole idea of carbon-free flying is something that could revolutionize the aviation industry.
Check out the video below to see Vinals' designs of Progress Eagle:
YOU MIGHT ALSO LIKE
20-Mile Bike Lane Is Also Massive Solar Array
And the World's Greenest Car Is …
Nissan's Game-Changing Deal Allows EV Owners to Sell Power Back to the Grid
EcoWatch Daily Newsletter
A new study shows that half of all Arctic warming and corresponding sea-loss during the late 20th century was caused by ozone-depleting substances. Here, icebergs discharged from Greenland's Jakobshavn Glacier. Kevin Krajick / Earth Institute /
EurekAlert!
The world awakened to the hole in the ozone layer in 1985, which scientists attributed it to ozone-depleting substances. Two years later, in Montreal, the world agreed to ban the halogen compounds causing the massive hole over Antarctica. Research now shows that those chemicals didn't just cut a hole in the ozone layer, they also warmed up the Arctic.
Diane Wilson holds up a bag full of nurdles she collected from one of Formosa's outfall areas on Jan. 15. Julie Dermansky / DeSmogBlog
On the afternoon of Jan. 15, activist Diane Wilson kicked off a San Antonio Estuary Waterkeeper meeting on the side of the road across from a Formosa plastics manufacturing plant in Point Comfort, Texas.
After Wilson and the waterkeeper successfully sued Formosa in 2017, the company agreed to no longer release even one of the tiny plastic pellets known as nurdles into the region's waterways. The group of volunteers had assembled that day to check whether the plant was still discharging these raw materials of plastics manufacturing.
Malaysian Environment Minister Yeo Bee Yin (front 2nd L) and officials inspect a container containing plastic waste shipment on Jan. 20, 2020 before sending back to the countries of origin. AFP via Getty Images
The Southeast Asian country Malaysia has sent 150 shipping containers packed with plastic waste back to 13 wealthy countries, putting the world on notice that it will not be the world's garbage dump, as CNN reported. The countries receiving their trash back include the United States, the United Kingdom, France and Canada.
Trump leaves after delivering a speech at the Congress Centre during the World Economic Forum annual meeting in Davos on Jan. 21, 2020. JIM WATSON / AFP via Getty Images