This website uses cookies to ensure you get the best experience while browsing it. By clicking 'Got It' you're accepting these terms.
Could This Zero-Emissions, Triple-Decker Solar Plane Revolutionize the Aviation Industry?
Apr. 29, 2015 11:13AM EST
As the Solar Impulse 2 makes its historic round-the-world trip powered only by the energy of the sun, it's not so crazy to think that sometime in the future, commercial flying will abandon dirty fossil fuels.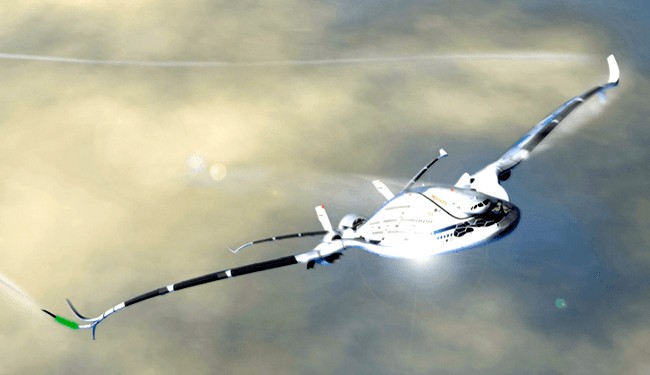 Photo credit: Behance
Well, the future of air travel might come sooner than we think, as Spanish graphic designer Oscar Vinals believes his conceptual zero-emission plane dubbed the "AWWA-QG Progress Eagle" could take off within the next 15 years.
According to CNN, the plane is powered by six hydrogen engines including a rear engine that doubles as a wind turbine. Solar panels on the roof and wings would also provide the ultralight plane with juice as it flies.
"The best aspect of the Progress Eagle would be its capacity to generate its own energy," Vinals told CNN, adding that the flight would be "noiseless."
Vinals' triple-decker aircraft could carry up to 800 passengers. The cockpit is located on the second floor, offering the pilots with panoramic views and a room with beds, coffee and workspace for the crew members. Because there's much more space than the standard commercial plane, there could be space for private rooms, shops and restaurants.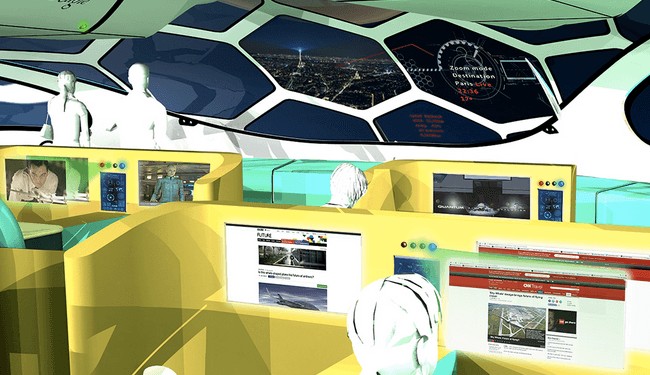 Photo credit: Behance
"Twelve hours in an airplane could feel more like a select hotel," Vinals said. "It would reduce the stress of a long flight."
With a 96-meter wingspan (about 314 feet), the plane is about as large as two Olympic swimming pools. But Vinals envisions that the wings could fold in order to reduce its size and meet international airport regulations. To compare a Boeing 777 has the wingspan of about 60 meters (197 ft).
Vinals described on the website Behance that the lightweight Progress Eagle is designed with "smart and self-repairing wings, composed by carbon nanotube and carbon fibers," and a "hollow endoskeleton in an ultra-lightweight beehive-shape of titanium and graphene."
Ever the aviation visionary, Vinals came up with a similar AWWA Sky Whale last year that could carry 755 passengers.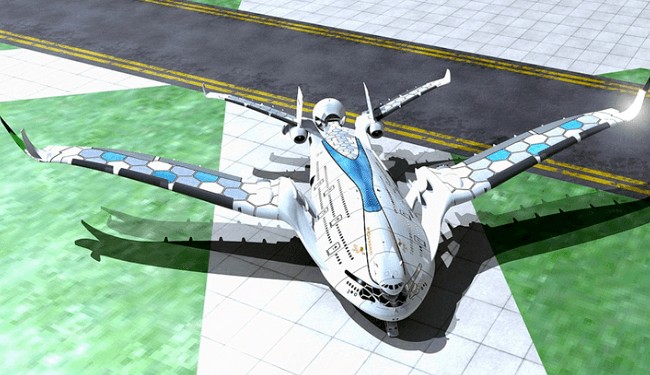 Photo credit: Behance
Vinals admitted that modern technology is a little off from allowing his dream machine to take flight. However, he contended that "today we have about 40 percent of the technology needed to build it."
"Quantum solar cells, nanowires to kinetic power, micro radio wave harvesters—these technologies only exist in a limited scale at the best laboratories around the world," he said to CNN. "But in a few years, we could overcome our limits and build anything imaginable."
Whatever your thoughts are on the feasibility of a plane like this, the whole idea of carbon-free flying is something that could revolutionize the aviation industry.
Check out the video below to see Vinals' designs of Progress Eagle:
YOU MIGHT ALSO LIKE
20-Mile Bike Lane Is Also Massive Solar Array
And the World's Greenest Car Is …
Nissan's Game-Changing Deal Allows EV Owners to Sell Power Back to the Grid
Plus, learn if there's one that's best for your health.
Catherine Falls Commercial / Moment / Getty Images
An invasive Amynthas worm, also known as a crazy snake worm, Asian jumping worm and Alabama jumper Tom Potterfield / Flickr
By Jason Bittel
My wife and I built a house two years ago on a few acres of woodland outside of Pittsburgh. The backyard is full of maples, poplars, briars and common spicebush. Two-lined salamanders and grumpy-looking crayfish wade among the rocks in the small stream that runs down the edge of the property. Deer, raccoon and opossum tracks appear regularly in the snow and mud. Sometimes, my trail-cam even catches a pair of gray foxes as they slink through the night.
AleksandarNakic / Getty Images
By Kate Murphy
No matter the time of year, there's always a point in each season when my skin decides to cause me issues. While these skin issues can vary, I find the most common issues to be dryness, acne and redness.

David Woodfall / The Image Bank / Getty Images
By Sam Nickerson
The U.S. Environmental Protection Agency (EPA) in April 2018 proposed relaxing standards related to how it assesses the effects of exposure to low levels of toxic chemicals on public health.
Now, correspondence obtained by the LA Times revealed just how deeply involved industry lobbyists and a controversial, industry-funded toxicologist were in drafting the federal agency's proposal to scrap its current, protective approach to regulating toxin exposure.
Steve Irwin poses with a three foot long alligator at the San Francisco Zoo on June 26, 2002. Justin Sullivan / Getty Images
February 22 is the birthday of conservationist and beloved TV personality "Crocodile Hunter" Steve Irwin, who would have been 57 years old today.
Irwin's life was tragically cut short when the barb from a stingray went through his chest while he was filming in 2006, but his legacy of loving and protecting wildlife lives on, most recently in a Google Doodle today honoring his birthday.